Nicaragua's Bizarre Plan to Bury the Panama Canal
The country's Sandinista government has cut a deal with a reclusive Chinese businessman willing to spend $50 billion on a larger-than-life transport waterway. There are a few unanswered questions, starting with whether Nicaraguans really want it and how much priceless habitat would be wrecked. Traveling the proposed route by motorcycle, boat, and boots, the author hunts for answers.
Heading out the door? Read this article on the new Outside+ app available now on iOS devices for members! Download the app.
Icacal Beach, two and a half miles of undulating volcanic sand on Nicaragua's southern Pacific coast, is the kind of place that gringos dream about during the winter drear. The Punta Brito cliffs frame the sunset fire that descends on the horizon every evening around six, all year long. Swelling tides crash against shoals of rocks, shooting spume into the sky.
The beach is less than ten miles up the coast from San Juan del Sur—a fishing village that has grown into a booming tourism hub—but it's an hour and a half away by road, and there isn't a single permanent structure in sight. When the sun goes down, darkness swallows the place within minutes, because there are no electric lights. All of which could change if the Hong Kong Nicaragua Development Group (HKND) fulfills its $50 billion pledge to build a 171-mile trans-oceanic canal across the country, starting on the Pacific side right here.
In February, I did an ass-numbing motorcycle superloop around Nicaragua to explore the route of the proposed megaproject, which is called the Grand Interoceanic Canal. Late one afternoon, I found myself racing the sun toward Icacal Beach from El Coyol, a village on Route 62 that connects the Pan-American Highway to some of Nicaragua's choicest coastline. The road turned to dirt after El Coyol, but my 250cc Chinese Supermoto bike handled the ruts and rocks gracefully. Families in horse-drawn wagons smiled as I rattled past.
I let myself through several ranch gates before I got to a spot called Miramar, named for a hacienda on a hill. The path forked, and there wasn't anybody around to ask for directions. I was seeking the mouth of the Brito River, near where a Chinese billionaire named Wang Jing, the 42-year-old founder and CEO of HKND, plans to build the port that will serve as the canal's Pacific terminus.
A mile beyond Miramar, I dropped down a steep bank into a dry riverbed. On the other side the road narrowed, until I was walled in by trees and undergrowth. I'd started to turn around when I saw a boy emerge from what I thought was an abandoned shack. He shyly returned my wave.
"Donde está la playa?" I asked. He pointed down a sandy footpath. After thanking him, I rode through the forest to a camp of hammocks and tents, where a woman was cooking over an open fire.
With the sun sinking fast, I fishtailed onto the beach and soon hit hardpack sand, reveling in its smoothness after many days on potholed Nicaraguan highways. I stopped to talk to two teenage boys who were sitting on a piece of driftwood. A man in jeans and a red T-shirt rode up on an old bicycle and introduced himself. Carlos López Mena, 45, told me that he'd lived near Icacal Beach his whole life, farming a few acres of land. I asked what he knew about the canal.
"They say it will bring jobs, but all of that will only be for the engineers," he said. "If there's construction work, it will only be for a few months. We're farmers. There will be nothing for us." The teenagers nodded.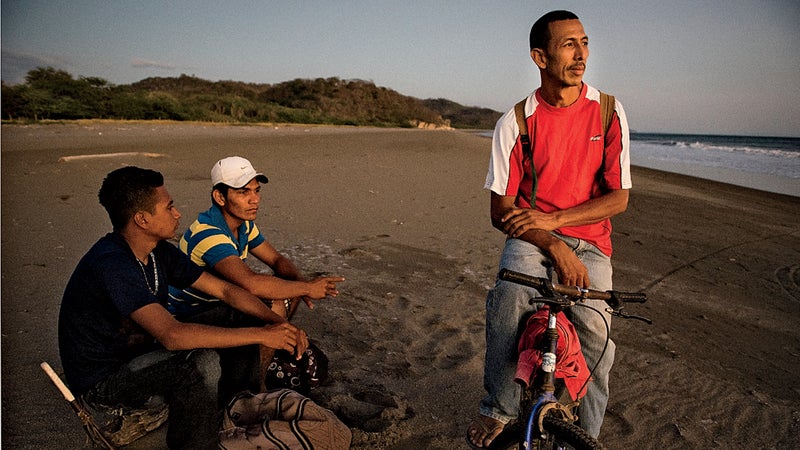 López Mena told me that the dry riverbed I'd crossed was the Brito, which drains into the ocean during the rainy season. Supposedly, construction equipment will arrive here soon to cut down the forests on either side of the river. HKND plans to pave a road directly to the Pan-American Highway, several dozen miles away, and will build an enormous beachside terminal to store supplies needed during the canal construction. They'll use explosives and dredging equipment to deepen the seabed and the river channel to about 100 feet; they'll also construct a wharf, nearly a mile long, that can berth three container ships at once.
Before any of that can happen, though, Nicaragua's Sandinista-led government will have to exercise its legal right to expropriate land from citizens like López Mena who live in the canal's path. People I spoke with all over Nicaragua told me that anticipation for the canal project has driven up the cost of land everywhere along the proposed route. And yet, López Mena says that one of the rumors floating around is that the government will force him to sell for a mere $100 U.S.
"If the land is going to be worth $4,000 in a few years, this $100 they're offering me is a catastrophic price," he said. "They're robbing me. My own president is robbing me."
Later, as I sped down the pitch-dark forest path, the Spanish phrase rolled off my tongue: un precio catastrófico.
---
It's impossible to overstate the scale of this project. As The Guardian's Jonathan Watts has described it: "Three times as long and almost twice as deep as its rival in Panama, Nicaragua's channel will require the removal of more than 4.5 billion cubic meters of earth—enough to bury the entire island of Manhattan up to the 21st floor of the Empire State Building."
The proposed canal will start on the Caribbean side near the mouth of the Punta Gorda River. HKND intends to dredge and blast a channel along the first 55 miles of the river's drainage. It will build a lock somewhere in the Punta Gorda basin, flooding the forest to create a 153-square-mile reservoir called Lake Atlanta. From there it will push an additional 23 miles or so through the Tule Valley into Lake Nicaragua, where the canal will skirt past one of the lake's most famous natural features, Ometepe Island. With the addition of a final lock, the canal will travel the last 16 or so miles to the Pacific along the Brito River drainage. Blasting and dredging will be required for the entire route, including the lake portion, to take its depth from roughly 40 feet to nearly 100.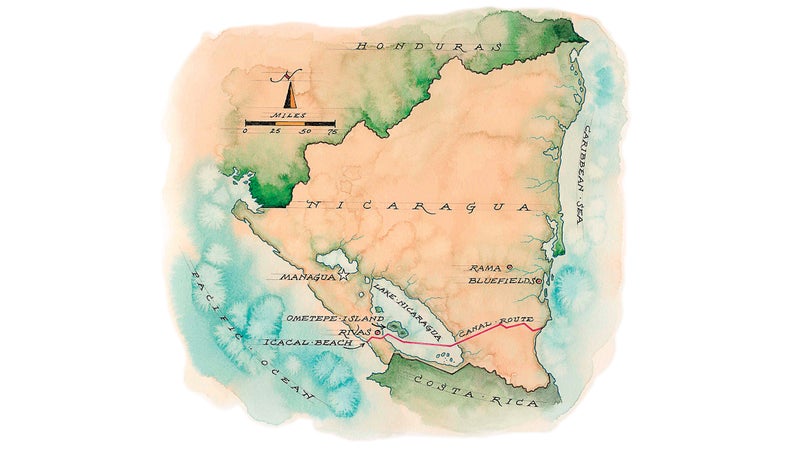 The potential environmental consequences are immense. Among other things, scientists worry that silt from dredging, agitated by the perpetual turbidity of windy Lake Nicaragua—the largest lake in Central America and the country's main source of drinking water—will create an anoxic dead zone that could annihilate the lake's aquatic life and severely damage the flora and fauna along its shores. Cutting down an estimated hundreds of thousands of acres of rainforest will contribute to global warming, increase erosion, and destroy habitat for endangered jaguars and spider monkeys. There are human concerns, too. Along with unfathomable mountains of dirt and rock, the canal will displace tens of thousands of citizens.
My objective on the motorcycle trip was to talk to ordinary people, to see what nuances might be hiding behind the Sandinistas' assurances that more than 70 percent of Nicaraguans support the canal. I arrived knowing that protests in December of 2014—in response to a ceremony marking the official start of canal construction—had triggered a fierce crackdown by police and the army. Dissenters around Nicaragua burned barricades of tires and threw stones at riot troops. According to news reports, hundreds were jailed without charges, and dozens were severely beaten. Would I find a population in the midst of similar upheaval or one that had been pacified?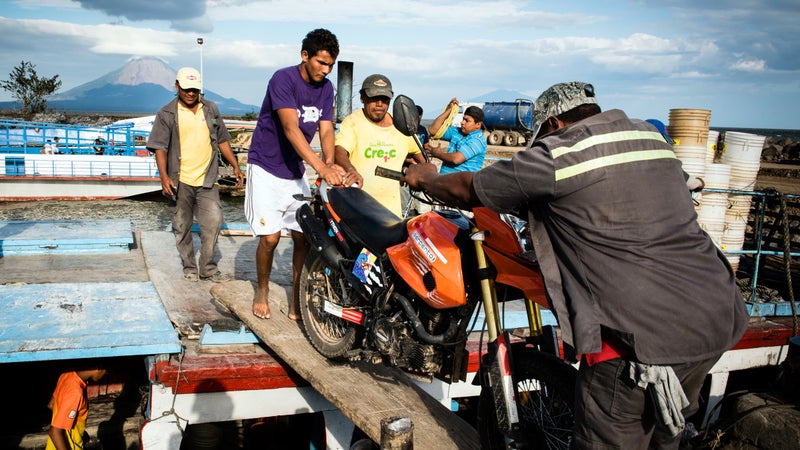 I was joined by Greg Chrisman, a 43-year-old California native who runs a Pacific coast ecotourism outfit in Puerto Sandino called Surf Tours Nicaragua. Greg invited two friends along for added security. During the summer, Jared Rosa, 32, manages a restaurant in Corolla, North Carolina. He spends his winters teaching surf lessons at Rancho Santana, an exclusive resort north of San Juan del Sur. Shawn Barylski, 40, is a retired police officer from Connecticut who was stationed on the North Shore of Hawaii as a young Navy recruit and occasionally works as a surf guide at Greg's camp.
A month before I arrived, the police had arrested and deported a Belgian photojournalist named Michèle Sennesael, who was covering anti-canal protests in the town of El Tule. Her cameras were confiscated and never returned; with that in mind, it was a relief to have Jared and Shawn along to enhance the perception that we were nothing more than a group of dirt-caked gringo adventure riders.
Our journey began in Puerto Sandino on Saturday, February 7, with the aim of making a 225-mile sprint east across the country. We planned to reach Rama, the gateway to the Caribbean, on that first day, but everyone was a little hungover, so we missed our start window by about four hours. Jared and I each popped a Ritalin—an over-the-counter drug in Nicaragua—for extra focus in the chaos of Managua, with its anarchic taxis and median-hopping motorcycle paths. Coming out of the city's east end, an hour or so into our trip, we were whizzing north on the Pan-American Highway, high above Lake Managua, which has the distinction of being the most polluted lake in Central America. Until 2009, when the government finally opened a treatment plant, the lake was a giant toilet, draining the waste of the capital's 1.6 million people. The lake has also absorbed toxins, including benzene and mercury, from the hundreds of industrial facilities in its drainage.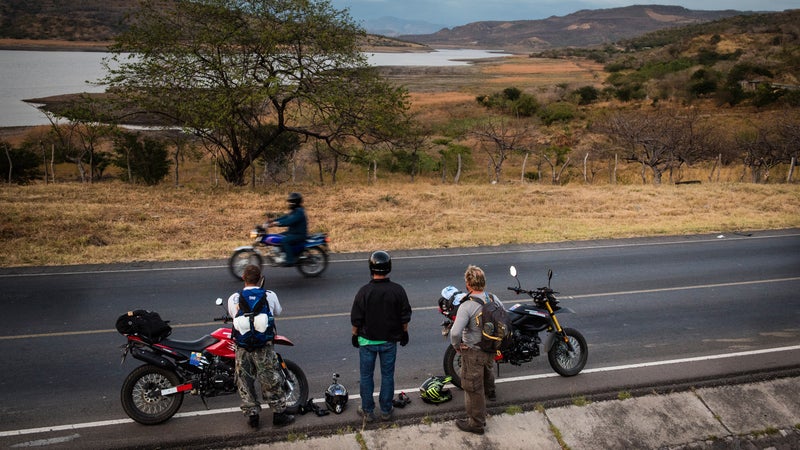 At the town of San Benito, we stopped for fuel and a cold Toña beer. I could feel the vibrations of the engine and road still pulsing though my weary limbs. An old man tried to sell us gaudy sunglasses. People were piled on the roofs of buses and semis, and a layer of soot covered everything.
Next, we headed east on Highway 7, the Rama Highway. The Canoas Dam, drought stricken and overused, glimmered like a mirage in the cleft between two mountain ridges. With the darkness came rain and cavernous potholes, invisible in the blinding headlights of oncoming traffic. We made it as far as Juigalpa—where Daniel Ortega, Nicaragua's president, lived briefly as a child—before stopping for the night at a guesthouse beside a gas station.
We all took a slug of Flor de Caña rum from Greg's Nalgene bottle to celebrate completing our first day's ride. We were snoring before our heads hit the pillows.
---
President Ortega, who returned to office in 2007 after 17 years out of power, has pitched the Grand Interoceanic Canal as a panacea for the country's development ills, reviving an idea that dates back centuries. On June 14, 2013, during a televised address in which he announced that Wang had won the concession, he said, "Our people … have spent so much time wandering in the desert in search of the promised land. The day has arrived." He vowed that the canal will combat poverty and bring "well-being, prosperity, and happiness to the Nicaraguan people."
Thirty-six years after the Sandinista revolution overthrew the brutal dictatorship of Anastasio Somoza Debayle in 1979, and 25 years after Violeta Chamorro's election brought an end to the Contra war, Nicaragua is firmly in the hands of the Sandinistas again, and it's now the second-poorest country in the Western Hemisphere. Only Haiti is worse off. Two-thirds of the rural population lives on less than a dollar a day.
Paul Oquist, an American who is a top adviser to Ortega, has been quoted saying that the canal will expand the Nicaraguan economy by more than 10 percent annually starting in 2015. By 2018, Oquist says, canal revenues will double the country's GDP and triple employment. HKND claims that canal construction will generate 50,000 jobs and that the completed canal will indirectly benefit 200,000 people in perpetuity.
Unfortunately, it's impossible to know where these figures come from. HKND carried out feasibility studies in partnership with reputable international consulting firms, including McKinsey and Company, at a cost just shy of $1 billion. But none of the studies have been made public, and most of what the government says about the canal has to be taken on faith.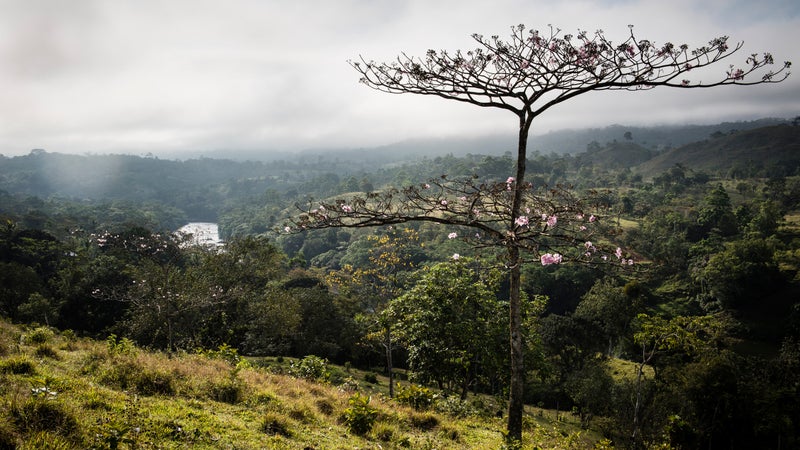 A startling lack of transparency has plagued Ortega's canal project since its moment of origin, which itself remains a mystery. The best anyone can tell is that Ortega or someone close to him—possibly his son Laureano Ortega Murillo, who is the chief liaison with HKND—hatched the project with Wang in a secret meeting sometime before the summer of 2012. There was no tendering or bidding process, and there has never been any attempt to explain why Wang, an obscure telecom tycoon from China with no experience in building infrastructure, is the right person to take on one of the largest engineering projects in human history.
Unperturbed, the Nicaraguan National Assembly rubber-stamped a series of laws in 2012 and 2013 that created a Nicaraguan Canal Authority and granted a sweeping concession to HKND. (The concessionaire is a Wang subsidiary called—no joke—the Developer of Grand Infrastructures Company.) Under the terms of the Master Concession Agreement, which was signed on June 23, 2013, HKND gets the exclusive right to construct the canal and to collect the majority of the profits from it for a period of 50 years. After that, HKND can renew the concession for another 50 years or hand the canal over to the Nicaraguan government. Throughout the concession period, HKND won't pay a cent in taxes or customs duties. It will pay a fee of up to $10 million per year for the first decade of the concession, minus a vague "fee adjustment amount" that HKND deems accountable to the government.
Wang's annual $10 million pledge appears to have bought him a lot more than the right to dig a trench across the country. He'll also be able to pursue numerous subprojects: an international airport, deepwater ports on both coasts, free-trade zones, highways, a new railway, an oil pipeline, and a nebulous item labeled "Umbrella Project."
Virtually anything could find shade under Wang's umbrella. HKND has already said it plans to build golf courses and resorts on some of the country's most valuable real estate. And the Nicaraguan Canal Authority will use its legal power to expropriate private land on behalf of HKND. Not just land along the canal route, but any land that HKND deems necessary for the implementation of its subprojects, anywhere in the country. Ortega has essentially given Wang and HKND eminent domain over Nicaragua for a century.
Mónica López Baltodano, an environmental lawyer and director of the Popol Na Foundation, told me that the concession is a severe blow to Nicaragua's sovereignty. Nicaraguan law will not apply inside project areas, and neither will Chinese law. (Wang insists that he has no ties to the Chinese government.) HKND will contract its own security, and the firm is reportedly in talks with the Russian military to handle the job. According to Baltodano, the Central Bank of Nicaragua guarantees the project—meaning that HKND can recoup funds from national reserves if it can blame any failures on political conditions in Nicaragua. Finally, the concession obligates the government to create new laws or change existing ones, including the Political Constitution, whenever "necessary or desirable to facilitate the success (economic or otherwise) of each Sub Project."
HKND, the Chinese company behind the proposed Nicaraguan canal, claims that it will generate 50,000 jobs and benefit 200,000 people in perpetuity.
All this for a canal whose economic viability is very much in doubt, since there's no clear need for it and the Nicaraguan government hasn't released any information about anticipated revenues. Maersk, the world's largest shipping enterprise, has flatly said that the canal "is not something we have a demand for, and we're not able, at this point, to tell whether we'll use it." Ortega has said that the Nicaraguan canal's greater depth will allow it to handle the largest ships currently under construction for the global fleet. But those ships aren't going to see service in the Western Hemisphere, so the new canal would be filling a demand that doesn't exist.
Meanwhile, the Panama Canal—which is less than one-third the length of the proposed Nicaraguan canal—is nearing the end of an eight-year, $5.3 billion expansion. The upgrades should allow it to serve all shipping interests in this region for the foreseeable future. The Panama Canal, which was completed in 1914, generates about $1.4 billion in annual profits. So even if the Nicaraguan canal stole all of the Panama Canal's business, it would take 35 years for HKND to recoup its original investment.
---
We left Juigalpa the next morning, and I pinned the throttle through the cool air and green fields of Chontales, the cattle-producing heartland of the interior. I stopped in Santo Tomás to let the other guys catch up. The food stalls and produce market were thrumming. A young Creole in a digital-camo jacket and shorts walked up and said, "Hey, man, where you from?" I told him I was American and that I was trying to get to Rama and then Bluefields. His name was Tony, and he said he was from a town called Kukra Hill, about 20 minutes by boat from Bluefields. I'd heard that the ferry from Rama to Bluefields, up the Escondido River, took ten hours, and I asked Tony if it was possible to ride a motor-cycle all the way to Kukra Hill instead and pick up the ferry there.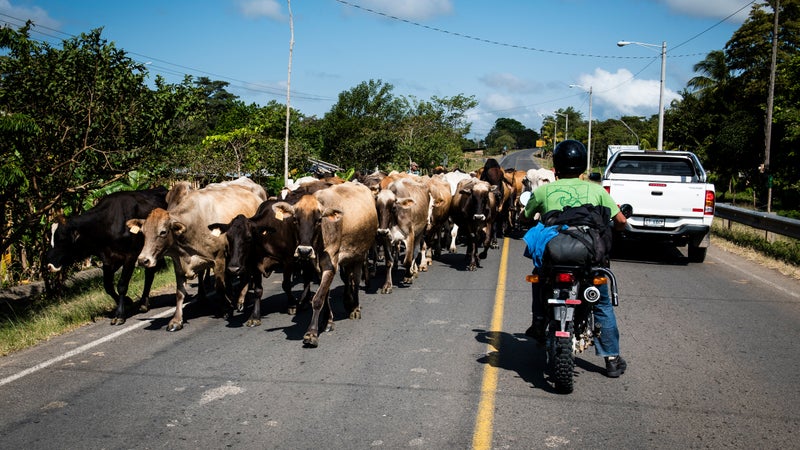 "Yeah, it's about 70 kilometers from Rama," he said. "When you get there, look for a woman named Miss Nini. She can help you."
Once the others caught up, we ate a quick breakfast and pressed on to Rama, where a policeman gladly hopped on his motorbike to show us the way to the Kukra Hill road. He left us on a deeply pockmarked dirt track beside a sign that read KUKRA HILL 72 KM. The softball-size rocks should've been enough to send us running for the ferry, but sheer ignorance inspired us to keep going.
We arrived in Kukra Hill more than three hours after leaving Rama. Caked with grime and drenched in sweat, we rode standing up and cruised the main drag. We had no problem finding a kid to show us where Miss Nini lived. We pulled up in front of a dirt yard surrounded by a chain-link fence. A deer with furry antlers was foraging beside sunning dogs and a crazy-looking monkey on a string. Miss Nini walked out and acted as though she'd been expecting us for a while.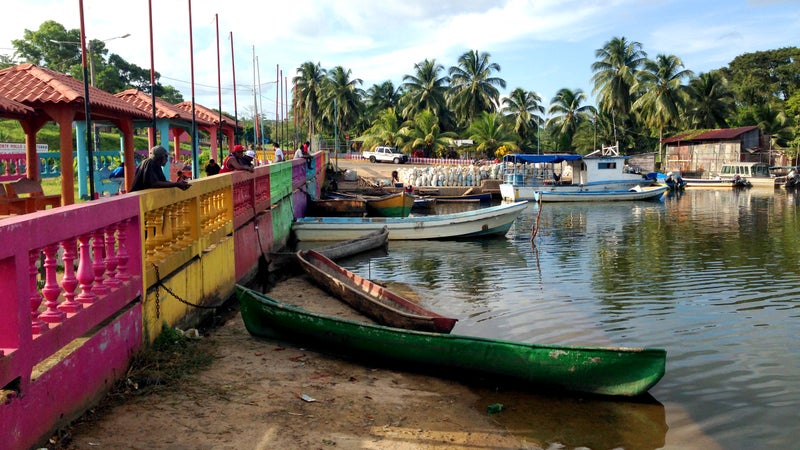 "Yes, I know Tony," she said, looking at us sidelong before rearing back in a belly laugh. From that moment on, Miss Nini—age 67 and born Isabelle Puchi—was the perfect host. She told us how to get to the docks and offered to let us store our bikes at her house overnight. We laid a plank on the front steps and walked them right into the foyer.
"Anyone who wants to try to take them will have to get through me," she said, flashing a toothless grin. I offered to pay her, but she said, "Maybe someday I'll come to America and you will help me find my way. The world is small, never large." She told us who we needed to look up in Bluefields and called a taxi to take us to the ferry. A few minutes later, we had Toñas cooling our hands as we drifted the lazy bends of the Kukra River.
Named after a 17th-century Dutch pirate, Bluefields is unmistakably Caribbean. On the afternoon we arrived, everything was sticky with the humidity of the tropics, smelling of decay. Gone were the jeans, neat mustaches, and hand-tooled leather belts of the ranch towns to the west. The fashion here was a blend of hip-hop and beach: basketball shoes, baggy shorts, ball caps with crisp brims, jerseys, flip-flops. Locals of all ethnic backgrounds bantered in an English patois of truncated words, hard consonants, and rounded vowels.
The city of about 49,000 and its surrounding enclaves are home to Rama Indians, as well as mestizos and Creoles. Because of its isolation, the region was sheltered from the nastiness of the Somoza era. Ironically, it was the Sandinista victory in 1979 that really turned things upside down on the Caribbean side. The Sandinistas sent soldiers to occupy Bluefields, expropriated foreign companies, and initiated land reforms that forced Indians onto state-sponsored cooperatives, determined which crops they could grow, and fixed prices.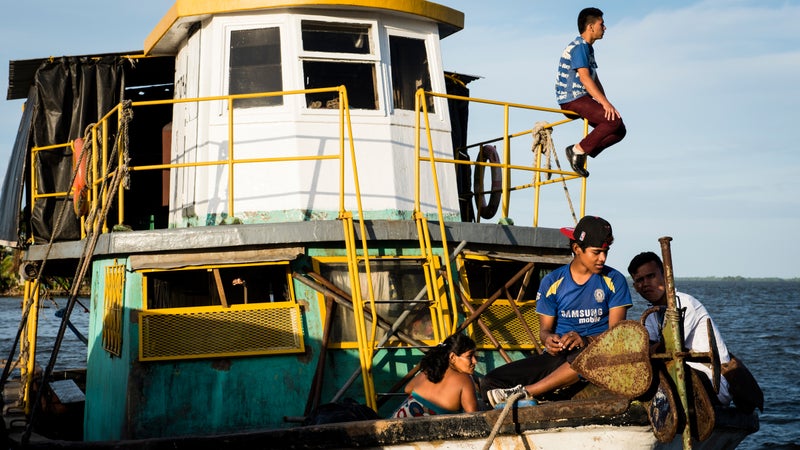 Simultaneously, the Sandinistas' growing pariah status internationally brought the once thriving Bluefields port to a standstill. The economic agony was amplified by rationing that further alienated the locals. Thousands of indigenous people fled to Costa Rica and Honduras. The CIA did its best to co-opt as many of the discontents as possible into the Contras, which, to put it mildly, didn't make things better for anyone.
The situation improved in 1987, when the Sandinistas granted regional autonomy to the indigenous people of the Caribbean coast as a peace gesture. In 2003, indigenous rights expanded further with the passage of Law 445, which granted communities sovereignty over huge tracts of communal lands and waterways. The canal project threatens to undo that hard-won independence.
---
"The Americans are the ones that put the canal into the minds of Nicaraguans. They put it there over a hundred years ago," Rayfield Hodgson told me. The 67-year-old pastor and longtime politician was in an armchair, his hands folded across his paunch, in the sitting room of his home in Bluefields.
If the current canal plan goes through, Bluefields will become the closest major town to the Caribbean entry port, which will be located near Punta Aguila, a tiny Rama Indian fishing community, roughly 30 miles away, that sits amid coastal mangrove estuaries. We traveled to Bluefields to get a sense of the Caribbean perspectives on the project, and Hodgson—whom I'd heard about from Miss Nini—was the right man to ask: he'd served as mayor of Bluefields in the early years following the Sandinista takeover in 1979, and he was governor of the South Atlantic Autonomous Region from 1994 to 1998.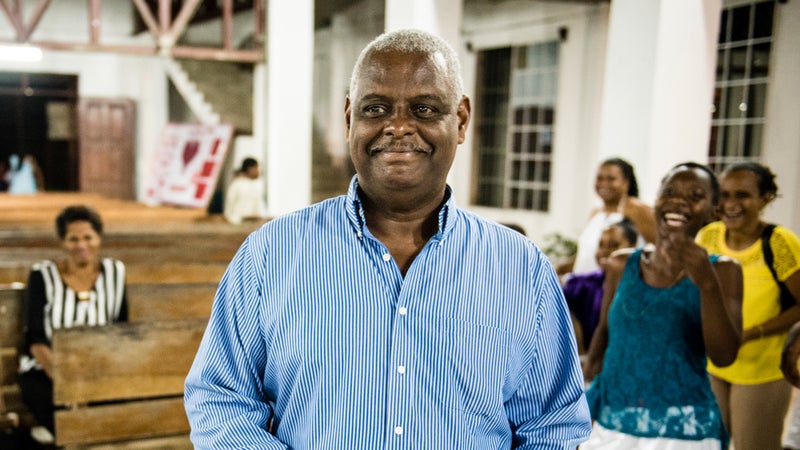 In his Caribbean-accented English, perfected during years at a seminary in upstate New York, Hodgson told me how the Caribbean region had long ago been a British protectorate called La Moskitia, but that the British abandoned Nicaragua in the late 18th century to avoid competition with the U.S., at a time when the U.S. was increasingly determined to build a canal across the country.
"The British disengaged with us and left Nicaragua to protect us," he explained. "And of course you can't give the rat the cheese to protect. He's going to eat it. We were invaded by our protectorate"—meaning the Spanish-speaking government in Managua, which has always seemed like a foreign presence to people in this part of the country. This area's relationship with the Pacific side and Managua has varied at times from outright military occupation to total abandonment, a trend that persists today. "But the canal idea remains," Hodgson said.
In the 1990s and early 2000s, Hodgson was involved with a group that tried to build a path for a freight railroad, often referred to as the dry canal, across the country. The Nicaragua Interoceanic Canal Company even won a 40-year concession from the administration of then president Arnoldo Alemán in 2001. Hodgson traveled to China, Europe, Canada, and the U.S. to court investors. But Enrique Bolaños, who took office in 2002, refused to grant the permits required for feasibility studies, and the dry-canal idea died like all canal dreams before it.
When I first found Hodgson, at about 6 p.m. on a Sunday, he was seated in a pew close to the front in the Maranatha Vineyard Church, which he founded and where he serves as head pastor. Services were under way, and the pews were full and rowdy, thanks to a visiting preacher from Jamaica, a tall, stringy firebrand who hurled exhortations at the congregation over a loud PA system. Once we were outside, I asked Hodgson what he thought of the sermon. "Well, he sure knows how to scream," he deadpanned.
Hodgson was of two minds about Ortega's canal. "It remains a dream," he said. "It's nothing new to stir up that dream. Most of the Nicaraguans, the greater majority, would like to have a canal built. The problem is that they would like it to be built, but not with the Sandinistas, because it will strengthen their regime and make them very difficult to overthrow. They will be in power probably a hundred years if they can do something like this."
Despite the risk of cementing Ortega's authoritarianism, Hodgson remained pro canal. "I do not see anything that could change the Nicaraguan economy so radically," he said. "We are below Third World. They don't even have a number for us or a name. We should be Fourth World. Nicaraguans are all in Panama, they're in Costa Rica, doing cheap manual labor for those countries. It would be good for them to stay home and take care of their own families."
Still, Hodgson said he would prefer that the government focus its efforts on the immediate needs of poor communities through achievable projects. One would be a paved road from Bluefields to Nueva Guinea, giving Bluefields access to the rest of the country and lowering the cost of living.
"The next thing we need desperately is running water," he said. "Water that people can drink is a necessity here in this city. Surrounded with water and have no water? It's stupid."
---
On the Pacific side of Nicaragua, canal dreams are as deeply embedded in the cultural psyche as the face of Augusto Sandino, who longed for a canal as a means of liberating Nicaragua from American imperialism. They've been handed down through the generations since at least the time of the earliest Spanish colonial administrators, who wrote excited letters to the crown about the possibility of linking the Caribbean to the Pacific by way of the San Juan River and the lake.
In the 19th century, the U.S., France, Belgium, Germany, and Britain all vied for canal concessions. At the close of the century, steam made massive engineering projects and ocean travel feasible on a previously unimaginable scale, and the U.S. government resolved once and for all to build a canal.
In 1896, Nicaraguan president José Santos Zelaya signaled his government's willingness to lease the required water passages and land to the U.S., and Congress created a Nicaraguan Canal Commission in 1897, which completed an extensive survey of the San Juan River. Unfortunately for Nicaragua, events were already in motion that would make a competing route in Panama—then part of Colombia—impossible to resist.
A French company's attempt to put a canal across the malarial jungles of the Panamanian highlands had ended in spectacular failure in 1889, at a cost of more than a quarter of a billion dollars and the lives of 22,000 laborers. The company's bankruptcy left a railroad, a partially built canal, and hundreds of millions' worth of construction equipment up for grabs. The U.S. bought everything for $40 million, along with the concession from the Colombian government. A significant contingent of congressmen still preferred the Nicaragua route as late as 1902, when Congress was preparing to vote on the Spooner Act, which would authorize funding for the Panama project. But it passed easily, and in 1904, with the help of a little Rooseveltian gunboat diplomacy to liberate Panama from Colombia, the construction effort got under way.
"The Americans put the canal into the minds of Nicaraguans," pastor Rayfield Hodgson told me. "They put it there over a hundred years ago."
A century and some change later, the differences between Panama and Nicaragua are starkly visible in their capitals. Bristling with skyscrapers, Panama City is a center of international commerce at the crossroads of the world. Managua is a hot and dusty warren of two-story buildings without addresses. At around $20,000, the Panamanian per capita GDP is more than four times Nicaragua's. Panama has its canal and all the complex infrastructure to go with it. Nicaragua doesn't even have a coast-to-coast highway.
It would be too simple to attribute Panama's relative prosperity to the canal alone—Panama has also been more stable politically—but that's exactly what Ortega and his backers seem to be doing. Paul Oquist put it simply: "We need a way out of poverty. The canal will provide this."
Maybe. One of the unanswered questions is when and if canal construction will actually begin. The clock started ticking at the groundbreaking ceremony on December 22, 2014, but nothing other than symbolic shoveling has happened yet. The government has only claimed, implausibly, that construction will take five years.
---
On the morning of our second day in Bluefields, Shawn set out to look for extra straps to secure our gear more firmly to the rear fenders of our bikes. Greg, Jared, and I headed to the docks to hire a panga to take us to Rama Cay, the island headquarters of the Rama Indian community. On the wharf, workers unloaded sacks of rice and banana seedlings from barges fresh in from Rama. Jehovah's Witnesses handed out copies of The Watchtower to disembarking ferry passengers. On the other side of the street, an elderly woman sold cups of Nescafé to men on their way to work.
Greg found a panga pilot, and we launched into the fog-shrouded bay. Dugouts and sailing canoes plied the overgrown banks, silhouetted in the fog. Bluefields Bay looks more like a lake than an estuary on the border of the sea. It's breadth disguises its shallowness. In most places, you could jump out and simply stand.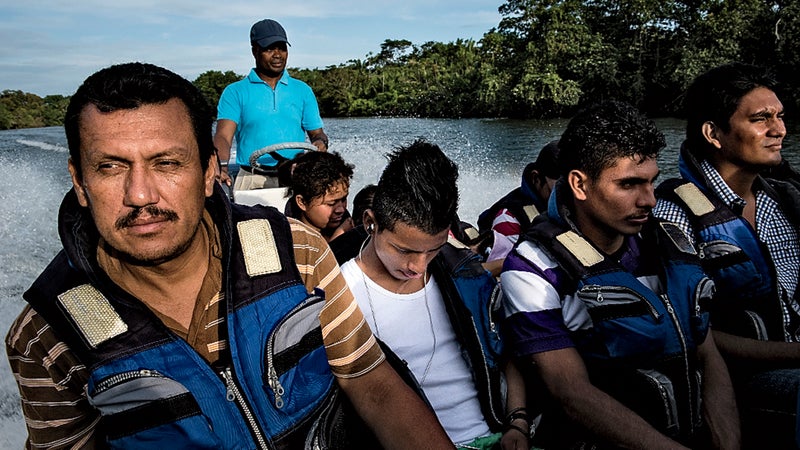 When we arrived at Rama Cay around nine, at least one member of the unofficial welcoming committee was already half in the bag. We'd barely introduced ourselves when a man in a tank top offered me a soda bottle filled with chicha, a homebrew made from fermented maize. I took a deep pull. It was good, but it would've been better after breakfast.
Overgrown with hardwoods and palms, Rama Cay rises out of the lagoon to a height of maybe 50 feet. The first thing you notice as you approach are the board houses hanging out over the water on stilts, their picturesque look belying the island's poverty. There is no running water or plumbing here. The wells go dry in summer. The island's health center has only one nurse on staff and lacked electricity until three years ago.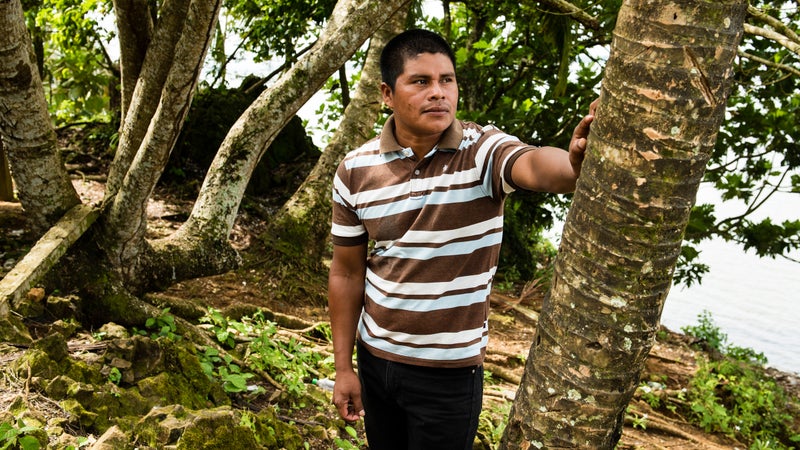 One might assume that the Rama Indians would be eager for the developmental benefits that Ortega has been promising, but Santos Hernandez McRe, 31, who serves as a representative on the Regional Council's Commission for Environmental Resources, told me that most Ramas oppose the canal, because the concession violates the indigenous protections enshrined in Law 445 and the Caribbean autonomy laws of the 1987 Political Constitution.
"The law says clearly that for a project to happen in an indigenous community, on the communal property, they have to do a prior formal consultation with the indigenous villages," he said. "In this case, the government hasn't done it. They aren't obeying the law that exists here in Nicaragua."
McRe said he doesn't have any hope that the canal project will create jobs for Ramas, because there are no skilled laborers in the community. The chief concern is that the canal will destroy the Ramas' traditional fishing culture, which is the bulwark of their community, woven into their spirituality and communal life.
McRe also fears that large ships will make traveling by panga and canoe extremely dangerous in the canal channel, and that the perils of crossing from one side to the other on open water will create an invisible wall between indigenous communities. As he spoke, his children hung over the railing on the balcony of his house.
"The canal will divide us," he said. "The moment they build the canal, this culture, this tradition of navigating the sea and the forests, going fishing and hunting—this will all disappear."
---
On December 23, 2014, demonstrators erected a roadblock in the town of El Tule, east of Lake Nicaragua, to protest the canal and land expropriation. By the time the military finally broke things up in the early hours of Christmas Eve, 50 protesters had been injured. During our ride back west, we passed through El Tule en route to San Carlos, where we planned to take an 80-mile ferry ride to Ometepe Island. It was as tranquil as you'd expect a town in the middle of nowhere to be. The Tule Valley stretches into the biosphere reserves between the interior and the Caribbean, and it's where HKND plans to bring the canal into Lake Nicaragua.
We had a few minutes to spare, so I stopped and spoke with a rancher named Adolfo Orozco Vallejos. We sat in plastic chairs at the gate to his ranch house, with pigs and chickens scratching in the yard. Vallejos, 59, owns roughly 1,360 acres of grazing and forest land, and he has good access to water. He said he's not worried about the canal project, even if it might require him to sell out. He pointed at a spot down the highway where the canal is supposed to pass and said he was pretty sure he'd have to give up at least part of his land. But Vallejos seemed to think he would be able to negotiate the sale price, and he quoted figures between $5,000 and $8,000 per manzana (about 1.7 acres) that would be acceptable to him.
"The first option would be to subdivide, if they didn't need all of my land," he said. "The rest I'll keep, and I will work alongside the canal. It will be like I won the lottery."
What Vallejos and I didn't know at the time was that the Master Concession Agreement—which, oddly, was initially published in the National Assembly's gazette only in English—stipulates that the government will purchase land on behalf of HKND at the tax-assessment value, not the market value. Tax assessments are done by the government and are not subject to negotiation, which opens the door to artificially low figures that would benefit HKND.
To my surprise, Vallejos derided the protest movement that centered on El Tule, calling it a political stunt. He insisted that most of the protesters came from far away, from Managua and even León, near the Pacific coast.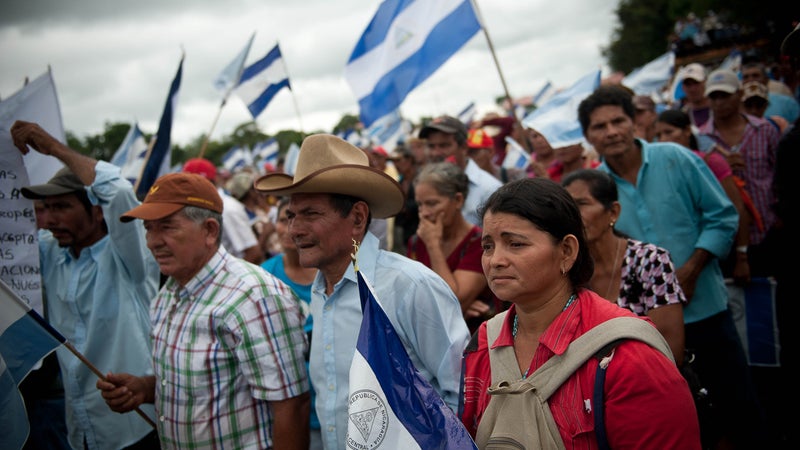 "These demonstrations are designed to manipulate people into being ideologically against the government," he said, "and they are manipulating poor campesinos who are illiterate and easy to fool." Vallejos dismissed the protesters' claims to be defending the lake and land from environmental damage, arguing that the damage there has already been done. "If you have the opportunity to go into the interior, into the places where these forests are supposed to be, there is not a single tree," he said. "It's already been entirely clear-cut."
I'm not sure where Vallejos got his information, but he was following the government's talking points to the letter: the Chinese will pay a fair price for the land, the protesters are outside agitators with nothing at stake, and there is no environment to protect because it has already been ruined.
We made the 2:15 ferry in San Carlos just in time and took advantage of the open upper deck to stretch out on our gear for a nap. Right before sunset, we pulled up to the wharf at San Miguelito, which we'd passed on the way to San Carlos. Sailors with AK-47's inspected baskets carried by women who went aboard to sell snacks to the passengers.
At one point, the canal was slated to pass right through San Miguelito's pristine wetlands. Recently, under pressure from a German NGO, HKND agreed to move the route to avoid them. But it will be impossible to avoid Lake Nicaragua altogether. The likelihood of severe environmental damage did not bother our captain, 58-year-old Juan Pablo Rosales Zacharia, who grew up in the cockpit of a ferry with his father at the helm. The hydraulic steering whined as he talked.
"The protesters are just poorly informed. They don't have good information," Zacharia said, taking a softer line than Vallejos. "I'm 100 percent sure the canal will change my life, because it will bring more people to the lake from Nicaragua and even Costa Rica. They'll need many more boats during the construction, and that will mean more work for all of us."
Zacharia was an Ometepe native, born and raised in Altagracia, where we docked just after midnight. Even so, I didn't find another person on the island who shared his optimism.
---
On a clear day, you can see the perfect basalt cone of the Concepción volcano towering 5,600 feet above the lake. Concepción is active and often spews smoke. Its fraternal twin, Maderas, occupies the southeast half of the island. Between the two volcanoes lies the Istían River, a swampy waterway that connects the two shores during the rainy season. At an ecotourism outfit on Ometepe Island called Caballitos del Mar, I hired a guide named Willy Barrios to take me on a kayak tour of the estuary.
As we paddled up the shoreline of the island, a kingfisher landed on a mangrove branch. "They are very shy," Barrios whispered. No sooner had the words left his mouth than the bird disappeared in a flash of green. A squawking flock of wild parakeets swarmed around a tall mangrove blooming with orange flowers. "The farmers hate them because they eat all of their seeds," Barrios said with a laugh.
We paddled slowly under mangrove branches and into the swamp, skimming inches above the muddy floor. A howler monkey rested high in a tree, and various birds put on a show. Within minutes I'd seen a whole flock of giant storks alight from their roost in an ash tree, and I was almost close enough to touch tiger herons, egrets, ibis, cormorants, and blue and green herons.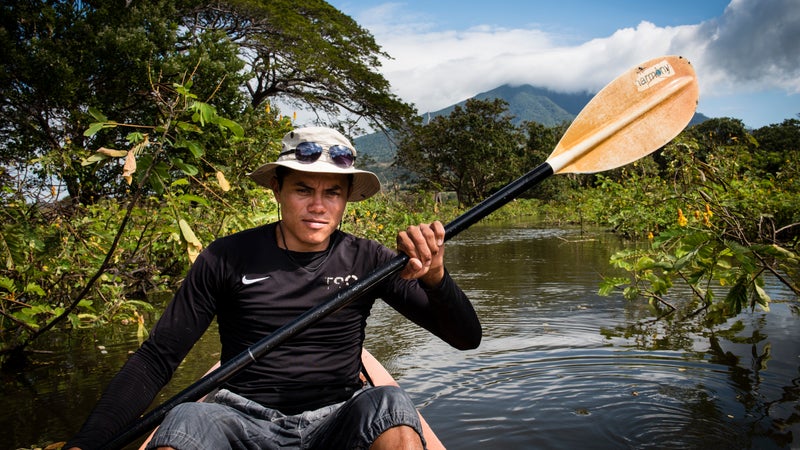 Barrios, 24, the youngest of seven children, grew up on Mérida, the pueblo where Caballitos is located. He said he wanted to study biology in college and come back to Ometepe to work in conservation or ecotourism, but he was worried that the canal construction might ruin the Istían and other places like it.
Ruben Rivera, 46, stands to lose even if the canal doesn't go through. He owns the Finca Charco Verde hotel, on 70 acres of beachfront near the base of Concepción. HKND has realized the scenic value of Rivera's location and has made tentative plans to build a "Volcano Sightseeing Resort" complex that could swallow his land and half the remainder of the island.
Rivera's father ran cattle and grew plantains on the land where the Finca Charco Verde hotel now stands. It's one of 14 converted farms that participate in Ometepe's Fincas Verdes program, which commits them to sustainability goals. Over a couple of cups of black coffee in the hotel's open-air grand palapa, which overlooks the lake, Rivera told me that his business has grown rapidly with the surge in Nicaraguan tourism over the past decade, but that he's waiting to see what happens with the canal project before he moves forward with investing in an expansion.
"I'd like to build new rooms and a swimming pool, but I don't know if the Chinese are going to take the land," he said. The Chinese, he explained, are probably in the same boat: no one wants to invest in the project until the controversial land expropriations are a done deal.
Dressed in shorts, boat shoes, and a peeling souvenir T-shirt from San Marcos, Florida, Rivera didn't look like a real estate mogul, but he said he might give it a try if he's forced to sell his land. "If they pay me justly for my property, then I'll figure out what I'll do after that," he said.
"It's just one more problem," he added. "Nicaragua has so many problems, this is just one more. Different, but the same."
Elliott D. Woods (@ElliottWoods) wrote about gray wolf reintroduction in February.
Lead Photo: Elliott D. Woods