The Not-So-Silver Lining of Your Anti-Microbial Outdoor Apparel
Heading out the door? Read this article on the new Outside+ app available now on iOS devices for members! Download the app.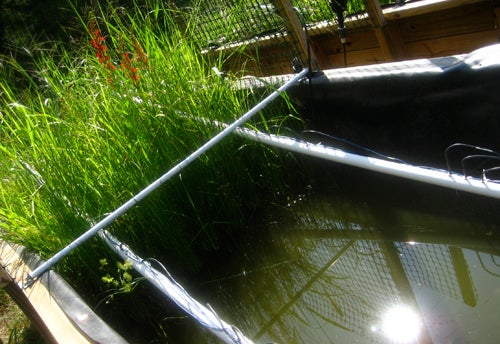 Simulated wetland used in silver nanoparticle research at Duke University. Photo: Benjamin Espinasse
In recent years, many outdoor apparel manufacturers have embraced a new range of anti-microbial textile coatings that are designed to inhibit the growth of bacterial and fungus that cause odors. Less stinky clothes means less stinky people, so it obviously has great marketing appeal—especially for clothing and socks that one might wear for numerous days in the backcountry. Plus, less stinky clothes means having to do less laundry, so that could add up to real energy and water savings for consumers.
But anti-microbial coatings might have a dark side. Many of these coatings use nanoparticles of silver—silver being the anti-microbial agent. A 2009 study showed that washing these textiles releases silver nanoparticles into waste water. From there, they could then enter the environment. And because silver is a known aquatic toxin, that concerns scientists. Now, a study conducted by researchers from Duke University and other institutions for the Center for the Environmental Implications of NanoTechnology, has revealed something even more troubling: Silver nanoparticles released into the environment can end up as a silver contaminant in terrestrial plants and aquatic animals. What's more, the silver was found in the organisms' offspring.
"You expose silver nanoparticles to one generation and it shows up in the next generation," says Martin Mulvihill, the executive director of U.C. Berkeley's Center for Green Chemistry and the author of a recent article about the study published in Environmental Health News. "It crosses the barrier between generations, and that is of the greatest concern. The Duke study shows silver nanoparticles persisted in the environment and underwent changes that might make it dangerous [to plants and animals]," he says.
Just what nanoparticle silver means for the long-term health of individual organisms or for ecosystems as a whole is not yet known, however, because silver in nanoparticle form may behave differently in nature than other forms of silver that have been studied for a longer time.
Meanwhile, manufacturers continue to market clothings, socks and shoes that are coated in the stuff. The Project on Emerging Nanotechnologies has cataloged more than 700 consumer products in the health and fitness category that manufacturers have labeled "nanotechnology-enabled," and 24 percent of these items use silver nanoparticles.
Outdoor-specific gear makes up just a fraction of those 700 items, but should we be up in arms anyway? Mulvihill and Audrey Bone, a doctoral student at Duke who was involved in the study, say there's still much more to learn. The research is "just in the infancy," says Bone.
The Duke study used a set of large outdoor boxes filled with plants and pools—think of mini wetlands—to conduct its tests. Researchers sprayed silver nanoparticles onto the soil and water so the concentration of the substance was much higher in the study than it would be if, say, you were to ford a river wearing socks and shorts with silver nanoparticle coatings—especially since the coatings are designed to stick to the fabric.
However, another study has shown that sweat can cause silver nanoparticles to be released from textiles. "These things don't necassarily stay where they are intended to stay," says Mulvihill, about the coatings.
There likely aren't enough of us sweating and swimming through sensitive landscapes for silver nanoparticles to alter the environment in the near term. But if silver nanoparticle coatings become standard issue for outdoor apparel, that could change.
"Given how sensitive aquatic animals are to silver toxicity, this is a real environmental concern," says Bone.
—Mary Catherine O'Connor
@mcoc