Paradise With an Asterisk
Bikini Atoll, a tiny ring of islands halfway between Hawaii and Australia, is a world-class diving destination and home to one of the Pacific's last great fishing grounds. So where are all the tourists? Welcome to heaven on earth, where the vestiges of hell lie just below the surface.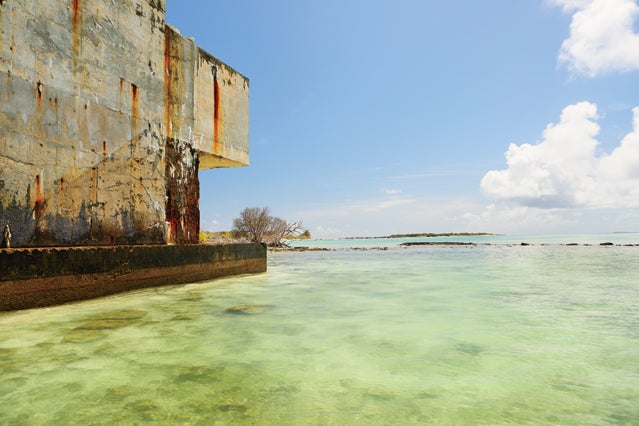 Corey Arnold
Heading out the door? Read this article on the new Outside+ app available now on iOS devices for members! Download the app.
Alson Kelen is seated comfortably on the grave of his great aunt, at the far eastern end of Bikini Island in the vast, hyperblue beyond of the Pacific Ocean. He is telling a story of a lost paradise, of a life he lived on this island a long time ago.

Hunting octopus in the swimming hole.

Island caretaker Edward Maddison with a coconut crab.

Displaced Bikinian descendants on Majuro's Ejit Island.

Airplane wreckage on Bikini Island.

Bikini Island's blue lagoon.

Alson Kelen wearing a traditional skirt.

Eneu Island's welcoming committee.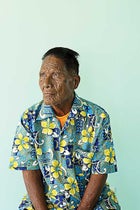 Jackson Laslo, one of the 34 remaining Bikini natives.

Abandoned reconstruction equipment.
He is 44 years old now, a short, barrel-chested man with a bald head, medium-dark skin, elaborate tattoos over much of his body, and a disarming smile. The world he describes is lush and lovely. He was 10. He and his friends played here in the coconut groves and in the brilliantly colored waters of the lagoon. They ate breadfruit and pandanus fruit. They drank coconut milk. They fashioned hooks from common nails, baited them with hermit crabs, and caught all the fish they could carry. "Every day was an adventure," Alson says. "We swam in the bluest water. We would cook the fish under the trees and eat them, and every day went like that—fishing, swimming, and cooking. It was a beautiful time."
From all appearances, this place is still an earthly paradise. Here in the Bikinian Ancestral Cemetery, with its tidy white fence and weathered graves, the 3.4-square-mile island looks exactly as Alson describes it. The sky is a deep cobalt blue; coconut palms, orange-limbed and yellow-fringed, sway in the steady trade winds. There are still breadfruit trees and pandanus trees and flame trees with brilliant red blossoms. Two hundred yards to the north, a coral reef meets the full, transparent blue violence of the Pacific.
There is just one problem, though you could stare at this palm grove for a lifetime and never see it. The soil under our feet, whitish gray in color with flecks of coral, contains a radioactive isotope called cesium 137. In high enough doses, it can burn you and kill you quickly; at lower levels, it just takes longer to do the job, eventually causing cancer. The soil itself is not dangerous to touch. The danger lies in the plant life that takes it in, and in the animal life, like the huge coconut crabs that live on the island and eat the plants. The cesium 137 is fallout, a word introduced to the world during the systematic detonation, from 1946 to 1958, of 23 nuclear weapons by the U.S. army on Bikini Atoll.
Over the course of a nuclear exile that has lasted 66 years, the Bikinian people have been relocated five times. They have nearly starved to death. They have seen their way of life vanish. They have watched as nuclear scientists swarmed over their island, trying to figure out what the bombs had done to it. They have fought the U.S. government in legal battles all the way to the Supreme Court. Alson was part of a group of three extended families who moved back to the island in the 1970s after it had been declared safe. He lived the fantasy existence he describes for me, only to be told, after the discovery of the horrifying cesium 137, that he and his people had to leave.
And still men like Alson, a former mayor of the relocated Bikinians, most of whom now live in the Marshall Islands' capital, Majuro, and on the island of Kili, want to come back to the place they believe God gave them.
Perhaps the cruelest part of exile for Bikinians like Alson is the staggering beauty of the atoll today, 54 years after the final atomic test. Just beyond the cemetery's fence, the lagoon is jumping with fish; corals are blooming; the atoll's uninhabited outer islands have become a gigantic seabird rookery; the beaches are perfect and white, the plant life lush and dense. Bikini is paradise again, but with an asterisk.
ON A MAP, THE Marshall Islands look like a large expanse of nothingness—a great, empty blue ocean dotted with flyspecks of land. That's pretty much the view from the air, too, as we sail through the cottony clouds in an old 17-seat Dornier 228 turboprop, 10,000 feet above the scrolling white waves of the equatorial Pacific. The physical dimensions of the Marshalls tell you everything about the place: 29 coral atolls and five islands that cover 70 square miles in a sea area of 750,000 square miles. It's like taking the small city of Wichita Falls, Texas, chopping it up into city-park-size pieces, and scattering it over Western Europe. One of those pieces is Bikini Atoll, which consists of a large oval-shaped reef and 23 small islands, including Bikini, occupying a total area of 230 square miles. There are some 125 miles of open ocean between it and the nearest inhabited island.
I am joined on this mid-April flight by five Bikinians, all descendants of the people who abandoned their island at the command of the U.S. government before the first atomic test in 1946. Three—Biten Leer, 49, Wilson Note, 50, and Banjo Joel, 62—are elected councilmen of the Bikini government, now located on Majuro. Jackson Laiso, 79, and Alson Kelen both grew up on Bikini Island—Laiso in the 1940s and Kelen during the aborted repatriation in the 1970s. Also with us are Japanese filmmaker Masako Sakata, who is working on a documentary about Bikini, and photographer Corey Arnold.
Our host and translator (the Bikinians speak varying degrees of English) is Jack Niedenthal, 54, American born and a larger-than-life figure in this part of Micronesia. Bearded, of medium height, and with the shoulders of the all-American swimmer he once was, Niedenthal came to the Marshall Islands as a teacher with the Peace Corps in 1981. He has lived there more than 30 years, speaks fluent Marshallese, and is married to a Bikinian woman. His intriguing title—trust liaison and representative for the people of Bikini Atoll—means that he manages the flow of trust funds from the U.S. to Bikini intended to compensate the Bikinians for their suffering and clean the place up. He is a friendly, relaxed presence; a good storyteller with a pocketful of tales spanning 30 years in the south seas.
We all met at 8 a.m. in the airport on Majuro, an island of 25,000 people that in some places is less than 300 yards wide. Our flight is taking us another 500 miles northwest. Getting to Bikini is not easy; for most people it's actually impossible. In 2010, the government-owned Air Marshall Islands, known locally as Air Maybe, had its three planes grounded for a total of 568 days for everything from compass problems to "uncommanded engine shutdown." The service to Bikini, until 2008 roughly one flight a week, is now practically nonexistent. Our temperamental Dornier was declared airworthy only at the last minute.
But it's a joyous trip for my companions. After a three-hour flight, we land on the island of Eneu, at the southern end of the atoll—a historic place, in a dark, apocalyptic sort of way. As a decaying concrete-and-steel bunker near the deserted airport attests, Eneu was once the U.S. military's staging ground for the atomic-bomb tests.
From there we board an open aluminum boat for the last eight miles to Bikini Island. As we head out into the atoll's protected lagoon, we pass buoys that mark the sites of some of the warships sunk during the bomb tests, now moldering, their cannons still intact, under 180 feet of water. Down there is the Nagato, the flagship of the Imperial Japanese Navy, from whose bridge Admiral Yamamoto launched the attack on Pearl Harbor. Finally, we land at the island's only dock and are greeted by some of the men who live on Bikini, part of a five-person skeletal force paid by the Bikini council to look after the remaining infrastructure.
Our rooms, which sit in the bight of an immaculate two-mile-long white-sand beach, are plain but quite decent, with running water, toilets, showers, and air-conditioning. They are relics of once successful, now defunct Bikini Atoll Divers, a commercial scuba operation that was to be an economic cornerstone of the return.
As we exit our temporary home and wade into the lagoon's 85-degree water, the only sounds I hear come from the seabirds wheeling above me and the lap-lap of waves on the sand. Sea turtles roam just offshore, near reefheads that teem with brilliantly colored fish. If there is a lovelier beach anywhere in the world, I have not been on it.
DESPITE THE NATURAL BEAUTY, it is impossible to walk anywhere, or look anywhere, and escape Bikini's nightmare history. Every man-made object on the island is an artifact either of the bomb tests or of some failed attempt to help the Bikinians return to their home. There are old bunkers built to shield cameras from atomic explosions; buildings put up by the U.S. Department of Energy as part of its radiological measuring program; houses erected by the U.S. in the 1970s for returning Bikinians; dump trucks, bulldozers, backhoes, semi trailers, fuel tanks, and forklifts, some decaying and covered with vegetation. There is a plywood building, nearly falling apart, with a rotting sign that says King Juda Lab, which was established to provide radiation testing for repatriated Bikinians. There is a sign on the machine shop that reads WE CAN FIX EVERYTHING EXCEPT BROKEN HEART. All of this is being reclaimed; it is all sinking back into paradise.
Operation Crossroads, the most spectacular and expensive science experiment in history, was first proposed in August 1945, a few weeks after the U.S. dropped atomic bombs on Hiroshima and Nagasaki. President Harry Truman had ordered the Army and Navy to conduct further tests of nuclear weapons. The reason, which sounds implausible if not ridiculous today, was to see if atomic bombs, when dropped on warships at sea, would sink them.
The U.S. had taken control of the Marshall Islands from the Japanese after World War II, and Bikini Atoll was chosen as ground zero. Its 167 residents, who lived in huts and fished and sailed their outriggers as they had for centuries, were persuaded to leave their homes "for the good of mankind and to end all world wars," as the local U.S. military governor put it to them. They were shipped 125 miles east to Rongerik Atoll and given a few weeks' worth of food and cheerful assurances that they could return as soon as the tests were over.
Meanwhile, Bikini Atoll became the centerpiece of a colossal military operation. By the summer of 1946, there were 42,000 military and civilian personnel in place, with 242 ships involved in the test, 156 aircraft, more than 300 cameras, and 18 tons of film. Since the whole point was to sink ships, an armada of 95 of them—the equivalent of the sixth-largest navy in the world at the time—were parked in the waters of Bikini lagoon, fully loaded with weapons and fuel. To see what the bombs might do to living things, 3,350 experimental rats, goats, and pigs were sacrificed on the decks. Servicemen sheared a number of them and put suntan lotion on their bare skin to see if that would somehow mitigate the effects of gamma radiation.
The first blast, code-named Able, was detonated on July 1 and, because the bombardier missed his target, was something of a dud. The July 25 Baker shot, however, was a monstrous success. Detonated under the ocean's surface, it drove a 2,000-foot-wide column of water high into the sky in less than a second. A few moments later, millions of tons of atomized reef and water collapsed back into the lagoon, and a giant shock wave moved out across the water, sinking the 26,000-ton, 562-foot battleship Arkansas and lifting the stern of the 880-foot Saratoga 43 feet into the air. The shock wave released massive amounts of radiation, a phenomenon that was not widely understood at the time. One hundred and twenty-five miles away, the Bikinians, newly resettled on Rongerik and already running out of food, still thought they were coming back to their atoll. Soon.
THERE IS A SENSE, while on Bikini Atoll, of being at the end of the world. That sense is greatly enhanced when the twin 150-horsepower outboards on your 28-foot aluminum hammer-head rig stop simultaneously in the middle of the atoll's massive shark-filled lagoon. This is precisely the situation we find ourselves in on day four: adrift, 15 miles from our lodge on Bikini, with only one day's supply of water, in a place where people without water don't last long in open boats. Though we have a radio and there are three men back on the island, our boat is the only functioning watercraft.
Our potential savior is a bandanna-wearing Filipino mechanic named Benjamin "Bai" Maloloy-on, part of the five-man Bikini work-force. He is now squinting at the motors and shaking his head. Bai seems capable enough, but he speaks in a broken Marshallese-English pidgin that is hard even for the islanders to understand. Earlier that day, Jack had asked him about taking the boat to the dock, to which Bai had given a lengthy reply about preparing barbecued pig for dinner.
Up until now, today's expedition was thrilling—in the good way. After leaving the island in the morning, we ran in the lee of the big reef, out of sight of the low-lying land for long periods of time, while big turquoise waves collided around us. We had set off to explore some of the atoll's outer islands. Our main destination was the small island of Nam, about 25 miles due west of Bikini, location of one of the seminal moments in the development of thermonuclear weapons.
As we motored across the lagoon, our Bikinian travel companions, who wore shorts and baseball caps and carried throw nets and an assortment of fishing poles, explained that the atoll's outer islands were their people's traditional fishing and bird-hunting grounds. This was where they once sailed their 30-foot outrigger canoes, remarkable pieces of technology that can hit 20-plus miles per hour and amazed the first Europeans who saw them. The canoes defined the old way of life, traveling from island to island within the protected lagoon; they could also travel great distances across the open ocean.
And then, suddenly, we were there: a patch of midnight blue water in the transparent shallows of the lagoon. This was the Bravo crater, a mile wide and more than 200 feet deep, a place where imagination fails. The hydrogen bomb that was detonated on this spot on March 1, 1954, created a fireball four miles wide and raised the temperature of the lagoon water to 99,000 degrees. The blast was 1,000 times more powerful than the Hiroshima bomb and nearly three times stronger than its creators expected. It shook islands 250 miles away. It vaporized three islands in the atoll. And it killed every living thing in the air, on land, and in the sea for miles around.
Three to four hours after the blast, the 64 inhabitants of neighboring Rongelap Atoll, next door to Rongerik, watched in wonder as the snowlike ash from Bravo began to fall on their island, reaching a depth of two inches. The children played in it. People drank water saturated with it. Soon they began to experience vomiting and diarrhea; their eyes burned, and their necks, arms, and legs swelled. The Americans had not bothered to tell the Rongelapese what they were planning to do.
With these surreal thoughts in mind, we dropped fishing lines in the H-bomb crater. We spent a few hours on Nam and on neighboring Aomen island. There were seabirds everywhere, millions of them. Virtually any tree we saw contained two or three fledgling terns or boobies or frigate birds. At some point, the Bikinian men disappeared to look for food, an endeavor they took great pleasure in. Majuro, where they live, is dense and urban; food gathering is done at the supermarket. Here, there is something wild and free and timeless about it, a tradition Alson remembers from living on the atoll as a boy. "My grandfather was the leader of the community," he says. "He would call upon the men to go fishing or get birds or turtles. The basis of our culture is working together. Everyone taking part."
An hour later, the men returned from the narrow strip of jungle with broad smiles, carrying a dozen coconut crabs—large, frightening creatures that looked as though they might have been spawned by the nuclear tests. They contain cesium 137 but at a level that makes occasional consumption harmless. It was a wonderful moment: a group of men from vastly different cultures uniting to celebrate the ancient, universal human bond of a successful hunt—in this case, for radioactive crabs. The Bikinians, huge grins lingering on their faces, were already planning a feast for that evening.
But a few hours later here we are, adrift on our broken-down skiff, the indomitable Bai covered with grease and sweat and barely visible in the boat's well. We are now experiencing—I am, anyway—another universal human feeling: fear. As casually as possible, I ask Jack what Plan B is.
He smiles, surveys the giant surf crashing above the reef and the rising seas around us, and replies: "Hope."
At the helm, Edward Maddison, another member of the island's full-time crew and the former dive master for Bikini Atoll Divers, jokes: "If we had a sailing canoe, we'd be home by now."
Alson laughs and nods.
"Too bad we can't just take it to the Honda guy at Majuro," I say, joking.
"That is the Honda guy," says Jack, with a nod of his head toward Bai. I can't tell if I should be reassured by that.
Finally, an hour later, we hear one of the Honda 150s growl, and we're able to limp back across the lagoon. For me it's a harrowing reminder of what a remote place I've traveled to. For the Bikinians it seems to offer nothing more than a few placid, pleasantly existential moments.
WHAT HAPPENED TO THE displaced islanders after 1946 was a tragedy of neglect. There was never enough food on Rongerik: the reef fish were poisonous; a fire damaged the island's coconut trees. There was not enough water. By 1948, they were starving to death, even though the United States had committed to taking care of them. In March of that year, the Bikinians were moved to Kwajalein Island, home to a new U.S. naval base, where they camped miserably on a small strip of grass next to the runway. A few months later they were relocated yet again, this time to the island of Kili.
This was a disaster, too, but of a different kind. Kili was a true island, which meant that there was no ring of coral, no protected lagoon, no jungle-fringed outer islands to fish and hunt, just the big waves of the Pacific crashing up against rugged shores. Fishing was nearly impossible. "It was just a small piece of rock in the middle of the ocean with some coconuts growing on it," says Alson. Once again food supplies were intermittent. At one point, the island's new inhabitants required an emergency airdrop. The Bikinian exile continued for another 20 years, long after the last bomb, code-named Fig, was detonated in August of 1958.
Then, in the late 1960s, something miraculous happened. Scientists from the Atomic Energy Commission decided that radiation levels at Bikini Atoll "do not offer a significant threat to health and safety." In June of 1968, President Lyndon Johnson announced that the 540 Bikinians living on Kili could go home, and he ordered them resettled "with all possible dispatch." Coconut, breadfruit, pandanus, and other food trees were planted on the island; debris was cleaned up. Houses were built. By the mid-1970s, more than 150 Bikinians were living on the island.
That was when the U.S. Department of the Interior began to realize that the estimates of radiation levels had been dreadfully wrong. In 1977, scientists recorded alarming increases in cesium 137 levels in the bodies of people living on the island. Now an emergency existed, and the entire population of Bikini was moved yet again, this time to Kili and Majuro. "They brought three ships and a lot of food," recalls Alson. "I was young. I saw the ships and said, 'Let's go cruising,' not knowing that this was the end of my happy life in this paradise. I was running around on the ships, but I could see that everyone else was crying. I remember they were waving and crying."
Life in exile resumed, perhaps a bit more despairingly than before. But a decade of constant research later, scientists again offered new hope. It began with radiation testing by the U.S. Department of Energy and its contractor Lawrence Livermore National Laboratory. By the mid-1980s, scientists had proven that by applying large amounts of potassium fertilizer to Bikini's soil, cesium levels could be reduced tenfold. In addition, the scientists concluded that soil excavation—simply removing the top layer of dirt—could further reduce radioactivity.
Neither of these solutions was cheap, but it was around this time that the Bikinians came into some real money. They received $75 million in damages in 1986 as part of a new Compact of Free Association with the U.S. and then, in 1988, another $90 million to be used specifically for radiological cleanup. The compact also set up a Nuclear Claims Tribunal, which meant that Bikinians' pending complaints against the U.S., dating from the early 1980s, would be heard by a new court. In 1987, a group of Bikinian elders traveled to the island to redraw old property lines; among them was Jackson Laiso, who is with us on this trip.
"You can't imagine the joy of knowing that, OK, they are finally giving us money to do this," recalls Niedenthal. "The joy of coming back with the old men was something I had never experienced."
The new attempt to return began with the cleanup of Eneu, where a small worker village was raised and the airstrip improved. Soon, a hotel was under construction on Bikini, along with new docks and roads. Generators, desalinators, and power lines were installed. All preparation for what everyone believed would be the big, definitive cleanup.
One key component of the plan was Bikini Atoll Divers, run by the Bikinians, which also offered sportfishing. The goal was to introduce the rest of the world to one of the planet's great untapped fishing and diving destinations. For divers there were the sunken warships from the Able and Baker blasts in 1946, sitting just offshore in about 180 feet of water. There were also incredible reefs. Despite atomic destruction that had blown much of the atoll to pieces, 50 years later the corals had already recovered. And with the corals came the reef fish and the fish that feed on the reef fish: 30-pound dogtooth tuna, 20-pound barracuda, and bluefin trevally as big as 50 pounds. With no human beings anywhere near the atoll to harvest them, Bikini offered sportsmen one of the most plentiful and pristine fishing environments in the world.
The first tourists arrived in 1996, and not surprisingly, the travel industry swooned. Skin Diver, Newsweek, National Geographic, and Condé Nast Traveler all proclaimed Bikini one of the best diving destinations on the planet. By 2000, Bikini Atoll Divers was attracting 250 people a year, all of whom paid roughly $4,000 for the experience—a good deal of money by the humble standards of Marshall Islands tourism and, suddenly, a real economic basis for a return to the island.
SINCE OUR BOAT IS temperamental all week—Bai, in an effort to fix the outboards, has remachined fuel pumps that don't quite fit—we explore Bikini Island as much as we can. One afternoon we visit the world's most perfect swimming pool. Like everything else on Bikini Atoll, it has a twisted history. Back in the 1990s, an engineer had needed rock fill to build the bulkhead on the western end of the island. In keeping with Bikini's time-honored policy of blowing things up, he dynamited the reefs at the eastern end. He got his landfill but also inadvertently created a coral-banked swimming pool, three to eight feet deep, in the middle of the island's outer reef. At high tide the pool, and the reef, are invisible. When the tide goes out the reef emerges, and in the middle of it is the swimming hole. Calm and spectacularly clear, it's too shallow for sharks and excellent for snorkeling.
We arrive as the last of the water recedes and plunge in. Whatever the dynamiters did to the place is long undone: there are massive coral formations housing spectacularly colored fish. While I swim among them, Alson hunts octopus, as he did when he was a child. He has a two-foot haft with a sharp hook on the end. He finds an octopus in a rock, and after a brief battle and several explosions of ink, Alson wins.
A while later, the tide changes and begins to rush in from the sea, where the breakers are now cresting the reef, sending powerful currents of colder water into our warm lagoon. The sharks—blacktip, whitetip, and gray reef—will soon be back, so we get out and turn our attention to fishing: the men have thrown nets, seeking mullet and mackerel.
Fish are freakishly plentiful here, and our traveling companions are obsessed with hauling them in. The day after our return from Nam, three of us fished from the lone Bikini dock. There were strikes with almost every cast. We caught several bluefin trevally and a magnificent green jobfish. On another cast, we hooked a smallish three-foot barracuda, which put up a spirited fight. A few seconds later, a school of grouper arrived and attacked the barracuda, which, now in a fight for its life, bent the pole in half. And then the sharks showed up, blacktips, probably four feet long, and the trick was to get the barracuda in before the sharks tore it to pieces. It all happened in water so clear we could see every detail of the battle.
Sharks are a constant here. The water is lovely and the reefs incomparable, but you're always looking over your shoulder. The guarantee of shark sightings was one of the diving operation's attractions, though occasionally they got more than they bargained for. "We didn't usually do night dives," says Niedenthal, who ran the operation, "but at one point the dive master decided to try one at the USS Saratoga with some customers who had been pestering him about it. So they loaded the boat, got their gear together, and dropped into the blackness. When they shined their lights around, all they could see was a wall of shark eyeballs glowing eerily in the sea around them. The dive lasted a total of 10 minutes, never to be attempted again."
Close to the end of our trip, we were eating lunch on our boat, which now, with the jerry-rigged fuel pumps, was sucking gas at an enormous rate. Someone threw some chicken bones overboard—inadvertently chumming the water—and a five-foot whitetip shark showed up. We watched it turn aggressively toward Corey, who was in the water putting on snorkeling gear.
"Shark!" we all shouted, then spent the next 30 seconds convincing him we weren't pulling his leg.
"I still haven't seen a shark," Corey said suspiciously, as we finally hauled him aboard.
"Oh, it was a naughty one," said Alson, who should know. "Trust me. The little ones are the crazy ones."
JUST WHEN THE BIKINIANS' epic attempt to return lost steam is difficult to pinpoint. Niedenthal dates it from the moment, in 1995, when the council discovered that the EPA standard for radiation cleanup (15 millirems) was significantly lower than the standard the Department of Energy scientists had been using (100 millirems), thus boosting the potential cost of cleanup.
But there were other, more immediate reasons. The Bikinian world was changing. Its population, which had grown quickly (the original 167 residents now number 4,800), was poor by U.S. standards and needed a range of social services. Addressing those needs began to trump the repatriation efforts. "They had a trust fund, but it had two masters," says Niedenthal. "They had to take care of their people where they were living now: housing, food subsidies, insurance, medical plans, scholarships, health care. The other master was the cleanup of Bikini, and that just became a less important priority."
Then followed the successive market crashes in 2001 and 2008, the second of which cut their financial trusts in half. The funds recovered somewhat, now totaling a little more than $150 million. That may seem like a lot, but the trusts provide a scant $6 million to $8 million in investment income annually, which in turn allows the Bikinian government to pay out something less than $15,000 per family per year. That leaves virtually no money for the cleanup. The massive public works begun on Eneu in the early 1990s have been suspended. The worker town is now a ghost town. In 2008, Air Marshall Islands' service became so unreliable that the diving and sportfishing operations had to be canceled.
The final devastating blow came in 2010, when the Bikinians lost their largest lawsuit against the U.S. government. In 2001, the Nuclear Claims Tribunal—a body established in 1983, as part of the Compact of Free Association, to handle Marshall Islands complaints—awarded the Bikinians $563 million in compensation. But the tribunal was never adequately funded to pay a claim of that size. The Bikinians sued to force payment, but the effort failed when the Supreme Court refused to hear the case in 2010, claiming it doesn't have the right to rule over international agreements. The U.S. courts are now closed to them. "It was absolutely devastating," says Niedenthal. "We always had the idea and the hope that we were fighting for something. When we got the final rejection by the Supreme Court, that was it. We're done."
It's ironic that, even as financial woes have all but ended the Bikinians' efforts to return, the prospects for bringing radiation down to acceptable levels are better today than ever before. A March 2012 assessment from Lawrence Livermore Laboratory is strikingly upbeat. One of its recent findings is that levels of cesium 137 are dropping far faster than anyone had predicted. Though the isotope's radiological half-life is 30 years, its environmental—or actual—half-life is only nine.
"Conditions have really changed on Bikini," says Terry Hamilton, scientific director of Livermore's Marshall Islands assessments. "They are improving at an accelerated rate. By using the combined option of removing soil and adding potassium, we can get very close to the 15 millirem standard. That has been true for roughly the past 10 years. So now is the time when the Bikinians, if they desired, could go back."
These findings leave Bikinians in a sort of cultural, scientific, and financial limbo. Considering the record of the U.S. government, it's hard to blame them for being skeptical. But even if they had the money for one final cleanup effort, return would be difficult. There are only 34 Bikinians still living who were born on the island. Though these and other Bikinians, like Alson, still yearn to go back to their old home, most of the young people have no such dreams. They have never been to Bikini. For them it's a myth. With 40 percent unemployment in the Marshall Islands and a four percent population growth rate, increasing numbers are leaving altogether for places like Salem, Oregon, and Springdale, Arkansas, where they are allowed to hold jobs based on the Marshall Islands' Compact of Free Association with the U.S.
Still, Niedenthal, who has spent the past three decades trying to help the Bikinians realize their dream, isn't ready to give up. "If somebody came and said Bikini was suddenly safe, you would not see all 4,800 people jump on a boat," he concedes. "But they view the land as a gift from God, theirs forever. They are still Bikinians and think of themselves that way. Our duty is to provide the option, so they could move back if they wanted to."
DURING OUR SEVEN DAYS on Bikini, our lives follow a lazy pattern: jungle walks to the north side of the island, a lunch of whatever fish we caught that day, a trip to one of the southern islands—all tempered by the wonderful freedom of having no cell-phone or Internet service.
But it always comes back to fishing. In the afternoons, the Bikinians use their throw nets, large seines with a 20-foot radius that require great skill to load and launch. I follow the men along the beach, having no idea why they are suddenly yelling and running to the water's edge. "We see the fish," says Edward Maddison during one outing, pointing to a school 15 yards offshore that I had again failed to see. "You just have to look."
In two nights, fishing with octopus-baited handlines, they catch 300 pounds of red snapper. We eat fish all the time, cooked and raw, boiled and roasted over open fires. We eat mackerel ceviche for lunch. At one point, the Bikinians catch a medium-size trevally from the beach. When I ask to see it later, they just smile. The fish was immediately consumed.
On one of our last nights, we have a cookout under the astoundingly clear skies of the central Pacific Ocean. I am talking to 79-year-old Jackson Laiso, the oldest person in our group and one of those 34 remaining Bikini natives. He speaks at length about sailing the outrigger canoes with the old men when he was a boy. Then he describes the last days in 1946. "I remember when the Americans came and they gathered the old men and explained to them what they needed," he says. "We had to move so they could test their weapon. It was a hard question, but we felt we had no choice." Our own departure will likely be the last time he sees the atoll.
A few minutes later, five Bikinian men assemble under a breadfruit tree to sing their anthem, written by Lore Kessibuki while he was experiencing the horrors of Rongerik in 1946. Soon we are listening to a sweet, sad, and hauntingly beautiful multipart harmony:
No longer can I stay, it's true
No longer can I live in peace and harmony
No longer can I rest on my sleeping mat and pillow
Because of my island and the life I once knew there
The thought is overwhelming
Rendering me helpless and in great despair
They are singing almost exactly on the spot where their grandparents were loaded onto those Navy boats so long ago, back in the days when paradise was something real and no one imagined, not even for a moment, that they would never come back.          
Trending on Outside Online