Indefinitely Wild
Your Guide to America's Public Lands
How to take full advantage of your 640 million acres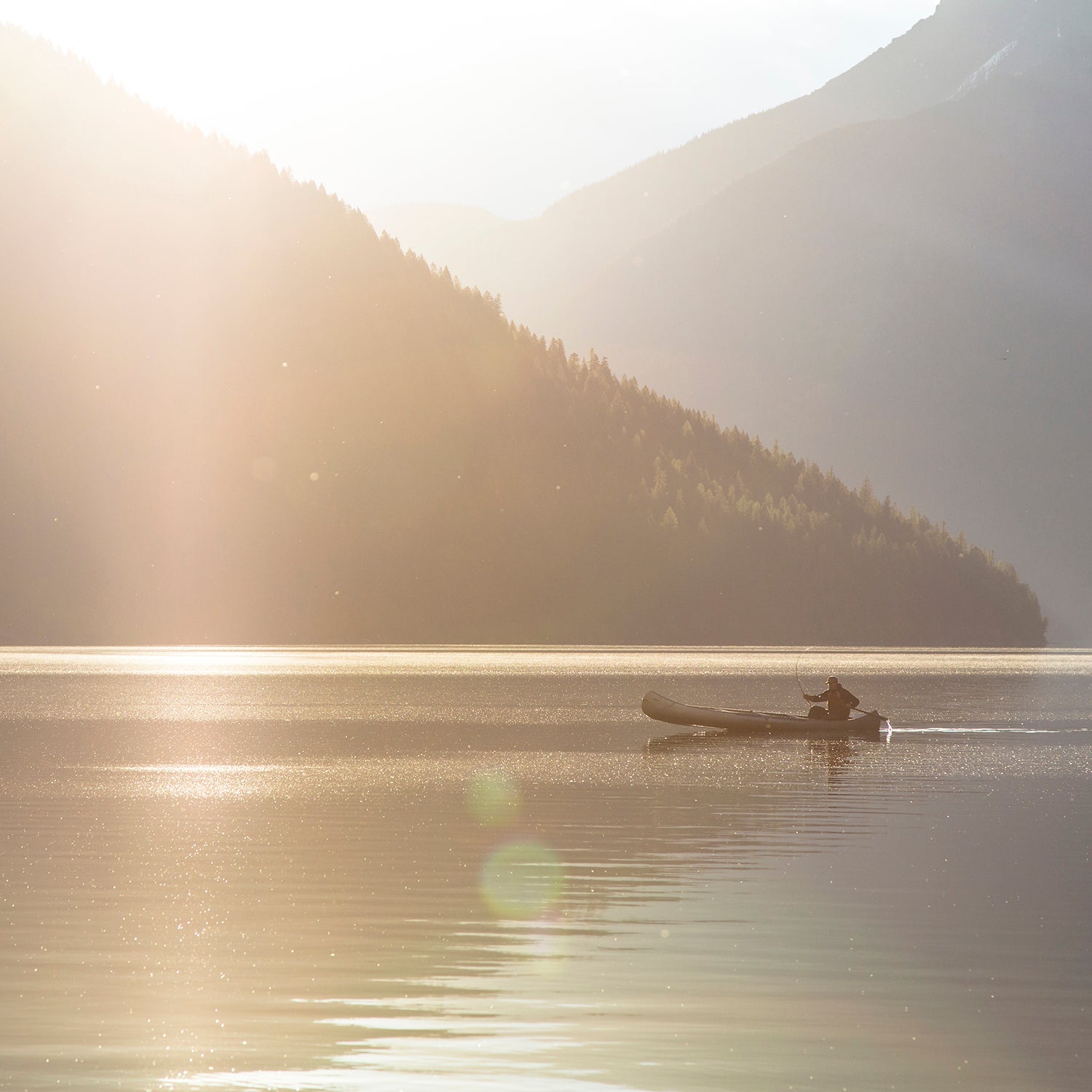 Heading out the door? Read this article on the new Outside+ app available now on iOS devices for members! Download the app.
America's public lands are owned by the people and managed on our behalf by federal and state governments. That means you get to use them for all sorts of fun things for little to no charge. Here's how to do that.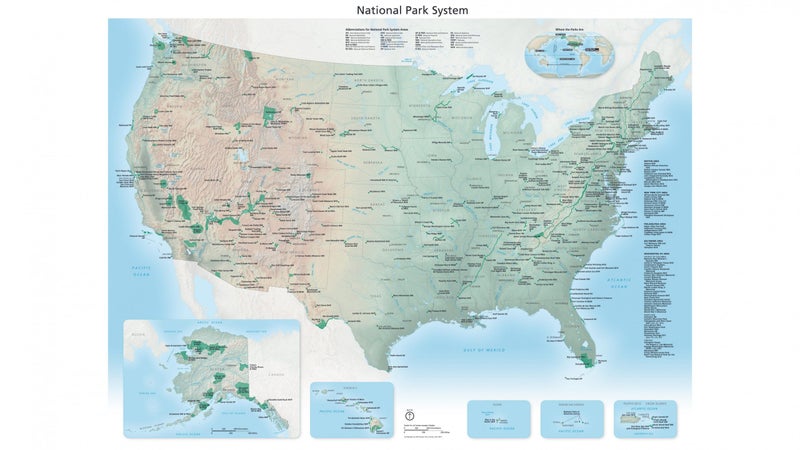 National Parks
What are they? The crown jewels of our public-lands system, national parks protect our country's most beautiful places while making it as easy as possible for large numbers of people to visit.
Why should you go there? Sightseeing. From Yosemite's towering granite walls to Yellowstone's wildlife and thermal features, national parks contain the most iconic natural attractions.
What's better elsewhere? Camping. Not only are national parks crowded, meaning that permits and reservations are often necessary for even remote backcountry sites, but the pressure those crowds bring to these unspoiled landscapes means that you'll necessarily be subject to lots of strictly enforced rules. Fishing may be allowed by special permit, but hunting is mostly forbidden, as are activities like mountain biking.
What do they cost? Of the 417 national-park sites, only 118 of the most popular charge entry fees, which are typically $30 for a passenger vehicle. And even that fee can be waved or reduced depending on your age, military service, or even on certain holidays.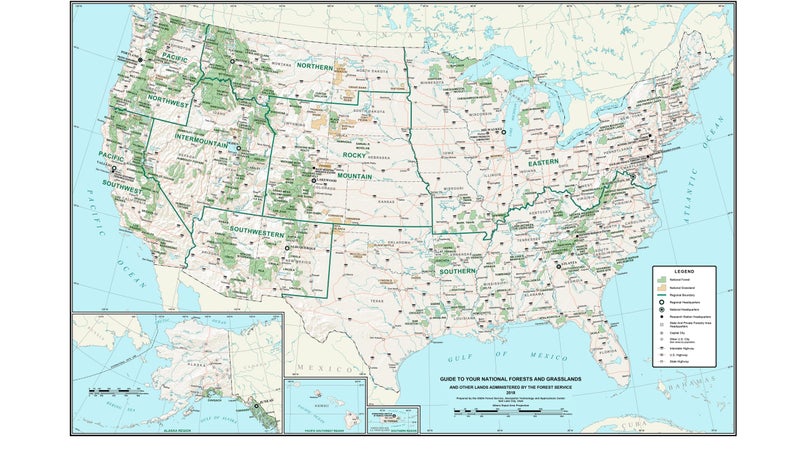 National Forests
What are they? Managed for multiple use, our 154 national forests provide resource extraction as well as wildlife conservation and recreation opportunities.
Why should you go there? For fishing, hunting, cycling, camping, and other outdoor pursuits. Forests are way less crowded than parks and typically allow virtually any activity.
What's better elsewhere? Accessibility. Forests are basically just undeveloped tracts of land. Travel through them takes preparation and capability, and you'll need to find the good stuff yourself.
What do they cost? Resource extraction pays for the rest of us to use them mostly for free, but there are specific recreation passes required at certain popular sites.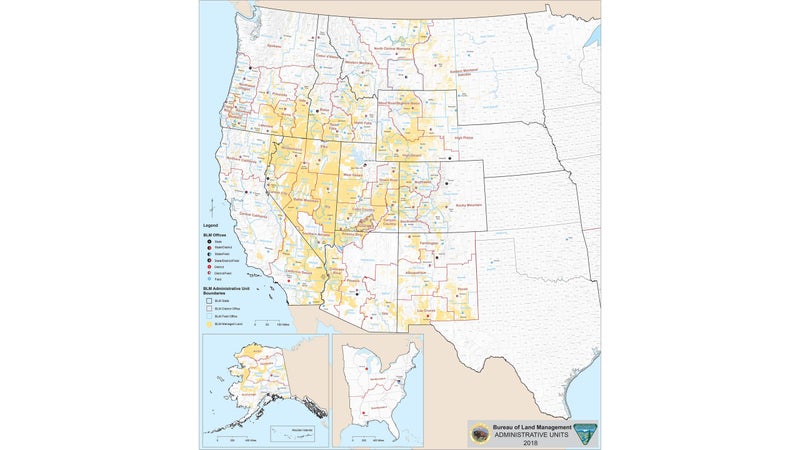 Bureau of Land Management Lands
What are they? The federal government originally tried to give all this land away to homesteaders during the westward expansion. But a lot was left over, and someone needed to manage it, so today the BLM does that for one-tenth of our landmass, on lands located primarily in the western states. Governed by the principle of multiple use, the BLM must balance the needs of resource extraction with conservation and recreation, while maintaining this land for the enjoyment of future generations.
Why should you go there? Don't like rules? Well, there's not many on BLM land. You can camp, you can shoot guns, you can ride or drive off-road, you can have a campfire. Within basic reason, anything goes so long as you leave only footprints and don't drive off designated routes.
What's better elsewhere? We're talking about vast empty swaths of what is typically desert, so you're on your own out there. Get into trouble and help is likely a long way away, if available at all.
What do they cost? BLM land is typically free to use, but some permits are required for special uses or in designated sites.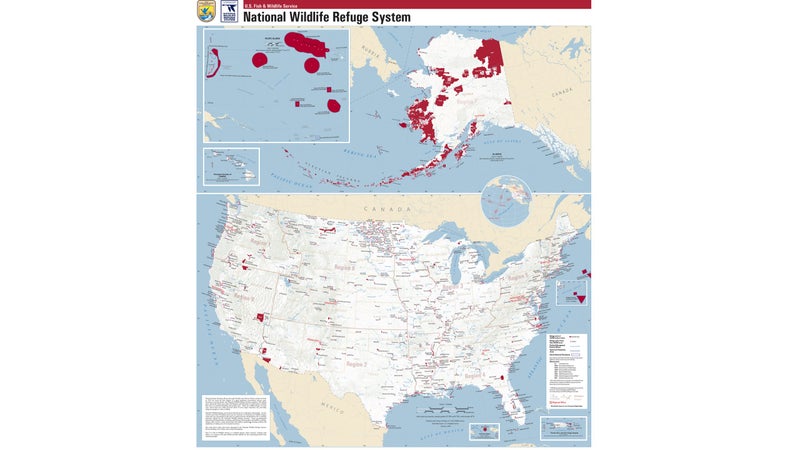 National Wildlife Refuges
What are they? Originally created and still funded by waterfowl hunters, wildlife refuges exist to provide habitat and migration corridors for birds and other wildlife.
Why should you go there? Hunting, fishing, paddling, and wildlife viewing.
What's better elsewhere? Camping and hiking. Wildlife refuges are typically composed of wetlands or contain lots of them.
What do they cost? Hunters fund the wildlife-refuge system by buying a federal migratory bird-hunting permit, commonly referred to as the duck stamp. While you can visit a wildlife refuge for free if you're not hunting, you can also chose to contribute to the system by buying a $25 stamp of your own. As a bonus, they're collectible.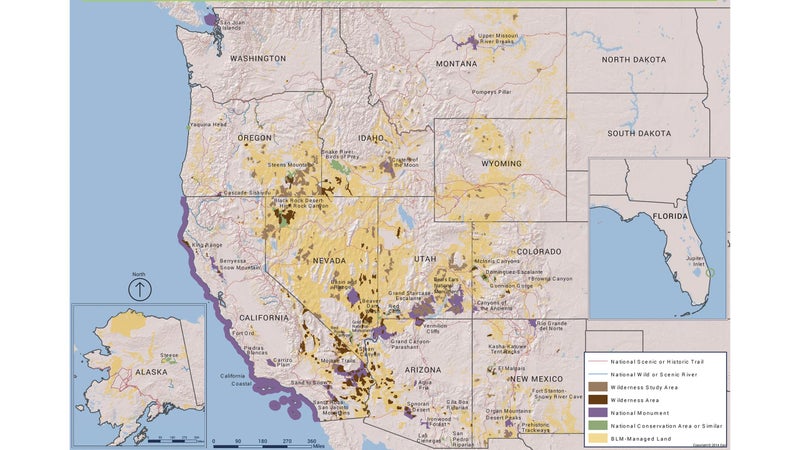 National Conservation Areas
What are they? Areas of particular natural beauty or biological diversity managed by the BLM but given greater levels of protection. No resource extraction is permitted in conservation areas.
Why should you go there? Backpacking. Motorized travel is typically restricted in conservation areas, leaving you free to explore these exceptionally stunning (but uncrowded) places on foot.
What's better elsewhere? Accessibility and recreation. With access being limited, and only foot travel permitted, these can be difficult places to visit. Most activities, like mountain biking, are also banned. Each one has different rules, so familiarize yourself with them before planning a trip.
What do they cost? Some areas may require entry by special permit only. The fees are nominal—typically $10—and are mostly a way to limit human presence.
National Monuments
What are they? The Antiquities Act authorizes presidents to create these in order to protect areas of particular historic, natural, or scientific interest that are being threatened. There's been a lot of political rhetoric around monuments recently, which is a shame. Each is unique and typically makes an allowance for historic uses, so really they just add protection to areas we were about to lose the ability to enjoy.
Why should you go there? By their very nature, monuments are remarkable. Some, like Mount Rushmore, are simply tourist attractions. Others, like Bears Ears, offer some of the best backcountry camping in the world.
What's better elsewhere? I suppose if you're an energy company looking to rape the environment you might look elsewhere.
What do they cost? Depends on the monument. Most are free.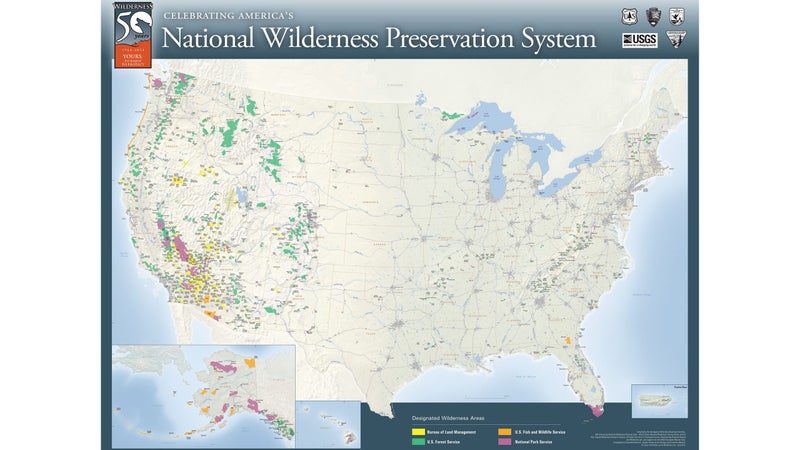 Wilderness Areas
What are they? Places where nature hasn't been spoiled by humans. Wilderness areas are designated by Congress, can exist within other types of lands, like national forests, and specifically ban any form of motorized or wheeled travel.
Why should you go there? To see and participate in truly wild landscapes. They're great places to go backpacking, hunting, and fishing.
What's better elsewhere? Wildernesses are, by definition, difficult to access. That's what makes them fun—but only for the prepared.
What do they cost? They're typically free, but parking at the trailhead may come with a fee depending on location.
National Recreation Areas
What are they? Typically located near major urban areas, and are designed to provide outdoor recreation opportunities for large numbers of people. Many are on a dammed river, and are places to go boating.
Why should you go there? They're easy to get to. They have lots of water or trails. Go have fun.
What's better elsewhere? Visiting during spring break probably isn't for shy and retiring types.
What do they cost? Typically $25 per passenger vehicle, and there may be additional slip and moorage fees.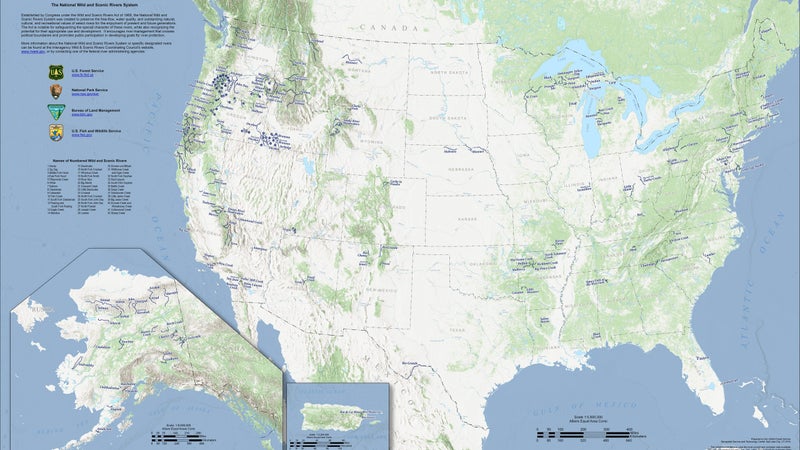 Wild and Scenic Rivers
What are they? Created as a mechanism for preserving natural (read: without dams) waterways in their original state, the National Wild and Scenic River System is basically a wilderness designation for water.
Why should you go there? Floating and fishing. If you want to experience a river as nature intended, this is where you do that.
What's better elsewhere? Motorized boating is prohibited on many wild and scenic rivers; each has its own management plan.
What do they cost? They're free to use, but you may encounter parking or put-in/take-out fees in some areas, and you'll need a state license to fish.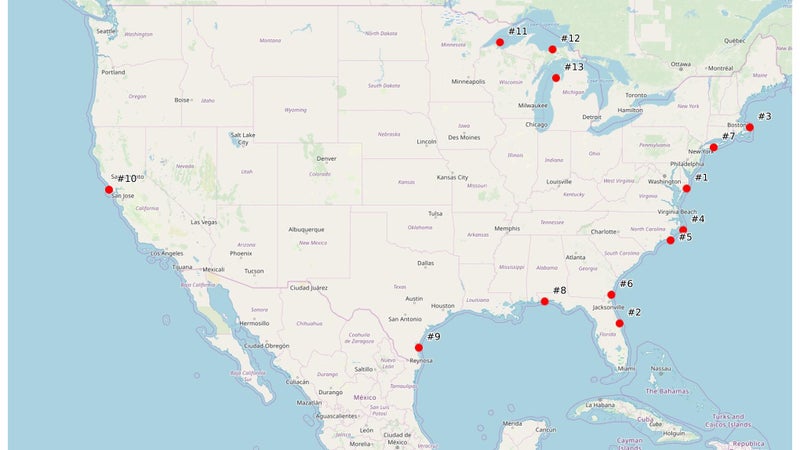 National Seashores and Lakeshores
What are they? Established to preserve coastlines in their natural state, you'll find these along the coasts of both oceans, the Gulf of Mexico, and the Great Lakes.
Why should you go there? Like beaches? Want to see what those looked like before people built hotels and expensive houses on them? Well, these are the most beautiful, unspoiled beaches in the country.
What's better elsewhere? You're not going to find services like beach bars and banana stands here.
What do they cost? Fees vary from $3 to $20 per day.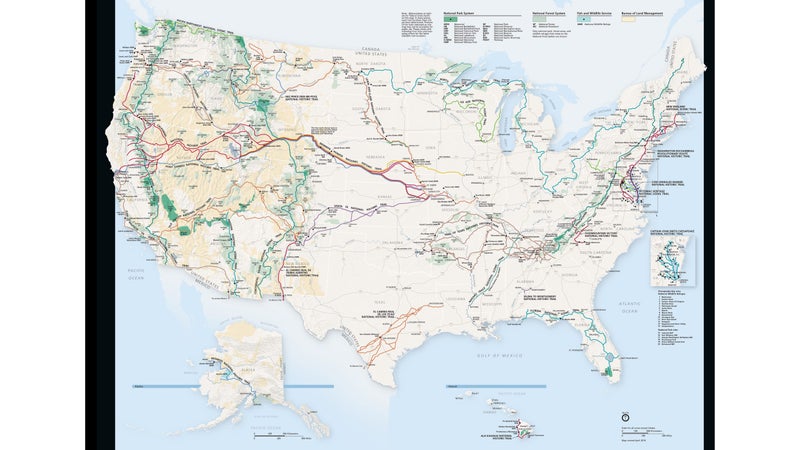 National Trails
What are they? Paths along which you can hike. Access and management are provided by the federal government along routes that may cross state, federal, and private land. There are three types of national trails: scenic, historic, and recreation. Scenic trails, likely the type you're most familiar with, are at least 100 miles in length and compose our nation's most famous thru-hiking routes, like the Appalachian Trail. Historic trails retrace famous trips, like the 4,900-mile Lewis and Clark Trail, the path of the well-known mapping expedition. Recreation trails are just that and vary in length.
Why should you go there? Backpacking trips. If you've got something to prove, and that something is the ability to march along a trail for several weeks or months, then this is where you'd do that.
What's better elsewhere? I'd say solitude, as the most famous trails are pretty darn popular these days, but there are so many trails in this system, and some are so remote, that you can definitely find that here, too.
What do they cost? National trails are typically free, but you may need to pay fees if you pass through certain national parks, use some campgrounds, or take advantage of other services.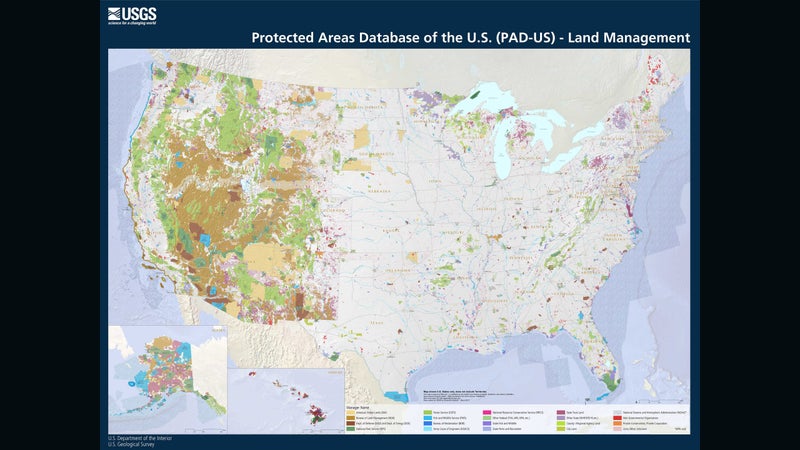 Don't Forget the Rest
Even with all the 640 million acres mentioned above, we're only scratching the surface of places you can go play outdoors in the United States. Those states also own land, and while they aren't required to protect it to the same degree as the feds, state-trust lands and state parks still offer amazing recreational opportunities. So in addition to the enormous amount of land managed by the federal government, Americans have access to 135 million acres of state-trust lands, nearly 19 million acres of state parks, and numerous smaller city parks. No matter where you are in the country, there's probably some of that public land right outside your front door. Here's a map of all of it.
Lead Photo: Jacob W. Frank