Recent Bear Attacks Prompt a Call to Ease Hunting Restrictions
There's been a series of encounters in recent weeks. Research suggests that killing bruins isn't the best way to prevent attacks.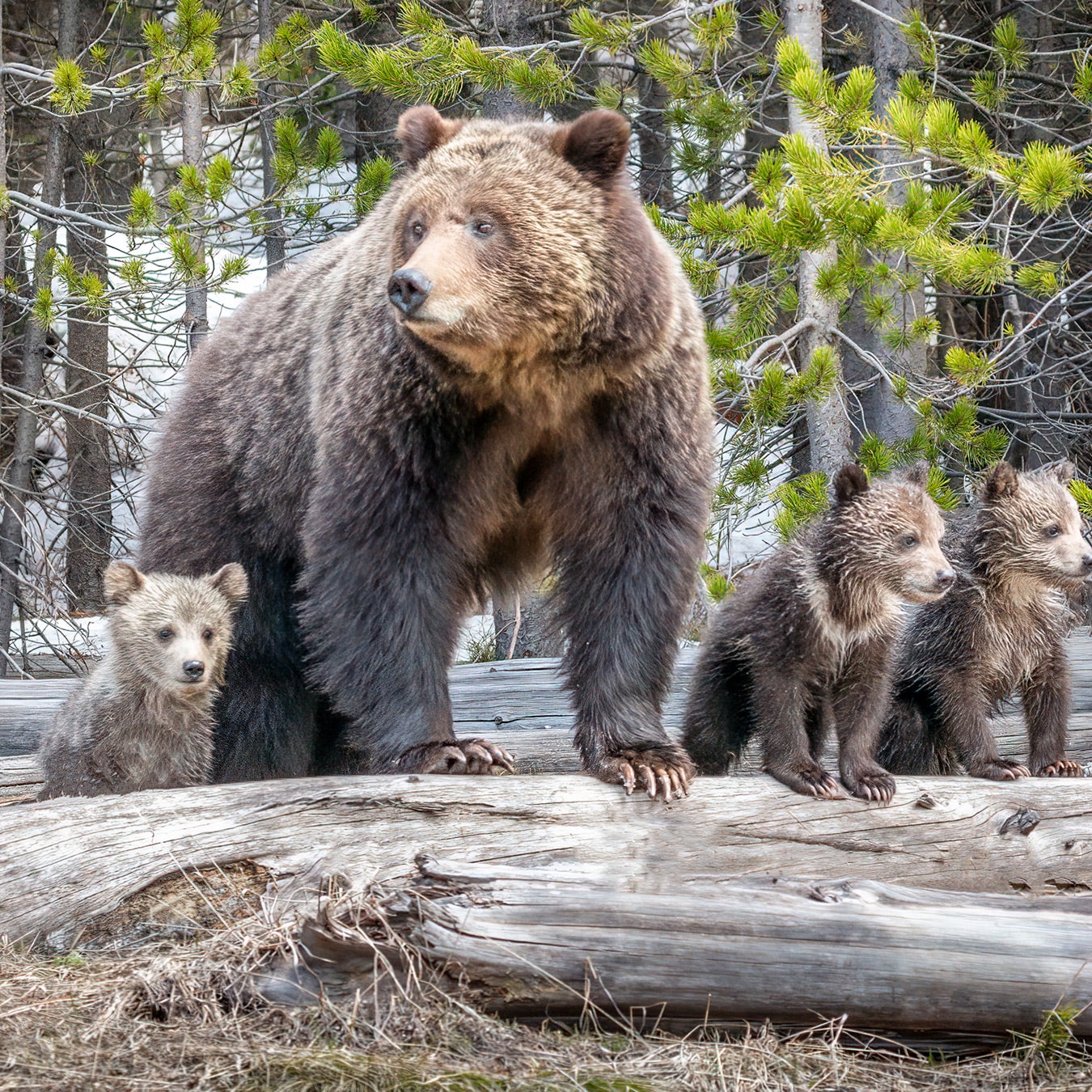 Mark Perry / Getty Images
Heading out the door? Read this article on the new Outside+ app available now on iOS devices for members! Download the app.
It's been a rough few weeks for bear-human relations.
Thee incidents occurred on Saturday, August 5 alone. In Colorado, a man camping on the banks of the Purgatoire River near the New Mexico border woke up to the sound of a black bear next to his hammock. When the man shined his flashlight at the bruin, it bit him on the arm.
In Tennessee, a black bear reached into the open window of a car driving through Great Smoky Mountains National Park and scratched a man sitting inside. (In a press release, the park described his injuries as "minor.")
In Wyoming, a man was doing survey work in the Shoshone National Forest when he was attacked by a grizzly bear. He sustained injuries but survived the incident.
These three came on the heels of two deadly encounters. On August 3, a Montana man shot and killed a black bear that had crawled into his house through a screened window. And on July 22, there was a rare fatal grizzly attack, also in Montana. The victim, a 49-year-old woman, was found on a trail just west of Yellowstone National Park, with the tracks of a mother grizzly and cub nearby. The attack differed from the others, however, because a local coroner determined it "did not appear to be predatory." Officials believe the woman was out for a run when she accidentally encountered the bear family. Wyoming cops believe a similar scenario played out in the non-fatal grizzly attack in Wyoming on August 3.
In the wake of these bear incidents, officials have reacted with similar strategies to catch the aggressive bears in question, and to limit areas of bear-human interaction. Colorado Fish and Wildlife officials announced they would kill the attacking black bear if they found it. Wyoming rangers scouted the Shoshone National Forest with an overhead drone. Park Service officials in Tennessee closed the road where the scratching took place in an attempt to break bears' association with cars and food.
After the Montana killing, authorities closed the area, set out non-lethal bear traps, and even searched from the air (they called things off a week later). A Montana Fish and Wildlife official said that traps only work for a short window, since eventually the culprit moves on, leaving another bear to take the bait.
Good news for the bears, but bad news for their futures
Bear encounters with humans are often signs of a conservation success story. Across the country, bear populations are recovering from the predator extermination campaigns of the early 20th century. Great Smoky Mountains now reports that it's home to about 1900 black bears, more than two for every square mile of the park. Colorado's black bear population has almost doubled to around 20,000 over the last ten years. And the greater Yellowstone ecosystem—an area that encompasses both the park and surrounding protected areas—is now home to approximately 1,000 grizzlies, up from just 136 in 1975, when the species was listed as endangered.
But the more run-ins bears have with humans, the greater chances there are for something to go wrong. These encounters sometimes risk undoing the work of conservation groups.
After the fatal Yellowstone attack, Montana congressmen Matt Rosendale called to remove the grizzly from the endangered species list, which would open the door to hunting.
"It's time for Congress to pass my bill to delist the grizzly bear and return management to Montanans," Rosendale tweeted.
Conservative lawmakers in the West periodically push for relaxed protections on major predators—but the evidence on whether it reduces human-bear conflicts is mixed at best. One study from Minnesota in 2020 found that more hunting reduced the number of black bear complaints. But a review from early this year noted that many studies had determined the opposite to be true—in one case, grizzly bear hunting had no effect on how often people were attacked, while in several others, black bears actually ended up causing more property damage after big hunting years.
It's true that majorly reducing predator numbers has, in some cases, meant fewer conflicts. But as the Minnesota researchers found, public hunting is a "blunt instrument:" after several decades of heavy hunting through the early 2000s, the population crashed (hunters were especially likely to shoot breeding-age females), and has never recovered. There are other examples of this dynamic playing out in recent years: in 2021, a court-ordered, contentious hunting season killed 14 percent of Wisconsin's gray wolves in four days, and biologists are still debating the long-term consequences.
A leading grizzly bear researcher told Montana Public Radio that there's been no measurable increase in bear attacks around Yellowstone even as grizzly populations have tripled.
If killing bears isn't the answer, then perhaps humans simply need to be more mindful with our own relationship to the outdoors. After all, humans are encroaching on the places where recovering bears often live. Americans built more than 10 million houses in the exurban fringes of forests and mountains between 1990 and 2010—exactly the places that a young bear setting out from its mother might find an unlocked garbage can. (See the spate of bear encounters in Colorado's Front Range in the summer of 2020, or the family of bears rambling through Burlington, Vermont's suburbs earlier this year.)
More tourists than ever are venturing in the wilderness areas that provide core bear habitat. Approximately 300 million people visited the National Parks last year—basically the entire population of the United States trotting around the tiny patches of forest we protect.
It's clear that bears cause trouble when there's a lot of human garbage lying around, or when limited natural food supplies force them to scrounging for sustenance. Great Smoky Mountains National Park superintendent told the Charlotte Observer that "berries, acorns and other primary food sources are not in season" in August, which may explain why the bear was bold enough to reach into a car.
There are other ways to reduce bear attacks than to kill bears, and Great Smoky Mountains National Park happens to be a useful test case. In the 1950s, when black bears were much rarer, the park might record a dozen bear attacks in a typical year. At one picnic area, visitors would set up chairs every evening to watch bears eat out of trash cans. Park rangers regularly killed nuisance bears that had learned to approach people.
But in the 1990s, the park began a campaign to bear-proof its garbage—and its visitors. Rangers went from relocating a dozen bears a year to just one. A record 14 million people visited Great Smoky Mountains in 2021, making it possibly the place with the most humans and bears in the country. Bear attacks so happen, but they are rare.
Lead Photo: Mark Perry / Getty Images