Indefinitely Wild
The Rural Outdoor Investment Act Has the Potential to Jump-Start Rural America's Adventure Industry
The ROI Act will give rural communities the money they need to develop outdoor recreation economies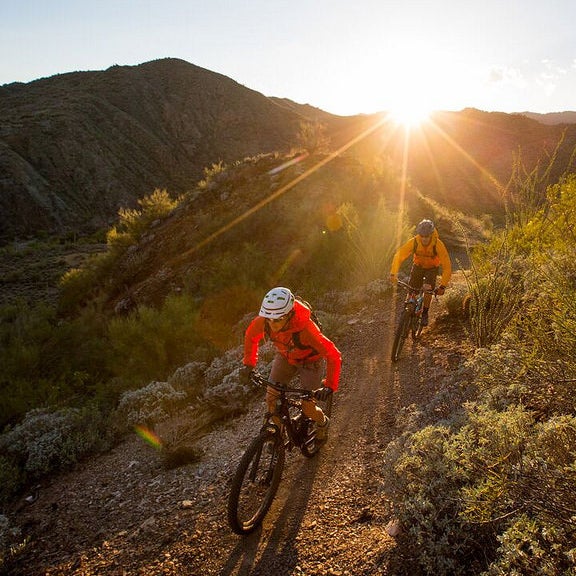 Bureau of Land Management
Heading out the door? Read this article on the new Outside+ app available now on iOS devices for members! Download the app.
One proven way for rural communities to draw visitors, residents, and trade to bolster their economies? Outdoor recreation attractions, infrastructure, and businesses. But, those resources have historically been concentrated, causing problems for communities who capitalize on them, and leaving many places who can't to run dry. Today, Senate Majority Leader Chuck Schumer and Senator Michael Bennet introduced a new bill aimed to spread the love (read: dollars, spent strategically). 
The Rural Outdoor Investment (ROI) Act will provide the capital necessary for small towns across the country to plan and build their own recreation-based economies. Its $50 million annual budget will fund the creation of infrastructure, like trails, campgrounds, and boat ramps, as well as aim to help communities develop recreation-forward spending plans, pay for local university research and technical assistance, and revitalize town centers. 
"Rural communities across the country are dealing with economic and infrastructure challenges stemming from COVID-19, climate change, and transitioning economies, all while trying to seize opportunities from massive shifts in workforce and the influx of Americans seeking the outdoors," says Jessica Turner, president of the Outdoor Recreation Roundtable, a coalition of outdoor-recreation-industry trade associations. Turner and her colleagues helped advocate for the bill, as they did for the Great American Outdoors Act, which former President Trump signed into law in 2020. 
The ROI Act comes at a good time. The pandemic accelerated participation in outdoor recreation, transitioned millions of Americans to remote work, and encouraged city dwellers to relocate to rural areas. While all of that sounds healthy, the number of rural towns endowed with adequate recreation infrastructure is limited, concentrating the demand for homes and trails in too few of places. Mountain towns like Bozeman, Montana, or Moab, Utah, are simply overwhelmed with new residents and visitors. This drives the cost of living to unattainable levels and overcrowds the outdoor attractions that provide local appeal. 
"ROI addresses that supply problem," says Turner. 
Funding in the bill will include:
$30 million for public infrastructure: Drawn from the existing Economic Development Administration budget, this money will pay for stuff like trailhead parking lots, new trails, boat ramps, signage, and other improvements to recreation resources on public land.

 

$5 million for planning grants: Again coming from existing EDA money, this fund will aid rural communities in developing plans to transition to outdoor recreation economies. The grants will help those communities create the marketing, branding, business development, fundraising, and tourism management resources necessary to attract and manage growth.

 

$2.5 million for university partnerships: This will enable local research to help inform planning, and provide technical support to local businesses as they grow.

 

$12.5 million for Main Street revitalization: This funds Recreation Economy for Rural Communities grants, helping to make town centers more appealing to visitors, and useful to residents, by attracting outdoor recreation businesses.

 
Turner offers up Farmington, New Mexico, as an example of a community that could benefit from ROI Act money. Currently transitioning away from reliance on a nearby coal-burning power plant, Farmington hopes its abundant parks and rugged surroundings can attract outdoor recreation businesses, replacing energy jobs with manufacturing. The ROI Act will help places like Farmington make the most of their natural assets and increase their appeal to new visitors, residents, and employers. 
What are the chances that the ROI Act will make it through a congress drawn to standstill by partisan warfare? Turner is optimistic. The Economic Development Administration enjoys broad support, and its budget is up for reauthorization this March. ROI is designed to ride that reauthorization's coattails, with non-controversial, common-sense budget allocations. 
Lead Photo: Bureau of Land Management
Trending on Outside Online