Scoring Obama's Relationship with Alaska
A close examination of the president's recent trip to the state reveals that he made some inroads, even with those who balk at his progressive environmental agenda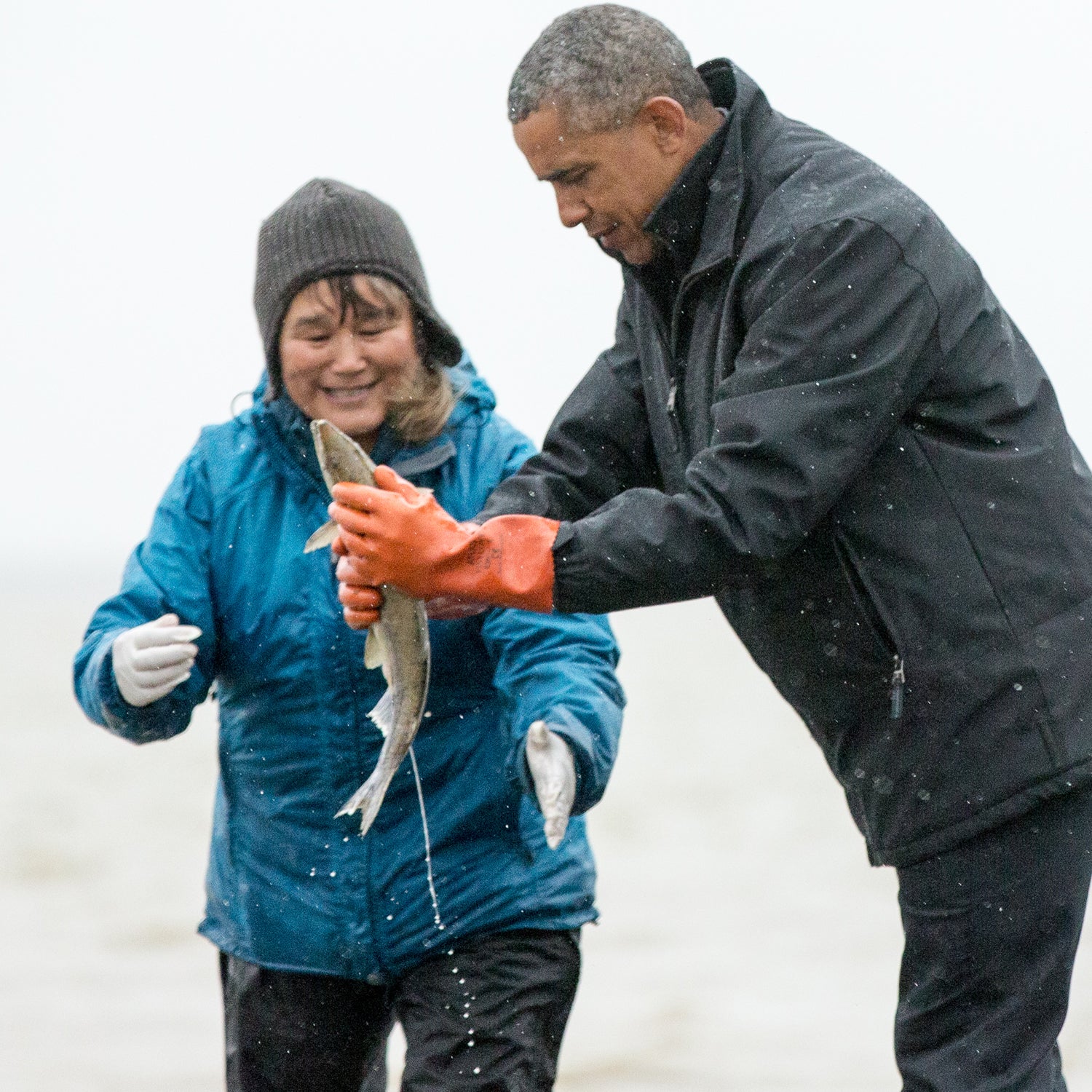 Heading out the door? Read this article on the new Outside+ app available now on iOS devices for members! Download the app.
President Barack Obama closed out his three-day Alaska trip yesterday in Kotzebue, a town of 3,200 people that sits 33 miles north of the Arctic Circle. And though the president drew some heat for mispronouncing the town's name during an address earlier this week, the overall response he's received from Alaskans has been positive—surprisingly so.
Obama and Alaska have often been at odds during his seven-year tenure. The conservative state's economy relies on resource extraction, and the liberal president came to town to promote a progressive environmental agenda and burnish his legacy by addressing climate change. Add to that independent-minded Alaskans' antipathy towards the federal government and you wouldn't exactly expect the welcome mat. 
But the president has seemed to balance unpopular moves, like when he propsed protecting sections of the Arctic National Wildlife Refuge from drilling, with more Alaska-friendly ones, like his announcement a few weeks ago that Shell would be permitted to resume exploratory drilling in the Chukchi Sea. Duing the trip, he won over hardscrabble Alaskans by taking time during his short trip to engage with local and Native leaders, highlight issues important to the state, and venture beyond urban Alaska to bush villages, where he inquired about things like the appropriate age to begin training a dog for a dogsled team.
The White House stoked local enthusiasm by handing over the official Instagram feed to the president himself, setting up a dedicated page for the visit, posting a message from the president on Medium.com, and putting together a snappy, pre-trip YouTube video, as well as posting videos during the trip. Coupled with wall-to-wall coverage from Alaskan news outlets—Obama orderd six sticky buns at an Anchorage cafe and paid with a $50 bill—there's a lot to examine about his visit.
We scoured social media to discern the pros and cons of Obama's trip. Here's a list of the amusing scenes and reactions, both positive and negative: 
Anchorage Arrival
Pro: The city was abuzz. Streets swelled with crowds—people even wore ties and shaved (!)—and local restaurants renamed menu items for the president (Obamalettes, anyone?). Pictures of Obama shaking hands with people went viral on social networks and photos of secret service agents on a jog made the nightly news. "I'm impressed," said one man Obama encountered in an ice cream shop in Seward, "and I'm a Republican."
Con: Some of the 2,000 people who attended the Rising Together rally, organized to welcome the president, were disappointed that he instead chose to attend a private dinner across town at the home of billionaire publisher of the Alaska Dispatch News, Alice Rogoff. He did send a pre-recorded video message to the rally, as well as someone arguably more important to Alaska: Interior Secretary Sally Jewell.
---
Mount McKinley vs. Denali
Pro: Reverting Mount McKinley to its Native name, Denali, the day before his arrival certainly got things off on the right foot. The move was greeted with overwhelmingly positive response in Alaska, where most residents have long called the peak Denali anyway.
Con: Predictably, there was a small chorus of dissent from the right: Lawmakers from Ohio (President McKinley's home state) filed a complaint; Sarah Palin's daughter, Bristol, wrote in an angry blog post that "I've never called the mountain Denali…and neither does anyone I know," which further undermined whatever credibility the Palins have left in the state; and Donald Trump promised to change the name back if he's elected.
---
Arctic Issues
Pro: Obama became the first sitting president to visit a town north of the Arctic Circle, and he's already discussed plans to study and fund two big-ticket items that Alaskan lawmakers have long had on their wish list: funding for new icebreaker ships (we have two currently in service, Russia has 40); and plans for a new deep-water port to serve Alaska's northern coast, likely to be located in Nome.
Con: Residents of Kotzebue, where Obama wrapped his trip on Wednesday, would prefer to have the port in their town. Alaska Senator Lisa Murkowski praised Obama for the icebreaker decision, but said the president needed to go further and find the funding for the vessels.
---
Climate Change
Pro: The president's closing address at the GLACIER conference in Anchorage was widely hailed as his harshest rhetoric on climate change yet. He repeated the phrase, "We're not moving fast enough," five times in the speech, like a kind of chorus. "On this issue," he said, "there is such a thing as being too late. And that moment is almost upon us."
Con: The president was criticized both for the massive carbon footprint of his trip to Alaska and, more convincingly, for failing to adequately address and explain the fact that, just weeks ago, he authorized further exploratory oil drilling in the Chukchi Sea north of Alaska. Congressman Don Young accused the president in a press release and on Twitter of using Alaska "as a prop for an extreme, economy killing, environmental agenda."
---
Exploring the Hinterlands
Pro: The week prior to Obama's visit to Dillingham and Kotzebue was a frenzy of excited effort to prepare the small towns for his arrival—residents were seen collecting trash, painting buildings, repairing roads, and making welcome signs. In Dillingham, a docile brown bear showed up and decided to stay, leading to an impromptu "Bearack viewing area." Local fishermen took Obama to see a salmon net on a local beach, and one pink salmon milted on the president's foot. "He said he was happy to see me," Obama quipped.
Con: There were complaints about interruptions to the fall hunting season, and about the expense of preparing for the visit. In Dillingham, which serves as one of main hubs for the legendary Bristol Bay salmon fishery, some residents wished the president had talked more directly about what they see as the greatest immediate threat to their way of life: the proposed Pebble Mine, a massive copper and gold mine that would sit amid prime salmon habitat. An EPA action to curtail the mine is currently tied up in litigation, but locals made sure to make their feelings known, lining the roads from the airport and through town with anti-Pebble signs. 
---
Filming with Bear Grylls
Pro: During a walk to the Exit Glacier in Kenai Fjords National Park on Tuesday, Obama filmed a segment with TV survivalist Bear Grylls. Details at this point are sketchy, but producers say the segment will address climate change.
Con: Some wondered whether touring a section of the park abutting the highway is really a "wilderness" experience. Others pointed out that the glacier, which the president aimed to use as a symbol of global warming, has been melting since the pre-Industrial Revolution 1800s. Others called the Obama/Grylls selfie that surfaced soon after a "total dad move." And a petition on WhiteHouse.gov calling for the president to "drink his own urine" while filming the segment has garnered more than 600 signatures, and counting.
Lead Photo: AP