SeaWorld's Most Rewarding and Traumatic Job
The hours are long, and the work can be dangerous. But animal care workers, the unsung heroes devoted to the health of mammals at SeaWorld and other marine parks, have unrivaled access to the animals—and the challenges of captivity. Here, three former employees go on the record about their experiences.
Heading out the door? Read this article on the new Outside+ app available now on iOS devices for members! Download the app.
It's been a tough four years to work in public relations at a marine park. Intensive reporting about the conditions of marine mammals in captivity—in stories at Outside, in the book Death at SeaWorld, and in the documentary Blackfish, which I associate-produced—has generated widespread public debate and inspired legislation, both at the state level and in Congress, to improve the welfare of marine-park animals. Over the past year, musicians like Willie Nelson, Barenaked Ladies, and Pat Benatar canceled shows with SeaWorld Orlando's concert series. Last month, Southwest Airlines ended its long-standing marketing partnership with SeaWorld. Early this year, Sir Richard Branson came out against the use of wild-caught cetaceans in tourism, and Virgin Unite (the nonprofit foundation of the Virgin Group) and Virgin Holidays have been reviewing the question of cetaceans in captivity. And SeaWorld's latest earnings report, which was released last week and sent shares tumbling 33 percent, indicates that SeaWorld is facing widespread public doubts about the use of killer whales and other marine mammals for profit and entertainment. SeaWorld, the industry leader, has pushed back hard, saying that its marine mammals live good lives and are well cared for, and recently announced plans to increase the size of its underwater habitat for orcas.
As the debate has raged, I've thought that to truly understand what life is like for a killer whale or dolphin at a marine park, you have to talk to the animal care workers, who are on the front lines with vets and trainers when animals are sick, give birth, need transporting, or die. But few animal care workers have been willing to talk in depth and on the record.
Over the past year, however, as Blackfish and the former trainers it features helped inspire more SeaWorld veterans to come forward about their work, I finally connected with a few. Jim Horton spent 16 years working at marine parks, including SeaWorld Orlando, Oahu's Sea Life Park, and Atlantis Paradise Island in the Bahamas. While at SeaWorld, he received one of the park's highest honors, the Animal Stewardship Award. He also worked on the project to return Keiko, the killer whale star of Free Willy, to his native Icelandic waters. Cynthia Payne worked at SeaWorld Orlando in animal care, and Krissy Dodge worked at SeaWorld San Antonio. Why come forward now? They wanted to create a more complete picture of marine-park life.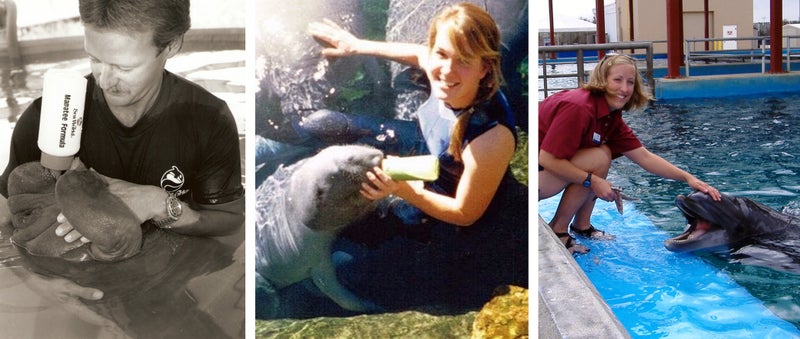 What follows are a series of surprising and shocking conversations in which the three talk about the rewarding and challenging sides of their jobs, from teaching a newborn orca how to eat to disposing of dead animals and witnessing dolphin mothers kill their calves. 
Despite the often difficult nature of the work, Horton, Payne, and Dodge were dedicated to caring for the animals. "Animal care is the one thing that SeaWorld can be proud of," Horton says. "We were the unsung heroes."
Here are Horton, Payne, and Dodge in their own words.
Editor's note: SeaWorld initially responded to a number of Outside's questions—feedback which is included throughout this story—before VP of communications Fred Jacobs sent us a statement, published in part at the bottom of this article, condemning our reporting. A comment from SeaLife Park runs at the end of this story, too.
Captive Breeding
The process of breeding killer whales in captivity has been critical to SeaWorld's growth and success, especially after public opinion in the 1970s turned against capturing them in the wild. The first SeaWorld killer whale born and raised in captivity was Kalina, a.k.a. Baby Shamu, who was born in September 1985 at SeaWorld Orlando. Since then, SeaWorld's breeding program—which also developed artificial-insemination techniques, so that killer whales in marine parks around the world can be bred without having to transport the enormous animals—has produced 31 more captive-born orcas. Nine have died, and 23 are still alive today. 
The breeding program—which includes dolphins, among other species—also has a tragic side, because it sometimes results in miscarriages and stillbirths. These problems also occur in the wild, and sometimes wild orca and dolphin mothers have been observed supporting their dead calves on the surface for hours, and even days.
Horton and Payne recall some of their experiences with killer whale and dolphin breeding.
Jim Horton: With orca labor, the fluke [the calf's tail] can be out for a while. You want that, because the fluke is curled up inside the mother, and once it comes out blood circulates to it, and that flow hardens it up so that the newborn can use it to swim to the surface to take that first breath. That's why headfirst births are so scary, because the fluke hasn't had time to stiffen up. Mothers then push the calves up. It's pretty rare, but I've seen it a few times. It is survivable. If the tail is out and nothing happens within six hours, then things are getting scary. You could tell a calf was dead when their skin starts to peel off or discolor. Or you start to see big chunks of placenta at the same time. That indicates that there is a problem.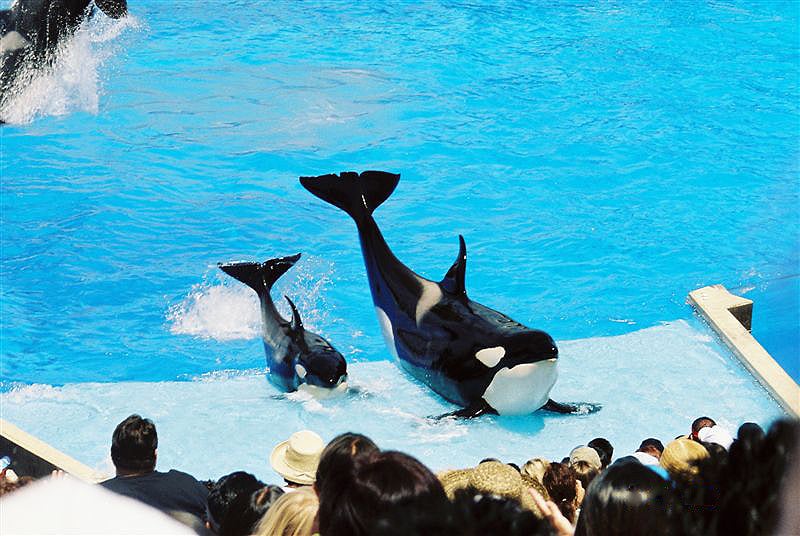 On a number of occasions, Horton dealt with captive-breeding situations in which a stillborn calf became stuck in the mother's birth canal during labor. This condition, known as dystocia, sometimes leads to the death of the mother as well.
This is a pregnancy outcome that appears to be rare in wild killer whales, though it's difficult to study. "Adult female survivorship during the prime reproductive years is extraordinarily high in the Pacific Northwest and Alaska," says Naomi Rose, a marine-mammal biologist at the Animal Welfare Institute who has studied Pacific Northwest killer whale populations. "When it has been lower, it's usually associated with poor prey levels, so the increased mortality was almost certainly because of that. I think dystocia must be very rare or absent in wild populations."
Horton: When I was first at Sea Life Park, a female dolphin went into labor. The flukes came out but the calf was stuck. The vet [who was away and was reached by phone] did not want me to go in and try to pull the calf out, because he was fearful that I would tear the uterus. We tried to give the dolphin injections to cause her to dilate more. But after about 16 hours, the mother and calf died, with the calf still stuck in her. When I pulled the mother and calf out of the pool, I couldn't pull the calf out for necropsy [a post-mortem exam]. I had my boots up against the mother's abdomen. In the end, I basically had to stick my hand up inside, cut the calf, and pull out the calf's internal organs through the mother's vagina in order to remove the calf. I probably would have ruptured the mother if I tried to pull the calf out during labor.
Because a calf stuck in a birth canal can lead to life-threatening complications for the mother, Horton says marine parks have a special tool, which he used on the calf mentioned above, that can be employed to eviscerate a stillborn orca or dolphin. The goal is to protect the life of the mother by making the stillborn calf easier to remove from the birth canal.
Horton: The evisceration device is a small blade on a ring that fits on your finger, with the blade under your hand. It's also used to quickly cut a net that can be wrapped around a dolphin. We took them with us on [wild] manatee rescues in case one of us got wrapped in a net with an animal that spun; it happens quickly and it could kill you.
Outside asked SeaWorld about the ring knife and its uses, and Fred Jacobs responded: "Our veterinary medical care program is identical to that found in referral hospitals and veterinary medical teaching hospitals around the United States. We practice comprehensive medical and surgical care. That includes obstetrical care and, rarely, surgery to reduce fetal dystocia. The tools used for veterinary obstetrics are similar to those used in human medicine. The instrument you're referring to is used in a procedure known as fetotomy."
When we contacted Sea Life Park during our reporting, they sent us a statement that read in part: "The majority of our dolphins were born under human care through a responsible breeding program. They receive the highest quality care including round-the-clock on-site veterinary care, individualized dietary needs, and enrichment from the animal training staff." Sea Life's complete statement appears at the end of this story.
The Trauma of Stillbirth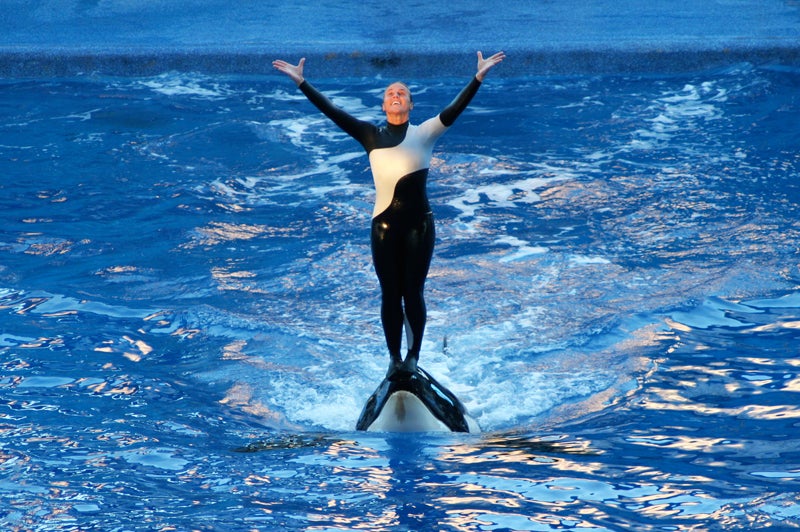 Tilikum, a 12,000-pound male, is SeaWorld's most controversial and notorious killer whale because of his involvement in three human deaths, including SeaWorld trainer Dawn Brancheau's in 2010. He was acquired from Canada's SeaLand of the Pacific marine park in 1992, along with two females, Haida and Nootka. Nootka, caught off Iceland in 1982 (a year before Tilikum also was caught off Iceland) came to SeaWorld Orlando in January 1993, a year after Tilikum. While still at Sealand, Nootka gave birth to a male calf, fathered by Tilikum, that lived just over a month. In August 1994, at SeaWorld Orlando, Nootka gave birth to another calf, again fathered by Tilikum. Unfortunately, it was stillborn. Payne and Horton recall the event.
Cynthia Payne: I was on night watch when Nootka had a stillborn. The supervisors determined that they had to take the baby immediately. I was told it was for Nootka's health and safety. Nootka was in the back pool, which is long and rectangular. They dropped a net the width and depth of the pool, and I saw her push the baby over the top of the net after carrying it around for a while. As she pushed the baby around, they were trying to get it from her—not just one guy, a swarm. 
I asked, "Please, can't she just have a minute?" She was vocalizing and distressed. There was a shallows on the perimeter of the pool. Most of the guys were in the shallows, using nets and poles to get the calf close enough so they could grab it. I remember Nootka did get the calf back a few times, and in the end it was a very fast heave to get it out of the pool. Nootka was panicked. It was gut-wrenching to watch. 
She about killed a couple of staff. She was mad. But they took the calf, and she did everything she could to get it back. There was no honor or care. There was nothing. They just pulled the calf and threw it in the back of a truck. And they put Nootka in the med pool [a small side pool with a floor that can be raised], and that's where she stayed the entire night. I'll never forget it. She cried and cried for her calf. 
Horton: I do remember pulling Nootka's calf out of the pool. It was basically born sideways, folded in half. After getting it to the side of the pool, I distinctly remember that two or three of us had our arms wrapped around the calf's fluke, and we are trying to heave it over the wall. The damn thing was so slippery. And Nootka is right there snapping at us, her sole motivation being to get the calf back, a mother in full panic mode willing to do anything to get her baby, dead or alive. It was scary.
Before the decision is made to remove a calf, there is discussion regarding how to and when. During this time, the mother is with her deceased calf undisturbed. I have seen it take hours upon hours to get a calf, utilizing a lot of manpower, creating a lot of stress on the mother and possibly other animals in the pool. It just made sense to get started, because it could take a long time. The longer the calf remains in the pool, the more damage can occur to the carcass that can undermine the findings of the true cause of death during a necropsy. The sooner you can get the mother back into her normal routine and behavior, the sooner you can best assess her overall health and disposition to determine if the birth caused her any ill affects.
I don't believe I've seen any form of grieving while the calf is still in the pool. I've seen mothers take a calf in their mouths and swim around to elude removal. Is this grieving, or is it keeping something that belongs to them away from staff? I believe that the grieving, or what may appear to be grieving, starts once the calf is removed. 
Less than a month after her stillborn calf was born, Nootka died. SeaWorld vets wondered whether her death might have been related to the complications of the stillbirth.
SeaWorld's Jacobs offered the following comment on Nootka's death: "Any stillbirth brings potential complications for the mother, regardless of species and regardless of whether it lives at SeaWorld or the wild. It is also fair to say that our veterinarians spend a great deal of time contemplating any health issue with our animals. Your source should have included a reference to failure to thrive among neonatal wild killer whales to put this matter in context. The obvious difference between wild whales and ours is that SeaWorld whales get comprehensive veterinary care. In fact, as scientists continue to work to understand the plight of the endangered Southern Resident killer whales"—a population of about 80 orcas off the Pacific Northwest coast—"they are looking into environmental causes of morbidity and mortality, including pollutants and other contaminants in the water."
Mothers Killing Calves
Another unusual aspect of captive breeding experienced by Horton and Payne is that mother dolphins would sometimes attack and kill their newborn calves. Male dolphins in the wild have been observed killing calves, but mothers have rarely been seen doing so. Horton explains why there is little that can be done about it.
Horton: I've seen mother dolphins kill their calves. It's very disturbing to watch. The first time I saw it, we were in shock, and the calf died. We were like, "Whoa! That's terrible."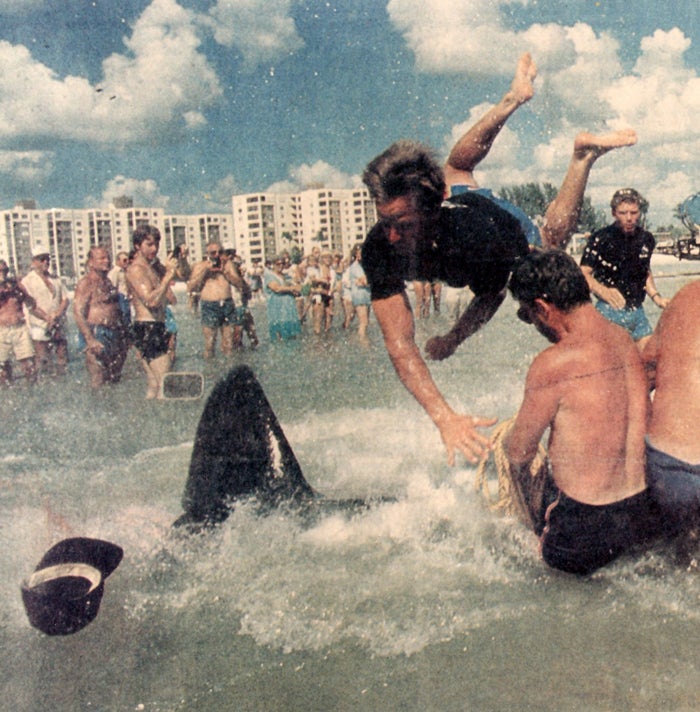 There was one time [at a non SeaWorld park] where the mother was killing her calf. I look over and my partner dives in, and as soon as he dived in, I dived in, too. Literally in a matter of ten seconds, he had been fluked [struck with the tail fluke] in the arm. That female came after us. She bit me on both of my arms and fluked me on the side of my head. She almost knocked me unconscious. Then she fluked me in the back of my head as I was trying to get out of the pool. The whole side of my head was swollen up. We learned right there not to do that again. You can't jump in and try to pull a baby away from a mom that is trying to kill it. And she killed that calf.
Sometimes it's hard to tell whether the mother is trying to kill the calf or trying to help it and doing it wrong. It's weird, because it is such a panicky moment for the mom, who has maybe never seen a birth before. That's one of the problems of being captive born, so we try, generally, to put an experienced mother in with the female that's ready to give birth, especially if it's a first-timer. 
Sometimes there were issues with a calf, or it comes back through pathology that there was something off. But not consistently. Sometimes the calves were perfectly healthy. Sometimes it was after they had taken a breath or two.
When asked if dolphin mothers ever killed calves at SeaWorld, Jacobs responded: "Not that we can recollect, but scientists have documented dolphins killing their young in the wild."
Killer whale mothers at marine parks can also turn on their calves, sometimes rejecting them and refusing to nurse, sometimes getting physical with them. In November 1987, SeaWorld Orlando imported a mature, wild-caught female from Holland named Gudrun, in part to diversify the orca breeding program. In July 1989, Gudrun gave birth to a female calf called Taima. Just over four years later, in December 1993, Gudrun gave birth to another female calf, Nyar. But Nyar exhibited developmental issues, and her relationship with Gudrun was fraught. Ultimately, Nyar had to be separated from Gudrun.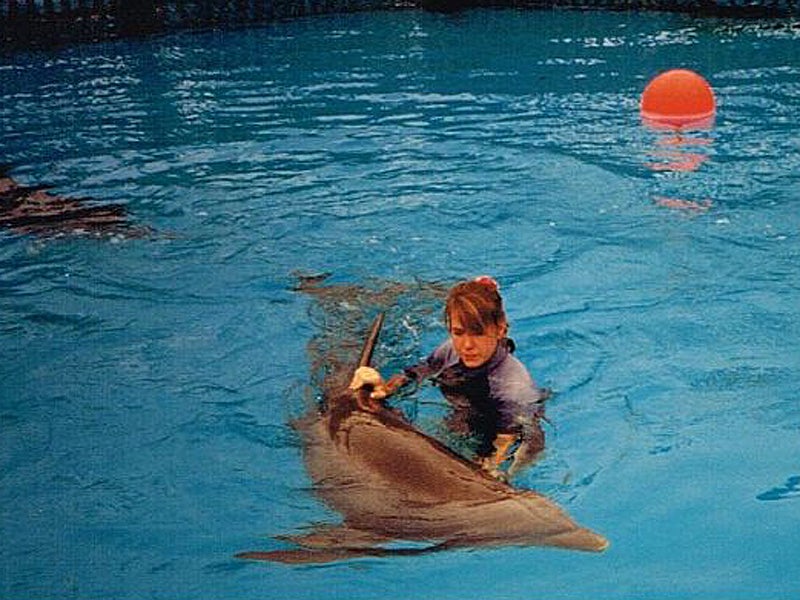 Payne: Gudrun was always in trouble, always the nonwilling participant anytime there was a show that went wrong. She did not do well in captivity, nor did any of her offspring.
When she gave birth to Nyar, she tried to drown her. After that, we had to hand-feed Nyar and do constant physicals. I would help with physicals, and you'd flip her [to draw blood] and her fluke looked like a heroin addict's arm.
The hand-feeding of Nyar, required because she wasn't being nursed by Gudrun, was a challenge. Animal care had to teach Nyar to eat the same fish that mature SeaWorld killer whales eat.
Horton: I think we tried to bottle-feed Nyar. I know tube feeding was involved. Tube feeding was a constant medical treatment, to get fluids and medications in any animal that came in sick or was compromised. Tubing was so easy. We did it all the time. If you were sick, you got tubed, because it really helped. 
When Nyar was close enough in age to where she didn't need milk as much and could start eating fish, there was a huge urge to get Nyar to start eating. She had the teeth, that's for sure, and she ended up eating fish after a long process.
What you do is put your hand in the back corner of the mouth, in the gape. If you apply enough pressure, it gets the calf to open its mouth. Then you basically keep your hand inside the mouth at the back to keep it open. Then you take whole fish, whole herring or whole capelin—Nyar required about five pounds of fish or so per session—and you'd put them in her mouth. 
This had to be done between shows. So, with some of the fish, if she wasn't eating it, or wasn't trying, you would literally shove it down her throat. Eventually what you do with each session is place the fish so that it's barely in the back of the throat, and then just sitting on the tongue, because you want her to learn to swallow it and physically help with the process. 
But, at the same time, she's thrashing her head from side to side and chomping her mouth, chomping on your hand, chomping on your arm. You'd have big dents and bloody holes all over your hand. 
Nyar was progressing until I couldn't do it anymore. My hands were the size of softballs. They got so swollen I couldn't use them. So we had to teach other people to do it. 
To me, I was doing something remarkable. I am trying to save a killer whale. I didn't want to stop until my hand stopped functioning. 
Eventually we got her to the point where all you have to do is pry open her mouth, put the fish in her mouth, and close it. And she'd swallow it. 
Asked about mothers turning on calves at SeaWorld, SeaWorld's Jacobs commented: "On rare occasions mothers reject their young and we have to intervene to hand raise the calf. We closely monitor the interactions of mother and calf and, if we feel a calf is in jeopardy (which is very rare) we are prepared to intervene. In fact, through work with our killer whales, we have developed the formula for a killer whale's milk, which can be used for our animals or potentially for an animal abandoned in the wild. Killer whales generally are very good mothers. This is one of the reasons we have a growing population of healthy whales. It should be noted, though, that maternal rejection can be found throughout the animal kingdom for numerous reasons."
In the end, Nyar, who was thought to have been born with a brain infection, died a little more than two years later.
Labor Gone Wrong
In February 1996, Gudrun was pregnant again and went into labor. The calf was stillborn and stuck in the birth canal. SeaWorld's vets and the animal care staff faced the difficult dilemma of figuring out how to save Gudrun's life.
Horton: With Gudrun, there had to be some point where the vet said, OK, we've got to pull this calf out. The reason why you have to do that is that the mom can go septic and end up dying. So the vets say, We've gotta do something to save the mother.
Gudrun was brought into the med pool. She was put into a stretcher and suspended from the crane over a lot of foam, so we could get to the calf. We put some chains or ropes around the calf's tail to a come-along attached to a vehicle to winch it out.
We got Gudrun back in the water, and I think her uterus came out.
Gudrun died four days later. Coincidentally, in 2010, Taima, Gudrun's first calf, also died from complications resulting from trying to give birth to a stuck and stillborn calf. 
Regarding Gudrun, Jacobs explained: "On rare occasions veterinarians have to help an animal pass a fetus. With very large animals like whales, elephants, rhinos, horses and cows, there are specifically designed veterinary obstetric instruments. The goal of any such procedure is to save the life of the mother and quickly ease any discomfort she would have as a result of the stillbirth. The tools used by SeaWorld are identical to those used by large animal veterinarians."
Killer Whale Transport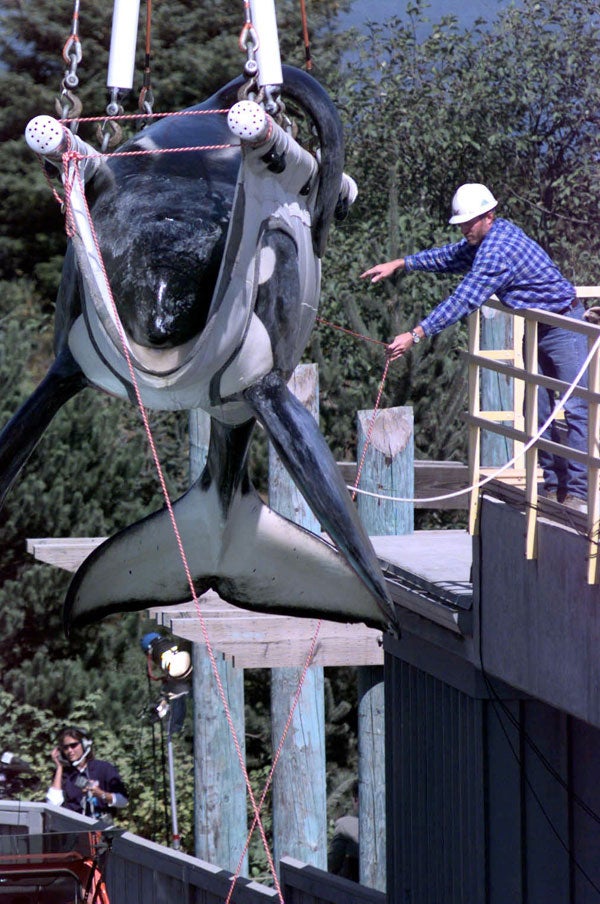 Helping move killer whales and other animals from one SeaWorld park to another, or from SeaWorld to another marine park, was part of the animal care job. Transporting orcas involved a specially designed crate that the whale could be stretchered into and kept wet. The crate could be shipped on a truck or a plane, making it possible to transport the animals long distances. In November 2006, SeaWorld San Antonio shipped Kayla, an 18-year-old female, to SeaWorld Orlando. Krissy Dodge talks about helping with that transport.
Krissy Dodge: It took months for animal care to get the crate ready to go, months to get all the supplies and everything exactly ready, because there is so much involved in getting the whale on the truck. Animal care and the training staff got Kayla into the med pool and raised the bottom of the pool so there was no water. I was going to be one of the ones to help with my hands on her. But Kayla started to freak out, and she was making really loud and angry vocalizations. Her eyes got really big. She was thrashing her tail. She was really upset. 
During her time at SeaWorld, Dodge kept a journal in which she recorded her experiences. Here is her account, written in the aftermath of Kayla's transport: 
Nov. 17, 2006: killer whale transport. Not fun. I got to work at 7am, worked a whole shift, stayed to finish up transport prep, then an evening meeting to discuss transport, which was to begin at 11pm. At 11pm we were up at Shamu [Stadium]. I was assigned to be in a wet suit to assist in getting her into the stretcher. I wasn't sure I wanted to do this. I was nervous. The whale was in the med pool, false bottom raised to beach her. She began to stress out. The trainers couldn't get her to do what they wanted. She started thrashing and making loud vocals. I was literally terrified. I was then told not to get in. More experienced people only. I was relieved. I was close enough to see her eyes, she was so upset and sounded like she was screaming. Animal Care staff had to leave the water several times because of the danger of being attacked. Finally they were able to get her into the stretcher and she was lifted into the box. She sat quietly for a few minutes and I was assigned to sit up on top of the box by her head and record respirations. I was within 2 feet of her head and I could see the defeated look in her eye. I felt awful. Then somehow a piece of foam that was supporting her dorsal floated towards her head. She panicked and began thrashing. She began thrusting her tail up and down and smashing the baffle above her tail. The box was shaking and water was going everywhere. I lost my balance, dropped my clipboard and moved my leg just as her giant head reared up, mouth open, towards me. I had moved just in time. I was really scared. When she calmed down I got off the box and was angry [about] what I was just a part of.
During our conversation, Dodge elaborated further.
Dodge: That whole experience of seeing her so angry and the fear that I felt, that was a big thing for me. It was in the middle of the night. I remember lying there thinking, "What did I just help with?" I felt like it was really wrong for that whale to be so stressed out and so angry.
I was starting to feel like not only was that a stressful event for the whale, but she shouldn't even really be here in the first place. I felt by being involved in this I was contributing to the situation. I felt ashamed that I participated in that.
At the time of this transport Kayla was pregnant. Six months later, she miscarried.
Regarding Kayla, SeaWorld's Jacobs stated: "The transport had nothing to do with the miscarriage."
He also commented on transport in general: "Animals are sometimes moved from one habitat to another within our parks and beached animals are moved into and out of our veterinary hospital (and then, after successful rehabilitation, transported for return to the wild). Animals are occasionally moved between accredited institutions, but not every Animal Care employee is involved every time an animal is moved. All employees who participate in animal transports are trained and supervised by experienced zoological professionals."
Dead Animals
Most animals that die at SeaWorld undergo a necropsy to determine the cause of death. Animal care workers often participate in the procedures and help dispose of the corpses. Dead animals mainly come from SeaWorld rescues of sick or dying wild whales and dolphins that are stranded on beaches or picked up in the hope of nursing them back to health.
Horton: In the early days [1980s], we would take the pieces and parts out to Florida's Merritt Island, which was near the Cape Canaveral space-shuttle area. Ninety-nine percent of all those pieces and parts were beached dead or nearly dead wild animals that were brought back to SeaWorld for necropsy or attempts to save a near-death animal. [Dead] captive stock were handled the same way, but I honestly recall maybe one a year. I do recall at least one killer whale buried at SeaWorld, maybe two.
We'd go way out into the woods on Merritt Island, and there was a large horseshoe pit, maybe eight feet wide and eight feet deep in a mosquito-infested swamp area. We would throw all the guts and everything into the pit. Wild hogs would come and eat half of it. Some of it would slowly rot away. It was a really gross part of the job. The mosquitoes were unreal, and you were covered in guts, head to toe. So when you are slapping mosquitoes, you are slapping guts all over your face. Afterward we would head straight down to the beach and take a bath in green antiseptic soap. 
Then we started taking parts to a rendering plant about an hour away. You'd dump all the parts into a giant vat. 
I almost died at that rendering plant. I got yanked off the back of the truck with a big hunk of pilot whale. You'd back the truck right up to a vat, which had blades that are mushing everything up. We had worked on a mass stranding of wild pilot whales in the Florida Keys. I hadn't slept in days, and we had done like 20 necropsies. I was standing on the back of the truck, and there was a guy on the other side from me. We had meat hooks, taking these 100-pound chunks of meat and chucking them off the back of the truck. The meat hooks have this little wrist strap, and I took one chunk and threw it off, and my hook didn't come out. It yanked me right off the back of this truck into this vat where all the blades are. I grabbed the bumper, so I am hanging there with this 100-pound hunk of meat on one arm and the bumper under the other. I got my hook off and another guy pulled me into the truck. I tore all the muscles in my arm. I would have died, or at least lost my legs in a big soupy green pit. I eventually had to go to the hospital and have surgery on my arm.
Noted SeaWorld's Jacobs: "Animal remains have always been disposed of in accordance with state law and zoological best practice. Many skeletons are donated to specific scientific projects or museums so that the animal can continue to contribute to knowledge and education even after death."
The Decision to Leave
Sometimes the transition between life and death was particularly difficult to experience. Krissy Dodge talks about another incident that affected her decision to leave SeaWorld San Antonio that involved the birth of a baby beluga. Dodge had the night watch and was monitoring the mother and staying alert for a trail of blood, which would precede the emergence of the calf's flukes. Dodge also recorded that experience in her journal:
Sept 17, 2006. Sunday a week ago I had whale watch from 12am–7:30am. Siku the beluga was due at any moment. An hour into it I thought I saw a small amount of blood. I didn't see any crunching [flexing by the mother] though, and kept watching. I saw more blood and half of the tail flukes come out. I was so excited I started shaking. I immediately called my supervisor and he arrived in 10 min. After everyone was called I got into my wetsuit in case I was needed to get into the water. When the calf was half way out, the supervisor told us to surround the pool so if the calf went around, it wouldn't bump into walls or flop out of the pool. The calf was born and I watched it take its first breath. It seemed to be doing OK. It was very exciting for me. I almost wanted to cry. Of course I didn't since no one shows any emotion in our dept.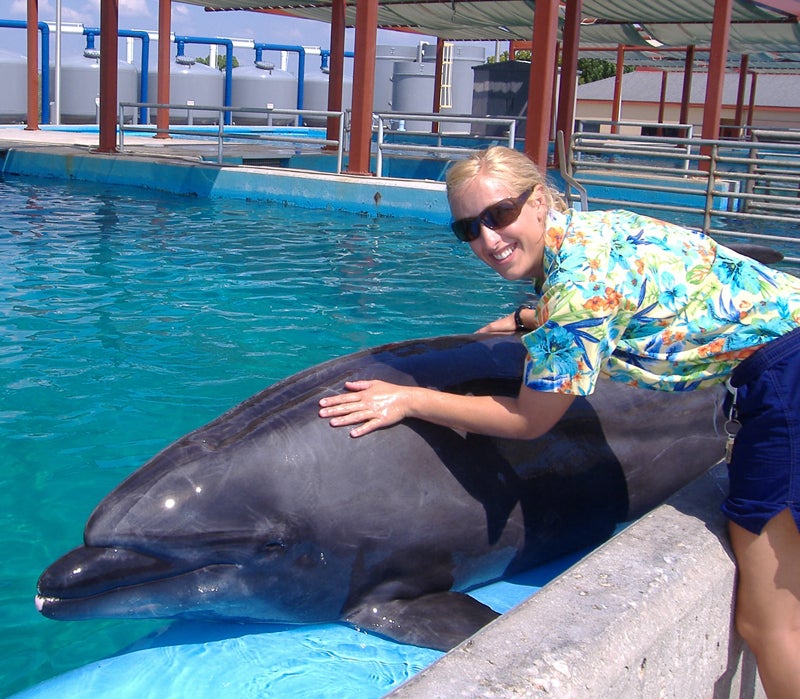 I stayed watching until I was off at 7:30am. The next day I found out that the calf was not nursing and had to be tube fed. He didn't take it well. To do it, someone had to jump in and catch it, swim it over, then a tube was shoved down its throat. A few times milk and blood was being expelled from the blowhole. It was decided on Friday to make an emergency move of Siku and calf to a back pool. Apparently when they got into the water to move the calf, it died in a trainer's arms. I found out it died as they were bringing it back to 72 [the necropsy room] on the back of a cart. I had to help in the necropsy. It was my first one and was indeed traumatic. To be the one to see it being born and also the one to cut it up was really difficult. When it was finished I walked to the zoological building to get a shower. I was still taking it all in and trying not to cry. A coworker was there and asked how it went. I said it was ok, but difficult being my first one. She said, "Oh don't worry, you'll get used to it. Soon it won't even phase you." To have this job, the only way to do it is to become hard and desensitized to everything. This job is so difficult. Not just physically, but emotionally. It's made me question who I am and what I believe in. I'm ready to move on. This chapter needs to be closed.
She elaborated further in our conversation.
Dodge: It was sad to be so exhilarated to see the birth and then to come back two days later and be the one who has to do the necropsy. Once the animal dies, it is really weird. There are meat hooks, and you hang the calf by the blowhole. It's hard to see when you first do that sort of thing. They take brain samples and use a saw to cut through the skull.
Then, basically, for lack of a better term, the animals have to be cut up and put into 40-pound biohazard bags. And those are put into cardboard boxes and then into a freezer. Then, whenever the truck would come, they were taken to be cremated.
SeaWorld's Jacobs confirmed the death of Siku's calf and noted that the necropsies are performed to determine a cause of death. "Our veterinary pathologists conduct comprehensive post-mortem exams, which assess all organs and systems," he said. "The tools and techniques used for these exams are standard in human and veterinary medicine."
He also added, "It is likely that neonatal mortality is far more prevalent in wild populations than at SeaWorld." Rose, of the Animal Welfare Institute, disagrees with that assessment. "Neonatal mortality is essentially unknown in cetacean populations of any species, since births are very rarely observed," she says.
Strange Days
Animal care, as described by Horton, Dodge, and Payne, involves a variety of unusual experiences. But some are more unusual than others.
Horton: I was working in the dive department when I came back to SeaWorld. We vacuumed Shamu Stadium every morning. All of the killer whales would be in other pools. I specifically remember Tilikum lying on the bottom of the neighboring pool masturbating. I'm right next door vacuuming the pool and watching him through a gate, humping the bottom of pool and climaxing. That stuff's everywhere.
Payne: When I was working in education, over at the walrus exhibit, Garfield would masturbate for hours in public. The whole team would log how many times he did it in an effort to get him a new exhibit. That was one of my primary assignments when I first worked at SeaWorld: logging how many times Garfield masturbated every day.
In 1981, SeaWorld acquired a young Icelandic killer whale named Kotar. After spending some time at SeaWorld San Diego, Kotar was transported to SeaWorld Orlando. Horton remembers Kotar well.
Horton: Kotar was a really aggressive whale. He hated animal care. He would lunge at us if we got too close to the side of the pool. It's like he knew when the animal care guys came down to Shamu Stadium.
In 1987, SeaWorld acquired a male killer whale called Kanduke from Marineland in Ontario and transported him to Orlando. "Duke," as he was sometimes referred to, had been caught off Canada's Pacific coast in 1975 and was older and bigger than Kotar. Horton recalls what happened when the two killer whales from different oceans were first introduced and the unusual injury that resulted. 
Horton: Duke showed up at Orlando in early 1987. When he first hit the pool, Kotar and Kanduke were both on either side of a gate, going at it. That's when Duke got bit on his penis, as soon as he arrived. There was splashing and chaos, and you could see dicks in the air, and the gate was rattling back and forth. No one knew how severe the injury was. We thought it was possible it was bitten off, because there was blood coming out of Kanduke's genital slit. So we immediately began a 24-hour watch. The pool turned green from all the blood [mixing with the blue water], and that's a big pool. We kind of jokingly called it Dickwatch '87, because no one knew if it was bitten off or not or how severe it was. Kanduke's penis didn't show again for three or four days. We finally got to see it, and there were rake marks [lacerations from Kotar's teeth] close to the tip. Kanduke bred, so I guess it still worked after that.
Asked to comment on Kanduke's injury, SeaWorld's Jacobs responded: "We don't know what whale bit him. Whales occasionally bite and rake one another whether they live at SeaWorld or in the wild. The difference is that any injury that an animal at SeaWorld sustains is promptly and appropriately treated."
Kanduke sired two calves at SeaWorld Orlando, Katerina and Taima. Kotar was shipped off to SeaWorld San Antonio in early 1988, leaving Kanduke as SeaWorld Orlando's breeding male. Kanduke died in September 1990 after he contracted St. Louis encephalitis from a mosquito. (Captive orcas spend a lot of time surface-resting and are vulnerable to mosquito bites.) According to Jacobs, "a study into the cause of death was funded by a grant from the National Institutes of Health, and our scientists reported their findings here."
Kotar died at SeaWorld San Antonio in April 1995, when a gate he managed to open between pools closed and fractured his skull. 
JIM HORTON worked for SeaWorld in Florida from 1981 to 1996 and again from 1999 to 2000, before going off to work on the project to return Keiko to Iceland. Horton subsequently worked at Sea Life Park (2002 to 2004) and at Atlantis Paradise Island (2004 to 2012). He now lives on Oahu and recently retired as a yacht broker to spend more time with his wife and newborn girl. 
CYNTHIA PAYNE started working in the education department at SeaWorld Orlando in June 1992, straight out of high school. She quickly transferred to animal care and worked with Horton until she left SeaWorld in December 1994. Today, Payne runs a recycling company called Full Stream Recycling LLC in Charlotte, North Carolina.
KRISSY DODGE began her work at SeaWorld San Antonio in 2004, after getting a degree in zoology from California's Humboldt State University. She started in aviculture, working often with SeaWorld's penguins, before moving to animal care in 2006. Dodge left SeaWorld on December 31, 2006,* to return to Humboldt County, where she is raising two small children and occasionally assists in marine-mammal rescues.  
Here is more of SeaWorld's final statement to Outside, dated July 30, 2014: 
Outside has sent us nearly 70 questions from a story ostensibly about "animal care workers' experience in marine parks." The number and nature of these questions suggests something else: That Outside will continue to report as news anything, no matter how baseless and offensive, so long as it seeks to damage SeaWorld. Despite the obvious bias and charged accusations in Outside's first set of questions, we made the good faith effort to respond to each in a professional manner. Our response was met with another set, equally baseless and provocative. … It is clear that Outside has a greater interest in the sensational than in truly informing its readers about SeaWorld. We will no longer participate in a "fact checking" exercise for a story that is apparently already written and shares the same bias as the other SeaWorld stories Outside has published.
We received this statement, dated July 23, 2014, from Sea Life Park in response to our questions:
For the past 50 years Sea Life Park, which was opened in conjunction with the Oceanic Institute, has been dedicated to providing the highest level of care and a safe home for all our animals who serve as ambassadors for the birds, mammals, turtles and fish that live in and near the ocean, including species native to Hawai'i.

As a member of the Alliance of Marine Mammal Parks and Aquariums, we are dedicated to the highest standards of care for marine mammals in order to provide an enriching educational experience for our park guests. Our animals receive constant attention and affection, and the best food, shelter and veterinary care, including on-site professionals and world-renowned experts who are on retainer to the Park.

The majority of our dolphins were born under human care through a responsible breeding program. They receive the highest quality care including round-the-clock on-site veterinary care, individualized dietary needs, and enrichment form the animal training staff.

Our green sea turtle breeding program plays a key role in educating the public and raising awareness of the challenges that green sea turtles face in the wild; and we are the only location on O'ahu to provide rescue and rehabilitation services for native Hawaiian seabirds, including the shearwaters. Our Hawaiian monk seals are governed by a permit under the Endangered Species Act and the Marine Mammal Protection Act.

Through Sea Life Park, thousands of people, including our local school children, are reached every year by a live encounter in the Park or by our educational outreach programs in the schools that motivate conservation awareness and action.
Corrections:
(09/26/2023) An earlier version of this story stated that Krissy left SeaWorld in 2007.