Climate Neutral-ish
5 Reasons I'm Convinced We Can Stop Climate Change
It's not all doom and gloom. There's good news about climate, too.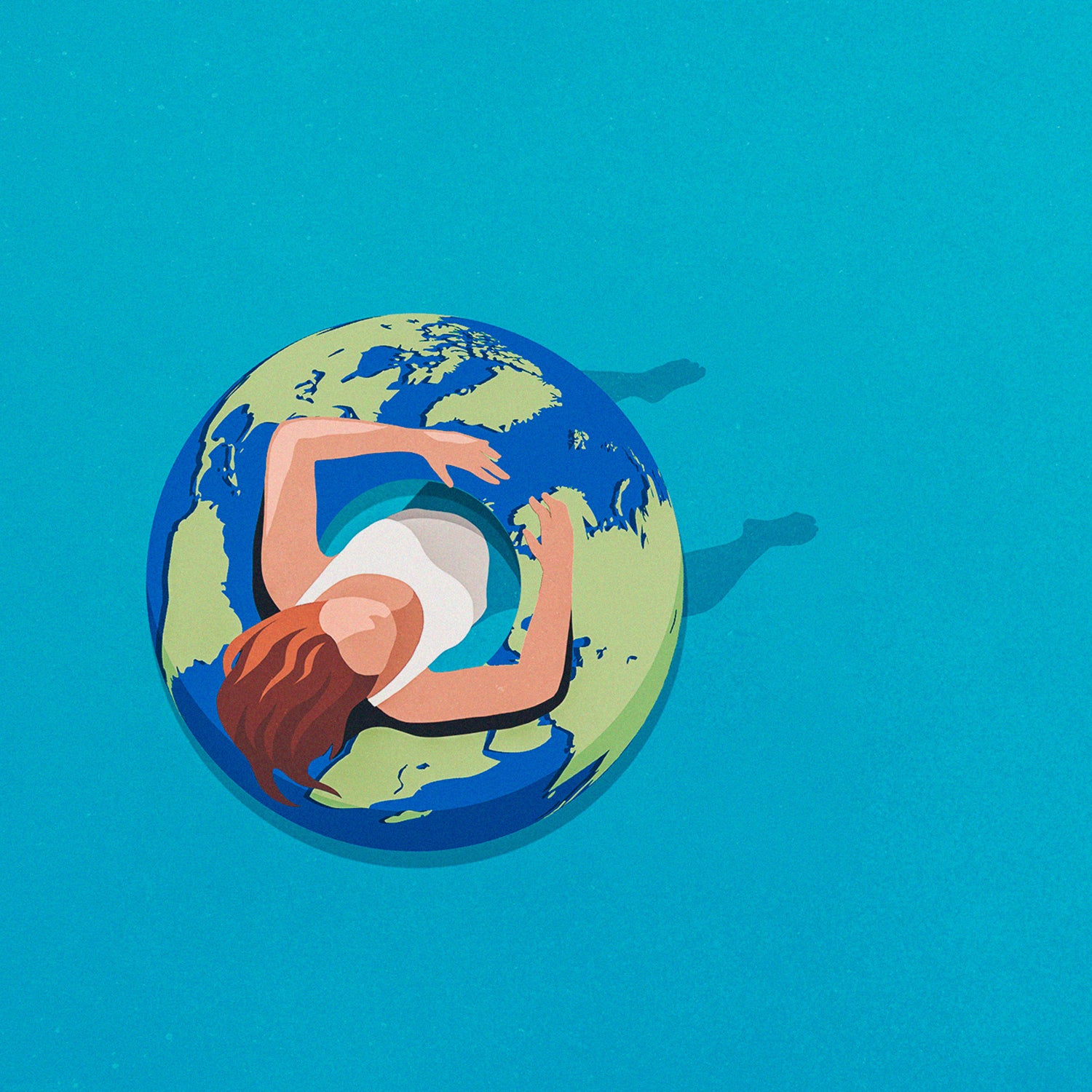 Malte Mueller/Getty (person); goodvector/Getty (Earth)
Heading out the door? Read this article on the new Outside+ app available now on iOS devices for members! Download the app.
Doing right by the planet can make you happier, healthier, and—yes—wealthier. Outside's Head of Sustainability, Kristin Hostetter, explores small lifestyle tweaks that can make a big impact. Write to her at climateneutral-ish@outsideinc.com.
When my boys were little, we watched Disney Pixar's Finding Nemo so many times that the three of us could recite nearly every line in the film. I haven't watched it in almost 15 years, but the mantra of everyone's favorite character, Dory, still sticks with me: just keep swimming.
That's precisely what I tell myself everyday when I start to stress out about how we're going to stop climate change before it's too late.
Despite this apocalyptic summer of rampant wildfires, historic floods, and deadly heat waves, I firmly believe that we've got this. Deep in my bones I can feel the massive ship called Fossil Fuel Reliance oh-so-slowly starting to turn in the warming ocean waters. Can't you feel it, too? Although the headlines are all too often focused on all the bad stuff, good things are happening. We have the data, knowledge, tools, creativity, and gumption to stop the planet from warming to the point of no return. And I'm not the only one who thinks so.
Marcy Franck, author of the Climate Optimist newsletter from the Center for Climate, Health, and the Global Environment at Harvard T.H. Chan School of Public Health, agrees.
"It's a lot easier to stay positive and motivated when you're informed about how far we've already come," says Franck. "The world has begun transitioning entire economies off of fossil fuels—changing the way we generate energy, transport people and things, build buildings, and grow food." And doing these things, says Franck, will not only avert the worst outcomes, but also create a healthier, more equitable future.
To Stop Climate Change, We Need to Embrace Optimism
Let's start by defining what climate optimism is not. It is not naively denying the impacts we see with our own eyes or ignoring our grief for what we've lost. "It's understanding that we know how to prevent things from getting worse, and we are making progress," says Franck. "Our challenge is to 'yes, and' the heck out of otherwise conflicting thoughts: We are in a major crisis and we are making progress; catastrophes are upending life and our solutions are working; we are running out of time and it's not too late."
When we see the devastating impacts of climate change unfolding around the world, Franck recommends that we allow ourselves to feel feel our fear and sadness, then use those emotions as motivation to ramp up our own efforts to make a dent. "We are making progress by implementing solutions, but we need to go faster and there's a place for everyone to help," she says.
The Inflation Reduction Act, passed in August 2022, grants federal funding for community projects for things like clean energy and energy efficiency projects and EV charging stations. Franck reports that "nearly every application for IRA funding has come not from an elected official, but from a citizen who relentlessly advocated for their city or state to apply for a project. Champions are people like you and me." Being a voice in your own community is one of the most impactful ways you can take climate action, she says.
How to Stop Climate Change: 5 Feel-Good Stories to Inspire You
In case you need tangible, real-time proof that we can win—and are winning— this fight, here are five recent news stories that will fill your tank.
A Landmark Courtroom Win in the Fight for a "Clean and Healthful Environment"
It's been hailed as a game changer in the fight for climate justice. Last week 16 Montana youth ranging from five to 22 years old won a lawsuit against the state of Montana, which they claim failed to protect them from the impacts of fossil fuel development and its inherent role in the climate crisis, denying them the "clean and healthful environment" that they are constitutionally entitled to. The plaintiff's victory in Held versus The State of Montana is a major win for climate advocacy.
"The Montana youth climate victory is important for any number of reasons, but one of the most compelling is the way in which it provided sixteen young people with a forum in which to have their voices heard around the world and to get results," says Melissa Hornbein, senior attorney at Western Environmental Law Center, who worked on the case. "To everyone who feels discouraged or daunted by the magnitude of the climate crisis, this case is a shining example of the impact individuals—even individuals too young to be heard at the ballot box—can have in defense of our planet."
The Transition to Clean Energy Is Unstoppable
Just one year old, the Inflation Reduction Act is working and has already had a profound—even staggering—impact on our country's move to a renewable power grid. And it's happening way faster than anyone ever expected. Franck offers these facts about IRA impacts in the last 12 months.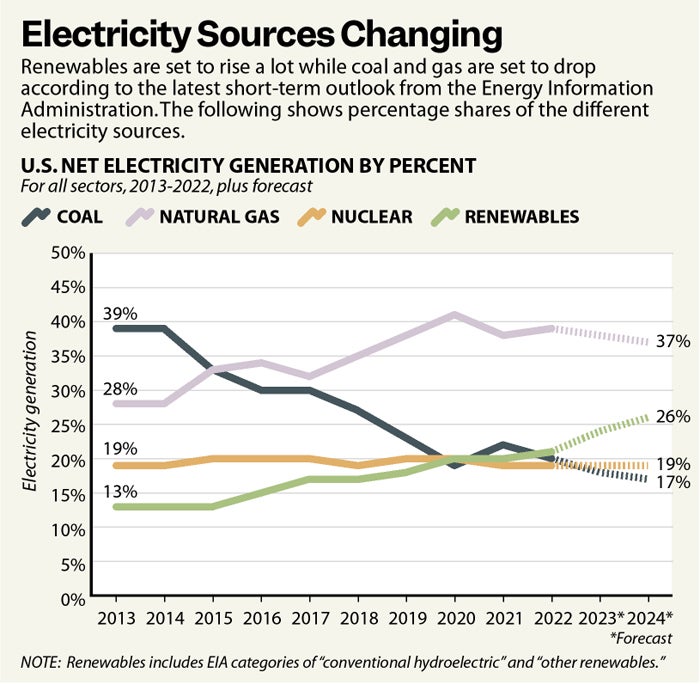 Our news feeds are saturated with so much doom and gloom climate news. Franck references a report on MediaMatters.org that says that last year 40 percent of all climate coverage in U.S. broadcast media focused on disasters, while only six percent covered the IRA.
"There are a few things conspiring to work against us here, but once we understand the context, it's easier to feel more hopeful," says Franck. "Media is a large part of the equation—it's not easy to stay up to date on all the positive climate news. We're inundated with scary news stories that make it seem like all hope is lost, but it's really difficult to find the many, many stories of climate projects taking hold across the country."
The Capital of Take-Out Food Just Took a Bite Out of Plastic Waste
I've often wondered why the default for any takeout or delivery order is to include 17 packets of ketchup, an inch of napkins, and enough plastic cutlery sets for a baseball team. Surely, the majority of those items go straight to the bin. Who among us wouldn't rather eat our falafel combo plate with real silverware rather than the flimsy stuff? Not to mention the waste. Disposable take-out items result in 4.9 million tons of waste in the U.S. each year. And they also cost small businesses lots and lots of money.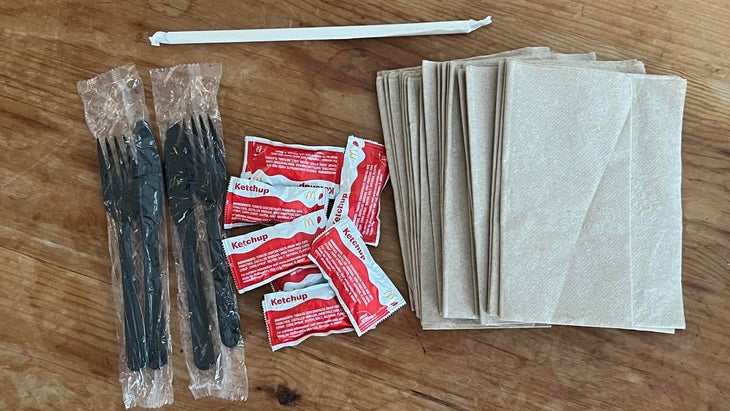 That's why New York City mayor Eric Adams signed a bill in late July that sets a new default: Now, when you order take-out in the Big Apple, you'll get the food and only the food, unless you request otherwise. The law makes it illegal for restaurants and food delivery apps like DoorDash to provide eating utensils, extra eating containers, condiment packets, and napkins in take-out and delivery orders unless you specifically request them.
"New York City's 'Skip the Stuff' law is a significant step forward towards reducing plastic pollution," says  Dianna Cohen, CEO and co-founder of Plastic Pollution Coalition.
"It normalizes and encourages businesses and the public to build and engage in healthier, plastic-free reuse and refill systems. We are optimistic that as awareness of the full toxic impacts of plastic pollution and real solutions continue to grow, production of wasteful single-use plastic will be eliminated."
We're Seeing Almost Instant Health Benefits from Closing Coal Plants
A new, long-term study (published on IOPScience and funded by philanthropic organization Heinz Endowments) in Pittsburgh, Pennsylvania found strong evidence that closing down coal plants and switching to clean energy will have immediate and substantial health impacts on the surrounding communities. Just one week after one of Pittsburgh's dirtiest coal-fired plant shut down in 2016, the surrounding hospitals saw a 42 percent drop in cardiovascular ER room visits, which continued to decline every week for years.
When you pair these findings with data on the rapid rate of closing of coal plants in the U.S. (and the rise of renewable energy plants), that spells really good news. "This research has made it crystal clear to me that, as we eliminate fossil fuels as an energy source, we have a better, healthier world on the horizon," says George Thurston, who co-authored the study. "We have sadly become inured to the ubiquitous negative health impacts of fossil fuel extraction, processing, and combustion. It is within our grasp to change this. While we can't immediately shut off the adverse climate impacts…that our fossil fuel dependence has caused, we can stop adding to it, and at the same time reap huge local and immediate health rewards."
Al Gore Says We Can Stop Climate Change
I've found myself wondering lately where we would be in the climate crisis if Al Gore had won the White House back in 2000. (You may recall, he won the popular vote but lost in the electoral college by just a handful of ticks.) Gore sounded the alarm and brought climate change into the national spotlight more than two decades ago with An Inconvenient Truth.
And he's still out there fighting the good fight. His recent Ted Talk, called "What the Fossil Fuel Industry Doesn't Want You to Know" is fiery, inspiring, and full of hope. He ends with a call to action that gave me goosebumps: "Do not be vulnerable to despair. We are going to do this and if you doubt that we as human beings have the will to act, please always remember that the will to act is itself a renewable resource."
In other words, just keep swimming.
Kristin Hostetter is the Head of Sustainability at Outside Interactive, Inc. and the resident sustainability columnist on Outside Online.
Lead Illustration: Malte Mueller/Getty (person); goodvector/Getty (Earth)