This Tech Entrepreneur Is Trying to Disrupt the Illegal Rhino-Horn Trade
A proposal to protect the remaining wild animals from poachers by marketing fake horn instead of the real thing sounds promising. But conservationists worry it'll only make the problem worse.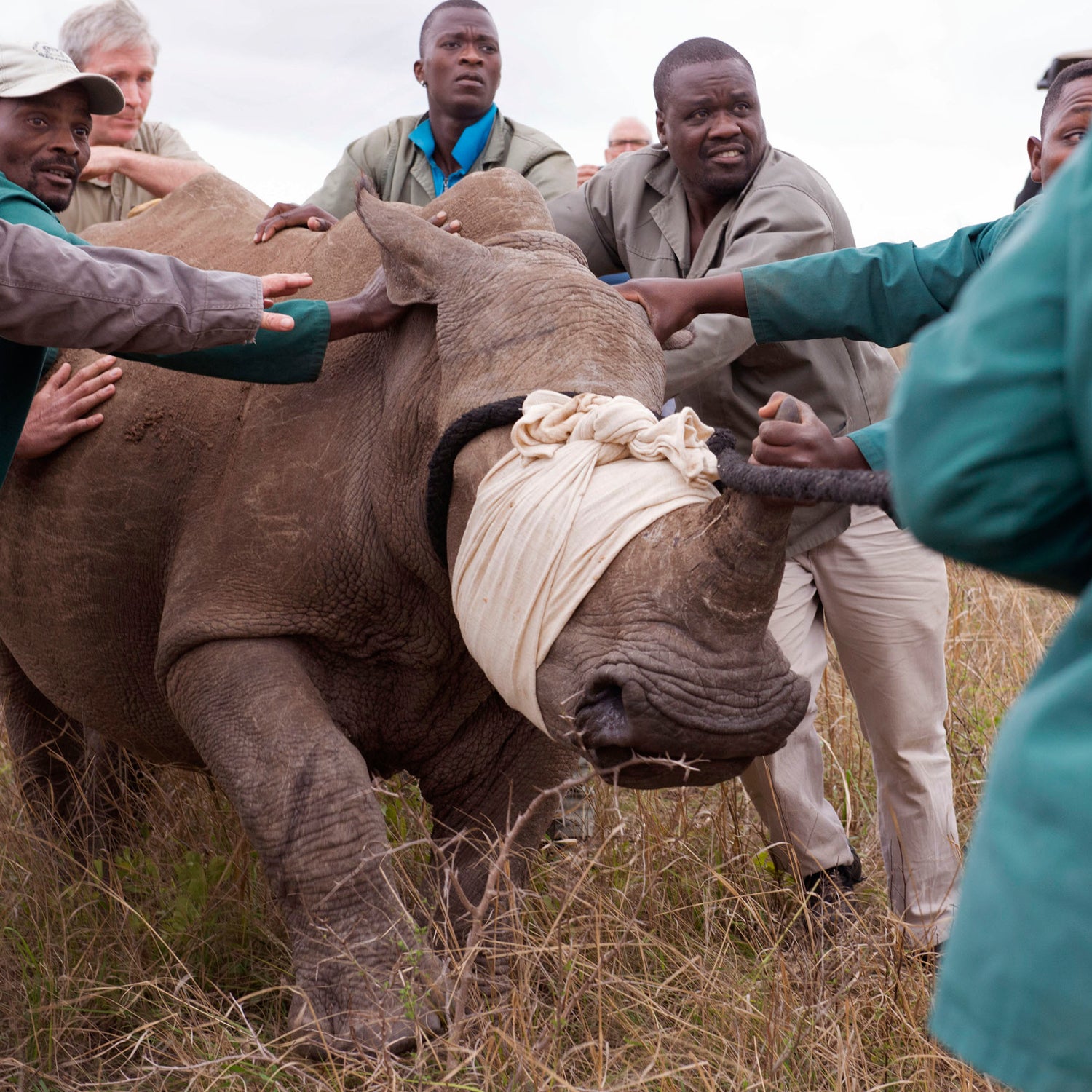 Heading out the door? Read this article on the new Outside+ app available now on iOS devices for members! Download the app.
Last month, in a converted warehouse in San Francisco, 40-year-old serial entrepreneur Matthew Markus stood before a crowd of suited-up venture capitalists and technorati to deliver an important announcement to Silicon Valley. 
"Rhinoceros are vanishing. They're being poached from Africa for an ancient tradition" of harvesting their horns, he said. The rhino's telltale feature, when removed and ground down into a fine powder, was historically considered in some Eastern countries as a panacea for ailments ranging from fevers to rheumatism and gout. "Today, it's a cure-all, an aphrodisiac, and a status symbol," continued Markus. "People will risk everything for it. That includes the poachers who are willing to die to acquire it and the end users who face imprisonment for using it. Something needs to be done."
That something, if Markus has his way, will be wide-scale production of fake rhino horn. His startup, Pembient, is currently synthesizing an alternative to real horn from genetically modified yeast. If Pembient can secure additional funding, scale up production, find product partners, flood the market with artificial horns, and convince newly wealthy East Asian consumers to buy the knockoffs, Markus believes the company could curb the rampant poaching that threatens the last remaining rhinos.
"We're trying to tell people that buying rhino horn is bad, it's against the law," says John Baker, managing director of the anti-poaching group WildAid. "But Pembient is coming in and saying, 'No, this rhino horn is OK.'"
"Every year since 2007 has been a record year for poaching," Markus told me after the event, citing numbers from anti-poaching groups and the South African government. Markus has never worked on anti-poaching efforts. His specialties include the biology at the heart of the process to create Pembient's horn substitute and the business acumen of a man who has run a string of startups (with varying degrees of success). But Pembient's idea has captured public attention and garnered an impressive amount of media coverage. "Can we save the rhino from poachers with a 3D printer?" ran one headline in the Guardian. "We're trying to think outside the box to have a positive impact here," Markus told me.
But, conservationists say, nearly everything about Markus's radical idea goes against the efforts groups and governments are taking to halt rhino poaching. In fact, they say, Pembient's plan could make things much worse.
---
A quick overview of rhino poaching and the illegal horn trade: Today, there are around 29,000 rhinoceroses left in the wild—the bulk of which are in Africa—down from a high of about half a million at the turn of the 20th century. 
Last year, 1,215 African rhinos were killed for their horns. Each horn can fetch up to $100,000 per kilogram in China and Vietnam, where they're considered medicine. The poachers who attack these African rhinos are not impoverished locals; they are soldiers who helicopter into protected areas at low altitude to avoid radar detection and tranquilize the animal rather than kill it to ensure circling vultures don't alert authorities. (The animals typically die from massive blood loss shortly after its horns are cut off.)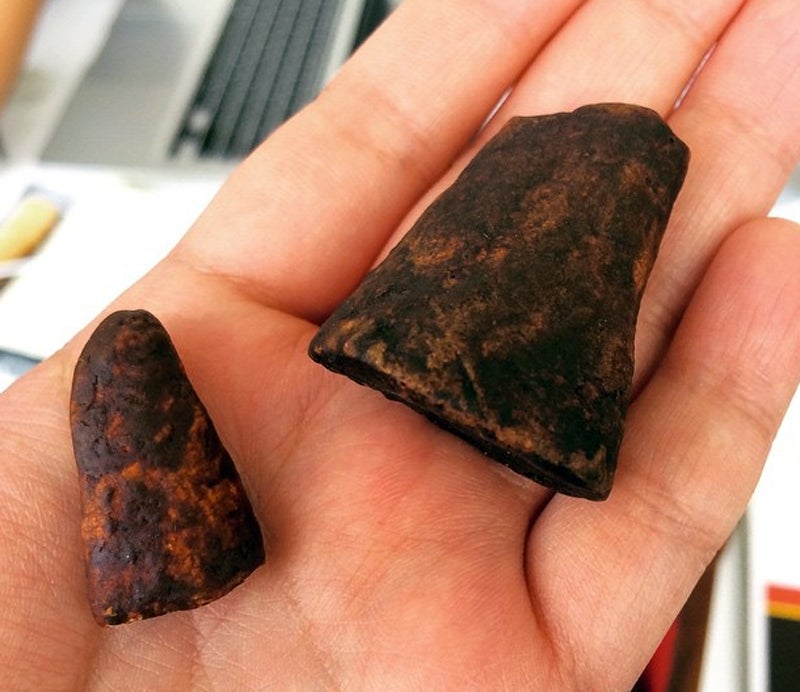 From the grasslands of South Africa, the prize is sold to global criminal syndicates that cater to consumers mainly in Vietnam and China eager to ingest the horn for its supposed—and completely discredited—health benefits, or simply as a status symbol. (In Vietnam, rhino horn has become a popular gift for bosses or family members and consuming it is a typical way to display wealth.) After a decades-long dip in poaching, the rate skyrocketed from 13 rhinos killed in 2007 to over a thousand in each of the last two years.
Pembient's business plan is predicated on this rise in demand. By selling synthetic horn for an eighth the cost of the real thing, Markus believes the company can dramatically undercut demand for the real stuff that must be hacked from the faces of animals living a continent away. Pembient, Markus says, plans to brand itself as pure, conflict-free—a trusted product in a part of the world where even food authenticity is often dubious—and function as an ingredient company. He uses Gore-Tex as a point of comparison. "Gore-Tex doesn't make a jacket, it's the liner in jackets," he says. Right now, he's working on contracts for a line of synthetic-horn-infused skincare lotions and a craft beer loaded with Pembient's blend (rhino horn is thought to cure hangovers), and he is considering partnering with tobacco companies.
This approach—branding products with Essence of Rhino Horn, as Pembient has begun—is completely counter what conservationists have traditionally done to curb illegal poaching.
"We're trying to tell people that [buying rhino horn] is bad, it's against the law, and that it's illegal to transport rhino horn from one country to another," says John Baker, managing director of the anti-poaching group Wild Aid, which runs ads and PSAs to educate consumers about poaching. "But Pembient is coming in and saying, 'No, this rhino horn is OK.'"
https://youtube.com/watch?v=BQHnZfW6538
Wild Aid and the other big names in the fight against rhino poaching have lined up to oppose Pembient. A cheaper, readily available substitute that is marketed directly to consumers would legitimize the idea of consuming rhino horn, conservationists say. "Making the product cheaper, our opinion is, will expand the market," Baker says.
Cristian Bonacicguy, a professor at the Pontifical Catholic University of Chile and expert in the fur trade that threatened wild vicuñas in Peru, says Pembient's horn won't reduce demand because it's not an exact substitute for real horn. (Pembient's version may not be exactly genetically identical to natural horn.) "Plastic nylon never replaced cotton in the world," said Bonacicguy, in essence rebuking Markus's Gore-Tex comparison. 
And according to research from the respected anti-poaching group TRAFFIC, much of the increased demand in Asia has come from people attracted to rhino horn not for health reasons, but because it is an illicit product from a natural animal—a sign of strength and wealth and virility. "I cannot see a wealthy person showing off his/her status by consuming…rhino horn, replacing essentially an item of conspicuous consumption with either fake or synthetic horn," Annette Hübschle–Finch, a researcher studying illegal wild life markets at the University of Cape Town in South Africa, wrote in an email. However, consumers looking for health benefits may be more interested, she added.
But Pembient isn't planning to market its synthetic rhino horn to only the small group of consumers who currently buy the illicit version. They're promoting new applications for the product. "Most of our surveys show that almost no one has ever identified cosmetics or face cream as a use of rhino horn…and it's not like anyone has ever done a rhino horn beer before," Baker says. "They're going to be promoting a whole new use of this product."
---
Markus is more than familiar with the arguments against his product. "I think it's good people are talking to us and vetting us," he says. But Markus is an entrepreneur, and his company is a for-profit enterprise. 
In his presentation in San Francisco, Markus spoke plainly about the value of Pembient's proposal. About 6,000 kilograms of rhino horn are on the black market right now, he told his audience, but "the latent demand"—the amount he predicts consumers would buy if supply increased—"is way higher, over 300,000 kilograms per year." "Pembient can meet that demand at one-eighth the black market price. Thus we have the opportunity of servicing a $2.6 billion market by 2022." That's money poachers won't make, Markus says.
Markus acknowledges that his idea sounds radical, but maintains that traditional methods to discourage poaching, like education and awareness, aren't working. "People will say there are tried-and-true methods, but if they're tried and true, why aren't they working now?" he asks. At current poaching rates, he points out, rhinos could be extinct in the wild by 2020.
Baker and the others aren't sure that's a good enough reason to try Pembient's plan. "It's letting the genie out of the bottle," he says. Once it's out, "you won't be able to put it back in."
Lead Photo: AP