The 50 States of Climate Change
A state-by-state guide to climate change impacts already unfolding, and how to get involved in local mitigation and resiliency projects
Heading out the door? Read this article on the new Outside+ app available now on iOS devices for members! Download the app.
Since the 1700s, the amount of carbon dioxide in the Earth's atmosphere has increased by 40 percent, largely from greenhouse gasses released by people burning fossil fuels like oil, gas, and coal. As a result, the climate is becoming more volatile, with hotter summers, more severe storms, and swings in precipitation. Already, the changing climate is affecting everything from the health of people and animals to outdoor sports and our ability to grow food.
Dozens of articles purport to reveal the "best states" for climate change; places to move if your own home floods or burns or is flattened in a natural disaster. But while it's tempting to consider fleeing when climate change hits home, the truth is that no state is immune.
The list below illustrates how climate change is impacting every corner of the United States. It also includes specific actions you can take and organizations you can join to make the place you live more resilient, or to change the broader policies and practices still pumping carbon dioxide into the atmosphere. The list is by no means exhaustive, and few of the impacts exist in a vacuum—in most cases, climate change intensifies existing problems caused by unsustainable policies, misguided historical practices, and social injustices.
Still, if you want to understand how climate change is affecting the place you live—and how you can make a difference—this is the place to start.
Alabama
The Problem: Although the Southeast is overall warming more slowly than other regions, the number of extremely hot days in Alabama is rising as heat waves become more intense and frequent. And because cities have more heat-absorbing blacktop and fewer cooling trees than rural areas, they become "heat islands" that are hotter than their surroundings. In Birmingham, for example, average summer highs rose from 87 degrees in 1973 to 92 degrees by 2018.
The Impact: Heat is responsible for more deaths in the United States than any other kind of weather, putting people who work outside in farming, construction, and other fields most at risk. Heat-related illness also disproportionately affects vulnerable populations, including prisoners, the homeless, the very young, and the very old. In 2020, 14 Alabamans died due to extreme heat.
Get Involved: GASP is a Birmingham-based nonprofit that fights for better air quality and healthier communities, in part by advancing policies that cut carbon emissions. They're working to increase solar power and decrease coal-burning power in Alabama. You can donate, sign petitions, or learn more by listening to their podcast about climate justice in the South, called Climate Justice, Y'all.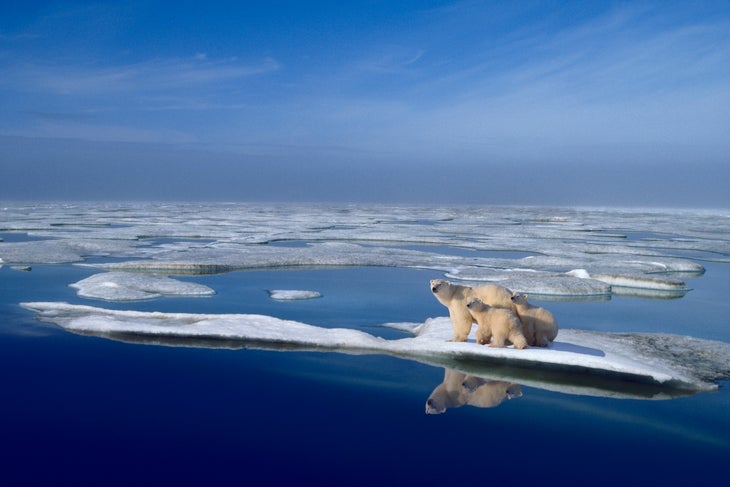 Alaska
The Problem: As the only U.S. state bordering the Arctic Ocean, Alaska has front-row tickets to one of the most dramatic and immediate impacts of the warming climate: melting sea ice. Winters in Alaska have warmed by six degrees over the past 60 years, leading sea ice to retreat earlier in spring and freeze later in fall. Climate models project that the Arctic Ocean could be largely ice-free by the year 2050.
The Impact: Changes in sea ice have already impacted Alaska Native communities that get most of their food from animals who depend on sea ice. The Yup'ik villages of Gambel and Savoonga, for instance, have received state disaster funding in years when the sea ice became so scant that hunters could no longer reach the walrus that comprises a large part of families' diets and a vital connection to their traditional culture. In other Arctic and sub-Arctic communities as well, food security becomes more precarious as sea ice declines.
Get Involved: The Alaska Food Policy Council works to improve food security, including access to traditional and subsistence foods. Become a member, join a working group, or attend events to plant fruit trees, learn about cold storage, or hone other adaptive skills.
Arizona
The Problem: Since 2002, the American Southwest has been gripped by the worst drought in at least 1,200 years—and one that's exacerbated by climate change. Although annual precipitation in Arizona varies depending on the strength of the summer monsoon, 17 of the last 26 years have had below-average precipitation, while the 21st century has so far comprised Arizona's hottest period on record. Soils are half as dry as anytime in the 20th century.
The Impact: Thanks to hotter temperatures, less precipitation, and a misguided policy that lets states use more water than nature provides, the Colorado River is shrinking—and Arizona is among the first states to lose access to the river's life-giving waters. In 2021, Lake Mead, which stores Colorado River water for Arizona and other states, dropped so low that some farmers in Pinal County had their irrigation supply automatically slashed. Residents of Page and LeChee, Arizona, meanwhile, could soon lose their drinking water supply unless drastic water conservation or infrastructure measures are taken.
Get Involved: Using less water at home is a good start, but given that the most water is used by farms rather than municipalities, consider also supporting an organization like the Tucson-based Sonoran Institute, which aims to restore the Colorado River delta in part through upstream water conservation policies.
Arkansas
The Problem: Far from landlocked Arkansas, the Republic of the Marshall Islands—a country of low-lying coral atolls in the Pacific Ocean—is flooding more and more frequently as sea levels rise. Because of a Compact of Free Association signed with the United States in 1989, any Marshallese citizen can legally live in the United States. The largest Marshallese population in this country is in Arkansas—and it's only expected to grow as climate change makes life in the Marshall Islands becomes more precarious.
The Impact: Although many Marshallese residents of Arkansas work low-paying jobs, pay taxes, and make Arkansas brighter, stronger, and more diverse, they don't always feel welcome. Some struggle to navigate the United State's arcane health care and educational systems; others fall prey to predatory schemes or worry about losing their cultural heritage. Other climate refugees in the U.S. face similar challenges, including those who are U.S. citizens—members of the Biloxi-Chitimacha-Choctaw tribe in Louisiana and of the Village of Newtok in Alaska are among the first Americans forced to relocate because of rising seas.
Get Involved: The city of Fayetteville, Arkansas, has established itself as a designated Welcoming City for refugees and immigrants. You can donate to the city's Climate Refugee Resettlement Fund to help newcomers access housing and social services; or you can donate to the nonprofit Arkansas Immigrant Defense law firm to help new immigrants with legal service. You can also get involved directly with Arkansas' Marshallese community by attending a cultural event or volunteering.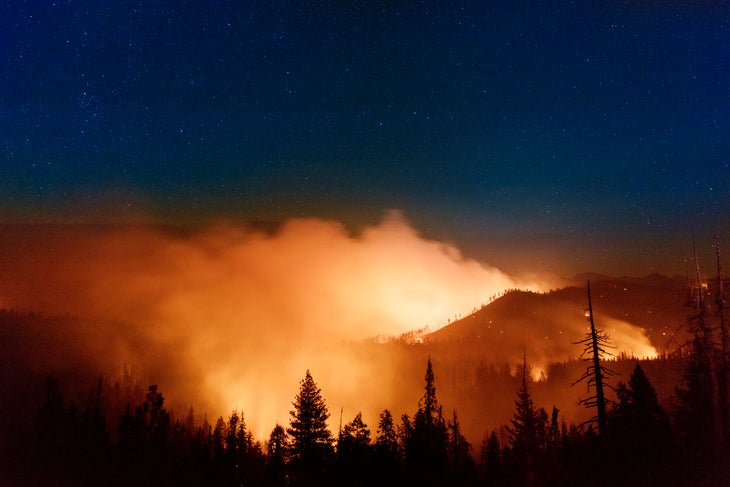 California
The Problem: Many California ecosystems evolved with fire, but hotter and drier conditions caused by climate change—along with decades of suppressing natural, low-intensity wildfire—are fueling wildfires so abnormally big, hot, and frequent that forests are struggling to recover. Of the ten largest fires in California's recorded history, five occurred in 2020 alone. In California and beyond, climate change is also extending the length of fire season; fires now burn nearly year-round.
The Impact: While California's 2020 fire season was the most destructive on record—killing 30 people, burning 4.2 million acres, and destroying 10,500 homes and other structures—it was hardly an outlier. The entire town of Paradise, California burned to the ground in 2018. Conservationists in 2021 wrapped giant sequoias in aluminum-foil-like blankets to try to protect them. And even people far outside the fire zone frequently suffer from thick smoke that exacerbates respiratory issues and keeps thousands of people indoors.
Get Involved: There's no shortage of California-based nonprofits working to fight climate change, improve human and natural communities' resilience to wildfire, and restore ecosystems scorched by fire. Among those to consider donating to or volunteering with are the Southern California Forest Fund; the California FireSafe Council; the California State Parks Foundation; and the C.R.E.W.  Also: make sure you put your campfire out, or skip it entirely.
Connecticut
The Problem: Between 1895 and 2011, average annual precipitation in the Northeast increased by ten percent, and temperatures increased by up to three degrees. Winters are getting shorter and warmer, with rain as common as snow.
The Impact: The ticks that transmit Lyme disease are only active when temperatures are above 45 degrees Fahrenheit. As Connecticut's winters get less severe, native ticks that used to die in winter are becoming active year round. Meanwhile, tick species from warmer regions—bearing diseases like the Powassan virus— are making their way north. Combined with forest fragmentation and development, this is driving up both tick populations and Lyme disease. Across the U.S., cases of Lyme disease have roughly doubled since the 1990s.
Get Involved: Sustainable CT helps towns and individuals become more resilient in the face of climate change. They provide grants, trainings, and other resources on everything from dark skies and pollinator-friendly gardens to electric vehicles and solar panels.
Colorado
The Problem: Colorado's famous snowpack is becoming less stable and less consistent as winters change. Because avalanches occur when a trigger, such as a skier, sends a slab of snow that's settled on top of a weak layer sliding downhill, weird weather like prolonged drought followed by wet, heavy snowfall can lead to heightened avalanche risk. It's impossible to pin any one avalanche to climate change, but because one of the signatures of climate change is erratic weather, our less predicable climate is already causing some years to have abnormally dangerous snowpack.
The Impact: Colorado already has more avalanche deaths than any other state, and the winter of 2020-2021 was the deadliest on record, with 12 people killed by avalanches and a record number of large avalanches themselves. This winter is shaping up to be deadly as well, with seven fatalities in Colorado alone as of March 1.
Get Involved: Join Friends of CAIC (the Colorado Avalanche Information Center) to support avalanche forecasting and education in the Centennial State. You can also attend an avalanche awareness class or sign up to be a trailhead outreach volunteer, helping to share information about avalanche conditions and safety with backcountry trail users.
Delaware
The Problem: Over the past century, the ocean off the coast of Delaware has risen by a foot, due largely to distant melting glaciers and sea ice. Meanwhile, the tectonic plate that Delaware and other mid-Atlantic states rest on is naturally sinking. The rising tide and sinking land together put Delaware's rich coastal resources—and the human and nonhuman life they support—at risk of being swamped.
The Impact: The 2008 Mother's Day storm that struck Delaware with 20-foot waves and major floods and power outages is indicative of the kind of flooding that the region can expect more often as the ocean continues to rise. In addition to damaging homes and roads, flooding cuts into ecosystems like tidal estuaries, beaches and salt marshes where birds, fish, turtles and other creatures live and breed. While these ecosystems can technically migrate inland as the ocean encroaches, human development has limited their ability to adapt: 30 percent of tidal wetlands in the St. Jones River watershed, for instance, are hemmed in by elevated roads and structures.
Get Involved: Wetland restoration helps both natural and human communities adapt to sea level rise, because healthy wetlands can absorb some of the power of tidal surges. You can volunteer to help with wetland restoration projects through the Delaware Department of Natural Resources and Environmental Control, the Delaware Nature Society, or Delaware Wild Lands.
Florida
The Problem: In the late 1800s and early 1900s, water temperatures in the Florida Keys rarely rose above 84 degrees. Now, average temperatures in many places are at or above 86 degrees in August. At temperatures above 84 degrees, corals grow more slowly and may even stop growing altogether and die. The warming waters off the Florida coast are driving a mass coral bleaching event, worsening what was already a longterm decline of Florida's corals. Overall, Florida has lost 95 percent of its corals in the last 50 years.
The Impact: Home to the only barrier reef in the contiguous United States and the third-largest barrier reef in the world, Florida is a haven for snorkelers, scuba divers, and a dazzling array of biodiversity. Bleached coral threatens the state's $2.7 billion coastal economy, and has impacts that ripple through the coral reef ecosystem, harming everything from tropical fish to sea turtles to sharks.
Get Involved: Take a boater safety course to learn how to keep your boat from damaging corals. Wear reef-safe sunscreen and be responsible when snorkeling and diving. You can also join the Coral Restoration Foundation on dives, help their scientists collect data, or donate.
Georgia
The Problem: Agriculture is Georgia's largest industry, and peaches are its most iconic crop. But erratic weather spurred by the changing climate is bruising peach orchards. In recent years, warm springs sometimes cause the trees to blossom early, then sudden late frosts kill the budding fruit. Additionally, peach trees need at least 650 hours each year to "chill," with the temperature staying below 45 degrees. As winter temperatures in Georgia have climbed by as much as five degrees since the 1960s, fewer peach trees are producing fruit.
The Impact: Peaches are no longer Georgia's most prolific crop—many farmers have switched to growing blueberries or pecans. The state still averages 130 million pounds of peaches per year, but unpredictable weather can have devastating effects for fruit and the farmers who depend on it. In 2017, for example, trees got les than 500 hours of chill time, and the harvest dropped by three quarters, costing farmers millions of dollars in losses.
Get Involved: The Georgia Conservancy advocates for climate-forward policies in the Peach State, including protecting swamps and other lands that can serve as carbon sinks and offset some of the impacts of greenhouse gas emissions. Donate, become a member, or join a "stewardship trip" to learn about protecting Georgia's wild places.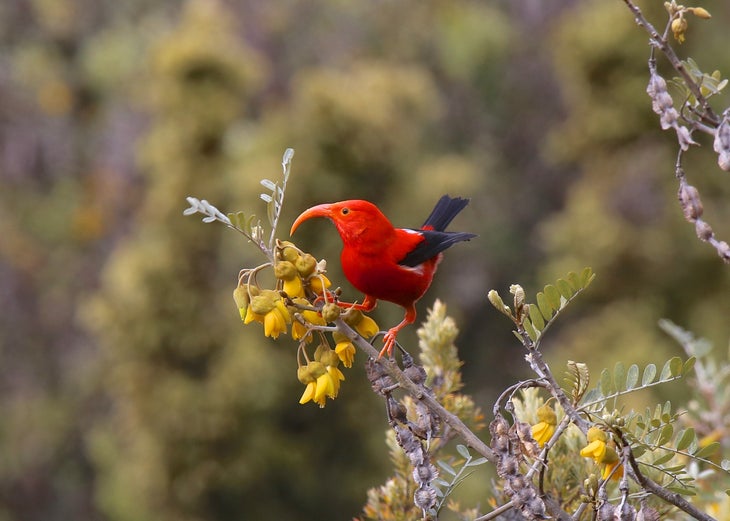 Hawai'i
The Problem: Since 1950, temperatures in Hawai'i have risen by two degrees, with a sharp increase over the last decade; 2019 was the hottest year ever recorded on Oahu. Warmer conditions allow mosquitos to survive at higher elevations in Hawaii's tropical mountains. And as the pesky insects climb higher, they bring with them diseases like avian malaria and avian pox. A single bite from an infected mosquito can kill Hawai'i's native birds, which evolved without the mosquitos that were inadvertently introduced to the islands by white settlers.
The Impact: Two thirds of Hawai'i's honeycreepers have already gone extinct, and the 17 surviving species largely depend on habitat about 4,000 feet that was historically too cold for Hawaiian mosquitos. Now, more of these imperiled birds are falling victim to avian diseases carried by mosquitos—of 13 honeycreepers released in Maui in 2019 to try to re-establish a population there, all were killed by avian malaria. As the climate continues to warm, even the highest-altitude refuges are expected to be invaded by mosquitos.
Get Involved: Because high-altitude refuges are expected to remain mosquito-free through the middle of this century, there are plenty of opportunities to expand bird habitat and curtail mosquito populations now. Each island has its own opportunities for volunteer work: On Hawai'i, try the Mauna Kea Restoration Project; on Kauai, the Kauai Island Forest Birds Recovery Project; on Maui, the Maui Forest Birds Recovery Project; and on Oahu, Pacific Rim Conservation.
Idaho
The Problem: The Chinook salmon that swim from the Pacific Ocean into Idaho's valleys to spawn undertake a momentous journey. And after traveling more than 800 miles inland, past numerous dams that have already cut their populations from 50,000 to 1,500 since the 1950s, some are finding their habitat already gone. Between 1957 and 2016, drought and heat caused the volume of summer stream flows in Idaho's Bear Creek Valley, a tributary of the Salmon River, to shrink by 19 percent.
The Impact: As streams and rivers shrink, side channels that have historically been important for spawning salmon are drying up completely. One study found that spawning habitat in Bear Creek Valley has already shrunk by 23 percent. Up to half of spawning habitat could be lost by 2040.
Get Involved: Although increased heat and drought are exacerbating the situation, Idaho's salmon are also stressed by habitat loss and fragmentation. You can help by volunteering with the state's Fish and Game department—assisting biologists with surveys and getting hands-on with stream restoration projects.
Illinois
The Problem: Chicago, the third largest city in the U.S., lies between the Mississippi River and Lake Michigan, on former swampland that was dredged as the city was built. Historically the lake's levels fluctuate only a few inches over the course of a year. But as climate change spurs extreme weather—from wetter storms to longer droughts—both the lake and the Chicago River are fluctuating to a degree the city has never seen before. Between 2013 and 2020, Lake Michigan rose and fell by six feet.
The Impact: Chicago's infrastructure isn't built to withstanding fluctuating water levels. As the lake swells and shrinks, it's wiped away beaches, battered buildings, and become a repository for overflowing sewage. Precipitation in the Great Lakes region increased by 17 percent between 1951 and 2017, dialing up the frequency of billion-dollar disasters in Illinois.
Get Involved: The Chicago Environmental Justice Network brings together grassroots organizations around the city to blunt the impact of climate change and other environmental issues, particularly on communities that have been disproportionately impacted by flooding, heat waves, and poor air quality. Donate or subscribe to their email list to stay up-to-date about how to lend a hand.
Indiana
The Problem: The number of days each year with "mild" weather—days with temperatures between 65 and 85 degrees—have decreased by an average of 16 per year in Indiana compared to the period between 1915 to 2013. As pleasant days are replaced by hot and extremely hot days, and humidity in the state also increases, Indiana's sports and tourism industries are suffering.
The Impact: Temperatures during the last week in May, when the Indianapolis 500 brings thousands of auto-racing fans to Indiana, typically top out in the 70s. Since 1950, though, temperatures have risen by 3.5 degrees, and the high temperature on race day in 2018 was 91 degrees. More than 200 spectators were treated for heat-related illnesses, while the heat forced drivers to cope with a more slippery-feeling road surface and decreased engine efficiency.
Get Involved: Confront the Climate Crisis engages students from across Indiana to help the Hoosier State tackle climate change. They host rallies, offer climate literacy education, and have worked with lawmakers to introduce climate-friendly legislation. You can sign a petition, donate, or become a member.
Iowa
The Problem: Because of Iowa's high concentration of industrialized agriculture and animal feedlots, fertilizers and animal waste regularly wash into the state's rivers and lakes. The runoff feeds algal blooms, which in turn contaminate water sources. Though poor water quality can occur year round, algal blooms are most common when water temperatures are warm, and Iowa's overall temperature has risen 1.3 degrees since 1988. Heavy rainfall also exacerbates runoff, and precipitation is increasing more rapidly in Iowa than in any other state.
The Impact: The average nitrate load in Iowa's waterways doubled between 2003 and 2020. Contaminated freshwater regularly forces Iowans to boil tap water and avoid swimming, and may play a role in health problems such as birth defects. Agricultural runoff into the Mississippi River watershed also flows downstream into the Gulf of Mexico, where it contributes to a 2-million-acre "dead zone."
Get Involved: Iowa Rivers Revival is a nonprofit working toward clean, healthy, free-flowing rivers across the state. Donate, join a river restoration training, or check out their resources to get out and paddle on your local river.
Kansas
The Problem: Kansas—also known as the Wheat State—harvests a fifth of the wheat grown in the United States. As drought, heat, and high winds stressed fields in 2022, however, some farmers grew so little wheat they didn't even bother harvesting it. One study found that for every 10 hours of hot, dry, windy (HDW) conditions, a wheat plant produces four percent fewer grains. And HDW conditions have increased in Kansas since 1988.
The Impact: Kansas is losing its topsoil at a rate 100 times faster than it can be replenished. That loss, combined with the uptick in hot, windy, dry conditions, has led some scientists to warn that a new Dust Bowl may be on the horizon. The statewide wheat field output in 2022 was 39 bushels per acre, compared to 52 bushels per acre the previous year.
Get Involved: Healthy soil not only helps plants better withstand extreme weather—they also sequester planet-warming carbon. The Kansas Soil Health Alliance is a farmer-led nonprofit that invites farmers to take a soil health survey, learn more about soil health, and connect to resources that can benefit crops and the climate.
Kentucky
The Problem: Warm air holds more moisture, which means that one effect of climate change is more rainfall in places like Kentucky. Some parts of the state are now slammed with eight more inches of rain each year than in 1950, and more of that rain is falling in intense bursts that fuel flash floods.
The Impact: Kentucky residents were hit with devastating rainstorms in 2020, 2021, and 2022. In some places, the rainfall was 600 percent above normal; in others, rivers surpassed previous flood records by more than six feet. The storms funneled rainwater into narrow Appalachian valleys and turned innocuous creeks into raging torrents. Dozens of people died and many more lost their homes and businesses.
Get Involved: The nonprofit Kentucky Conservation Committee has put together a seriously handy guide that's full of ways that individuals, communities and organizations can combat climate change in the Bluegrass State. It's got everything from tips on making communities more bikeable to reducing food waste to protecting carbon-sequestering forests.
Louisiana
The Problem: The Gulf of Mexico is warming twice as fast as the ocean in general, making it an "incubator" for tropical storms that batter low-lying states like Louisiana. While hurricanes aren't necessarily becoming more frequent, there's evidence that they might be growing more intense: one study found that since 1975, the proportion of category 4 and 5 storms has increased by 25 to 30 percent with each one degree celsius of global warming.
The Impact: As residents impacted by storms like Katrina, Harvey, Ida and others have experienced firsthand, hurricanes not only flood homes and cause millions of dollars worth of damage—they also leave people rootless. After Katrina flooded some 80 percent of New Orleans, for instance, the city's population fell by half. One estimate suggests that of the 1.5 million residents of Louisiana and neighboring states who fled their homes during Katrina, roughly 40 percent didn't return. Many of those were residents of low-lying, low-income neighborhoods that have since been gentrified by newcomers.
Get Involved: Consider donating to the Foundation for Louisiana, which grants millions of dollars to local climate resiliency projects through its Coastal Resilience Leverage Fund. Or join the Deep South Center for Environmental Justice, which works to improve the lives of children and families who are vulnerable to climate change through research, education, and policy.
Maine
The Problem: The Gulf of Maine is warming faster than 99 percent of the world's oceans, with drastic impacts that echo throughout New England. As the ocean heats up, lobsters are migrating northward to cooler waters, and invasive seaweeds and green crabs from the south are moving into Maine's waters.
The Impact: Lobstering is big business in Maine. Lobstermen netted $500 million in 2021, accounting for 80 percent of Maine's seafood industry and generating more than 5,000 jobs. While the state isn't yet too hot for lobsters to survive, lobster hauls have been decreasing since 2016—between 2017 and 2018 alone, lobstermen caught 22 million fewer pounds of lobster. Whether there are fewer lobster because of climate stress or whether they've simply been overfished isn't yet clear, but given that several lobster populations in southern New England have crashed and never rebounded, Maine fishermen are preparing for lean times.
Get Involved: The state of Maine has the strongest climate resilience plan in the Northeast, according to one study, and offers support for individual towns to reduce their carbon emissions through grants and other resources. Get your community involved by joining the Community Resilience Partnership.
Maryland
The Problem: Even blue states like Maryland still get much of their electricity by burning climate-polluting fuels like natural gas—which supplied 31 percent of Maryland's electricity generation in 2021—and coal, which accounted for 14 percent. A state climate plan signed into law in 2022 requires Maryland to achieve net-zero emissions by 2045, but developing new power sources is expensive and complex.
The Impact: In Maryland, much of the transition to clean energy is expected to come through offshore wind turbines. The federal government has already approved four wind energy projects off the coast of Ocean City that will together power hundreds of thousands of homes. Advocate say the cost of building the projects will be more than offset by the jobs generated and the public health savings, and that Maryland could become a national hub for wind energy that's eventually exported to other states through the electric grid.
Get Involved: The Baltimore-based Climate Access Fund is a nonprofit "green bank" created to make sure that all Maryland residents have equal access to the social, economic, and environmental benefits of clean energy. They advocate for policies, provide funding to developers, and help residents, schools, and businesses install solar panels. Contact them to donate or invest, nominate a business for solar power, or sign up for discounted solar energy.
Massachusetts
The Problem: When Henry David Thoreau lived on the shores of Walden Pond in 1845, he kept detailed notes about when trees budded, flowers bloomed, and birds returned. Between 2009 and 2016, researchers compared their own observations to Thoreau's records, and found that trees and shrubs now "leaf out" 18 days earlier than in Thoreau's time, because the area around Boston has warmed by a whopping three degrees.
The Impact: While plants respond almost immediately to temperature shifts, animals are slower to adapt, leading to a biological mismatch that could have cascading effects. Birds, for instance, fly north only three days later than they did in the 19th century, but since trees are already leafed out by the time they get to Massachusetts, the birds might miss out on the insect feast that emerges when the trees first bud. Plus, a quarter of the plants Thoreau documented during his time on Walden are completely gone from the area—mostly northern wildflowers that crave cold weather.
Get Involved: Mass Audubon helps give birds habitat to increase their chances of surviving the phenological mismatches caused by climate change. Donate or join, go birdwatching in one of their many nature sanctuaries, or get trained to volunteer for their Climate Champions program, which advocates for policies that advance nature-based climate solutions.
Michigan
The Problem: The 1,300 or so moose living in Isle Royale National Park—a remote island in Lake Superior—are already struggling with warmer winters and hotter summers. Not because moose can't take the heat, but because blood-sucking ticks love it. Usually, female ticks die after falling off their host animal and into winter snow, but if the ground is dry, they live and lay eggs. Warmer summers also allow more tick eggs to hatch. Tens of thousands of these ticks can latch onto a single moose, driving the ungulate to single-mindedly scratch off much of its coat to get rid of them, decreasing the moose's foraging time.
The Impact: Since the 1960s, scientists have documented the relationships between moose and wolves on Isle Royale. While both species naturally fluctuate because of environmental conditions and population dynamics, the island's moose population dropped 28 percent between 2020 and 2022. A growing wolf population killed some of the moose, but others starved in the wake of a particularly bad tick year. Moose that are infested with ticks are also less likely to reproduce. Ticks have already ravaged the moose population in New England, and scientists fear that the Upper Midwest may follow the same trajectory.
Get Involved: Volunteering at Isle Royale isn't for the faint of heart—most opportunities require a summer-long commitment to living in the remote park. If that's more than you can handle, consider getting involved with the Michigan Alliance for Justice in Climate, or MAJIC, a coalition that fights for equity, systems change, and the Green New Deal.
Minnesota
The Problem: Over the last 50 years, the amount of time when ice covers Minnesota's lakes has declined by an average of 10 to 14 days. That might sound pleasant in a place known for its freezing winters, but winters aren't just shorter than they were a generation ago. Lake ice is also less stable and predictable, and lake water is warmer too—surface water temperatures in the Land of 10,000 Lakes have risen between 3 and 3.9 degrees.
The Impact: Fishing for walleye and northern pike is baked into Minnesota's cultural identity. Shorter seasons and more dangerous conditions have caused ice-fishing tournaments to be cancelled more often, and threatens to cut into the profits of local businesses that depend on winter recreation. Hockey and broomball players, ice skaters, snowmobilers, and others may lose their means to get outside in the winter. And in summer, warmer water temperatures mean more algal blooms and stress on iconic cold-water fish.
Get Involved: Sign up to volunteer with the Minnesota Pollution Control Agency to measure lake ice and collect water quality data. The information you collect will help scientists and policy-makers detect changes in water clarity and ice cover over time—and offers a good excuse for spending time on the water in every season.
Mississippi
The Problem: Rainfall is increasing in Mississippi, and torrential rainstorms are becoming more intense. Across the Southeast, the amount of rain that falls during heavy storms has jumped 27 percent since 1958, leading to increased flood risk.
The Impact: Torrential rains that flooded the Pearl River near Jackson, Mississippi, in August 2022 overwhelmed the city's water treatment plant, rendering tap water undrinkable and leaving 170,000 people without running water. People waited in line for hours to get bottled water, and some were turned away when supplies ran out. Although exacerbated by decades of environmental injustice and inadequate infrastructure in Jackson—a majority-Black city with high rates of poverty—it was heavy rains that pushed the system over the edge.
Get Involved: Cooperation Jackson promotes sustainable economic development, community empowerment, and water justice through local networking. They invite people to become a member or donate.
Missouri
The Problem: The link between a changing climate and tornadoes like the one that flattened Joplin, Missouri, in 2011 is more tenuous than the link between climate change and other extreme weather events. But warmer air holds more moisture, which increases atmospheric instability, which are key ingredients for deadly tornadoes. And although tornado frequency hasn't measurably changed, the timing and geography of tornado patterns are already shifting.
The Impact: States outside Tornado Alley are seeing more tornados, and the twisters are touching down in cooler months that were historically safe from extreme storms—like the December 2021 tornadoes that killed dozens of people in Missouri, Arkansas, Tennessee, Illinois, and Kentucky.
Get Involved: The Missouri Coalition for the Environment advocates for clean energy and environmental justice, in part by helping the state transition away from coal and toward toward renewable power sources. They're always looking for volunteers or donations.
Montana
The Problem: Glacier National Park, in northwest Montana, is warming at twice the national average. While the glaciers that the park is named for have been retreating since 1850, the rate of decline has accelerated in recent decades, and scientists increasingly attribute it anthropogenic (human-caused) changes. The park had 146 glaciers in the 1850s; today there are only 26. They're predicted to disappear entirely by the year 2100.
The Impact: The most obvious impact of shrinking glaciers is park visitors will simply no longer be see some of the most accessible glaciers in the Lower 48. While this may seem inconsequential, glaciers are among nature's most awe-inspiring sights, and awe is essential to getting people to care about the natural world. Shrinking ice also means less snow, which could affect survival rates of species like wolverines and mountain goats; and less glacial runoff, which will hurt cold-water fish species like bull trout.
Get Involved: From its office in Whitefish, the National Parks Conservation Association celebrates, protects, and advocates for responsible management in all of America's national parks. The nonprofit recently helped stop energy development along Glacier's border, and continues to work to make Glacier and other parks more sustainable and energy-efficient. You can volunteer, donate, or use their handy guides to help spread the word.
Nebraska
The Problem: Nebraska is the nation's second-largest beef producer and has more cattle than people. A recent study shows that global greenhouse gas emissions from animal-based foods are double that of plant-based foods, and that beef and cow's milk contribute more greenhouse gasses to the atmosphere than any other type of food. That's large because cows burp out methane, a gas that's 84 times more powerful than carbon dioxide.
The Impact: In addition to producing plumes of methane so big they can be detected from space—and being really bad for animal welfare—factory farms are often poor neighbors. Nebraska has 1,540 "concentrated animal feeding operations," and residents have complained about everything from the smell to the massive amount of waste that often leaches into waterways. 
Get Involved: Eating less red meat is one way to personally invest in cutting emissions from cattle production. Another is to connect with SRAP, the nonprofit Socially Responsible Agriculture Project, which helps residents and farmers in Nebraska and beyond invest in alternatives to factory farms.
New Hampshire
The Problem: Although New England is warming faster than other regions, its abundance of water and relatively short summers make it an appealing destination for Westerners fleeing wildfire smoke or Southerners fleeing extreme heat. New Hampshire is already emerging as a landing spot for climate refugees, leading some communities to scramble to figure out how to accept a growing tide of newcomers without increasing traffic, congestion, or carbon emissions.
The Impact: Climate refugees, like the Puerto Ricans who landed in Nashua after being displaced by Hurricane Maria in 2017, can bring challenges for city planners trying to ensure that all residents have adequate housing, medical care, and education. But for overwhelmingly white New England towns that have suffered population losses in the last century, the newcomers also bring diversity, a thriving workforce, and other opportunities for economic and cultural revival.
Get Involved: Welcoming New Hampshire offers resources for immigrants and communities, including everything from information on immigrant rights to lessons from towns that have successfully integrated immigrants to inclusive lessons for teachers. You can donate to the nonprofit, or use the resources to help make sure immigrants and refugees feel welcome in your own community.
New Jersey
The Problem: Wildfire isn't restricted to the West. New Jersey's expansive, unique Pine Barrens evolved to burn regularly, but until recently, fire season was largely restricted to March and April. As New Jersey's climate shifts, however, the season is expanding, with fires igniting as early as February and as late as June. New Jersey's second and third hottest years on record were 2020 and 2021, and of the state's seven mildest winters, five have come in the last 20 years. Droughts are becoming more intense too—New Jersey, parts of New York and nearly all of New England experienced abnormally dry conditions in the summer of 2022.
The Impact: Milder winters, warmer temperatures, and more intense droughts aren't just lengthening New Jersey's fire season—they're also conspiring to produce more severe fires. A June 2022 blaze in the Pine Barrens scorched over 13,000 acres, making it one of the state's largest; other blazes have caused evacuations and property losses. And local news reports suggest that New Jersey's forestry budget hasn't kept pace with the increased demand on fire mitigation and suppression.
Get Involved: The combination of more intense fires, decades of fire suppression, and prescribed winter burns are shifting the Pine Barren ecosystem in complex ways, including which species of trees and flowers thrive. The Pinelands Preservation Alliance is studying these interactions, as well as working to protect the Pine Barrens for people and wildlife. You can join the organization, donate, or volunteer.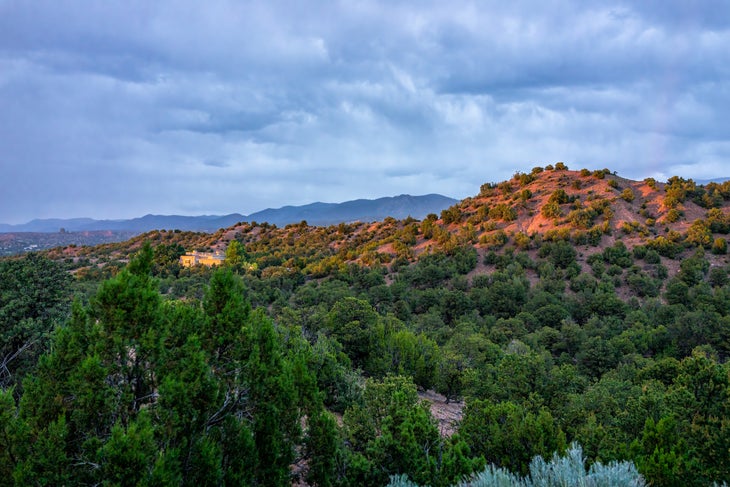 New Mexico
The Problem: Pinyon pines and junipers—which together make up 65 percent of New Mexico's tree cover and support numerous plants, animals, and human communities—already live at the edge of their tolerance for aridity. As New Mexico has been plunged into drought for the last two decades, the added stress is pushing many pinyons and junipers over the edge. Some are succumbing to bark beetles, which have killed 60,000 acres of forest. Others are failing to regenerate after wildfires, which have grown increasingly large and hot as the climate warms.
The Impact: Both drought and wildfire are expected to intensify in New Mexico as the state's climate gets hotter and drier. As trees burn or die, the carbon stored in them is released into the atmosphere, creating a positive feedback loop. The loss of pinyon trees in particular has far-reaching ecological consequences. The population of pinyon jays—blue birds that both eat and disperse pinyon seeds, helping forests spread or regenerate—has decreased 85 percent in 40 years, making it one of North America's fastest-declining bird species.
Get Involved: Several organizations are working to help New Mexico's human and ecological communities adapt to climate change. The Southwest chapter of the Forest Stewards Guild helps prepare fire-adapted forests to the reintroduction of healthy fire, and helps communities prepare for and become more resilient to wildfire. The Hermit's Peak Watershed Alliance, meanwhile, works on ecological restoration, environmental education, and community action projects in northern New Mexico. Both have opportunities for membership and volunteering.
New York
The Problem: Despite the irony, a warming climate may produce more intense winter storms in upstate New York. Snowfall there is often driven by the "lake effect," in which cold air picks up moisture from the Great Lakes and dumps it as snow. As winters heat up—New York's average temperature has risen by three degrees since 1970, with winters warming faster than summers—more of the Great Lakes will remain unfrozen, amplifying snowfall.
The Impact: Although there's no consensus on what role climate change played in the epic December 2022 storm that buried Buffalo, New York, under four feet of snow and killed more than two dozen people, climate scientists agree that blizzards and other storms will become more intense and possibly more frequent as the climate shifts.
Get Involved: Help your town register as a New York "climate smart community," a state program that incentivizes local governments to reduce carbon emissions. Or team up with  Environmental Advocates NY, an Albany-based nonprofit that suggests actionable steps New Yorkers can take to protect their environment and climate.
Nevada
The Problem: A key step toward halting the climate crisis is replacing electricity produced by oil, gas, and coal pumps with power from renewable sources like solar and wind. With its bountiful sunshine and abundance of open land, Nevada has some of the highest solar energy potential in the state, and aims to produce half of its electricity through renewable sources by 2030. As of 2021, though, only 33 percent of Nevada's energy came from renewables.
The Impact: Ramping up solar energy production without hurting fragile desert ecosystems is a major challenge in Nevada. Massive desert solar arrays are often opposed by local residents because they can kick up dust, mow down desert plants, and kill and displace species like the threatened Mojave desert tortoise. Analyses have found that putting solar panels over parking lots or big box stores is a more environmentally-friendly solution.
Get Involved: Desert Advocate, a website promoting understanding and protection of desert wildlands, has compiled an excellent list of policies and legislation that could boost Nevada's solar generating capacity without harming its desert ecosystems. It also includes information about finding and contacting your state representative to voice your support.
North Carolina
The Problem: As with all coastal states, North Carolina is already experiencing more flooding because distant melting glaciers are causing sea levels to rise. The ocean off the coast of Wilmington has risen 11 inches since 1950, and the National Oceanic and Atmospheric Administration predicts that coastal flooding with increase threefold by 2030. But the real estate market along North Carolina's coast is still red-hot: the number of people buying beach-front property increased 114 percent between 1960 and 2010, and the state allowed 9,000 new homes to be built in high flood-risk areas, according to the Natural Resources Defense Council.
The Impact: The people buying and building homes on high-risk coasts will likely see their investments flood, but the real cost may be borne by taxpayers. That's because banks now often require 40 percent down payments on properties in flood zones, and then sell those high-risk mortgages to national lenders like Freddie Mac, which leaves taxpayers subsidizing the risk. The high down payment rates also price out lower-income residents.
Get Involved: The North Carolina Housing Coalition works to ensure that every resident has a safe and affordable home to live in, and helps people, places and natural areas become more resilient to the kinds of natural disasters that are expected to intensify with climate change. They invite people to donate or write letters urging lawmakers to support affordable housing.
North Dakota
The Problem: After technology that enabled horizontal drilling for oil and natural gas improved in the 2000s, oil and gas production in North Dakota soared by 925 percent, making the state the third-highest oil producing state in the nation. Unfortunately, North Dakota also has by far the highest rate of flaring—burning excess gas into the atmosphere.
The Impact: Flaring, which looks like flames sprouting from wellheads, releases planet-warming carbon dioxide and methane into the atmosphere. It also puts known carcinogens, such as benzene, into the immediate vicinity. Local residents complain of being "poisoned" by flaring, and of losing out on royalties from all that wasted gas: between 2010 and 2020, North Dakota  wasted enough gas to power 675,000 homes. Although North Dakota's rate of flaring has decreased since then, the state still remains an outlier.
Get Involved: The Dakota Resource Council promotes sustainable use of North Dakota's natural resources by empowering local people to influences policies and other decisions that affect their livelihoods and wellbeing. They invite new members, donations, and opportunities for volunteering.
Ohio
The Problem: While the train derailment that spewed toxic chemicals into East Palestine, Ohio, in February made headlines, parts of Ohio have suffered from poor air and water quality for decades thanks to the state's history of steel production, coal mining, natural gas fracking, and other extractive industries. Today, Ohio is among the nation's top 10 states for burning coal as well as for producing natural gas, both of which contribute to global warming and to the health disparities that plague parts of the Buckeye State.
The Impact: Natural gas production in Ohio jumped from 78 billion cubic feet in 2010 to nearly 2.4 trillion cubic feet in 2020. Fracking releases climate-warming methane into the atmosphere, which contributes to the chaotic weather Ohio has seen in recent years: less snow, more rain, warmer nights, and more dangerous storms. Fracking has also been linked to increased earthquakes, contaminated drinking water, air pollution and other impacts that affect human and environmental health.
Get Involved: Green Energy Ohio is a statewide nonprofit dedicated to promoting sustainable energy policies. They host a climate change film festival and monthly book club to get people talking about climate change, as well as local solar workshops and solar technology training courses for Ohio inmates.
Oklahoma
The Problem: The heat and drought that plagued Oklahoma in the early 2010s and again in 2022 is a preview of the kind of weather that Oklahomans can expect more of as soils dry out and extreme heat increases. Though the state currently straddles the arid West and the fertile East, Oklahoma is aridifying as the climate changes: One study found that the middle of the state is already as dry as the more arid western border was in 1980.
The Impact: Drought and heat cut deeply into farmers' and ranchers' profits. They also cause bison to shrink: Several studies have found that warmer temperatures lead to smaller buffalo, which are being restored to Oklahoma by conservation groups and several Native tribes, including the Cherokee and Modoc nations. That's because the grasses bison eat have less nutritional content when they're heat stressed, and possibly because heat increases the likelihood of bison contracting parasites.
Get Involved: Bison herds shape the environment around them by nibbling plants, churning up dirt, and fertilizing it with their poop, all of which stimulate the recovery of Oklahoma's native prairie. And intact prairie stores carbon, keeping it out of the atmosphere. You can help restore tall grass prairie by volunteering with or donating to The Nature Conservancy, which manages a herd of 2,000 bison in Oklahoma.
Oregon
The Problem: Oregon is known for its temperate maritime climate, with summertime temperatures usually topping out in the 70s in the western part of the state. But in 2021, the state was slammed with a record-shattering dome of heat, caused by a high pressure system that settled over the entire Pacific Northwest. Temperatures in Portland topped 116 degrees over the three-day heat wave. One study found that global warming played a role in the heatwave: the probability of such extreme heat was 150 times more likely in today's climate than it would have been in pre-industrial times.
The Impact: The 2021 heat dome killed more than 650 people in the U.S. and Canada, and sent hundreds more people to the ER for heat-related illness. Some farmers in Oregon's Willamette Valley lost 100 percent of their crops to the heat. Conifers in the Coast Range lost their needles, ands some saplings died. Trains in Portland stopped running after power lines literally melted.
Get Involved: Unite Oregon implements climate adaptation strategies across the state, from a community garden in East Portland that promotes food sovereignty to ensuring that communities in the Rogue Valley have access to emergency alerts when wildfires or other disasters strike. Join a local chapter, donate, or help get out the vote by phone banking or campaigning.
Pennsylvania
The Problem: Pennsylvania is getting warmer and wetter. Over the last century, the average temperature has warmed by nearly 2 degrees, while precipitation has increased by ten percent, and is expected to increase by an additional 8 percent by 2050. Because some southern flora and fauna reach their northern limit in Pennsylvania—and some northern species reach their southern limit in Pennsylvania—some of the state's plants and wildlife are already living at the edge of their heat or cold tolerance, leaving them particularly vulnerable to temperature shifts.
The Impact: Pennsylvania's warmer, wetter climate climate is more conducive to the spread of invasive plants like kudzu, which was virtually nonexistent in Pennsylvania two decades ago and is now found at hundreds of sites across the state. Although it's killed off by frost, warmer winters and earlier springs could help the climbing vine spread like it has across the Deep South. Pennsylvania is also growing less hospitable to native plants like the snow trillium, a delicate spring flower that's poised to lose much of its habitat under climate change.
Get Involved: Reporting kudzu sightings to the state's Department of Conservation and Natural Resources may help managers keep the invasive vine under control. You can also advocate for land protection with the Western Pennsylvania Conservancy, because conserving intact habitat can help ecosystems and individual species be more resilient in the face of a changing climate.
Rhode Island
The Problem: Rhode Island, already the smallest state in the country, is shrinking further as coastal erosion eats at its 420 miles of shoreline. Geologists comparing aerial photos from the mid-20th century to today have found that some places are losing 4.7 feet of coast per year, though the state average is 1.9 feet. The problem is exacerbated by Rhode Island's geography, which makes its coast particularly likely to be battered by nor'easters and hurricanes—two types of storms that accelerate erosion and are worsening as the climate changes.
The Impact: Coastline's aren't static—they're constantly moving and migrating. But while some coastal erosion is natural, developments and infrastructure built nearly to the water's edge leave shifting sands with nowhere to go. Rhode Island also has the nation's second highest population density and one of its lowest average elevations, both of which mean that eroding shores leave a growing number of roads, homes, and businesses vulnerable to flooding—as happened when Super Storm Sandy battered the state in 2012, causing $11 million of damage.
Get Involved: Among the many repercussions of coastal erosion is trash and debris falling into the ocean. After Sandy, for instance, the nonprofit Clean Bays removed 10 tons of debris from Narragansett Bay. Another local nonprofit, Save The Bay, works to not only keep Rhode Island's beaches and waters clean but also to prevent future disasters by advocating to ban single-use plastics, establish a climate resilience fund, and reduce pollution runoff and more.
South Carolina
The Problem: A recent Duke University study found that since the mid-1980s, at least 25 square miles of forest in the Southeast became inundated by salt water and died, many within the last decade. Known as "ghost forests," the bleached, skeletal trees that remain are a haunting reminder of the impact of sea level rise in places like South Carolina—and a hint at what's to come.
The Impact: While ghost forests serve as a visual marker of sea level rise (and have consequences for animals losing their forested habitat), the impact of rising seas in South Carolina is far more broad. The ocean in Charleston has risen ten inches since 1950, and flooding in the city has increased 75 percent since 2000. The rising tide made Hurricane Ida, which pummeled South Carolina in 2017, worse than it otherwise would have been.
Get Involved: Researchers think there may be far more ghost forests haunting the Atlantic Coast than the Duke study found, and the first step toward protecting living forests is documenting and mapping where they're being swallowed by the sea. You can help by participating in a citizen science project called Ghosts of the Coast that lets you record and share ghost forests that scientists might have missed.
South Dakota
The Problem: After one of the wettest winters on record, a blizzard struck the Upper Midwest in March 2019, followed by warm weather. The combination of snowmelt and new precipitation caused dry creek beds to swell into raging rivers and the Missouri River to jump its banks, inundating swaths of the Great Plains in what became the nation's mostly expensive inland flood of all time, with $10.9 billion of economic loss. Climate scientists say the flood was a glimpse of what's to come in states like South Dakota, where precipitation has already increased and is expected to continue rising and becoming more intense as the climate warms.
The Impact: As often happens with flooding and other natural disasters, the 2019 Missouri River flood disproportionately impacted South Dakota's Native American communities, including the Pine Ridge, Cheyenne River, and Rosebud reservations, each of which declared states of emergency. Because the reservations already suffer from inadequate infrastructure and resources, the flood left some tribal members stranded in their homes for weeks. Thousands of people lost power and water, and emergency services were slow to arrive. Tribal members delivered some supplies to cut-off houses by horseback.
Get Involved: Reversing historical injustices and improving social equity in Native communities could help minimize the impact of future disasters. Consider donating directly to a Native-led organization, such as the Cheyenne River Youth Project, Siċaŋġu Co, or Tanka Fund.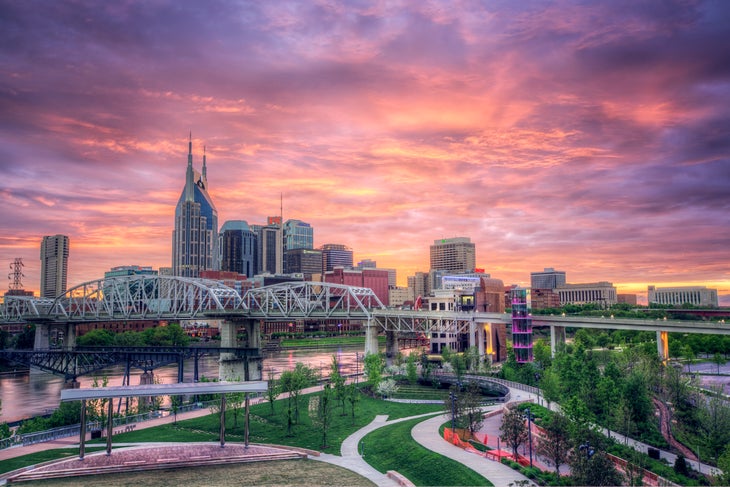 Tennessee
The Problem: The population of Nashville, Tennessee, is growing—the city has been among the top ten cities in the nation for population growth for the past seven years, with an average of 36 newcomers a day moving to the Nashville metro area in 2021 alone. As the city expands, trees—which provide cooling shade and improve air quality—are often cut to make room for new developments. And although Tennessee hasn't yet warmed as quickly as other states, unprecedented heat is predicted to strike in this century, with the number of dangerously hot days predicted to rise from 10 to 55 by 2050.
The Impact: Between 2009 and 2016, 918 acres of tree canopy were cut down in Nashville, and the rate since then has likely only increased, leaving areas without trees vulnerable to the urban "heat island" effect. Additionally, the neighborhoods with the fewest trees tend to be neighborhoods that were historically redlined—that is, low-income and predominantly Black areas where people were denied mortgages and other financial services. As a result, people in such neighborhoods stand to suffer more heat-related illnesses.
Get Involved: The city-wide Root Nashville campaign is public-private partnership between the nonprofit Cumberland River Compact and Metro Nashville designed to plant 500,000 trees before 2050, improving Nashville's resiliency to extreme heat. You can volunteer to plant trees or sign up for free trees for your own yard.
Texas
The Problem: Across Texas, temperatures have warmed by more than two degrees since 1885, and urban areas have gotten even hotter. Heat and humidity conspire to trap ground-level ozone, a key component of smog, which diminishes air quality and makes it harder for people with asthma and other respiratory problems to breathe. More heat and humidity also mean people use more electricity to cool their homes, contributing to power outages when the grid gets overwhelmed.
The Impact: In 2022, Texas experienced dozens of days with unhealthy air pollution—the worst smog in a decade. Data from the U.S. Environmental Protection Agency shows that 12 million Texans live in counties with air quality that doesn't meet EPA standards. And because Black and Latino children are more likely to live in urban canters where both heat and smog are concentrated, they're particularly vulnerable—one study showed that 13 percent of Black children in Houston have asthma, compared to four percent of white children.
Get Involved: The Texas Campaign for the Environment is a nonprofit that empowers Texans to fight pollution through grassroots organizing. They urge people to write letters, sign petitions, or volunteer to go door-to-door and talk to their neighbors about the ways that air quality and climate change are affecting peoples' lives.
Utah
The Problem: Like the rest of the southwestern United States, Utah has been gripped by drought for most of the 21st century. Hotter temperatures and less snowfall in the Wasatch Mountains means less water pours into the Great Salt Lake. Along with thirsty crops like alfalfa that divert water otherwise bound for the lake, this has caused Utah's most famous lake to shrink rapidly. In the late 1980s, the lake covered about 3,300 square miles. Today, it covers less than 1,000.
The Impact: Because the Great Salt Lake traps water from nearby mountains—the lake has no outlet—it has also collected decades worth of pesticides and mining runoff. As the lake shrivels, toxic dust that's potentially laced with arsenic and other contaminants from the dry lakebed becomes airborne and blows into nearby communities, exacerbating existing air pollution and creating a health hazard for people in the Salt Lake City metropolis.
Get Involved: Save Our Great Salt Lake is a group of organizers, artists, business owners, and citizens working to advance policies and legislation to cut water consumption and prevent ecosystem collapse. They offer volunteer opportunities and host rallies, and would love for you to join them.
Vermont
The Problem: New England is warming faster than most of the country, with the average temperature in parts of Vermont rising by roughly two degrees Fahrenheit degrees since 1960. As winters heat up, more precipitation falls as rain or ice rather than snow, putting the Green Mountain State's $1.6 billion ski industry in a precarious position.
The Impact: In January 2023, Mad River Glen temporarily closed to stockpile manmade snow because there wasn't enough natural snow. In southern Vermont, the ski resort at Mount Ascutney permanently closed in 2010 in part because of inconsistent snowpack (though it remains open as a small nonprofit ski hill with backcountry access when conditions allow). Similarly, the state's Catamount Trail, a 300-mile nordic traverse, was so dry this winter that most guided tours were cancelled. While manmade snow is predicted to keep Vermont's ski industry afloat until 2050, the winter ski season could be shortened by as much as a month after that.
Get Involved: Become a member of Protect Our Winters (POW), a global nonprofit founded by snowboarder Jeremy Jones that advocates on behalf of outdoor sports enthusiasts for climate-friendly policies at the local, state, and national level. In New England, POW trains volunteers, pushes ski resorts to curb emissions, and lobbies politicians for climate-forward policies.
Virginia
The Problem: Coastal Virgina is experiencing some of the highest rates of sea level rise in the United States, in part because the land there is also sinking through a process known as land subsidence. The rising ocean and sinking land together mean that storm surges now swamp streets and homes that were largely safe from flooding in the 20th century.
The Impact: In the city of Virginia Beach, regular flooding already causes an average of $26 million a year in damage, and voters in 2021 approved an additional $568 million for flood mitigation. In addition to being costly, coastal erosion associated with floods and storm surges threatens the habitat of shorebirds like sandpipers and plovers, as well as nesting turtles like the diamondback terrapin.
Get Involved: Seagrass meadows help protect coastal communities from storm surges by slowing incoming water currents and waves. Seagrass roots also lock sediments in place, blunting coastal erosion. And while many seagrass meadows in Chesapeake Bay and beyond were decimated in the 20th century, restoration efforts have been remarkably successful. You can volunteer with The Nature Conservancy Virginia to collect seagrass seeds so that the organization can restore even more underwater meadows.
Washington
The Problem: The chemistry of Puget Sound is becoming more acidic as the ocean absorbs carbon dioxide from human activities like burning greenhouse gases. Since the beginning of the Industrial Revolution, the ocean's surface has become 30 percent more acidic on average. And Puget Sound is already particularly acidic because of local weather and water currents, leaving many shellfish and other marine fauna to hover at the edge of their tolerance for acidity.
The Impact: Washington's $270 million shellfish industry has been coping with ocean acidification's impacts for more than a decade. As early as 2008, oyster farms experienced mass die offs because baby oysters couldn't get enough calcium to form shells in acidifying water. Wild shellfish similarly struggle, which has implications up the food chain. Today, despite artifically altering pH by dumping calcium carbonate to the seawater in their hatcheries, the shellfish industry is operating at 50 to 70 percent of historic production levels.
Get Involved: We Are Puget Sound has compiled a list of hyper-local organizations that offer a range of volunteer and education opportunities, from cleaning up rivers to youth education to coastal monitoring. The nonprofit also helps people register to vote, reduce their personal impact, and hold politicians and companies responsible for carbon emissions.
West Virginia
The Problem: Although the number of coal mining jobs in West Virginia has shrunk from 100,000 in the mid-20th century to less than 11,000 in 2020, the state is still the second highest producer of coal in the nation, after Wyoming. West Virginia generates roughly 90 percent of its electricity from coal, and exports coal to both other states and to foreign markets. Yet as demand for coal has shrunk over the past two decades—in part because of its outsized role in heating up the planet—West Virginia's economy has tanked.
The Impact: West Virginia has some of the worst rankings in the nation when it comes to median income, child poverty, drug abuse, and population loss, largely because of the decline of the coal industry. Now, West Virginians must cope with such economic fallout while simultaneously bracing for the impacts of the changing climate wrought in part by burning coal. One analysis found that the state has more of infrastructure in flood zones than any other state in the county.
Get Involved: Coalfield Development works to ensure that West Virginia residents have access to jobs, education, and sustainable economic development as the state continues to transition away from coal. The nonprofit revitalizes former mining areas by building mixed-income housing and commercial structures, plus offers job training, assistance with housing and continuing education, a renewable energy job board, and a truly astonishing array of other services.
Wisconsin
The Problem: In Wisconsin, precipitation is now seven inches higher than it was between 1950 and 2006, and the average statewide temperature has risen by two degrees. As a result, mosquitos season has grown 14 to 19 days longer since the 1970s, and mosquitos and ticks are becoming more widely distributed.
The Impact: The lone star tick, which is native to more southern states and carries potentially debilitating diseases, migrated north to Wisconsin with warming weather; the first confirmed sighting was in 2019. Diseases carried by mosquitos  are also rising; in 2018, the Center for Disease Control reported a 25 percent increase in West Nile disease in Wisconsin. And the rare disease Eastern Equine Encephalitis is encroaching too. A woman in her sixties died of it after being bitten by a mosquito in the fall of 2020.
Get Involved: Because people who are active outdoors are most at risk for insect-borne illnesses, wear bug spray and long sleeves when you're playing outside. And to get involved in local efforts to slow climate change and mitigate its impacts, consider joining 350 Wisconsin, the state's independent action group of the international organization 350.org.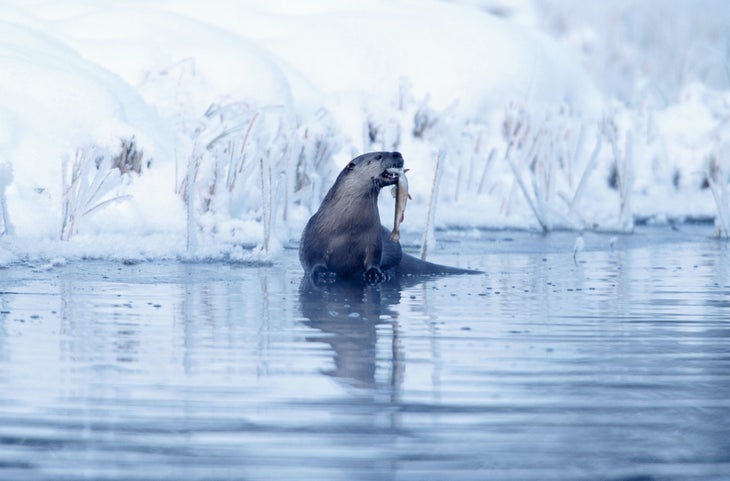 Wyoming
The Problem: Trout love cold water, and can die if their streams and rivers rise above 68 degrees, in part because warmer water carries less oxygen. In the 1980s, the Madison River, which rises in Yellowstone National Park in Wyoming, got warm enough to stress local trout populations for roughly 4.5 days each year. By the 2000s, the number of "thermally stressful" days on the Madison nearly tripled, to 15 days a year. Trout in other Wyoming rivers, such as the North Platte, are similarly squeezed by warming waters driven by more frequent heat waves, and trout populations are already falling in some places.
The Impact: As stream temperatures stress populations of native cutthroat, officials in Yellowstone and beyond have closed the Madison and other rivers to fishing, particularly during the heat of the day. Closures improve survival rates of trout, which are less likely to survive being caught and released on a hot day, but they hurt economies bolstered by anglers and fishing-related tourism.
Get Involved: Wyoming Trout Unlimited depends on volunteers and donations to conserve coldwater fisheries in the Cowboy State. Twelve chapters scattered across the state offer opportunities to get out on local streams to help directly with conservation work.
Lead Photo: Paxson Woelber, Unsplash