Who Controls Alaska's Waterways?
Right now, the Supreme Court is hearing a case that could take away the federal government's ability to regulate rivers in 100 million acres of Alaskan wilderness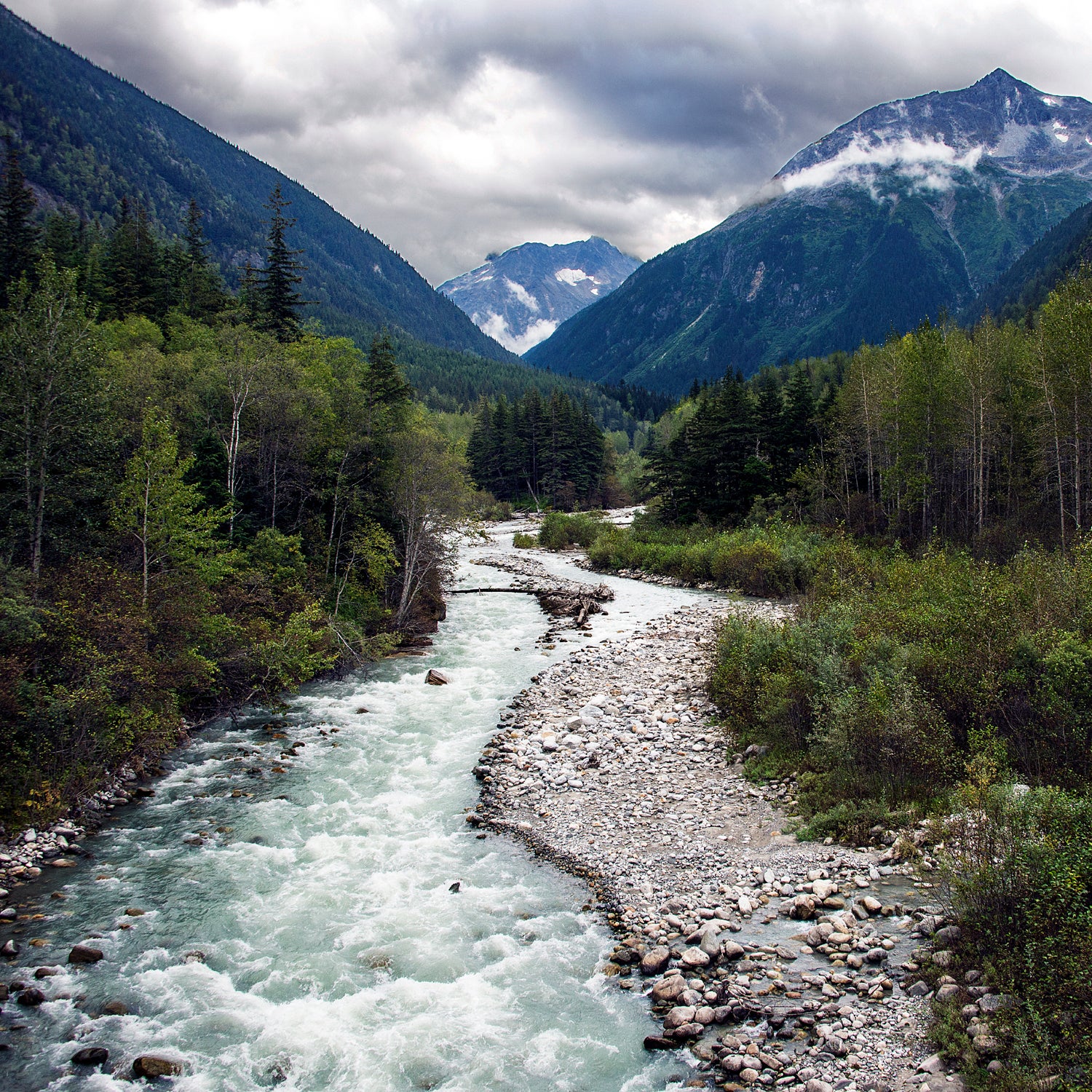 Heading out the door? Read this article on the new Outside+ app available now on iOS devices for members! Download the app.
In September 2007, John Sturgeon motored his personal hovercraft up the Nation River in Alaska's sprawling Yukon-Charley Rivers National Preserve. It was hunting season, and Sturgeon was trying to reach the preserve's lush, moose-filled meadows. Two miles upstream, though, the vehicle had engine issues and Sturgeon landed on a gravel bar to do some repairs. 
Three National Park Service rangers approached Sturgeon on the riverbank and informed him that the use of a hovercraft on the river violated park rules. They told him to remove it, and warned that he could be charged with a federal crime if he brought it to the preserve again. Sturgeon told the men that their agency had no authority over rivers in Alaska, even ones within park boundaries, but nonetheless obeyed their orders and towed out the craft. Four years later, after sending numerous letters to the Department of Interior protesting the hovercraft ban, the hunter sued the NPS and its Alaska regional director, Sue Masica, in a bid to overturn the ban. Sturgeon's lawyers argue that, under the terms of a landmark 1980 Alaskan conservation law, the Park Service does not have legal authority to manage a broad swath of Alaska's wild rivers. 
Last month, after years of appeals, the U.S. Supreme Court agreed to hear Sturgeon's case. Sturgeon v. Masica will determine whether and how the Department of the Interior will be able to regulate waterways on the millions of acres of federal land governed by the Alaska National Interest Lands Conservation Act of 1980, or ANILCA. ANILCA, passed during the Carter administration, protected 104 million acres of new or expanded national parks, refuges, and other federal land in Alaska, with the provision that state, tribal, and private inholdings within the areas would not be subject to certain federal regulation. Who controls the waterways within these lands, however, is contested.
If the high court sides with Sturgeon, many environmentalists fear that management of the waterways within ANILCA-protected lands will be handed over entirely to the decidedly pro-development state government. That, they argue, could further open up rivers to industrial uses like dredge mining, encourage motorized travel in wilderness areas, and relax other restrictions on wild rivers and lands. There's also some concern, however unlikely, that other parties could try to extend such a decision to other public lands and waters across the U.S., though legal experts say that's unlikely.
"It is a big deal," says Katie Strong, a lawyer with the environmental law firm Trustees for Alaska, which filed a brief in opposition to Sturgeon's suit. She says that rivers are the lifeblood of Alaska: they serve as trade routes, highways, recreation areas, and breadbaskets. Right now, the feds have an important say in how many of the state's most wild rivers are managed, but that could change if the justices side with Sturgeon. The court will likely hand down a decision next summer.
"First of all, nobody really owns water. The simplistic idea that the state owns the water is contradicted by a couple hundred years of law," John Leshy says. "This states' rights-sovereign rights claim is just political rhetoric."
Sturgeon and the state of Alaska's stance largely rests on a specific, legalistic interpretation of ANILCA that may differ from the spirit of its intention. ​He asserts that navigable waterways—regardless of whether they pass through federal land—are technically state-owned lands and should therefore be freed from general NPS regulation, too. The state of Alaska, as well as a number of Alaskan tribal corporations, have supported Sturgeon in the case and filed numerous briefs in lower courts to support the hunter's legal position. The Park Service's regulation of rivers like the Nation "ignores the way that [the law] ensures and respects Alaska's sovereign ability to continue to manage our lands and water," says Janell Hafner, a lawyer for the state in the case. "Land and water use and management is historically and traditionally the sovereign right of the states." 
The federal government disagrees, and the lower courts have consistently rejected Sturgeon's interpretation, too. Which is why many legal experts were surprised when the Supreme Court accepted the case. John Leshy, a public lands legal expert at the University of California, Hastings, calls Alaska's state sovereignty argument preposterous, especially when applied to water. "The simplistic idea that the state owns the water once it is admitted into the union is contradicted by a couple hundred years of law," he says. "This states' rights-sovereign rights claim is just political rhetoric."
"It is something of a puzzle to me why the Supreme Court decided to [review this case]", says Bob Keiter, a law professor and public lands expert at the University of Utah. The high court, he says, usually takes cases that lower courts are split over, or which have high stakes and national implications. None of those conditions really apply here. Instead, they may have agreed to hear arguments because ANILCA deals with such a huge amount of federal land.
For Alaska, though, the stakes are high. If the Supreme Court reverses the lower courts, and decides the case in favor of Sturgeon, conservationists say that many of Alaska's 350,000 miles of river could lose crucial federal protection or oversight. In a state with few roads, where rivers are the main access point to millions of acres of public land, that's a big loss. 
"If it turns out that our federal land managers are not able to manage the use of the rivers within [federally-owned] units, we are going to see a lot less protection of the habitat and the waters and the surrounding lands," says Cliff Eames, a longtime Alaskan conservationist. He is particularly concerned about the door being opened to motorized travel and natural resource extraction on protected waterways. The state of Alaska, after all, has very different land management priorities than the feds. Consider, for instance, the Arctic National Wildlife Refuge. The state of Alaska is vociferously opposing recent federal plans to designate four new Wild and Scenic Rivers and to permanently protect the refuge's oil-rich coastal plain. It would rather see the refuge, and other such lands and waters, opened up to fossil fuel extraction, which could do grave harm to the polar bears, muskoxen, caribou and many other species that call it home. The state's pro-development stance will have total sway over scores of Alaskan rivers should Sturgeon prevail in court. 
There's also a chance—an admittedly slim one—that Sturgeon v. Masica could make a nationwide impact. Tucked away in Sturgeon's petition to the Supreme Court, and in his lawyers' briefs to the lower courts, is a bold argument that moves beyond ANILCA. The petition says the case "raises a difficult constitutional question" then goes on to question the Park Service's constitutional authority to broadly regulate navigable waters on federal land. It asserts, again, that such waters are "state-owned" and that general federal land regulations, like the system-wide NPS ban on hovercrafts for instance, infringe on state sovereignty in a manner that exceeds Congress' constitutional powers. 
If the Supreme Court accepts that challenge to NPS regulation, then Sturgeon's case may open the door for a legal assault on the ability of federal land agencies to manage rivers around the country. Such a ruling is highly unlikely—in fact, the court probably won't even consider the constitutional question. "This case will likely be limited to Alaska. That is what I would expect," says Keiter. "It would be a strange case to get into these broader constitutional issues. But you never know for sure what the court will do."
Lead Photo: aperiman2/iStock