This Plan to Save Yellowstone Bison Involves Shoveling Lots of Snow
Volunteers in Montana recently dug a migration corridor through chest-high snowdrifts. They hope the passage prevents bison from being struck by motorists.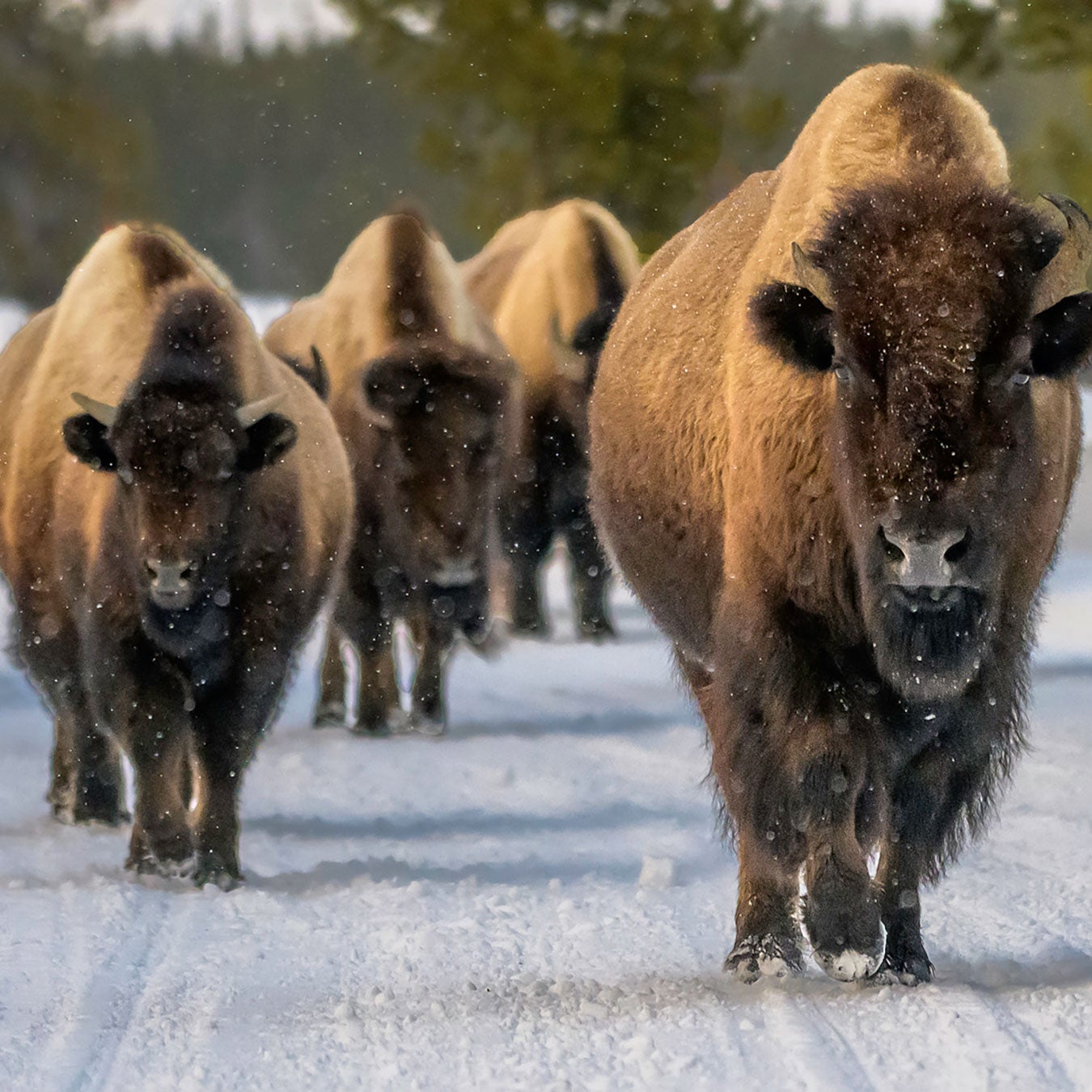 Heading out the door? Read this article on the new Outside+ app available now on iOS devices for members! Download the app.
Perhaps my greatest wintertime annoyance is shoveling snow from the sidewalk so that my eight-pound Yorkshire Terrier, Beau, can complete his daily stroll around the neighborhood. After each storm, Beau waits patiently for me to clear the concrete of ice and slush, and I am again reminded of the bizarre tasks we humans do for the animals we love.
Alas, my efforts seem piddly compared to those of a group of volunteers outside Yellowstone National Park, who recently cleared several hundred tons of snow to create a migration corridor for the local bison herd. On March 11 and 12, six members of the nonprofit Buffalo Field Campaign dug a 2,000-foot long system of passageways through deep snow near an important highway junction just north of West Yellowstone, Montana. It was painstaking work, because recent storms have left deep drifts on the hillsides.
"I'm pretty tired—I won't lie," Mike Mease, the group's co-founder, told me. "I'm just happy that we can hopefully save some of their lives."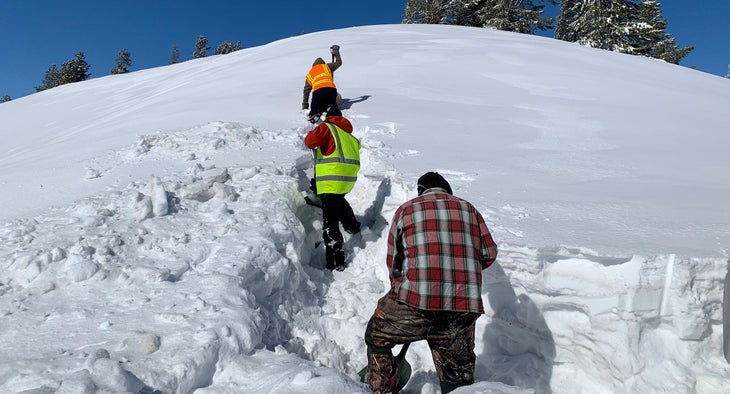 Mease and his group hope to avoid a scenario that played out this past December, when a semitruck slammed into bison that had been walking along U.S. Highway 191. The impact killed multiple bison immediately, and wildlife officials had to euthanize others. In total, 13 animals died. The fateful strike in December occurred approximately four miles north of town, near the spot where the group dug the corridor.
The collision sent shockwaves through West Yellowstone, Mease said, where bison are beloved annual visitors.  "We saw the buffalo get killed and it felt like mass slaughter," Mease said. "We wanted to do something that would give them a better chance of survival."
Every winter, bison from Yellowstone's central herd head west along the Madison River, through West Yellowstone, and toward the banks of Hebgen Lake, where the animals wait out the snow and cold. In the spring, expecting mothers also give birth and raise their calves in the area. In years when snow accumulations is high, the bison avoid the meadows and hillsides and simply walk along the local highways.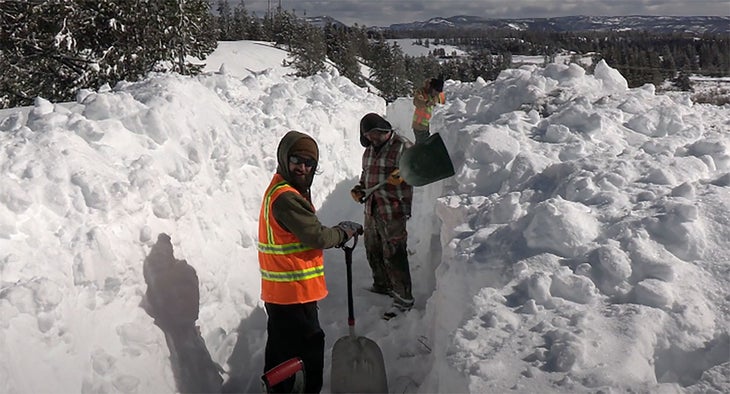 Mease and his group hope the bison use their corridors to cross highway 191 at a single point, rather than having the animals walk down a long section of the road. Whether that happens or not is, of course, up to the bison themselves.
Buffalo Field Campaign has organized smaller digs in years past, but nothing of this size and scope, Mease said. That's because of this year's particularly harsh winter—according to snowfall tracker SnowFlo.com, West Yellowstone has already received 149 percent of its average annual snowfall. Mease said there was urgency for the dig. Officials in Yellowstone National Park will soon begin plowing roadways for summer visitors, and expecting bison mothers uses the cleared pavement to migrate west.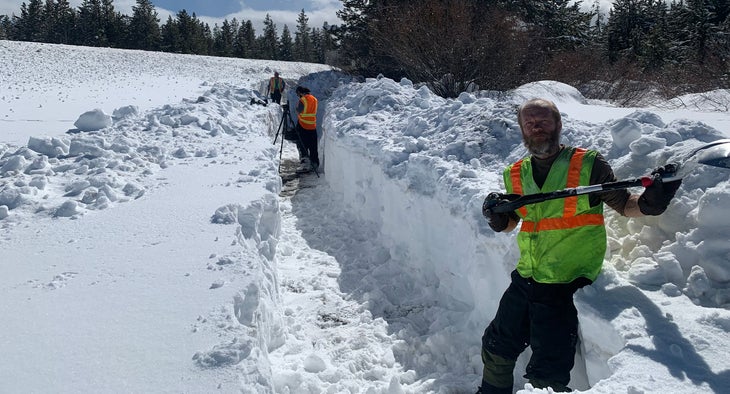 "I couldn't stand the idea of a pregnant mama bison being killed on the road," he said.
Earlier this month Mease reached out to park officials, as well as the Montana Department of Transportation, which agreed to help. On Saturday, officials with the department arrived at the junction with Highway 191 with snowblowers to clear pathways through the berms on each side of the highway. Then, the six volunteers went to work. They slammed pickaxes into the drifts to punch through the hardened crust, and then dug into the soft powder with shovels.
"The hard part was having to throw it over those walls on each side," Mease said. In some areas the snow walls were between five and six feet high.
For now, the makeshift corridor is a temporary solution. Earlier this year they circulated a petition to build a permanent wildlife corridor—either a bridge or tunnel—to allow animals to bypass Highway 191. According to a news release, the group gathered 70,000 signatures.
On Thursday, March 16, Mease and others met with Yellowstone's superintendent, Cam Sholly, to discuss the idea. Mease said officials support building a permanent wildlife corridor, however he believes the project will take years to go from idea to reality.
In the meantime, Mease and his group will likely do future digs to accommodate the herd. Like those of us who shovel snow for our delicate doggies, these volunteers appear to be motivated by the power of animal affection.
Lead Photo: Laura Hedien/Getty Images