Life Under Afghanistan's Ban on Women in the Outdoors
The Taliban government prohibits Afghan women from entering parks or gyms, or even from leaving the house without a male guardian. Sources tell us that life under the outdoor ban is pushing many women to the brink.
WAKIL KOHSAR / Getty Images
Heading out the door? Read this article on the new Outside+ app available now on iOS devices for members! Download the app.
Rima Safi used to walk through different neighborhoods in Kabul to stay healthy. As a 27-year-old Afghan woman, Safi occasionally felt unwelcome and unsafe in public parks, but she and her friends still visited them to relax and exercise. She also took trips to the mountains to feel free and breathe in the clean air. Open spaces offered a refuge from life in a city plagued by suicide bombings, targeted killings, and corruption. The greenery was a pleasant break from the thick smog that hung over her city year round.
All that changed on November 10, 2022, when the Taliban—which seized control of Afghanistan during the summer of 2021—passed a law banning women from accessing all public parks. These days, Safi cannot even leave her home for a recreational walk.
"Women are dealing with so much despair that not having the freedom to go outside for a temporary peace of mind is driving many of us into depression," she told me.
The restriction is among more than 42 laws enacted by the Taliban to constrain Afghan women. It is now illegal for a woman to enroll in a university or any school past sixth grade. They cannot eat in restaurants, work in government, or even leave their homes without a male guardian.
Before the outright ban, the Taliban had restricted women's access to the outdoors to specific days of the week. They also had to adhere to strict hijab rules if they wanted to go outside.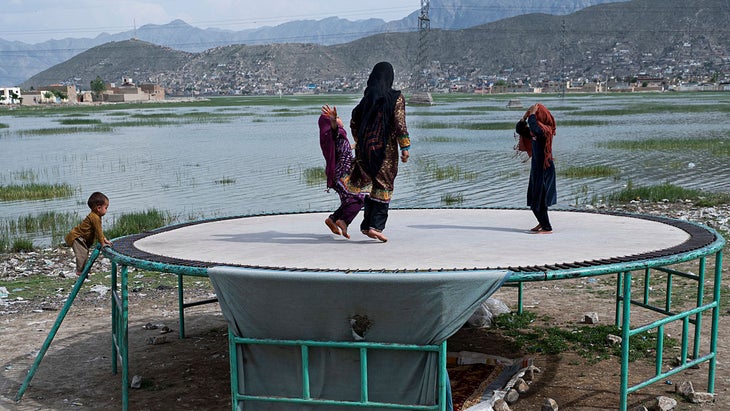 Afghanistan's outdoor recreation scene is largely underdeveloped, but Afghan people do spend time in nature. While there may not be robust trail networks and government-funded campgrounds, Afghan families still enjoy cookouts in the mountains and go on day hikes.
Prior to the Taliban's takeover, a small but growing number of Afghans—including women—had been participating in outdoor sports, such as cycling, skiing, and even rock climbing. Their visibility on national TV and social media showcased the sports to younger generations. More importantly, women's participation in outdoor sports was a highly visible act of women's freedom in defiance of Afghanistan's male-dominated society.
"Just two years ago, one could see droves of women jogging and riding their bikes on the streets. Now, there are hardly any women outside, let alone jogging. The Taliban law has taken our society backwards by centuries" Nasrin Nawa, an Afghan journalist and advocate of women's cycling, told me.
Although many female outdoor athletes have left Afghanistan, the ban immediately impacts ordinary women like Safi, who now cannot enjoy a simple picnic. Prior to the Taliban's takeover, Safi enjoyed summer excursions with friends and her husband to Paghman, a mountain town 20 miles northwest of Kabul. Approaching the town, Safi would get excited as the sky "changed to a clear blue." Kabul, meanwhile, was constantly covered by a layer of dust and smog.
Safi told me that she and friends would rent a sheet metal shed overlooking the pristine Paghman River, which transfers snow melt from the surrounding peaks. While her friends built a fire to grill kebab, Safi liked to walk down to the river with a large watermelon bought from a roadside stand. She would carefully place it between rocks to keep cool. In the afternoons, the group would hike in the surrounding peaks, seeing how far up they could go. Sometimes the friends would race each other—an adrenaline rush Safi said she misses.
"Spending time in nature calmed my mind and made me less stressed. I had more energy at work and used to be more patient," Safi told me.
When the outdoor ban was announced, Safi and other women were unsure of whether it only applied to walled-off parks in the cities, or if mountain recreation spots like Paghman were also included. In recent months, the Taliban's enforcement has made it clear that any outdoor recreation by women will not be tolerated. I asked Safi if she had attempted to visit Paghman since the law. She said stories were circulating of Taliban guards harassing husbands for bringing their wives and female children to the outdoors—places that only men are allowed to enjoy nowadays.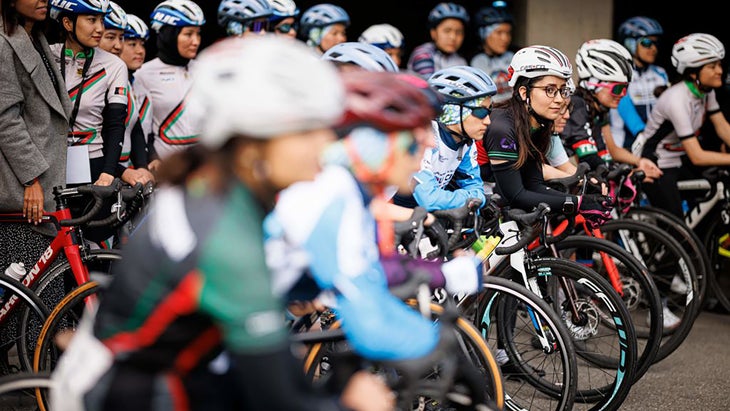 "I am afraid of sitting in the car with my friends, let alone going somewhere with them," Safi told me.
Another damaging element of the law is that women are now forbidden from entering gymnasiums and indoor recreation areas. This has effectively closed down gyms that catered only to women. Some Afghan women find the indoor environment of a gym safer and more comfortable than outside, where stares from men and catcalling are abundant. When Safi was a medical student a few years ago, she was a regular gym goer.
"Exercising is a need for a healthy body, just like eating is," she told me. "Now as a doctor, I can't even ask my patients to exercise because that's recommending an illegal activity."
Another young woman, whom I will refer to as Tamana to conceal her identity, told me there were only ten gyms for women in Kabul, which has a population of five million, but those gyms accounted for the well-being of a lot of women. "Many [women] came to my gym on doctor recommendations to manage chronic conditions like diabetes," she said. From people on the ground, I also heard accounts of the Taliban turning away elderly women from walking the hills in the city—outings that helped them maintain their health.
The ban on outdoor recreation has some groups worrying about a mounting mental health crisis in the country. Even before the Taliban took power, Afghanistan consistently ranked as the worst country for women, and the most unhappy country in the world, owing to rampant poverty and insecurity. A 2022 UN article warned about escalating suicide rates among Afghan women.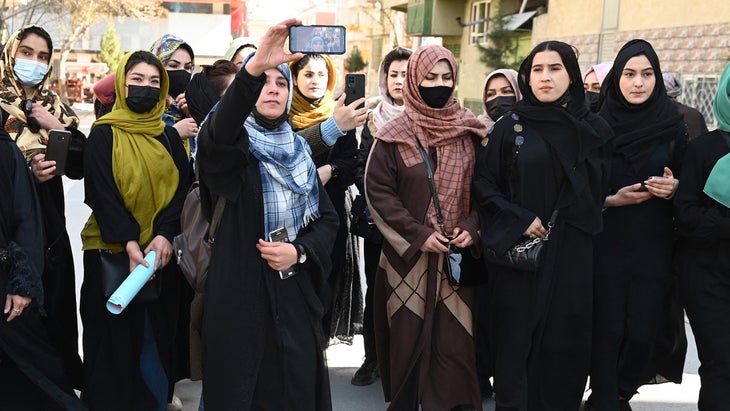 Women for Afghan Women (WAW), a nonprofit that's dedicated to protecting and promoting the rights of Afghan women, views the park and gym ban as the last straw by the Taliban to alienate Afghan women. "These restrictions not only dehumanize half of Afghanistan's population but also jeopardize the mental health of millions of women who are forced into unemployment and economic hardship, isolation, deprivation of education, and societal humiliation," WAW said in a written statement. WAW repetitively calls on the international community to "stand in solidarity with Afghan women and to ensure their basic human rights are respected by the de-facto authorities."
The Taliban has shown little interest in reversing the ban, forcing women in Afghanistan to either avoid outdoor places entirely or find creative ways to sidestep the law. For exercise, Safi now walks the half hour to her work—the Taliban have allowed women in some professions like medicine and teaching to continue their jobs. But whenever she goes outside, she is scared of being stopped by Taliban soldiers.
"No matter how much I cover myself, I fear they will find something to pick on," she said. I asked Safi about the first place she would visit if the bans were lifted tomorrow. "My birthplace, Dare Noor," she said, referencing the mountainous district in Eastern Afghanistan, with peaks that tower above 14,000 feet. A forest of pine and fir trees cover the steep mountainsides. Safi used to go there with her husband during their marriage engagement. But for now, she is restricted to the dusty streets of Kabul.
Lead Photo: WAKIL KOHSAR / Getty Images
Trending on Outside Online