Indefinitely Wild
So You Want to Be a Hunter
If you've never picked up a gun before but are interested in harvesting your own healthy, sustainable, humane meat, here's why you should get started with birds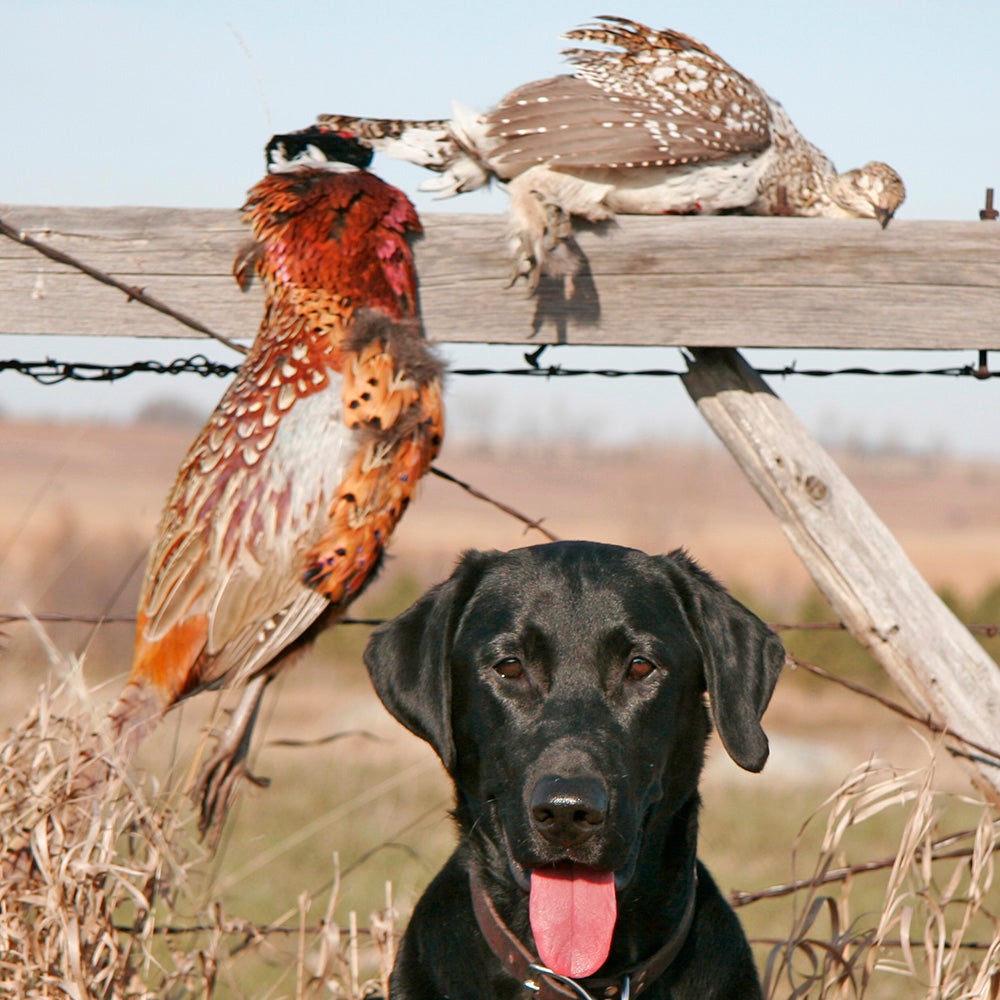 Heading out the door? Read this article on the new Outside+ app available now on iOS devices for members! Download the app.
Hunting has an image problem. Something that contributes huge amounts of money to animal conservation is seen as a blood sport. The most humane way to put meat on your table is seen as cruel. The healthiest source of protein is seen as gross. But just because other people aren't prepared to apply critical thinking to their food sources doesn't mean you can't.
This is the easy way to start harvesting your own wild protein.
#1. Get Your Hunting License
Hunting licenses are affordable and easy to obtain. Individual states issue them, and you'll need one both for where you live and where you plan to hunt. License requirements and fees vary by state.
In most places, you'll first need to take a hunter's ed course. This is typically a one-day class taught by volunteers. It's equivalent to the driver's ed course you took in high school—a basic introduction. Even if you're already familiar with firearms and the outdoors, hunter's ed is a fantastic refresher in all the nitty-gritty details of remaining legal and safe in the field. The class covers important things like how not to hold your gun backwards and what kind of ammunition will bring you the most success.
Hunter's ed classes tend to be hosted at gun ranges and take place infrequently. Consult your state's fish and game department website for a list of classes and dates, and sign up for one now. Trying to get into one at the last minute can be a real hassle and often impossible. You'll also need proof of completing a hunter's ed course to buy out-of-state licenses, so keep your certification card in a safe place.
Once you've completed the class, you can buy a license online or at pretty much any gun store or big-box store that caters to hunters. You'll also need a specific tag for the kind of animal you want to shoot, but again, that varies by state. Here in California, my yearly hunting license is $47, and an upland bird tag, which covers the doves, pheasants, quail, and turkeys we'll discuss later, is just $8.
#2. Get a Gun
Rifles net you big game at a distance. Bows maximize the challenge and expand the seasons and areas in which you can hunt. For birds, you use a shotgun. A shotgun is the most affordable of the three, which is one reason I'm suggesting you start with that.
What you're looking for is a 12-gauge shotgun with a 28-inch barrel. All other factors are just icing on the cake. (I explain all the ins and outs of shotguns in this article.)
You can get a basic Remington 870 for about $350 at any gun store in the country. It'll work, and it'll last a lifetime. I shoot a Weatherby Element, which is a little more expensive at $750 but handles quicker and, unlike the Remington's pump action, allows me to stay on target as a new round is cycled into the chamber, thanks to its inertia-driven, semiauto action. I also find it also shoots a little quieter, a boon for sports like bird hunting and clay shooting, where you're firing often.
Just like people debate cars, they'll argue the merits of different types of shotguns until the cows come home. Get caught up in all that if you like nerding out on stuff, but there's no need to. Any 12-gauge shotgun with a 28-inch barrel is all you need for any bird or clay pigeon.
Never bought a gun before? Don't be intimidated. Most gun stores are friendly places staffed with knowledgeable people. Make sure you have a driver's license in the state where you're shopping. If your state has a waiting period, expect to pay for your gun ten days before you're able to take it home. You can use that time to install your gun safe. (This Stack-On is an affordable option.)
One note on gun stores: most will automatically enroll you in the NRA with any purchase. If, like me, you find the NRA to be super-creepy, you'll need to opt out. And yes, this is how that organization is able to claim such a large membership. You don't need to drink the NRA Kool-Aid to be a gun owner.
[Correction: As has been pointed out by several readers, the NRA enrollment process is more of a high-pressure sales tactic than it is automatic enrollment. My apologies for the confusion. You should still say no, especially if you're a hunter. The NRA is currently working against the interests of the American hunter.]
#3. Practice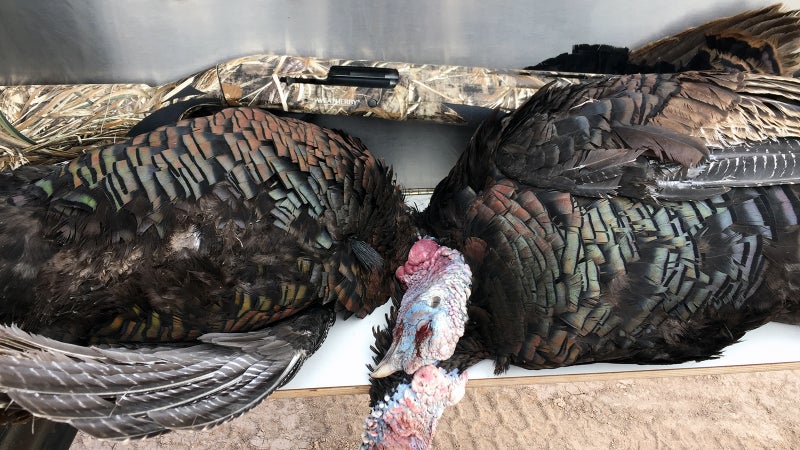 The best way to develop competence on your new shotgun is to shoot clays. There are three types of clay shooting: trap, skeet, and sporting. Trap is where the clay shoots directly away from you. With skeet, the clay pigeon flies across you, at varying speeds, from two directions. Sporting clay shooting is golf with guns: you walk through a course and face different challenges at each station. Start with trap, and then progress as you develop skill.
Visiting your local gun range shouldn't be an intimidating experience. Google the gun laws in your state to see how they want you to transport your gun. I live in California, which probably has the most restrictions, and there's really nothing to it. Here, we're supposed to carry our guns in a locking case (soft is fine), separate from our ammo. Keep your gun in its case while traveling between your home and the range until you reach the shooting station. Once there, make sure the barrel stays pointed downrange and away from people at all times. The range will instruct you on the rest.
You'll be able to buy ammunition at most ranges, as well as eye and ear protection. The latter tend to be of poor quality, so go ahead and invest in a decent set of shooting glasses. You'll learn what kind of hearing protection you prefer; I wear Howard Leight Max Lite earplugs for everything from riding motorcycles to shooting guns. You'll also want at least a shell bag to wear around your waist, possibly a shooting vest to hold all your stuff, and some extra padding at your shoulder.
#4. Find a Hunt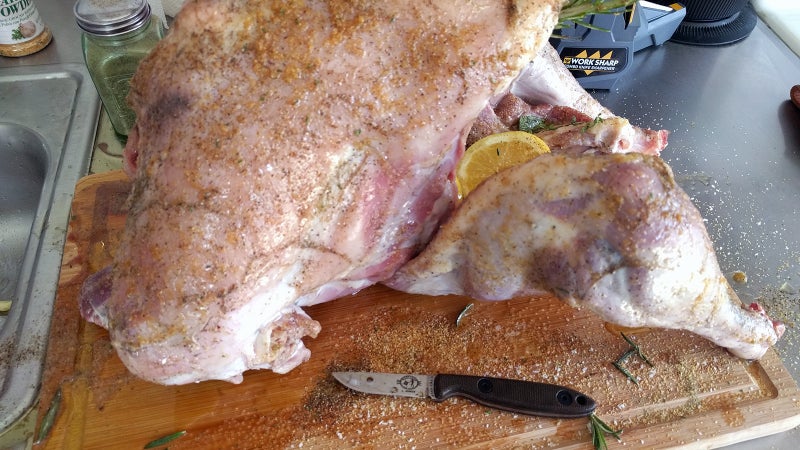 Finding, stalking, and taking big game is really hard and can be really expensive, especially for a new hunter. You'll spend days in the field and maybe get one shot, which probably won't be successful. And that's before you get to cleaning, transporting, and processing the meat. In contrast, birds exist in far greater numbers, and finding them is easy. Cleaning and cooking birds are also straightforward—no more difficult than doing the same with fish.
Bird hunting has multiple seasons and can be enjoyed across the country. We recently hunted turkeys in Southern California for the spring season, and there's another turkey season in the fall. There are different seasons for pheasant, doves, quail, ducks, and more.
There are some fantastic, organized hunts that take the guesswork out of finding a good location. For the past few years, I've gone on dove openers with Mendel Woodland, who operates on 9,000 acres of beautiful ranchland in California's Imperial Valley. This year, my friend Scott and I visited for spring turkey and a pheasant hunt.
Birds are drawn to food sources and cover provided by crops and water brought in by irrigation. So, in the California desert, most bird hunting takes place on private land. Farmers lease hunting rights to outfitters like Mendel, who then organizes and manages the hunting. That makes it easy to visit and enjoy a successful hunt.
Hunting dove with Mendel, you visit cattle feedlots, where the grain is a major food source. Hunting pheasant, you walk with his dogs among rows of crops, where these birds hide. Hunting turkey, you stalk the brush in arroyos and drainage ditches between fields. It's fun shooting and a fun day out with friends. Think golf, but with enough meat to throw a dinner party afterward.
#5. Cook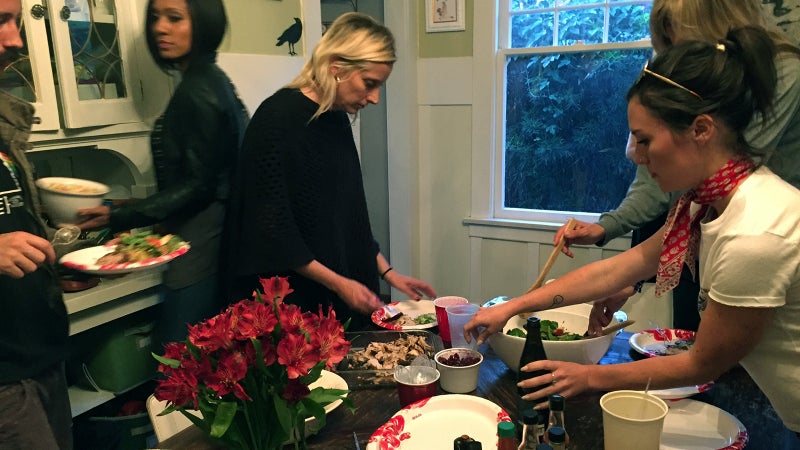 Driving back to Los Angeles with two turkeys and eight pheasants in my Land Rover's freezer, Scott and I texted our friends and invited them over for a barbecue the next day. Then we spent the rest of the ride Googling recipes.
So long as you kill it instantly and get it cooled right away, wild meat doesn't taste gamy, but it is leaner than the commercially produced alternative. Wild turkeys for instance, aren't raised on grain and aren't injected with hormones while they're alive or butter and salt after they're dead. Cooking methods have to concentrate on retaining moisture. Be gentle so the meat doesn't dry out or get tough. In general, that involves lower heat for less time, but there's a ton of collective wisdom to draw from across the internet.
After cleaning the birds, I filled a large cooler with cheap champagne and brined the birds in it overnight. The acids and sugars are ideal for breaking down connective tissue and permeating the meat with moisture and flavor.
The next day, I slept in, scrambled to clean my house, and then smoked one turkey on my Big Green Egg and deep-fried the other in peanut oil. For the pheasants, we breasted them out and roasted those cuts. The rest we turned into a pheasant au vin. Between those dishes and the sides everyone brought, we fed about 30 people.
Judging by the amount of people who tried their first game meat at my house that night, and then asked how they could get started hunting themselves, we did a pretty good job. This article is my answer. Becoming a hunter is easier and more fun than you think.