Why the Ultra-Race Tragedy in China Wasn't Surprising
Long-distance running has exploded there, but responsible oversight of trail races has been extremely inconsistent—including, it seems, at the event last weekend in Gansu Province, where 21 runners died in a sudden storm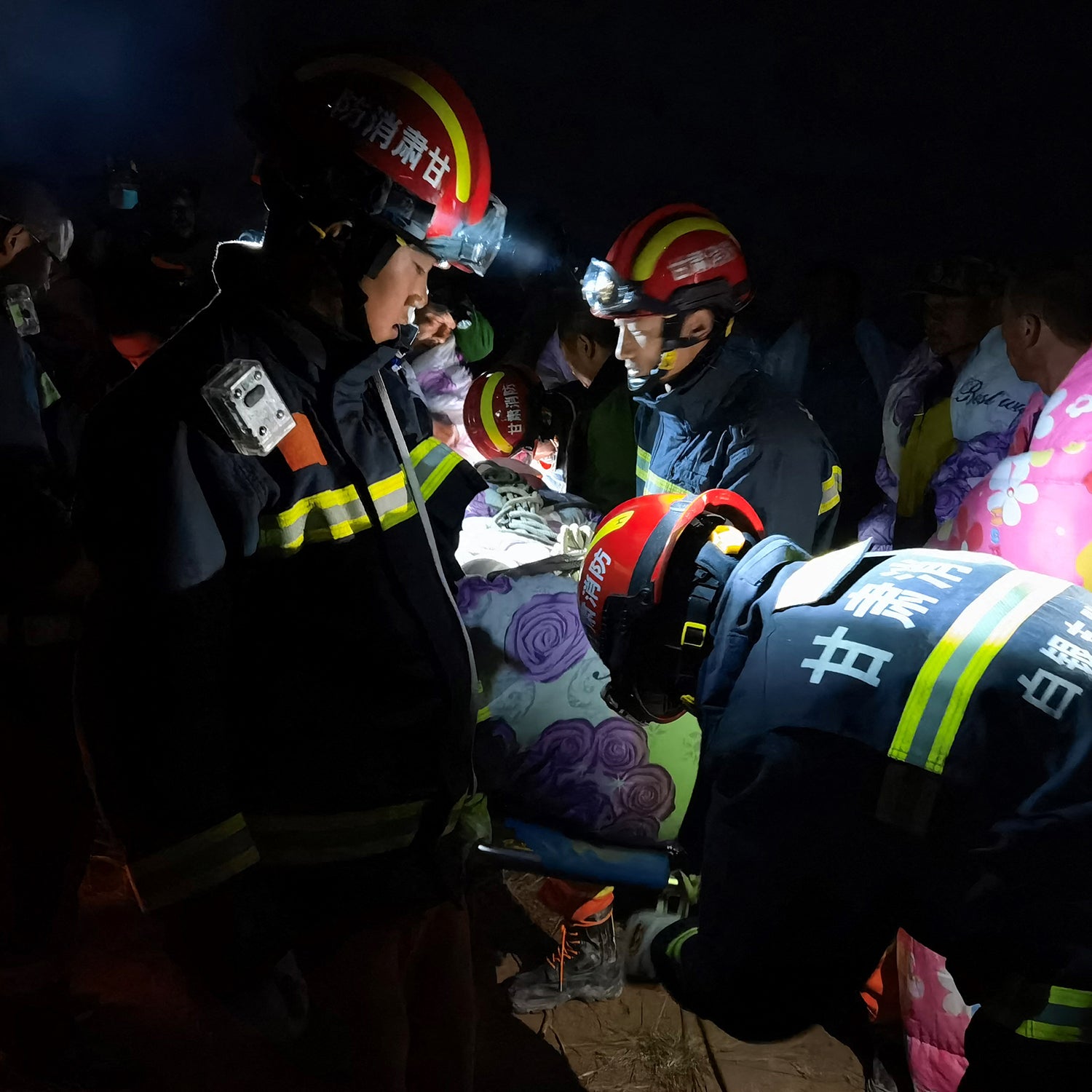 STR/AFP/Getty(Photo)
Heading out the door? Read this article on the new Outside+ app available now on iOS devices for members! Download the app.
On Saturday, 21 athletes died during the fourth annual Yellow River Stone Forest Park 100K, a race held in Gansu, China. The weather turned bad about 15 miles in and more than 6,000 feet above sea level, after the leading runners left the second checkpoint and started an exposed 3,000-foot climb. Suddenly, the route was hammered with a mess of freezing rain and hail, and temperatures plummeted to near freezing at higher elevations.
"At the bottom of the mountain there was already wind and rain, and the higher you climbed the bigger the rain and wind got," blogged Zhang Xiaotao, a racer who survived the storm. "Halfway up, the rain started to mix with hail and kept smashing into my face, and my eyes started getting obscured and blurry. A few places, you couldn't make out the route clearly." Another racer he came across on the trail, he wrote, "had begun to shake all over his body."
Runners found themselves stranded between the second and third checkpoints without warm clothes. Many tried to use space blankets (which they were required to carry), and some were able to shelter in a cave, but dozens fell on the treacherous terrain or lost their blankets in the wind and passed out from exposure. Some survived long enough for help to arrive, but 21 did not. According to Chinese state media, a 1,200-person search and rescue operation was launched for all 172 of the race participants, but local authorities couldn't save everyone. 
One of the victims was Liang Jing, a top Chinese ultrarunner. I got to know him in 2018, while reporting a story on the medical team at the 248-mile Ultra Gobi in western China, a race that he won. He was among the toughest athletes I'd ever seen. One night, temperatures fell into the twenties, and when I woke up in my tent the next morning, my water bottle was frozen solid. As I found out later, Liang kept running through it all. He was too tired to pack away his yellow sleeping bag, so he wedged it through the loops of his backpack, above his waist, and for the rest of his run, the ends flopped behind him like deflated wings. A day later, we were sharing beers and talking about his adventure. 
For a runner like Liang to lose his life, conditions must have been truly horrendous. But among those familiar with the Chinese endurance-racing scene, a tragedy like this isn't seen as especially surprising. I've written about China for the past ten years, including stories on running's growth in the country, and in the aftermath of the Gansu disaster, most of the WeChat messages I received from China expressed sadness, not shock. Over the past decade, tens of millions of people—perhaps even hundreds of millions, depending on which Chinese running expert you ask—have taken up the sport. I've heard estimates that as many as 3,000 long-distance races are held annually in China, ranging from shoddy events sponsored by local governments to Ultra Trail du Mont Blanc–branded competitions.
Because there aren't enough experienced organizers to run all these races safely, responsible preparation and oversight—including contingency planning for bad weather—is absent at many events. "I think what is happening is that there is a lot of enthusiasm for mountain sports, and now the demand is outstripping the supply of expertise," said one organizer, who asked not to be named, given the likely coming crackdown on races.
Organizers frequently told me the question was when, not if, a tragedy would happen.
One reason why races outpace resources in China is politics. Party officials, who are often called cadres in China, are promoted based on economic development in their region, and large cultural projects—including recreational events—earn them bonus points from higher-ups. As a result, marathons and ultra races have become a favorite pursuit for many officials. (At the Gansu race, the mayor of the city hosting the event shot off the starting pistol.) They bring tourism and media coverage, and cadres can highlight them on their résumés. Politicians see other countries hosting competitions and, not to be outdone, organize their own, sometimes one-upping each other by increasing race distances and elevation gains. Every county in China now seems to host a race, and organizers from the country's entrepreneurial class have risen quickly to chase after government and sponsor contracts. 
This has led to a dramatic range of quality at trail-running competitions. The Ultra Gobi that I covered had regular medical checkpoints staffed by doctors, and both foreign and Chinese athletes were impressed by the race support and organization. There were still blind spots when it came to safety, but medical help wouldn't have been far away had someone become hypothermic on the trail. This hasn't been the case at other events, however. In my reporting, I've often heard stories of participants becoming hopelessly lost at high elevations, without any volunteers, medical support, or guidance to be had. Any sudden change in weather could have spelled disaster in such situations.
When I asked organizers about the potential for something like this to occur, they frequently told me the question was when, not if, a tragedy would happen. Getting lost isn't uncommon in ultras around the world, nor is bad weather, and the tragedy in China has caused some to question whether ultra running has grown too extreme in general. But races in China often lack basic preparation.
Both foreign and Chinese organizers brought up these issues in the aftermath of last weekend's race, pointing out that runners weren't required to carry sleeping bags and warm clothes, which some other competitions insist on. "Some events only focus on financial results and are unwilling to make investments in safety," said a widely circulated article posted last weekend by Paopao Wang, a popular Chinese running app. "Some companies who undertake [these races] are completely unprepared in their ability to organize high-risk sports and spend the necessary resources." 
Such inconsistency in quality and planning is typical for developing countries that are growing adventure sports to appeal to a growing middle class, but China's progress has been especially uneven. Wei Jun, a former sports bureaucrat who now organizes private races, told me a few years ago that only about 10 percent of organizers survive the business, and that new ones—many with no experience—replace them immediately. "So you have races that are run very well. Others are disastrous," he said.
On top of that, as Chinese athletes have honed their endurance, respect for unpredictable weather hasn't always caught up, and organizers often fail to set boundaries in the mountains. "It's a crash course in mountain culture," said the organizer who asked not to be named. "What is happening is that you have this natural let's-get-it-done attitude, but people refuse to believe that weather will change." He added that in the 1970s, when mountain sports were growing in Korea, tragic accidents were common there, too. 
Several race organizers told me on WeChat that they hope the Gansu disaster will serve as a wake-up call. Whether the Chinese government will react thoughtfully is another question. When a civic tragedy strikes, authorities tend to respond bluntly, often by shutting down an enterprise entirely rather than reforming it. Once, when I worked at a Chinese high school, someone drowned in the campus pool, and the administration responded by banning swimming and removing the pool. In the aftermath of last weekend's events, authorities may take a similar approach, eliminating races rather than making them safer with investment and alpine education for organizers.
This appears to be happening already. An investigation by the Chinese Communist Party's Central Commission for Discipline Inspection, the same body that investigates high-profile corruption cases and purges officials, is already looking into Gansu. Yesterday, in a sign that the dominoes have begun to fall, one of the largest state-run organizers, XTrail, canceled a major race at Kansas Lake in Xinjiang's Altai Mountains, and local governments have already begun calling off marathons.
Reform is desperately needed, but a harsh crackdown would be a huge hit to the burgeoning community of endurance athletes in China. Within the country's authoritarian system, running has blossomed into a cherished space for individualism, freedom, and risk-taking, and it's also brought competitors together from across the world. At the Ultra Gobi, a day after the top finishers had slept off their exhaustion, I found myself chatting with Liang and Zhao Jiaju, the second-place finisher, in a hotel courtyard. Later some of the foreign runners joined the conversation, and I helped translate. The group swapped stories from the race, laughing with their competition and sampling cheap Chinese beer. It felt like a meaningful moment—Chinese athletes are often rendered faceless to their Western competitors. Endurance events in China have the potential to create countless similar moments, but not if organizers can't be trusted to prevent reckless tragedy.
Lead Photo: STR/AFP/Getty
Trending on Outside Online