The Devil on Paradise Road
It started as a bluebird New Year's Day in Mount Rainier National Park. But when a gunman murdered a ranger and then fled back into the park's frozen backcountry, every climber, skier, and camper became a suspect—and a potential victim.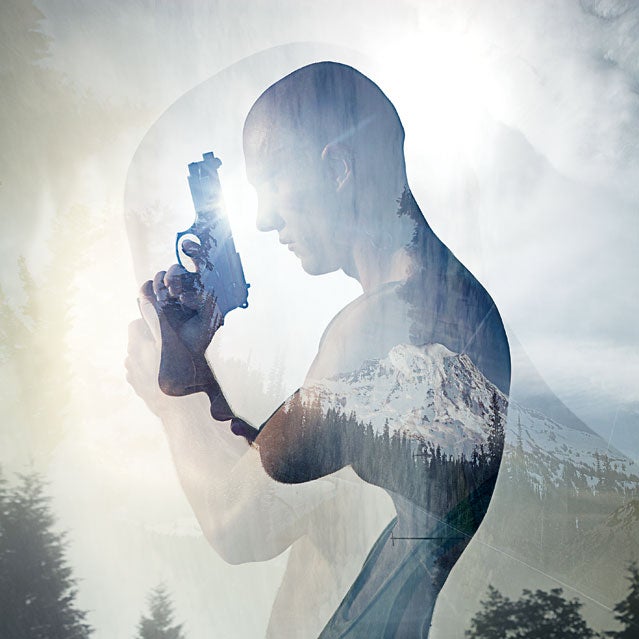 Joe Baran
Heading out the door? Read this article on the new Outside+ app available now on iOS devices for members! Download the app.
Thirteen miles of two-lane blacktop connect the fir-and-cedar forests of Longmire, Mount Rainier National Park's ranger headquarters, to Paradise, the mountain's 5,400-foot subalpine playground. Technically, it's a section of Washington's State Route 706, but locals know it as the Paradise road. Beautiful and treacherous, the road winds its way up the mountain's lower flanks, offering visitors views of misty waterfalls and glacial river valleys—and, when the clouds part, a spooky glimpse of Rainier's 14,410-foot ice-clad summit.

Ranger Dan Camiccia's bullet-pocked windshield.

Ranger Margaret Anderson in 2004.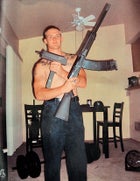 The shooter, Benjamin Barnes.
January 1, 2012, looked like it would be a busy day at the mountain. The holiday always draws a crowd to the park, and the Paradise snow-play area, with its long, rolling sled runs, would finally open for the season.
Margaret Anderson, a 34-year-old park ranger, crossed into Rainier a few minutes after 7 a.m. The forest around her was still night dim and frozen. It hadn't been easy to rise in the winter darkness and leave her husband, Eric, and their sleeping girls—one nearly four and the other 18 months—at home in Eatonville, a charming burg 22 miles west of the park. But Eric, also a ranger at Rainier, would be working the second shift. He'd be coming on at 11. Maybe she'd see him.
In the meantime, she had a lot to manage—she'd hired four new seasonals, and this was their first day working the sledding hill. Anderson was a law-enforcement (LE) ranger. By custom, National Park Service rangers are jacks-of-all-trades, but today they follow several distinct career tracks: law-enforcement ranger, interpretation ranger, or, in mountain parks like Rainier and Yosemite, climbing ranger. Interpretive rangers are often wildlife specialists or cultural-resource experts, while climbing rangers rescue stranded mountaineers. LE rangers undergo extensive training at the Federal Law Enforcement Training Center in Glynco, Georgia, but with budgets tight they are tasked with a growing list of handyman chores. Anderson drove patrol, organized the park's EMT training, and dug road signs out of the snow when necessary.
Anderson passed by Longmire, where the two other LE rangers on the early shift, Dan Camiccia and Kraig Snure, were stationed. The road to Paradise had iced overnight, so Camiccia was setting up a tire-chain checkpoint. Anderson continued on up to Paradise.
She had spent New Year's Eve with her family. After they put the girls to bed, she and Eric talked about the coming year. The couple had met in 2002 at Bryce Canyon National Park—two young seasonals working the rim roads of southern Utah—but it wasn't until they left for other postings that they realized they'd fallen in love. Since then, Eric had punched his ticket at four parks, Margaret at two. Finding openings for a married couple at any national park is rare, so when two positions came up at Mount Rainier in late 2008, the Andersons jumped at them.
Now, three years later, they were talking about getting out. The burdens of a two-child, two-ranger family were heavy. The couple played tag-team with their shifts, and they often saw each other only on weekends. Margaret was working toward her nursing degree. Eric, who had been a firefighter before joining the Park Service full-time, loved being a cop, but an LE ranger's day can often feel like only 51 percent law enforcement—or less. He wanted more LE in his LE ranger's job. Margaret, who had a master's in biology, enjoyed the resource-management aspects of her work, but she shared some of Eric's frustrations.
The Andersons were looking at 2012 as their last year at Mount Rainier National Park. The girls' grandparents lived back east. It was time for a change.
AT PARADISE, ANDERSON EXCHANGED greetings with the interpretive rangers opening the Jackson Visitor Center (JVC). Although the snow had arrived late this year, it was piling up. Paradise usually got around 650 inches, enough to bury the historic Paradise Inn—which closes for the winter—up to its gabled dormers. It looked like a tough day ahead. The parking lot was sheet slick. One interp was fighting the flu, and Anderson wasn't feeling so hot herself. She told a friend she might knock off at eleven, when Eric and the other second-shifters came on.
At 9:30 a.m., Camiccia began waving chain-equipped vehicles up the mountain. The first visitors arrived in Paradise a little before ten. Anderson worked the parking lot, giving directions, moving signs.
At 10:20, a car drove past the chain checkpoint without stopping. A blue Impala.
Camiccia discussed the blow-by with Snure. It wasn't a big deal. Foreigners visited the park every day. The driver might have been confused. Was it worth going after the guy? Probably so, they decided. Better to stop him now than tow him out of the snow later.
Camiccia jumped into his NPS pickup. He called in the plate as he accelerated: Washington 791XZL. Dispatch called back. The plate was clean, which meant the car hadn't been reported stolen. Owner: Barnes, Benjamin Colton. White male, five-nine, 160 pounds, 24 years old.
The ranger caught up to the Impala about two minutes later. He rolled his lights. No response. He hit the siren. Nothing.
Trouble.
Camiccia let the Impala gap him on the hairpin. Then he gunned it and caught up, lights still flashing. But the Impala kept on.
He called for backup as the two cars wound their way up the icy hill, locked in a low-speed switchback chase.
At Paradise, Camiccia's voice squawked out of the radio on Anderson's hip. She took a quick situational inventory. There were a few dozen cars in the parking lot. That meant upwards of a hundred visitors.
Camiccia and the Impala would reach her in about 15 minutes. During summer the road continues into the Gifford Pinchot National Forest. But in winter it dead-ends at Paradise, blocked by a wall of snow. Anderson wanted to stop the driver before he got that far. She was, in a way, the perfect ranger for the job. She had a cop's knack for reading people and solving problems. She could cool a hot situation with a few words and a disarming smile, but the use of handcuffs and force were not foreign to her experience.
Anderson jumped into her white Chevy Tahoe and roared down to Barn Flats, where the road unkinks into a 250-yard straightaway. It took her a little over a minute to get there.
At the Flats she parked sideways, blocking both lanes.
Then she waited.
COMING UP THE HILL in the Impala was Benjamin Barnes, an Iraq war veteran. Troubled since high school, the newspapers would later report, he was the son of a Marine, a California kid who'd found a home in the military—and then managed to get himself booted out for drinking and driving. Barnes embraced warrior culture. He kept his hair in a jarhead shave, inked his body with words that evoked the epic. A neck tattoo listed four of the seven deadly sins: Pride Envy Gluttony Lust. The skin over his heart read ODIN, the Norse god of battle, victory, and death.
Of course, none of this was known to Margaret Anderson. Barnes was just a suspect leading her colleague in a two-car parade.
At 10:42 a.m., 14 minutes after she arrived at the Flats, the blue sedan came into view.
Immediately in front of him, Barnes saw Anderson's SUV blocking the road. Behind him, a ranger on his tail. Beside him sat a loaded AR-15 assault rifle, the civilian version of the M16 he carried in Iraq.
Barnes braked, swung open his door, aimed, and fired at Anderson. The gun went off in bursts. Anderson slumped at the wheel.
When Camiccia rounded the corner, Barnes wheeled on him and squeezed off four quick rounds. The bullets pierced the ranger's windshield in a four-corners pattern that outlined a box around Camiccia's head. One tore through his seat belt just above the shoulder. But he wasn't hit. He jammed his truck into reverse and retreated.
Anderson, bleeding badly, backed her Tahoe into the snowbank so hard the tailgate crumpled. Executing a two-point turn, she moved her vehicle about 100 yards up-mountain—still in the Flats straightaway but blocking the downhill lane. Camiccia spit into the radio: "Shots fired, one officer struck."
Camiccia's attempts to rescue Anderson were met with gunfire. Barnes had a semi-automatic assault rifle, battlefield firepower.
The park dispatcher called Anderson's number over the radio. "Seven-four-one, come in."
There was no response.
AT PARADISE, THE INTERPRETIVE rangers working at the Jackson Visitor Center had been following the Impala's progress closely. Within seconds of the shooting, they and members of the park's road crew began herding visitors inside.
Interpretive rangers carry no weapons. They're trained to remove themselves and visitors from dangerous situations, not to confront the threat. So the Paradise interps decided their best strategy was to turn the JVC into a fortress. "We've got to do a lockdown," said one.
Out in the parking lot, Lisa Hill, a 51-year-old dental hygienist from nearby Graham, was eager to hit the trail and try out her new Jetboil stove. She'd talked her boyfriend, Brian Hess, a 40-year-old electrician, into a New Year's Day snowshoe trip.
Then Hill heard a voice. "This is an emergency! Everybody into the building!"
Instinctively, she looked up-mountain. If an avalanche was coming, she wanted to know which way to run.
Once Hill and Hess entered the visitor center, a ranger radioed the Rainier dispatcher: "JVC is in lockdown." Hess glanced at a clock. It was 10:48 a.m. Most visitors at the JVC didn't know what was going on. But Hess stayed close to the door so he could overhear the rangers' radio traffic. "It didn't take me long to figure out a couple of things," he said later. "Somebody had been shot. The guy was still on the loose. And the staff at the visitor center were unarmed."
The JVC rangers hatched a plan. Rebecca Roland, a 44-year-old interpretive ranger, huddled with a few colleagues. They asked ranger Gavin Wilson to take charge. Wilson had been trained in ICS, the Incident Command System, which prevents federal, state, and local cops, firefighters, and EMTs from working at cross-purposes. A handful of visitors were still out on the mountain, oblivious to the emergency. Longmire park volunteer Jim Miltimore—who, with his wife, Carol, has logged more than 12,000 hours of service at the park—strapped on his snowshoes and charged up the cross-country trail to warn any skiers.
When stragglers approached the visitor center, a ranger searched them for weapons. Paradise was a short 15-minute hike from Barn Flats. Anybody could have been the shooter. Could he be in the JVC already? Could this be some sort of holiday terrorist strike? The most maddening, hateful acts of our era are known by their geographic location. Columbine. Virginia Tech. Norway's Utøya Island. That Mount Rainier would be added to the list remained a frightening possibility.
ERIC ANDERSON KISSED HIS daughters goodbye and dropped them at a babysitter's around 10 a.m. on New Year's Day. Mama will pick you up soon, he told them. Margaret's shift ended at three, but she'd told her husband she might knock off early. As Eric made his way up the Mountain Highway, the main artery to Rainier, a Pierce County sheriff's cruiser roared past him. Anderson called the Rainier dispatcher to see what was going on. The dispatcher asked him to report directly to park headquarters at Tahoma Woods, 17 miles west of Longmire. There'd been a shooting, he was told.
Park superintendent Randy King arrived at headquarters a few minutes before Anderson. Soft-spoken and solidly built, King had assumed the park's top job only eight weeks earlier, but he'd been Rainier's deputy superintendent for eight years. He knew the park and its people. "There's been a shooting near Paradise," he told Anderson, confirming what Eric had already heard. "Margaret was involved." Nobody knew much more than that, King said. He asked Anderson to sit tight.
The next few minutes and hours: what they were for Anderson, only he knows. It's not a memory he cares to relive.
HALF AN HOUR AFTER the first shots, Margaret Anderson remained in her Tahoe. Her radio was silent, and the suspect—Barnes or whoever was driving his car—continued to fire on anyone approaching.
From the Canadian border to northern Oregon, word flashed over law-enforcement wires: officer down, shooter loose. The Pierce County Sheriff's Department—which is headquartered in Tacoma but maintains a mountain detachment in Eatonville—was the first to respond. A ranger flagged down Deputy Frank Brown near Longmire, handed him a park radio, and pointed him up the road. A few minutes later, Brown raced past two empty Park Service vehicles and nearly reached the Flats when he heard the radio call him back. Rangers Camiccia and Snure had briefly abandoned their trucks, but when they saw Brown drive by they scrambled back to stop him from stumbling into the shooting alley.
Up at Paradise, a group of rangers and maintenance workers debated mounting a rescue effort. They had an ambulance and a sanding truck they thought they could use to reach Anderson.
She was so close. One minute away. And yet the risks were enormous. The shooter was still squeezing off rounds. The folks at Paradise had no weapons and no protection, not even a service vest. It's still not clear who made the call, but in the end the mission was deemed too dangerous.
"It was the right decision," Superintendent King would later tell me. "A tough one, but the right one. Not responding, that's the hardest thing in the world. Because all you want to do is help."
That didn't make it any easier for Anderson's colleagues. She sat just a few hundred yards from Paradise, wounded and possibly dying. Another 20 minutes went by.
AT 11:42 A.M., RANGERS Camiccia and Snure met with a group of Pierce County deputies at a turnoff called the Stevens Canyon Y, about 500 yards south of the shooting site. In addition to Deputy Brown, Sergeant Nick Hausner and deputies Brian Coburn, Kevin Reding, and Ara Steben had answered the call-out. An hour had passed since Anderson's last radio contact. Shooter or no shooter, they decided they had to go in.
The team gathered what gear they had. Brown had an armor-plated vest. Hausner found a ballistic shield in his SUV.
The deputies strapped on helmets and piled into the back of Camiccia's bullet-pocked pickup. Each held a rifle. "If the suspect engages," Hausner told the team, "immediate return fire is authorized."
The men jammed the armored vest into the truck's bullet-shot windshield and stuffed the shield along the driver's door. Kraig Snure volunteered to drive. As the truck rolled toward the Flats, shots rang out. The shooter was alive and active.
The deputies crouched in the flatbed, eyes sweeping the hillside. The high snowbank gave the shooter a massive tactical advantage. With an assault rifle, he could let off five rounds before the cops had time to react. "It was one of those moments," Coburn later told Tacoma's News Tribune, "where you prayed that you survived this call."
At the Flats, they passed the Impala. The driver-side door hung open. The shooter was nowhere in sight.
Anderson's SUV was nosed into the snowbank about 100 yards up the road. Engine still running, transmission in drive. She was upright at the wheel, buckled in, her body still. A radio microphone sat in her lap. Coburn and Brown quickly moved her to the back of the pickup.
"We have her," Coburn told dispatchers.
As the truck tore off down the hill, Hausner put two fingers to the fallen ranger's neck. He found no pulse.
"She's gone," one of the deputies said.
The team relayed the information to park headquarters. At Tahoma Woods, despair washed over the eyes of Superintendent King. He straightened his shoulders and delivered the news to Eric Anderson.
UP AT PARADISE, RANGER Rebecca Roland entertained visitors' kids with Junior Ranger workbooks. When one finished, she'd stage a small ceremony, pronouncing the youngster an official Mount Rainier Junior Ranger. The locked-down visitors applauded each one.
Lisa Hill and Brian Hess sat at a picnic table by the door. Hess wanted to be there in case something happened. He had a card that had not been played: In his back pocket was a permit to carry a concealed handgun. In his front pocket was a .380 Ruger LCP.
At 12:20, one of the rangers guarding the door crossed the main foyer to the information desk. "He looked like he might throw up," recalled Hess. Anderson had not survived the shooting, the ranger told his colleagues. They absorbed the shock and held back tears.
A few minutes later, another child achieved Junior Ranger status. Roland gave him his due. Applause all around.
ALL AFTERNOON COPS AND armored vehicles streamed into the park. The FBI, the Pierce County Sheriff's Department, Tacoma police, and the U.S. Forest Service scrambled their SWAT teams to Longmire, where rangers had set up an incident command center. Game wardens and state troopers responded. One veteran ranger, Uwe Nehring, had retired from a 29-year Park Service career on December 31. When news of Anderson's shooting flashed on the radio, he suited up and reported in. By midafternoon, so many officers had responded—there would be close to 200 at Longmire in the end—that Rick Adamson, incident commander for the Pierce County Sheriff's Department, had to broadcast a hold-your-horses message to agencies across the Puget Sound region. "Do not self-deploy," he said.
A series of incident commanders—Adamson of Pierce County, chief ranger Chuck Young of the Park Service, Steven Dean of the FBI, and others—oversaw the mission as the day wore on. Each of them sought answers. Was Barnes the shooter? What were his intentions? Hour by hour, detectives worked up a profile. A routine check of court records revealed an ugly custody battle and a restraining order from Barnes' girlfriend. Her affidavit mentioned his military service. Calls to Joint Base Lewis-McChord, just south of Tacoma, confirmed that. Did he have specialized survival training? JBLM officials didn't know.
That remained one of the critical unknowns. Mountaineering district ranger Stefan Lofgren, Rainier's lead climbing ranger, has spent 20 years moving in the park in the toughest winter conditions. "If I'd bailed out of my car at the Flats," he told me, "I could make it to Longmire in an hour or two. I'd be out of the park by nightfall." But Lofgren knew the terrain, and he could survive a freezing night in a snow cave. Could Barnes?
Nobody knew how fast or how far he could travel, but he had options. He could kill a snowshoer and walk out in the victim's gear, so the cops took no chances with anyone emerging from the backcountry. At Narada Falls, a trailhead half a mile below Barn Flats, a group of snowshoers returning from an overnighter were greeted at the parking lot by a SWAT team, guns drawn. "Keep coming out one at a time," the officers told the shocked visitors. "Slowly. Hands in the air." They asked the snowshoers to stand like birds on a wire while the SWAT team retrieved everyone's ID from their van. A Pierce County deputy then told the group to stand by the van. "If something happens," he told Robert Conrad, the group's guide, "get down and stay down." 
THE MORE THE COPS dug, the more dangerous their shooter appeared to be. Barnes wasn't some two-strikes car thief. Uncle Sam had taken him on as a raw recruit in 2007, molded him into a soldier—a communications specialist—and posted him to one of Joint Base Lewis-McChord's Stryker brigades, the ground units that lived on the point of the spear in Iraq and Afghanistan.
His unit served a yearlong deployment in Iraq in 2007–08. Upon his return, Barnes did not adjust well. A DUI arrest and a weapons charge led to his discharge in 2009. He drank too much, made few friends, and spent his money on tattoos and guns.
In late 2010, Barnes' girlfriend, 22-year-old Nicole Santos, gave birth to a girl named Aubrey. Fatherhood did not suit Barnes, who, according to Santos, found the baby an annoyance. She left him and took Aubrey on January 1, 2011. Barnes responded with a text: "If you come home don't be surprised to find my brains splattered all over the walls."
The next 12 months played out in a flurry of court papers. Santos filed for legal custody of Aubrey and for a restraining order against Barnes. In affidavits taken last summer, she described him as a violent, unstable man with "possible PTSD issues." A close reading of the documents revealed a character who, PTSD or not, had plain old asshole issues: Santos' statement alleges that Barnes played cruel mind games with her and screamed at and abused the baby.
Despite Barnes' domestic problems, motive remained a puzzle. Why would he head to the mountain with an assault rifle? Suicide was a possibility: suicide by self, by cop, or after taking a whole lot of people with him. Throughout the early afternoon, it remained unclear whether the shooter was seeking more victims or trying to flee. "We had to prepare for both," said Pierce County sheriff's detective Ed Troyer. "The thought was to keep him trapped up there on the mountain. Keep him on foot. Keep the area contained."
AT 2:19 p.m., A deputy standing watch on the Nisqually River Bridge, about a half-mile west of the Flats, reported seeing a head pop up over a snowy ridge and duck back down.
At the incident command center, Ranger Lofgren told his colleagues what he knew of the terrain. To be spotted from the bridge, the shooter would have had to move west from the Flats along the road's shoulder.
That wasn't good news for the 125 visitors locked down at the Jackson Visitor Center. Commanders in Longmire couldn't send in reinforcements as long as the suspect remained on the road's high snow berms. Fortunately, the Pierce County Sheriff's Department had its armored BearCat rolling toward the mountain. The vehicle, which looks like a cross between a Hummer and a Brinks truck, has heavy plating capable of stopping any high-caliber-rifle or assault-weapon round.
When the BearCat reached the rangers and deputies at the Stevens Canyon Y, the group hustled up a plan. Ian Canaan, a Forest Service law-enforcement officer, would lead a small team of rangers, including the just-retired Uwe Nehring, into the visitor center. Pierce County sergeant Mark Berry wanted Rainier rangers on the inside because they knew the building and the interps working it.
Eleven officers pressed into the back of the BearCat. It was a tight fit and a hushed ride. A few minutes later, they arrived at the Paradise parking lot.
The doors of the visitor center flew open just after 3 p.m. "Everybody down on the floor! Put your hands on your head!"
Brian Hess counted five or six SWAT team members. They moved quickly through the JVC, assault rifles drawn.
Do not move, Ian Canaan told the visitors. He asked Rainier LE ranger Ken Worstell to verify the identities of each interpretive ranger, one by one.
A chill from the concrete floor worked into Lisa Hill's body. She realized for the first time that the gunman might be among them. She shivered. A woman nearby reached out and asked if Hill was OK. It was a simple gesture, but she took great comfort in it.
Brian Hess had other concerns. Son of a bitch, he thought. These guys are looking for an armed man, and I've got a gun in my pocket. This will not go well.
Canaan spoke up.
"Is anyone here armed?"
Hess and another man slowly raised their hands. The other man spoke first. "I'm an off-duty police officer," he said.
Hess didn't have time to get any words out. An assault rifle was trained on his face. "You touch your gun," the SWAT team member told him, "and we're going to shoot you."
"Understood," Hess replied.
"Where is it?"
The officer removed Hess' Ruger and told him that the gun would be returned to him before he left the park.
With the JVC secured, Canaan briefed the visitors. An evacuation would happen, but probably not anytime soon.
"We're all going to be spending some time together here," he said.
A FEW HUNDRED YARDS down-mountain, an active manhunt was under way. Ted Holden, a veteran game warden with the Washington Department of Fish and Wildlife, had spotted some tracks off the road, below the Stevens Canyon Y. Holden has years of experience tracking poachers across snow. "You get a lot of divots made by snow plopping from trees, but those divots are random," he told me. "What I do is cue in on patterns."
The SWAT guys found climbing notches in the roadside berm and postholes leading into the trees. No innocent park visitor would continue to posthole up to his crotch. This had to be their guy.
Heads swiveled. The Y had been a forward tactical post for the past three hours. All that time, it was now clear, the shooter had been moving above them, below them, all around. The team strapped on snowshoes and followed the holes.
Around the next bend, a second SWAT team searched Barnes' Impala. One officer cut the car's distributor-cap wires to disable it. From the trunk, deputy John Delgado removed a lever-action rifle, several packs of AR-15 ammunition, and heavy body armor. Another officer pulled an AK-47 and several .223 magazines from the passenger seat.
Meanwhile, calls were coming in from cops throughout Washington and Oregon wondering whether the Rainier shooter might be involved in unsolved crimes in their jurisdictions. This wasn't uncommon. One cop was especially insistent. Detective Mike Mellis, from King County, which encompasses Seattle, kept calling back. A Pierce County dispatcher finally conveyed the urgency to Longmire. The King County guys were saying that Barnes had shot four people just the night before.
Pierce County sergeant Trent Stephens radioed Mark Berry, who was up-mountain overseeing the SWAT trackers. "Barnes is a confirmed shooter in a quad shooting incident early this morning in King County," he said. The picture became clearer. And more tragic.
New Year's Eve had found Barnes drinking at a house party in a low-rent suburb in South Seattle. Some of the drunken young men began bragging about their guns. The clock moved to 2 a.m. The gun talk turned to show-and-tell. Argument ensued.
Booze, honor, young men, pride.
Sometime around 3 a.m., King County sheriff's deputies rolled up to find four people shot. They would all survive, and they fingered Barnes. He'd stolen a car, they said, and fled.
In the wee hours, Barnes returned to his North Seattle apartment and loaded his own car with weapons. He told friends he was heading to California.
Nobody knows why he drove to the mountain instead of the state line. But it wasn't a simple errant turn. You don't just end up at Mount Rainier. It's a two-and-a-half-hour drive from Seattle, down lonely country roads. A man who drives to the mountain has the intention of driving to the mountain.
When trouble finds people, sometimes that's where they go. An old friend of mine, a former ranger at Mount Rainier, once told me that one of the toughest parts of his job was finding suicides. "People come up here for a lot of different reasons," he said. "Sometimes they want it to be the last place they see."
DARKNESS COMES EARLY TO the Cascades in winter. Dusk at 4:30, lights out by five.
East of the Paradise road, two Pierce County SWAT units used the failing light to track Barnes. One set of tracks led up from the shooting site, toward Paradise, and circled around a sewage-treatment building—just a few hundred yards below the JVC. They followed the fall line west, to the ridge where the deputy had spotted a head at 2:19 p.m. With cops covering the Nisqually River drainage, he took off east, crossing and recrossing the road, and headed toward Paradise Valley.
The teams moved slowly, not knowing whether Barnes might be waiting to ambush them. They watched his divots disappear down a bank into the Paradise River.
A Black Hawk helicopter, courtesy of the U.S. Customs and Border Protection Air and Marine unit 150 miles away in Bellingham, Washington, circled overhead. A chopper does triple duty in any manhunt. In addition to scanning for the suspect and providing intelligence for ground-based trackers, it has a little-known third purpose. "You put a helicopter overhead, anybody who's running tends to stop running," customs pilot Chris Rosen told me. "They don't want to be seen by the helicopter. That gives the ground team time to catch up."
But at around 5 p.m., the ground teams were forced to halt. Darkness gave Barnes the drop on his trackers. Now it became a question of survival. The temperature had fallen into the twenties. If Barnes was dressed for the weather and knew what he was doing, he could dig a snow cave and shelter overnight. If he didn't, his chances were slim. It's not uncommon for lost climbers and campers to die of exposure in the Rainier backcountry. Tracks leading into the Paradise River were a telling sign. Surviving overnight was tough enough; wading into the river put a man's chances near zero.
As officers equipped with night vision took up posts along the river and armored vehicles patrolled the roads, a veteran wilderness tracker—who has not been identified by law enforcement—leaned over a map in the incident command center, letting his eye fall into the natural V's of the topo lines. By this time, detectives had determined that Barnes probably didn't possess advanced survival skills. They figured he must be exhausted. But the moment he went into the creek, the tracker knew Barnes had cut his survival time from hours to minutes. The tracker put his finger on a spot northeast of Narada Falls. "This," he said, "is where we'll find him."
UP AT THE JACKSON Visitor Center, staffers raided the closed Paradise Inn for blankets and pillows. Parents dashed out to their cars under armed escort to find diapers and medicine. A couple of SWAT members retrieved some Disney DVDs from a car for the kids.
Finally, at around midnight, a ranger whispered to Lisa Hill and Brian Hess. "Are you guys ready to go?"
An armed ranger escorted Hess to his Jeep. He brought it around to the door of the visitor center, behind a Washington State Patrol cruiser. In front of the cruiser was a sanding truck. An armed SWAT member rode shotgun in both vehicles. Four other visitors eased their cars into the queue. Another trooper pulled in at the end of the convoy.
Quickly, the passengers moved from the JVC into the cars. A police officer returned Hess's pistol. "Please don't load it until you get in the vehicle," he said.
"The drive down was nerve-racking," Lisa Hill recalled. "We thought about Brian's kids, about my 84-year-old mother, who lives with me. About what if something happened to us." They passed Margaret Anderson's SUV and the suspect's Impala. Hill realized how close the scene was to Paradise. How she would have been standing there in the open when the shooter arrived. She thought about how Anderson had risked her life to keep that from happening.
"Keep your eyes peeled on the ridges," Hess told her. So she did. And she prayed. 
THE FINAL CONVOY OF Paradise visitors exited the park at around 3:30 a.m.
Half an hour later, customs pilot Chris Rosen reported to work in Bellingham. He was eager to get a helicopter down to Rainier at first light. His copilot, Dave Simeur, had navigated the Black Hawk in the previous day's manhunt and thought they'd do better in an AStar helicopter. The AStar is a smaller, nimbler craft, and customs' unit had an infrared camera system.
As the Cascade foothills rushed beneath them, Rosen and Simeur had a discussion about contingencies. "If I get shot," Rosen told his partner, "your only way of knowing might be that the AStar starts acting screwy. Be sure and take the controls."
The pilots checked the shooting site, then moved to nearby campsites. "Our concern was that this guy would find some campers, kill them, and take their gear," Rosen said.
They found two tents on the edge of Reflection Lakes. Infrared sensors turned up two warm bodies in each. Good sign. Rosen hovered above the tents until one of the campers, a Web designer named Brian Vogt, emerged. The pilot tried to communicate via a loudspeaker, but the noise from the blades was too loud. The camper held his hands up in the universal "can't understand" gesture.
Rosen looked around. The only place to land was on the frozen lake, which might not be frozen enough. He couldn't chance it.
"Hand me your coffee cup," Simeur told Rosen.
On both pilots' paper cups, Simeur wrote a message. He poured water into the cups to make sure they didn't fly up into the whirling blades. Then he dropped them.
Vogt raced over to the cups.
"A ranger has been shot," the note said. "Shooter at large. Take road to falls and sheriff. We will keep an eye on you. Do not drive from Paradise w/o armed escort."
Vogt gave a thumbs-up. He began breaking camp.
AT 9:30 A.M. ON January 2, three SWAT teams moved east on foot from the Paradise road. Two Pierce County units had followed Barnes' posthole tracks for about 200 yards before coming within sight of the berms sloping into the Paradise River. They held their position while the AStar overflew the river. No sign of the shooter.
The SWAT teams proceeded ahead. As the river itself came into view, someone spotted a piece of blue clothing in the water. He called out. "Suspect." Everyone froze. They radioed their location to the chopper.
Rosen hovered over the site. His copilot ran the infrared camera up and down the river. Any warm-blooded life would show up as a white blotch. "Man, there is nothing hot in that riverbed," said Simeur.
"We're not getting any clear signature," Rosen radioed the ground team. "Whatever is in that river is cold."
The SWAT team approached cautiously. One by one, they peered over the snowbank into the river. A body, facedown in the shallow riffles. Like a rock in the stream. White male, gray pants, blue T-shirt, one sneaker missing. No bullet wound. If this was the shooter, the mountain alone had killed him.
About 50 yards upstream, an AR-15 assault rifle rested under a few inches of water. In the front pocket of the man's pants was a Glock .45 magazine. In his back pocket, a cell phone minus its battery pack. Barnes knew enough to disable the tracking abilities of his phone.
Barnes' body was about 250 yards from where the tracker had predicted he would be found—and less than 100 yards from the Narada Falls trailhead, where Brian Vogt's group was headed and where Robert Conrad's campers had exited the previous afternoon.
As they documented the scene, one of the deputies pulled the collar of the suspect's shirt down to expose his neck. He saw a word tattooed on his skin: PRIDE.
MARGARET ANDERSON RECEIVED A hero's funeral. Thousands of family members, friends, and law-enforcement officers packed the Olson Auditorium on the campus of Pacific Lutheran University in Tacoma. Interior Secretary Ken Salazar, Washington State Governor Christine Gregoire, National Park Service Director Jon Jarvis, and Randy King delivered tributes.
"Find yourself on Mount Rainier injured, lost, or threatened, Margaret Anderson would help," King said. "Find the park threatened, she would intervene."
Rob Danno, Anderson's first boss at Bryce Canyon National Park, recalled her extraordinary integrity and character, "her internal compass." Rangers wearing crisp uniforms ceremonially folded an American flag. Interior Secretary Salazar presented it to Eric Anderson, sitting in the front row.
Mount Rainier National Park remained closed for five days. When it reopened, visitors poured in to offer flowers, cards, and sympathy. Some employees couldn't bring themselves to return to work for days and weeks, and rangers from Olympic, North Cascades, Glacier, and other national parks volunteered to fill in. For weeks, Rainier officials held a daily call-in session for staff to talk over their recovery.
Still, the park has not been the same for many of those who punch in every morning. Something will come up during a conversation, the talk will turn to Anderson, and every-one will go silent. Some rangers have a hard time sleeping. One keeps a book, Emotional Survival for Law Enforcement, next to his desk. Others have considered transfers, wondering if the best way to put New Year's Day behind them is to put the mountain in their rearview mirror.
Time heals. It can also bring fresh trauma. On June 21, climbing ranger Nick Hall died during a rescue mission on the mountain's Emmons Glacier. The memorials continue.
ERIC ANDERSON AND HIS daughters will be dealing with January 1 for the rest of their lives. I reached him in early May, four months after his wife was killed. He was, understandably, still torn up. And angry. He believes the New Year's Day shooting was an incident that had been long coming—and that the park's law-enforcement unit was unprepared for.
"There's a lot of disturbed people out there who see this mountain shining at them," he told me. "How long before some nut says, 'I can go to that mountain and slay a shitload of people and be on the news in a matter of minutes'? We're close enough to the metro area. There are plenty of opportunities to run into any type of crime."
"In terms of law enforcement, we were stretched way too thin and have been for years," Anderson said.
Compassion demands that his complaint be heard. And the Park Service is listening. In May, a board of review heard his testimony, along with others', as part of an effort to determine how to prevent similar incidents.
It's a dicey thing, discussing the murder of a ranger in the context of staffing and training. It is true that Randy King, like other park superintendents, is expecting more cuts to his budget this year. Do more with less: it's become a standard marching order in a service perennially starved by Congress. In 1980, the Park Service employed 1,841 full-time rangers to protect 220 million annual visitors. By 2010, the number of rangers had declined to 1,417—a loss of nearly a quarter of the force—while visits surged to 281 million.
Hiring more law-enforcement rangers and giving them sufficient tools would make our parks safer. But a malevolent individual like Benjamin Barnes is a bolt from the sky. Anyone with a gun, ill will, and the element of surprise can murder a law-enforcement officer. Better training and backup do not give a ranger the power to read minds or predict the future.
"We still don't know what Barnes was going to do up there," Pierce County detective Ed Troyer told me. "Kill himself? Take people out? Go survivalist and hide? The only person who knows what he was going to do was him. If Margaret Anderson hadn't stopped him, who knows what would have happened. What we do know is, he had the means and ammunition to kill a lot of people."
Anderson and his daughters will be leaving the mountain soon. The Park Service has found him a posting at the National Interagency Fire Center in Idaho. The former firefighter will work as a training specialist in structural fires. "The Park Service has been trying to do well by me," he said. He sounded genuinely appreciative.
I wish I had your job. Rangers hear it so often, it's like white noise. While most of us understand the drawbacks—low pay, working holidays, bureaucratic hassles—we still have a pang of envy when we see a ranger out on the trail on a bluebird day. What a life!
It is all that, some days. And most rangers join the National Park Service for the same reasons the rest of us visit them. They love the scenic beauty, the chance to work outdoors, the sense of positive mission. But they also absorb the bad acts that go on in the parks. They seek the negative so the rest of us can pitch our tents and hike in our snowshoes without having to worry about who's driving past the tire-chain checkpoint. Rangers see those glaciers and old-growth forests stained with violence, with ugliness and tragedy and loss. They absorb it, they deflect it, they capture it. Rangers like Margaret Anderson run to it and stand in its path.