Drill, Baby, Drill
Project Angel Thunder is the largest search-and-rescue exercise in the world, involving 1,700 pilots, commandos, and recovery specialists training in the wilds of Arizona and New Mexico to save your ass in some impossibly bad situations. Embed Brian Mockenhaupt discovers that while the scenarios are pure fiction, the game is deadly serious.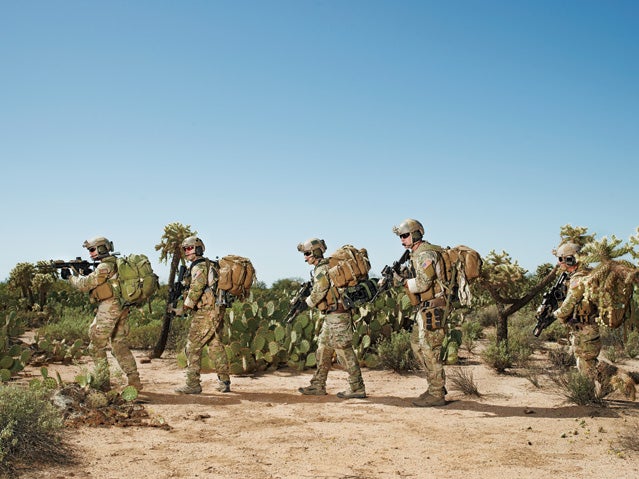 Bryce Duffy
Heading out the door? Read this article on the new Outside+ app available now on iOS devices for members! Download the app.
AS THE MORNING SUN creeps over a distant ridge, Charles Ray, America's ambassador to Valsura, picks his way down a rocky hillside and into a dry creek bed to wait for his rescuers. He has chosen the wrong shoes for a desert excursion—black leather oxfords—but this makes sense. He didn't plan on being out here, stranded amid the saguaro cactuses and tumbleweeds.
Aid worker

Tending to a participant playing an injured U.S. aid worker
Brett Hartnett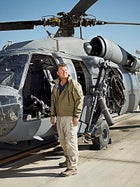 Brett Hartnett, founder of Angel Thunder
Solider

Delivering a survivor to safety
Landing

Landing in Arizona's Apache National Forest
Charles Ray

Charles Ray. U.S. "ambassador" to Valsura, after the crash
Tent city

Tent city at Davis-Monthan Air Force Base
Pararescuemen
Pararescuemen aboard a Chinook
The nation of Valsura, ravaged by an earthquake and flooding, has requested humanitarian aid from the United States, which puts Ray, as the State Department's chief of mission, in charge of the relief effort. For an aerial tour of the disaster area, he brought along the press—me. But our two helicopters flew into a sandstorm and drifted onto the border of Sotostan, Valsura's reclusive neighbor and longtime adversary. Considering these targets of opportunity, the Sotostan military shot down both helicopters. I'm uninjured, as is our copilot. Ray has internal bleeding. Everyone else on the two aircraft—pilots and crew members—is dead. The U.S. embassy reports the ambassador overdue, and the Air Force launches a rescue effort.
We hear them now. Rotors thump on the horizon, and we see two gray HH-60G Pave Hawk helicopters flying toward us, low over the desert. Ray stretches out in the dirt, a hand clutching his injured abdomen. One helicopter breaks off and circles several hundred feet overhead, the two door gunners scanning for threats. The other lands 100 feet away, covering us in a brown wave of dust and bits of scrub brush.
Two pararescuemen, Technical Sergeant Arthur Kakis and Staff Sergeant Tyler Boyer, hop from the helicopter and move toward us, rifles raised. They are among the hardest, most skilled products of the U.S. military: paramedics who can free-fall, scuba-dive, rock-climb, and fight their way to anyone stranded on a battlefield, an ocean, a mountainside, or a nasty backwater anywhere around the world.
"Mr. Ambassador," Kakis says, "can you walk?"
Ray groans and winces when Kakis touches his belly, which is colored purple and black. Kakis and Boyer roll him onto a collapsible stretcher. "You're going to help carry him," Kakis tells me.
Bodies bent against the rotor wash, we load Ray into the helicopter, an aerial ambulance with a ventilator, a heart-rate monitor, a defibrillator, and two .50-caliber machine guns poking out the sides. After a 10-minute flight, we bank hard and land. Kakis whips open the sliding door, and I see an HC-130P rescue plane on a dirt airstrip. We transfer Ray into the plane's empty bay, and a critical-care team straps down the stretcher and slips an oxygen mask over his face. The pilot guns the engines and we roar into the air, landing at a fenced-off, guarded cluster of beige tents that looks just like a forward operating base in Iraq or Afghanistan.
In an air-conditioned tent, doctors examine us, then a reintegration team takes us through the same process used to debrief freed prisoners of war, crash survivors, and rescued hostages. An intel officer quizzes us for details of the attack. A survival specialist asks how we responded during and after the crash. Finally, a psychologist wants to know how we're coping.
"I don't have time for talking about my feelings," says Ray. "Citizens are missing. The president is on the phone." He steps outside, where America's newest overseas crisis is heating up fast.
"THIS IS LIKE PUTTING ON an elaborate theatrical production," says Brett Hartnett, the 51-year-old retired combat rescue helicopter pilot who founded Angel Thunder, the world's largest search-and-rescue exercise. And the stage is enormous, a 40,000-square-mile swath of central and southern Arizona and southwestern New Mexico that morphed last October into the fictional countries of Valsura, Sotostan, and Diyeme. For two weeks, a coalition of more than 1,700 pilots, commandos, rescue specialists, and law-enforcement agents from nine countries ran more than 350 simulated missions, honing the kinds of skills that can save your ass in some impossibly bad situations. If your climbing expedition in Pakistan or your kayaking trip in the Congo turns sour and you're rolled up by bandits and held for ransom? Some of these guys may come looking for you.
The Air Force started training rescue specialists during World War II, with the primary mission of retrieving its own downed fliers. Recently, the mission has broadened considerably. The military can quickly deploy just about anywhere on earth, which has the side benefit of building goodwill. Rescuing earthquake victims in Pakistan and ferrying relief supplies to tsunami survivors in Southeast Asia shows a softer side of American might—something of a counterbalance to images of troops kicking down doors or of rubble from aerial drone strikes. And while few pilots are captured or stranded behind enemy lines these days, plenty of others are. Aid workers held in Pakistan. Tourists kidnapped in Yemen. Ship crews ransomed by Somali pirates in the Indian Ocean. Washington has an obligation, by presidential directive, to help Americans taken captive or stranded in hostile countries while working for the U.S. government. In practice, this usually extends to any American in trouble.
The responsibility hasn't always translated into quick and effective response—even when disasters take place on American soil. Think Katrina. After military, federal, state, and local agencies finally mobilized and descended on the flooded New Orleans area, no one knew who was in charge, exacerbating an already dire situation. "It was a mess," says Hartnett, who helped plan Air Force rescues after the storm. "There was no command-and-control system. You almost have to force agencies to work with each other."
Complications only increase when rescue scenarios take place abroad. If the U.S. government evacuates any personnel because of political unrest or natural disaster, it must offer evacuation to every U.S. citizen in that country, which can cause an operation to balloon in size. And if the probability of violence rises, the diplomatic stakes ratchet far higher. Should the crisis be handled through diplomacy or force? Can the local government stage a rescue or finagle the hostages' release?
"If you haven't thought about it beforehand, when the crisis happens you're at absolute zero," says Ray, 67, who in real life is the U.S. ambassador to Zimbabwe and was a Green Beret in Vietnam. "It's like buying fire insurance after your house burns down."
The annual Angel Thunder, organized and paid for by the U.S. Air Force and first held in 2006, in the wake of Katrina, is designed to hardwire America's crisis response. Prior to Angel Thunder, combat search and rescue had mostly been folded into other military training exercises, which meant it was often treated as an after-thought. Here it's the sole focus, and it's Hartnett's job to bring the whole event to life. Like many of the organizers, he can draw from an impressive amount of real-world experience. In 2003, Hartnett evacuated U.S. citizens from Liberia; he has pulled injured hunters out of the Alaskan wilderness; and he commanded an Air Force rescue detachment in Afghanistan, where he also flew close to a hundred medevac missions.
Still, re-creating those situations in a training scenario is tricky. Search-and-rescue missions are reactive, with just hours or less to plan and new information constantly flooding in. Angel Thunder must be tightly choreographed for safety—helicopters, jet fighters, refueling tankers, and civilian planes all share the same airspace—yet it must feel seat-of-the-pants believable to its most experienced participants. By the time it commences, Hartnett and his team of a half-dozen organizers have spent months working out Angel Thunder's logistics, locating the best areas to conduct missions, coordinating with local law enforcement, and writing the elaborate script, based on actual events, that makes it all seem real.
By contrast, nearly all of the participants arrive at Davis-Monthan Air Force Base in Tucson knowing almost nothing about what will unfold. Drawn mostly from U.S. military units, this year's Angel Thunder cast members also include Swedish K-9 teams, French pilots, Canadian medics, Colombian special forces, and U.S. Drug Enforcement and Border Patrol agents—a diverse crew that resembles a true-to-life coalition. As they're deploying to Valsura, they're told only that they will be conducting humanitarian operations but to be ready for any contingency. For two weeks, they'll run round-the-clock missions and catch naps in some of the base's two dozen tan Quonset-hut-shaped tents. If they forget to bring a critical piece of equipment or are unfamiliar with the skill sets of the other agencies in their coalition, too bad. Learning how to troubleshoot on the fly is the whole point.
"You know it's going to be a pickup game," says Air Force colonel Jason Hanover, commander of the 563rd Rescue Group in Tucson—and commander of the fictional task force deployed to Valsura—"but you hope it will be a team of guys you've played with before and you're not just standing on the playground looking at each other."
On day one, October 9, several hundred pilots, commandos, and medics crowd into an auditorium at Davis-Monthan, and Colonel Hanover steps onto the stage. "As of right now, we're deployed to Valsura," he says. His team then receives an exhausting intel dump: A tropical storm has caused massive flooding across central Valsura, and an 8.9-magnitude earthquake has destroyed thousands of homes. The death toll is 500 and climbing fast. Hundreds are missing, including some of the 10,000 Americans living and working in Valsura. Sotostan has activated army units along the Valsuran border, supposedly for humanitarian relief. But Valsura and Sotostan fought a vicious war in the 1980s and have since had ongoing border disputes, so the troop movements may signal an imminent attack. To the south, the main threat is the Valsuran Liberation Group, linked to insurgents and drug runners in Diyeme, Valsura's eastern neighbor. They may use the crisis to foment trouble.
And with that, the game is on.
ANGEL THUNDER BEGINS to sputter in a matter of hours. Before rescue crews can be sent to search for flood and earthquake survivors, communication glitches derail the coalition. The primary and backup systems falter. Too little bandwidth and too much demand gridlocks the Rescue Operations Center—a tent packed with computers, phones, and radios—and mission planners can't talk to some of their aircrews because of mismatched frequency encryption. Soon, however, the bugs are fixed, the network is running smoothly, and airplane and helicopter crews are finally dispatched to scour the remote and ravaged corners of Valsura.
Hartnett says none of these hiccups are planned, just like the inevitable problems during real-world missions, and he's pleased with the coalition's stumble and recovery. "Things going wrong is actually good. It forces you to find solutions," he says. "If nothing had gone wrong, they wouldn't have learned as much."
We're standing in a tent, off-limits to Angel Thunder participants, at the edge of the fenced-off compound. Phones ring, radios chirp, and several video screens show a steady stream of email and instant messages. Hartnett introduces me to some of his team, the 18 Air Force personnel and civilian contractors that form the Joint Exercise Control Group, known simply as the white cell. These are the puppet masters. Throughout Angel Thunder, they push a constant stream of information to the ROC through instant messages, email, and phone calls. It's up to the participants to winnow the extraneous from the pertinent. The president declaring further support for the Valsuran government doesn't matter. An 8.0 aftershock or aerial photos of missile batteries on the Sotostan border do. To gather details and plan missions, the coalition can contact other U.S. and Valsuran agencies, played by the white cell. The calls ring to a table with 14 phones, each representing a different group—from the U.S. embassy in Valsura and higher command in Washington, D.C., to the Valsuran government and the local hospital.
The Valsuran Air Force phone rings, and I listen as white-cell member Yonel Dorelis, a retired combat rescue pilot, answers. The coalition wants permission to fly through restricted airspace. "What rank are you?" he asks the caller, a lieutenant colonel.
"I only talk to colonels and above," Dorelis says and hangs up the phone.
Answers like this force participants to clear the sort of obstacles they would face in a real crisis, but they can also be used to slow the tempo, keeping the exercise on schedule, or to work around scenarios the white cell hadn't foreseen. Maybe the rescue crews want to do an unplanned, last-minute night jump. Rather than break the realism and tell them Angel Thunder's organizers haven't done the background logistics for that, a member of the white cell might say that the Valsuran prime minister's wife's rose gardens are in the area and they can't risk jumpers landing in them—just the sort of ridiculousness planners have dealt with in real-world missions.
"That's how we steer them in the right direction to do our bidding," says Major Chris Escajeda, another combat rescue pilot working for the white cell.
A few minutes later, Major Andy Smith, just beginning his 12-hour shift running the white cell, calls the ROC to initiate the next training scenario. "This is Major Smith at the defense attaché's office. We got a call from USAID," he says, referring to the United States Agency for International Development. "We have 10 missing folks out there, and we're wondering if you can do some aerial search?"
JUST BEFORE DAWN on October 11, I join 70 Air Force Reserve Officer Training Corps candidates from local universities who are being scattered to a half-dozen remote sites across central and southern Arizona. They're playing American aid workers injured and stranded by the earthquake and flooding. I'll be a journalist who had been with them covering relief efforts. We're flown by helicopter into the mountains of the Tonto and Apache-Sitgreaves national forests, toward the New Mexico state line, and dropped off in a meadow just before sunrise. We're each assigned injuries. Mine is minor: a busted ankle. I climb up a wooded hillside and prop myself against a tree charred in wildfires several months earlier and wait for rescue.
A half-hour later, an HC-130P passes high overhead, and five pararescue jumpers leap out and float into the meadow under olive drab parachute canopies. The PJ who finds me splints my ankle and, for the pain, gives me a bubblegum Dum-Dum, simulating the fentanyl lollipop he'd actually be carrying. I follow him to a casualty collection point, at the meadow's edge, where we load into a massive twin-rotor Chinook helicopter flown by the Singapore Air Force.
Kakis, the PJ I'll see again when he rescues me and the ambassador after the helicopter shoot-down, squats beside me and works on Alex Travers, a cadet playing a survivor with a collapsed lung and blood filling his chest cavity. Kakis prepares a chest tube and stops just short of slicing a hole between Travers' ribs. But he does give him a real IV. The helicopter shakes and bounces so much that I have trouble writing legibly in my notebook, but Kakis slips a needle into Travers' arm, perfect on the first try. Meanwhile, at seven other sites across Arizona, more PJ teams are picking up survivors and ferrying them to our mutual destination, the University of Arizona Medical Center in Tucson. The hospital has posted signs for its more than 400 real patients reassuring them that the moaning people with blood-soaked uniforms are just pretending.
The next morning, day five, the coalition has far bigger problems when the U.S. embassy calls, via the white cell, to report Ambassador Ray's helicopter overdue. The discovery that he has been shot down initiates the war-games portion of Angel Thunder. For the next five days, fighter jets will bomb missile batteries and troop formations in Sotostan, dropping real ordnance on an Air Force bombing range southwest of Phoenix. Planes are shot down and rescues launched. For one, the PJs use their high-angle skills to snatch a dummy pilot hanging by parachute from a cliff face. For another, a team of commandos searching for a downed pilot walks into a fake minefield, triggering an additional rescue mission.
Through it all, the ROC is in constant activity, day and night, with a steady hum of radio transmissions and phone calls as task force members launch missions, listen to them unfold, or catch quick naps back in their tents. As a soldier and then a journalist, I've spent many hours in real operations centers across Iraq and Afghanistan, and the tone here matches them exactly.
Finally, by October 17, the coalition has destroyed most of Sotostan's air defenses along the border. The president announces an end to the bombing campaign, just in time for the chaos to spread into Diyeme to the east. Insurgents harboring there are causing too many problems in Valsura, which cues my next acting role.
WERE THIS NOT an exercise, I'd be the world's unluckiest journalist: trapped by an earthquake and flooding, shot down while touring the disaster areas, and now, to end my trip to Valsura, kidnapped by drug-running insurgents and hustled across the border to a mountain hideout in Diyeme.
With my fellow hostages, Air Force staff sergeants Robert Little and Joseph Wheeler, who play the aid workers with whom I've been traveling, I'm led through a mud-brick village similar to dozens of villages I've walked through before as an embedded reporter with Marine units in Afghanistan. Our captors are preparing an ambush for the team coming to rescue us, and the cluster of buildings gives the defenders a strong advantage, with myriad doorways, windows, and rooftops from which to shoot and then hide. Made of pressed-earth bricks like those used in many parts of the Middle East, the village has 120 rooms linked by narrow alleyways and surrounded by a mile of mud walls—part of the sprawling Playas Training and Research Center in a desolate corner of southwestern New Mexico. In 2004, the New Mexico Institute of Mining and Technology, which specializes in explosives research and testing, purchased the defunct company town of Playas and transformed it into a counterterrorism playground.
Our captors are played by soldiers from the 158th Infantry Regiment of the Arizona National Guard. They wear mismatched bits of military uniforms and civilian and Afghan clothing. Several have checkered kaffiyeh scarves wrapped around their heads. Other villagers, like the young woman walking toward us in an alleyway, are students from the University of New Mexico, paid for a few days of role-playing. She flashes a smile and pulls up her outer robe, revealing a suicide vest.
We're led into a low-ceilinged, windowless room, its floors and walls decorated with Middle Eastern rugs and tapestries. The insurgents flex-cuff our wrists and bind our ankles with duct tape. We've already been given our injuries. Using wax putty, makeup, and fake blood, an airman has put a gruesome gunshot wound on my right forearm, a long gash on Wheeler's head, and lacerations and deep bruises on Little's shoulders, as though he's been tortured. We look the part, save for our helmets and face masks, worn to protect us from the wax bullets, which fly at 600 feet per second, twice as fast as paintball pellets, and can easily puncture an eye. Our captors leave us in the room. They roll shut the metal gate to our small compound, and I hear them shove fresh magazines into their rifles.
Minutes later, an explosion thunders in the warren of streets outside, and the villagers scream. The insurgents have hit our would-be rescuers with an improvised explosive device as they entered the village. "Game on!" a soldier yells, followed by the tic-tic-tic-tic of M-4 rifles firing rounds.
Shouts carry through the village, the ground shakes with another deep boom from a simulated insurgent bomb, and an A-10 attack jet screams overhead, a hundred feet above the rooftops. The rescue team lobs a real teargas grenade (an accident, it is later revealed), and we hear the insurgents, somewhere in the village, curse, spit, and dry-heave. I try to sketch a mental image of what is unfolding outside, but the voices and noises blend into a chaotic din, giving me the smallest hint of the sensory deprivation and utter impotence a hostage must feel.
The rescue team fights through the town, killing and capturing insurgents and checking each compound and room, searching for us. Again we hear hacking, swearing, and gagging. More teargas. "Get down! Do it now!" an agent shouts. "Show me your hands!" Never mind that a Diyeme insurgent wouldn't understand him shouting in English—a pointed rifle barrel conveys a rather universal message. Thirty minutes after the gunfight started, the agents toss a grenade simulator into our courtyard. I can feel the boom in my chest.
"Bravo team, move!" an agent says. We hear the team storm into the courtyard, and we start shouting.
"Help!" I yell. "Help! We're in here!"
The agents throw open the door and rush inside, rifles pointed at us. We raise our cuffed hands. "Don't shoot!" Little says. "Don't shoot!"
They free our wrists and ankles and check our names against the information they were given. A rescuer loops a tourniquet around my right biceps and treats Little and Wheeler. They herd us through the courtyard and into an alleyway, where they have commandeered a beat-up white minivan. The driver guns the engine, and we race around the back side of the village and cram into an armored vehicle. We speed away from the village and bounce along a dust-choked road to Playas, where an agent tosses a green smoke grenade into a neighborhood intersection to mark the landing zone for a rescue helicopter, which settles onto the street, its rotor wash pelting us with a wave of sand and gravel. Little, Wheeler, and I cram into the back, already crowded with four PJs. We rise over the houses of Playas, the old bowling alley, the baseball field, and the bank, and into the desert.
A few weeks from now, in November, Somali gunmen will kidnap Jessica Buchanan, an American working for a Danish aid group, and will hold her and a colleague at a remote camp for three months. They'll be rescued in a late-night raid in January by airborne U.S. special-operations forces, some of whom are participating in Angel Thunder. Maybe these same men squeezed around me, dozing, in a tangle of legs, rifles, and backpacks.
I stare out the window, lulled by the whine of the engine, and I imagine the overwhelming relief I might feel had these men just pulled me from the battlefield or a cliff face, a capsized boat or an insurgent hideout. Lucky for me, my doomed assignment is finished. I may see these men again someday, but I'd rather not.