Feasting in the Forest
David Page gets a crash course in foraging and learns to appreciate nature's bounty (and the flavor of a good fire-roasted grasshopper) along the way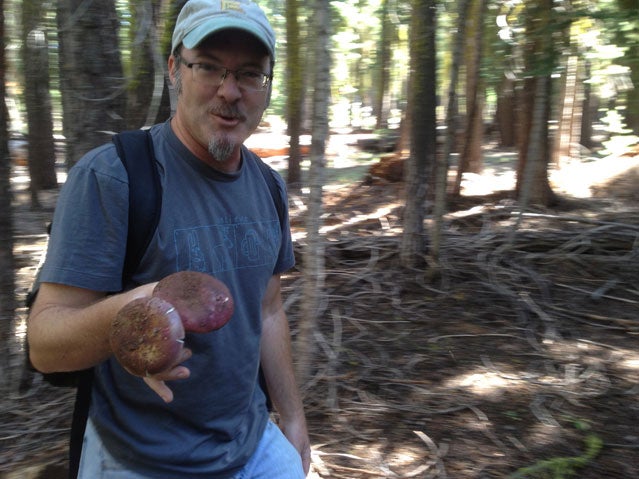 David Page(Photo)
Heading out the door? Read this article on the new Outside+ app available now on iOS devices for members! Download the app.
One late summer morning in the forest above Lake Tahoe, with the sun blazing and the traffic rushing by on U.S. Highway 50, I find myself crunching through dry pine-needle duff looking for wild mushrooms. Of mushrooms I know only that they come sliced or whole in my local supermarket, brown (which somehow hints of the wild and is more expensive) or white; that a particular hallucinogenic variety can be obtained on the black market for recreational purposes; and that a high percentage of those that grow in the wild will either make you very sick or kill you dead.

Paiute Historical Officer Raymond Andrews.

Farrell Cunningham explains how to harvest wild rye.

Basket of gooseberries.

Page's grasshopper ramen.
Luckily, I have as my guide on this virginal foraging expedition a jolly fellow by the name of Hank Shaw, who knows mushrooms. In this glittering age of industrial agriculture and packaged food, Shaw has made a name for himself writing about what he calls "the forgotten feast," publishing high-art recipes for the preparation, eating, and enjoyment of things like cardoons, yucca flowers, oyster toads, and squirrels—stuff that most folks don't think of as food, or think of at all.
With us is his friend Joel Martyn, a Lutheran pastor from South Lake Tahoe. He's a big man with a thin beard and tattoos up and down both arms. He carries a large holstered Buck knife in his camo backpack. One of his Facebook profile pictures shows him on his knees beside a 6-point bull elk he's just killed with a bow and arrow. "We try to forage and hunt what we can," he says of his family. "It's free, it's healthy, and it's fun for the kids."
Shaw has received vague intelligence from a local friend who claims to have bagged five pounds of boletes a few days prior. We zig-zag off-trail through the lodgepoles, looking for little pushed-up mounds of duff— "shrumps," as these gentlemen call them— beneath which lurk either cool, fresh, edible mushrooms or piles of rotted, fungal material that Shaw compares to sticking one's hand into cold deer guts or diarrhea.
"It's good habitat," says Shaw, kicking at the dirt, "but it's dry. Crunchy-crunchy." He talks about how professional mushroom hunters lie about their finds. In a few weeks, he says, when the season gets going, you might catch a fleeting glimpse of one through the trees, like Sasquatch with a square backpack specially designed to keep the precious porcini buttons from getting crushed. The good stuff goes for upwards of $45 a pound.
We find a few shriveled but deadly corts, a classic Alice in Wonderland spotted fly agaric toadstool, and something that might once have been a bolete but has long since been mutilated by squirrels or insects or time. Shaw and Martyn handle everything with bare hands, which is shocking to me: I've always been afraid to touch unknown wild mushrooms for fear of poisoning. They look at me with the kind of pity reserved for the feeble of mind.
We find a child's ski glove, a plastic bottle, and an old tire. We find an imperfect shrimp russula ("tastes like shrimp," Shaw explains), a red russula ("of the lose your lunch bunch"), a pair of golf ball mushrooms ("you gotta cook 'em a long time to make 'em tender"), and a gigantic russula of another sort that Shaw says the Russians are willing to eat "after salting the hell out of 'em."
Along the way, especially beside the road where they have been thoroughly sprayed with exhaust, heavy metals, and who knows what else, Shaw points out other potentially forageable plants, like cow parsnip, oyster plant, elderflower, and chinquapin, a kind of acorn once highly prized by the local Indians. "There's a huge category of forageable stuff that's small and fiddlesome that I just don't deal with," he says in reference to this last. Starch is the hardest thing for foragers "unless you're willing to spend an inordinate amount of time grinding acorns.
Martyn crashes through a thicket of alder along what must in the springtime be a course for snowmelt, and disappears on the other side. We follow, pushing through the branches and balancing our way across on a fallen log. Out the other side, Shaw drops to his knees before a pair of definitive shrimp russula. "Shrimpy," he says. "No doubt about it." He cuts each one off at the base of its stem with his knife and brushes it clean. Then he stows them in a paper bag to be transported home, sautéed in butter, and eaten.
Later, after scouting the burgeoning gooseberry crop up a side canyon across the highway, my appetite fairly whetted by two thin, minty leaves of pennyroyal and two small, sweet currants, I head down to South Lake Tahoe for a slab of meatloaf and gravy.
WHEN MESSRS. BREWER AND Hoffman of the first California Geological Survey rode down from Yosemite to the salt-rimmed shores of Mono Lake in July of 1863 by way of a trail so steep and strewn with the carcasses of dead horses that it was then, and is still today, known as Bloody Canyon, they found Indians on the beach harvesting piles of alkali fly larvae. Brewer, who was a botanist and would later become professor and first Chair of Agriculture at Yale (and was much more interested in the quality of imported European grapes and pears than in the abundance of native berries and nuts), called them "worms." He described how the locals dried the larvae in the sun, how they rubbed off the shells to expose the oily kernel within—"like a small yellow grain of rice." They called it kutsavi, and were in turn called Kutzadika'a, or "people who eat flies."
Brewer tried some. "It does not taste bad," he wrote, "and if one were ignorant of its origin, it would make fine soup."
Mark Twain visited the place a few years later and eventually made the following observation in his wildly popular book Roughing It: "All things have their uses and their part and proper place in Nature's economy: the ducks eat the flies—the flies eat the worms—the Indians eat all three—the wild cats eat the Indians—the white folks eat the wild cats—and thus all things are lovely."
And thus has been lost to us—to most of us, anyway—an enormous amount of practical knowledge about our natural surroundings. Now, at a time when everything from Sappho and Pythagoras to the complete opus of Lady Gaga are accessible in digital format by way of the Internet, knowledge about edible or otherwise useful wild plants and insects seems as arcane as, say, the morphology of the Xyzyl language of southern Siberia. But the knowledge is out there, if you dig a little, deep in the ever expanding archives of YouTube and the blogosphere, in a range of field guides and cookbooks of varying utility, and in the minds of a handful of knowledgeable folks out in the field.
These days, the most powerful cautionary tale for those who would strive to learn the seemingly impenetrable lore of nature's bounty is that of Christopher McCandless, as told by Jon Krakauer, first in the pages of Outside magazine, then in his book Into the Wild, and then retold by Sean Penn in his movie of the same name. In these versions, the young romantic attempts to live by his wits deep in the Alaskan bush with the aide of a book on local flora, but ends up dead in his sleeping bag from having mistaken a poisonous plant for a good one.
In the opening section of his definitive guide to foraging, Nature's Garden, Samuel Thayer makes a roundly convincing case that this is pure fiction. What killed McCandless was the same thing that killed Robert Falcon Scott and his men on their way back from the South Pole in 1912: lack of calories. There are plenty of poison plants out there to be sure, but with patience and diligence and proper methodology, he argues, they can be avoided.
"We have sought, developed, cultivated, and become accustomed to calorie-dense foods for so long," Thayer writes, "that most of us have never been without them. When you realize that a stick of butter has as many calories as two and a half quarts of blueberries or seven pounds of broccoli, you can see why the innate human desire for calorie-rich, low-fiber food developed."
THE DAY AFTER MY first mushroom hunt, having slept soundly in the back of the family Honda beside Interstate 80 and then gorged on a pile of scrambled eggs and ham at a classic diner in downtown Truckee, I am wading into a sea of wild rye in the Bear River Valley with Alicia Funk and her friend and mentor, Farrell Cunningham. The way she tells it, Funk first got interested in native plants by way of an indigenous grandmother she once stayed with in the Ecuadorian rainforest. She's since edited a number of books on medicinal plants and co-authored a handsome and practical volume entitled Living Wild: Gardening, Cooking and Healing with the Native Plants of the Sierra Nevada. But, she says, she learned most of what she knows about local traditional ecology from Cunningham.
Cunningham is a member of the Mountain Maidu tribe, one of a handful remaining who can still speak the language fluently. He grew up, as he puts it, pointing to the northeast, toward the headwaters of the Yuba, "just over those mountains." He wears loose-fitting khaki trousers, a dark blue linen button-down and a black fedora with a feather in its band. He could be a young Romani headman in the south of France.
"Most everything, if it's good, is not a lot of work," he explains. Cunningham demonstrates how when the rye kernels are ready (which they are not quite yet), they can be harvested into a basket with an easy sweep of a stick. He points out a well-shaded rock outcropping in the middle of the field, riddled with grinding holes where the women of the tribe once made basket-parched rye flour.
The gooseberries are ripe and ready and indeed fall off into Funk's basket with the slightest tap. They are a spiky fruit, well protected from birds and squirrels and other foraging animals less deft than humans. Cunningham takes one carefully between his fingers, cuts it open with his knife, and hands it to me. I peel back the skin as best I can in order to get my teeth into its sweet, juicy meat without piercing my lips. The flavor is fabulous, like some exotic blend of kiwi, mango, guava and lime.
The meadow here is a kind of paradise, a historic grazing stopover for early pioneers on the Emigrant Trail. Owned by the Pacific Gas & Electric Company for most of the 20th century, the valley, hemmed in by two busy highways and traversed by high-tension lines from a dam and powerhouse upstream, is now set to be divested by the utility under the terms of a decade-old bankruptcy proceeding. Cunningham is working to have the Maidu tribe written into the final agreement as contractual advisors on the ecological management of the valley. In the meantime, stock grazing is no longer allowed, and the meadow fairly teems with oaks, sugar pines, sunflowers, mountain wasabi, Indian tobacco, elderberries, serviceberries, chokecherries and manzanita. There's yarrow, a natural antiseptic, and soaproot too, which is apparently a good remedy for poison oak, and can be crushed into a dammed-up section of stream in order to suffocate and harvest fish. There's also an abundance of deer and squirrels and rabbits. For the first time, I can begin to get my head around how a group of people with the right knowledge and skills could live here comfortably, in a place like this, gambling and telling jokes and eating their fill from what the land provides.
Cunningham steps around a fresh pile of bear scat, full of processed manzanita berries. He points out a little clearing in the grass, in the center of which the ground has been charred slightly. Last week he was here showing students the traditional method of cooking grasshoppers. You make a little pile of dry grass, light it on fire, and throw the hoppers onto the blaze, he explains. The bug's instinct is to burrow down to get away from the fire. The fire dies quickly, leaving in the warm ashes a delicious quantity of rye-toasted, protein-rich grasshoppers.
"Mostly the kids love to catch them," he says. And then he reaches out and grabs one. Just like that. He holds it by its wings. "You could skewer him and cook him with your lighter too if you wanted." Then he lets him go.
I LIVE IN A ski resort town called Mammoth Lakes on the eastern flank of the Sierra Nevada, more than 100 miles south of Lake Tahoe and 30 miles south of Mono Lake, at the edge of the largest desert in the United States. Our only local supermarket—Vons #2400—is reputed to be that chain's largest grossing store in California, with prices for anything from coffee to butter to Chilean asparagus tending to run more than double the national average. I love the idea that one day my family and I might be able to wean ourselves from our dependence on that store as our sole source of calories. And—perhaps because I've seen a little too much of Africa and Latin America, and/or because I've read too much Cormac McCarthy— it's not hard for me to imagine a time, down the road, when we have no choice but to find an alternative.
People were getting by around here, making art and babies without a grocery store from at least the end of the last Ice Age, more than 10,000 years ago, all the way into the early 20th century. But I keep thinking it must have been more of a struggle around these parts than up in Maidu country. We get about 14 inches of precipitation on an average year, of which nearly 90 percent falls as snow during November to March. I have friends who in some years manage to do a bit of extreme gardening, coaxing a tomato or two and perhaps a handful of tiny strawberries from a well-mulched, copiously watered, south-facing slope. My particular quarter-acre of wind-honed pumice yields white pine, red fir, a not-so-productive variety of manzanita, and some kind of spiky shrub I have yet to identify.
We have a vibrant community of chipmunks, deer mice, Stellar's jays and ground squirrels (two of which have just skittered in and out of the open door to my office). But if Sam Thayer's calculations are correct, I would need more than 16 squirrels—or "eight squirrels, 2 1/4 pounds of roots, and 3 1/4 pounds of berries"—every day. How many more of all that would I need to keep my wife and two growing boys alive and helpful? How many sacks of pinyon nuts? How many grasshoppers and bushels of Pandora moth caterpillars?
"There's an awful lot of food around here if you know what to gather and when to gather it," says Raymond Andrews, walking across the dirt parking lot to one of the official Ford Explorers of the Bishop Paiute Tribe. "But our ancestors were more balanced, and more in tune with their bodies than we are today."
Andrews is the Tribal Historic Preservation Officer, responsible not only for identifying and preserving historical sites on and off the reservation, but also, dauntingly, for preserving traditional Paiute-Shoshone culture—languages, dances, songs, stories, basketry, stringmaking, flintmaking, traditional foods, and medicines—and at the same time working to pass the whole package along to the children. He tells me about a video they made to try to teach the kids how to harvest, use or prepare eight essential items: pine nuts, piaga (caterpillars), dogbane (for string), wye (for starch), willow (for making bows and curing headaches), rosehips (for vitamin C), cattail tenders and watercress.
"You wouldn't happen to have a knife, would you?" he asks, getting into the truck. I don't; clearly I still have a lot to learn. Andrews shrugs it off, turns up the AC, and drives me up and down the washboard gravel roads around the town of Bishop, showing me poison hemlock, sweet sage, stinging nettles. From last year's freshwater clams he shows me the sun-bleached shells, from which, ground up and mixed with wild tobacco, a fellow can make tsogo, a powerful version of wild snuff. He tells me how to make a podo, a digging stick, from a well cured branch of mountain mahogany, and how a tenderfoot might fashion a decent pair of shoes from sagebrush bark.
"As long as you know where water is, and how to rest in the middle of the day, not exerting a lot of energy. If you know how to trap things. And where little animals stay. If you're not afraid to eat insects," he smiles. "You could survive for a while."
AS THE SUMMER GIVES way to the first hint of autumn, my friend Brant and I take our kids for a short backpacking jaunt in the high country adjacent to Yosemite National Park. We've brought with us—for the placation and motivation of the minors—copious amounts of energy bars, dried fruit, salami, and ramen noodles with salty chicken-flavor packets. A hundred yards inside the wilderness boundary, my son Jasper, who has recently attended a week of "Bug Camp," has already caught a grasshopper. "Give it to me," I say. "I'll eat it."
"Really?" says Beckett, the four-year-old, beaming.
All four kids circle around to watch the spectacle. They jump up and down with anticipation. I know better than to examine the thing, or to think about it. I take it by its wings as I've been taught, and pop it into my mouth. It's crunchy at first, then chewy. It takes me a while to locate the mostly familiar earthy flavor of dried mushrooms. And then I swallow. "Not bad," I say, washing it down with water. And really it's not. Though it does make me yearn for a good ripe gooseberry. (Only later will I read that one should always eat grasshoppers well cooked, as they may carry tapeworms.)
By the time we reach our campsite at the end of the day, on a granite-strewn bench at about 11,000 feet, the kids have collected eight or nine of the little hoppers now flitting about in a custom-aerated Ziploc baggie. Brant and I are left no choice but to toast them over the cookstove and sprinkle them over our ramen. Later that night, with the moon rising over the basin to the east and Saturn setting in the west, I will dream about grasshoppers. In the morning I will leave the kids eating instant oatmeal under Brant's supervision, and set off up the nearest peak, gobbling sweet, delicious, wild currants all the way to the summit.
Lead Photo: David Page
Trending on Outside Online