Giving the Gift of Light (and a Cell-Phone Charge)
Outside readers love to lend a hand. Here, a longtime subscriber and former energy executive shows us how to take it to another level.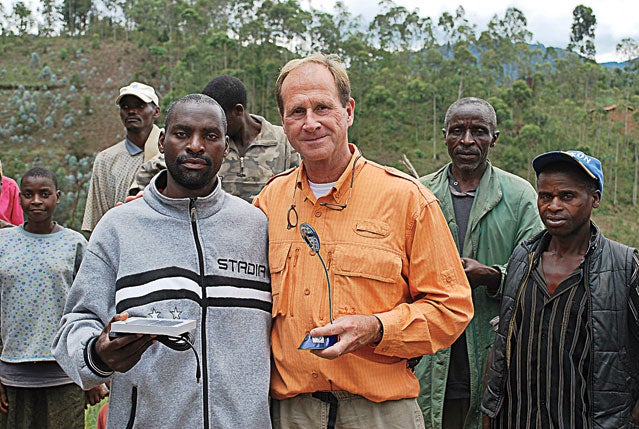 Courtesy of Joe Hale
Heading out the door? Read this article on the new Outside+ app available now on iOS devices for members! Download the app.
Joe Hale could spend his days lying on a beach, but he finds the prospect boring. "Retirement is a selfish act," says the 63-year-old former Duke Energy executive and Nantucket, Massachusetts, resident. "We've spent years amassing skill, and that's too valuable to spend the next 20 years on a golf course." During a 2010 Colorado ski trip, Hale read a story about a Kenyan farmer who had no electricity and traveled six hours to reach a cell-phone charger. So, along with former colleagues, Hale, who ran seven marathons in 2005 to raise money for polio research, looked into it. He found that 1.4 billion people in rural areas have no electricity. Last year he established the Global BrightLight Foundation, which provides solar-powered combination lanterns and cell-phone chargers in off-grid areas. With help from groups like the Wildlife Conservation Society and local volunteers, Hale has run pilot programs in Rwanda and Argentina. Here, he reveals how to make a real impact—and have fun doing it.
KNOW YOUR PURPOSE: "The world doesn't need another non-profit without a unique service. Unless you've got a different twist on an issue, throw your support behind somebody who's already doing it well."
BUILD A TEAM: "There are a lot of things to factor in—fundraising, distribution, travel—and many people know more about those things than you do. Consult with them. Also, local NGOs that provide other services can be very helpful. We team with Eletrobras, Brazil's electricity provider, to help distribute our lanterns near the Amazon."
DO YOUR HOMEWORK: "We conducted surveys to find out what these people use. How much are they spending on wood, candles, and kerosene? Then we had them test two different products. The solar lanterns with built-in cell-phone chargers were the most popular."
CREATE VALUE: "If you're providing something to people, make sure you're selling it. It doesn't have to cost a lot, but skin in the game is important. If a person is invested in something, they value it more. Our lanterns are priced differently in each area, but they generally cost people the amount they would spend on fuel to light their homes for three months." 
REMEMBER TO PLAY: "In Rwanda I hiked among gorillas. In Brazil I swam with pink dolphins and went piranha fishing. If you're someplace helping out and there's a great mountain to climb, go do it. Why not?"
Trending on Outside Online