How can I make an emergency rain shelter with a tarp?
How can I make an emergency rain shelter with a tarp? The Editors Santa Fe, NM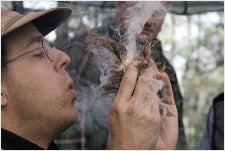 Heading out the door? Read this article on the new Outside+ app available now on iOS devices for members! Download the app.
I rarely use a tent anymore. I almost always use tarps as my primary shelter for both personal camping trips and survival treks. I recommend using a tarp that is at least two feet longer than you are tall. This allows for more protection and some room to stow gear. I have recently upgraded to a larger nylon tarp from Campmor that is 10'x10′. An even configuration like this allows for more rigging options, such as a diamond shelter. In the diamond shelter, one corner of the tarp is tied off to a tree about seven feet high and the other three ends are staked in the ground. The diamond tarp arrangement works well when camping in one spot for more than a few days because of its spaciousness. I once used a set up like this for five weeks straight in the desert. Set up your entrance to the East, and the sunrise will wake you first thing every morning.
Tony Nester

Tony Nester
I always carry a minimum of 25 feet of 550 para-cord for shelter rigging. This is the true military shroud line used in parachutes and has seven removable inner strands. With this and my tarp, I can have a sound shelter set up in under five minutes. Once your shelter is rigged up, the last thing you'll need is some bedding. If you don't have anything, gather up debris: pine needles, leaves, or moss. Bunch it up on the ground to provide insulation and prevent hypothermia (or hyperthermia if you're in the desert heat).
When venturing out on short dayhikes, an Emergency Blanket (not a Mylar Blanket), is a good substitute for a large tarp.
Trending on Outside Online