How to Make Camping Fun
If you can get past the lack of creature comforts, spending a night outside might be one of the most rewarding things you do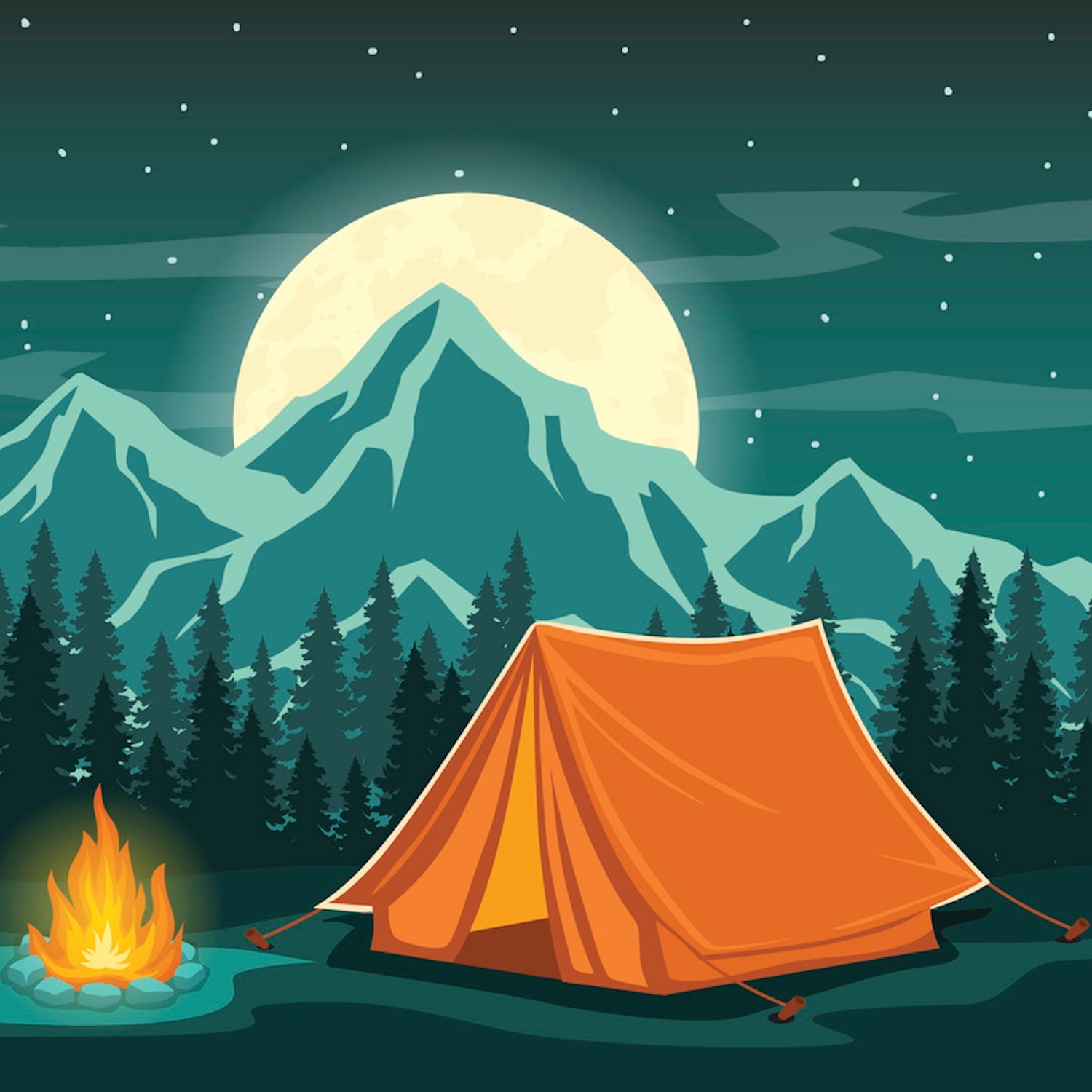 Heading out the door? Read this article on the new Outside+ app available now on iOS devices for members! Download the app.
When I talk to friends who aren't super comfortable outdoors, their first question about camping—if they've bothered to give it thought at all—isn't "How do I go camping?" but "Why should I go camping?" There's a reason that camping tends to be the first nature trip that a lot of kids go on, at camp or with scouts or even through school, and there's also a reason that it's sometimes the last. After all, isn't it the worst of both worlds? You've got the unpleasant parts of being outdoors, like rain and mosquitoes and so on, but without the grandeur and privacy of deep wilderness. And as much as enthusiasts like to point out that camping can totally be comfortable (if you just buy this expensive tent, this expensive sleeping bag, this expensive stove…), it's disingenuous to pretend that humans haven't gravitated toward, say, beds and plumbing because they are pleasant and we like them. If you go camping for the first time—or the first time in a while—and you're leaving those conveniences behind, it is going to be less comfy. Anyone who argues otherwise is setting you up for failure. The truth is that camping, especially when you're new to it, means leaving an environment that's designed for your needs and entering an environment that's indifferent to your needs. It's gonna take some adjustments.
So why do it?
Because camping isn't just the worst of both worlds; it's also the best of them. It's a (relatively) cheap, (relatively) accessible way to have a very real adventure. If you'll allow me to get schmaltzy: most of us spend much of our lives working, recovering from working, buying things, and otherwise participating in structured and/or necessary activities. Stepping away from that and into nature can give your mind a genuinely precious break. There's something wonderful about being in an environment that's full of life, beauty, and movement—and that truly doesn't care about you at all. It's an opportunity to just exist for a while. And it's a chance to have a great time with the people you care about most.
Go with the People You Love
If you're looking for a private, introspective experience, then you can definitely go camping alone. But for most newbies, it's nice to start by bringing friends or family. You know those people you love so much that even running errands with them feels good? That's who you want to bring camping. The people you want time with. It doesn't matter if they've never been camping before, if they're old pros, or if they're a mix of both. The point is that one of the gifts of camping is time, and we're all short on time with our loved ones. Bring your cool friends who have never met each other but you're sure would get along. Be spontaneous: go this weekend. Go tonight, if the weather's nice. Time expands when you're camping; you might find yourself getting far closer with your loved ones in a night outside than you'd get in the same night at home.
Find an Interesting Campground
There are plenty of campgrounds that are basically semi-private patches of dirt at the edge of a town—or even patches of lawn next to rows of sun-baked RVs—and while those campgrounds are fine if you just need a place to pitch your tent for the night, they're not necessarily fun. What you want, for maximum fun, is a campground that's either a destination in itself or immediately adjacent to a destination. That means trails, lakes, rivers, hot springs, beaches—places that are going to give you something to do. You can search available campgrounds on websites like Recreation.gov and The Dyrt, or just look up "campgrounds [your area]." Details to consider: interpretive walks and nature programs, availability of drinking water, and whether dogs are allowed. Some campgrounds are first come, first serve, while others let you reserve your site ahead of time; you may be able to pick whether you're close to (or farther from) other campers and the bathroom.
Put Away Your Phone
This might be the hardest adjustment, but it's one of the most important. If you want to lock your phone in a safe for the weekend, that's fantastic and I'm all for it. At the very least, try to set an intention ahead of time about how you will and won't be using your phone. Taking photos and texting important info is one thing; spending hours on social media is another. There are no hard rules on this one; if you have insomnia and scrolling mindlessly helps you fall sleep at night, don't beat yourself up about it. But as a general guideline, the more you're able to step away from digital life, the more rewarding your experience will be.
Don't Stress About Your Gear
If you're car camping—that is, driving to your campsite rather than hiking to it—you don't have to worry about the weight of your gear; you can consider low-cost options (which tend to be heavier) and repurpose items from home. Is a $300 sleeping pad more luxe than an $8 one? Sure. But you don't need your gear to be the best; you just need it to be good enough. That means a tent that's spacious and waterproof, effective bug repellent, extra layers of clothing, and a sleeping bag (or blankets) that err on the side of being too warm. If you become a regular camper, and/or you can afford it, you'll find endless options for fancy gear—but most of those things are toys, not necessities, and stressing about money does not make a trip more fun.
Plan (or Bring) Activities
If your campground is a destination, it may already have activities—canoe rentals, hiking trails, all that good stuff. But time moves differently when you're outdoors—and when you're not using your phone—and you may find that you've run out of plans and it's not even lunchtime. If you're camping with friends, have each person bring a surprise activity or game. Or go simple, and pack playing cards, books, paper and pencil, and a frisbee. Design a scavenger hunt; have a contest for the tallest rock tower. On one of my favorite camping trips, a friend made BINGO cards for each person with a series of personalized challenges, both tough and easy: things like making friends with a stranger, impersonating a celebrity, building a fairy house, and catching a fish. If you have kids on your trip, you can get extra-goofy, but you don't need kids along in order to embrace play.
Eat Great Food
Everything tastes better when you're camping—and you'll probably be hungrier than usual. Bring a lot of snacks; bonus if they're treats you wouldn't normally eat at home. The internet offers endless campout-food inspiration, but you can also eat cold meals, like sandwiches, or go simple and roast hot dogs on a stick. Be sure to bring a cooler with ice and your favorite drinks.
You Don't Need to Do Things "Right"
Surprise yourself. If you plan to hike in the morning but end up sitting by the campfire telling stories til the afternoon, that's amazing. If you don't like cooking, bring takeout or drive to a nearby restaurant, or eat s'mores and popcorn for dinner. If you're not confident in your fire-starting abilities, bring a DuraLog (just check with campground staff about fire regulations first). If your group members have different interests, you can split up and come back together later. Tell ghost stories or don't, drink or don't, ditch your tent and sleep under the stars, doze off under the stars and crawl into your tent at two in the morning. Part of the beauty of the outdoors, of camping, is that you're getting away from other people's expectations. It's a perfect chance to practice letting go of your own.