The Last of the True Cowboys?
Two years ago, Filipe Leite turned his ponies south on a journey from Canada to Brazil. Ten thousand miles later, he's almost home after facing drug traffickers, grizzlies, and mad bulls on an epic transcontinental trip.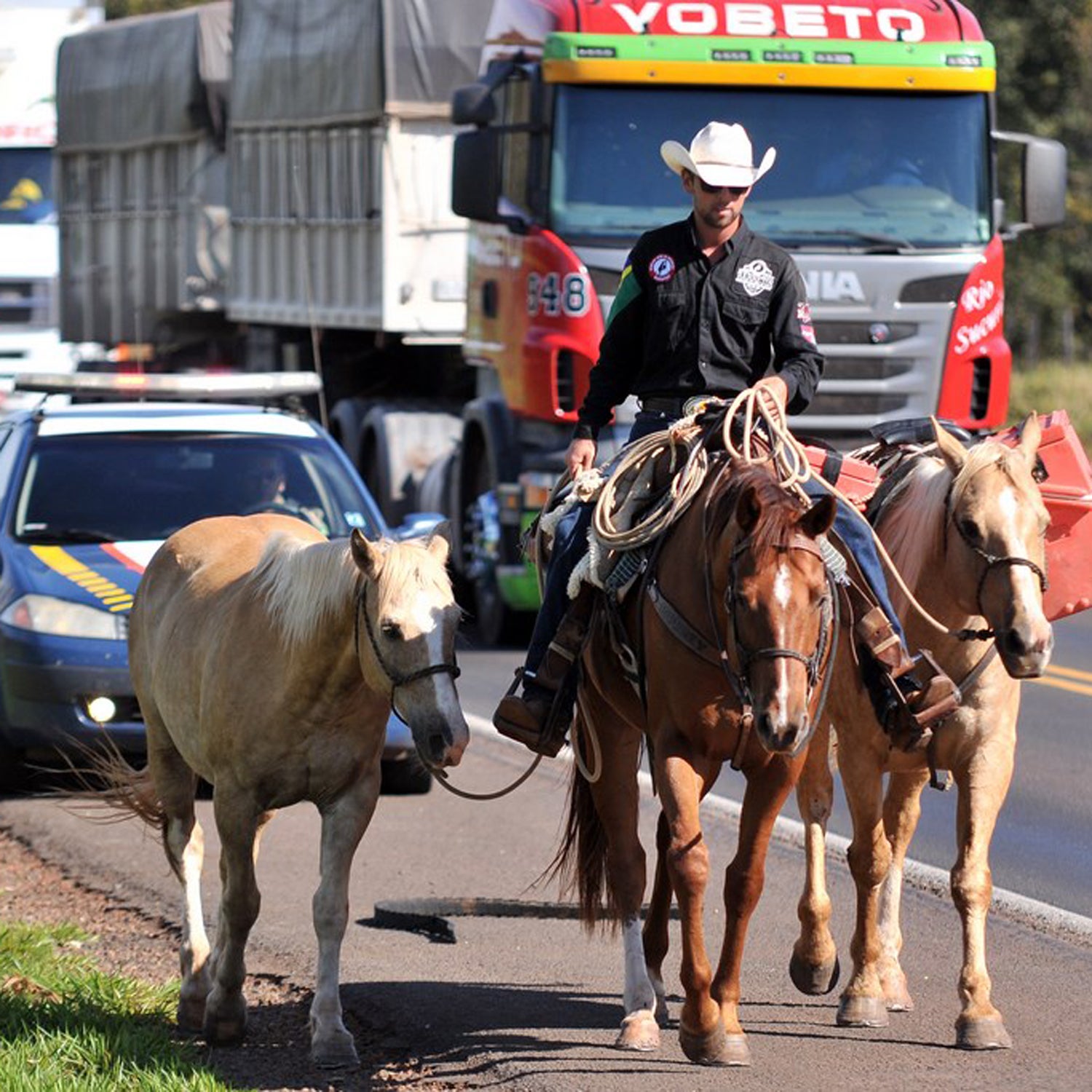 Andre Borges Monteiro(Photo)
Heading out the door? Read this article on the new Outside+ app available now on iOS devices for members! Download the app.
It took six pairs of boots, 240 horseshoes, and 24 months for Filipe Leite to ride on horseback from Canada to Brazil. The cowboy traveled 10,000 miles through 10 countries to reach his home in South America, an epic journey that has earned him a spot in the historic Long Rider's Guild, an international association of equestrian explorers that requires its members to ride at least 1,000 continuous miles. 
We last caught up with Leite back in 2012, when he was only three states into his journey and about to cross the infamous and treacherous Million Dollar Highway in Colorado. Since then, the cowboy has snuck through jungles full of drug traffickers, ridden bulls, encountered endless bureaucratic obstacles, and experienced unending generosity on the trail. As he nears the final stretch of his journey, we asked him for an update.
OUTSIDE: Aside from countless miserable border crossings, what has been the most difficult part of the ride?
LEITE: Keeping my horses healthy. I have spent 24 hours a day, seven days a week with these animals for the past two years. As we made our way south, we created a bond only comparable to that of father and son. When I didn't have the basics to offer them, like water or a pasture to graze, it broke my heart. We crossed many countries where vets were extremely hard to find and medication for horses even more so. Keeping my animals healthy required me to work extremely hard and become a bit of a vet myself.
This Long Ride has also been full of dangers. We crossed paths with a grizzly in Montana. One of the horses (Bruiser) fell in a deep ditch in New Mexico. The other (Frenchie) was hit by a truck in Southern Mexico, and the third (Dude) walked into a cattle guard in Nicaragua—nearly breaking his leg. I remember having Dude's head on my lap after finally calming him down while he lay there with his front right hoof stuck in that cattle guard thinking I was going to lose him. These were by far the worst moments of the trip. These horses are an extension of my soul; they are my children, my heroes, my everything.
What type of schedule do you maintain to give the horses, and yourself, much-needed rest?
On a Long Ride like mine, there can be no set schedule. You must always listen to your horses and let them rest as they need it. I always try to ride no more than 30 kilometers [nearly 19 miles] daily and allow my ponies to rest for a day or two every four to five days of riding. This has been a good system for us. I have also stopped for a month at times in order to give them ample time to rest or recover from an injury.
Scariest moment of the ride?
Hearing a husband trying to kill his wife with five gunshots just outside my window in Tegucigalpa, Honduras. I will never forget her yells of desperation as the gunfire silenced her pleas.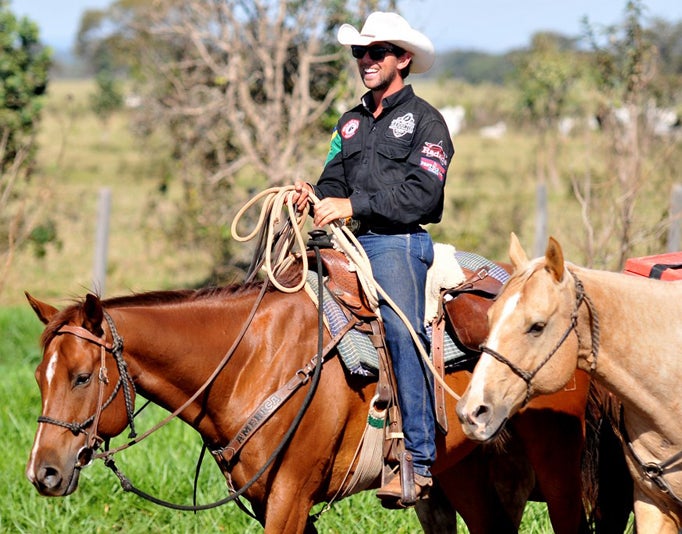 What about the loneliest moment of the trip?
The loneliest moment of the trip was crossing a mountain in southern Wyoming. I spent several days riding without seeing another human being. It was only the horses and I, and I had an extremely hard time finding water for them. I remember coming down that mountain into a town of 25 people, swallowing my tears. I ended up staying with an elderly gentleman who lives by himself in a ranch home. It's funny how life works out. It was one of the deepest connections I made on the journey.
You've traveled through jungles infested with drug traffickers and passed through dangerous cities. Was there ever a time you've been afraid for your life or the life of your horses?
My entrance into Honduras from Guatemala was with the protection of a major Honduran drug lord. He not only rode with me but also hosted me in his fortress for two days. His house was in a little village in the mountains and sat behind high walls and a thick metal gate. His house was a mansion with plasma TVs, a home gym, and even a small petting zoo. While trying to sleep the first night, I kept imagining the shootouts and killings happening at the hands of the drug cartels in town nearby. Needless to say, it made it hard to get some shut-eye.
You've been posting video segments throughout your journey. Tell us how you film while riding alone, edit footage, and post updates while on the trail?
Filming my Long Ride has been extremely difficult! I have to get off my horse, set up the tripod and turn on the camera, get back on, ride by the camera, then go back to stop filming and fold up the tripod—all while making sure all three horses are watched after. My girlfriend, Emma Brazier, has helped me a lot in this aspect. The moments she has traveled with me, we have been able to capture moments I couldn't otherwise. The dispatches are edited in Nashville by OutWildTV. I'm very thankful for having such an amazing group of professionals behind me. It makes all the difference.
Most of your nights are spent camping in a tent. What key items have made this possible for two years?
My Leatherman is always on my belt. Other items include a one-burner stove for preparing dinner, my MEC Tarn 3 tent, MEC Mirage sleeping bag, and peanut butter. I've also been carrying Naomi's ashes. In Colorado, a gentleman who hosted me asked if I would carry his sister's ashes to Brazil with me. He told me how she loved horses and adventure and had recently passed away. He felt as if faith brought me to his home and that Naomi had to go on one last ride. I have carried Naomi's ashes all the way to Brazil and will spread them in the field where the horses will be retired.
You're trying to pass through the largest rodeo in Latin America, the Festa do Peao de Barretos. Think you'll make it?
Definitely! Because I left from the largest rodeo in Canada, the Calgary Stampede, it has always been my goal to pass through Barretos. This past year, they began sponsoring my trip and are currently building a monument of the horses and I that will be forever in the rodeo grounds for people to visit. On August 23, I will ride into the rodeo's arena as more than 50,000 people watch from the stands. I imagine it will be a very emotional moment.
What are your plans for after you arrive?
I will retire my horses at my parents' farm in Espirito Santo do Pinhal, Sao Paulo, and work on a documentary on my ride. I will also be writing a book on my two-year journey from Canada to Brazil.
Can we expect to see a Journey America documentary from your travel?
Absolutely.
---
Catch all of Leite's Journey America videos at OutWildTV and follow along as he finishes his journey at @FilipeMasetti on Twitter and Instagram.
Lead Photo: Andre Borges Monteiro