Sebastian Junger Talks About RISC and Tim Hetherington
Heading out the door? Read this article on the new Outside+ app available now on iOS devices for members! Download the app.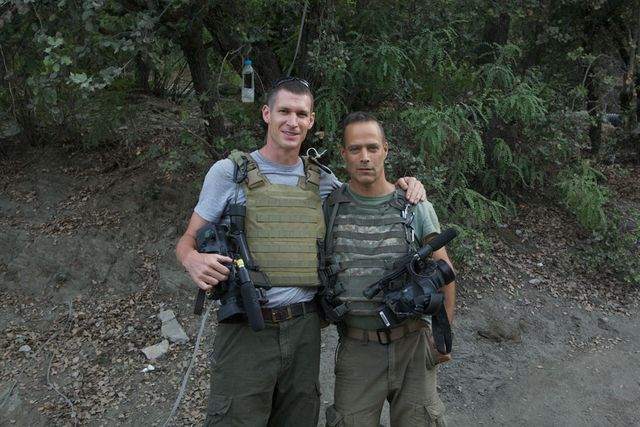 One year ago today, photojournalists Tim Hetherington and Chris Hondros died after a mortar shell exploded near them on Tripoli Street in the city of Misrata, Libya. They were embedded with rebels fighting the army of Colonel Qaddafi. Hondros died of severe brain injuries. Hetherington bled out in the back of a truck through a cut in his femoral artery. It's possible that if someone with
the proper training had attended to Hetherington, he could have been saved. Upon learning this, his friend and Restrepo filmmaking partner Sebastian Junger started up a program call Reporters Instructed in Saving Colleagues (RISC). The organization provides free emergency medical training to freelance journalists so that they may be able to save lives in the field. The first three-day class concludes today in New York City (watch a video here). Additional classes are scheduled for London and Beirut. We called Junger to talk to him about RISC and to ask him what advice he had for young freelance journalists headed into conflict zones.  
When did the idea for RISC hit you?
At Tim's memorial in London, afterwards I was talking to a former combat medic in the British SAS, I think. I was describing Tim's wound, and I said, "I assume that's a fatal wound, that he bled out from the groin?" And the medic said, "You know, not necessarily. There are things you can do to slow down the blood loss, and if you're near a hospital, all you have to do is slow down the blood loss enough so that they're alive when you get them to the front door." That just got me thinking, and so I decided to start a medical training program for freelancers, only freelancers. They're the ones who are doing most of the combat reporting. They're taking most of the risks. They're absorbing most of the casualties. And they're the most underserved and under-resourced of everyone in the entire news business. The big corporate news organizations, their insurers insist that everyone in the field takes a hazardous environment course, which is extremely expensive, and often those people aren't running the same level of risk as 25-year-old freelancers. So I just thought we should change that and make it free, and we managed to do it.
What sort of responsibility do those news organizations have, because a lot of them do rely on freelancers to report stories?
I don't know. Legally? None? Ethically? That's an open question. I mean, they can't just start immediately taking care of the entire freelance community. I don't think that they, I don't think the numbers would work. I'm not in the news business in that way, so I don't know.
The fact that freelancers can work cheaply means that the door's open to almost any ambitious young journalist who is willing to take some risks. It's also a great, great opportunity, and once you start imposing large costs, even on freelance work, I think that will hurt the freelance market. So ultimately, it is a balance, but I think at the very least, news organizations should encourage and facilitate people to take out insurance policies, get medical training, and things like that. I was never, as a freelancer, no one's ever suggested to me that I take a medical training course. I mean, no one I know has. So that sort of thing should at least be encouraged by news organizations, even if they are relying on freelancers.
I know that you reported in the former Yugoslavia, and some stories for Outside that were dangerous and involved travel in foreign countries. What sort of training did you have?
Zero. Nothing. I just went.
Nothing?
I was freelance, so no one would train me because it cost money. And I didn't train myself because it cost money. You have to understand, for a young freelancer, that's a huge luxury—to spend several thousand dollars on a medical training class. You're lucky if they'll spend $1,000 on a bulletproof vest. I mean, in the early 90s, that was the case. A vest was a luxury. A helmet? Forget about it. I was just glad I had a good sleeping bag.
What kind of feedback have you gotten so far on RISC?
The final day is today, and I haven't heard a postmortem, but in the beginning, people were just very, very grateful that someone was doing this. Partly, we worried that we would set this up and that no one would come. It would be some version of eating your spinach. They're busy, and broke, and had better things to do, but we had a huge response, and now have a long list. The people that came were really, really grateful, and that was a tremendous feeling. I'm sure that some of the students that come will be offering commentary afterwards.
I know it's the anniversary of the death of Tim and Chris Hondros. How are you remembering them?
People try to commemorate their losses, and we're out here now, and I'm thrilled that we've managed to get this up and running for the anniversary of their deaths. I mean, it is a nice way to memorialize them. I think a lot of people, friends and families, are thinking back and are amazed it's been a year already. It's sort of shocking to me. We have things on facebook, and some very nice things have been written by people.
Is there any other one piece of advice you'd give to people going into conflict zones?
It's hard to limit it to one. Know your blood type, and try to really understand that you're not risking your life, you're risking the sorrow, and even the sanity of everyone you love. Because when you get killed, you're the only person that won't have a problem. Everyone else will suffer just extraordinarily. It's easy to be cavalier about one's own life, but it's a little harder to be cavalier about the well-being of everyone you care about. And that is really what you're playing poker with, and it's hard to know that.
That may not be something you think about if you're young and heading off?
I mean, I didn't. I just thought, "Well, I'm willing to do this, so it must be fine." Until Tim died, I didn't understand the consequences of loss. I just had never gone through it like that. And, it's pretty staggering. And the day Tim died, I decide to stop, because, among other reasons, what I was going through? Putting everyone else I cared about through that same experience? It seemed selfish. But things are selfish at 50 that aren't selfish at 30, so part of this is a function of age too.
Why do you think that Tim's death did this? There must have been other people you knew who died in the field?
But none of them I was close too. This was my first really intimate loss, of a peer, you know? He was 10 years younger than me, but of my generation.
To donate, go to RISC.
Read an interview with Tim Hetherington or view some of his photos.

–Joe Spring
@joespring