What You Missed: Skydiving, but Faster
Speed skydivers push the limit, a surf boat wrecks in Indonesia, and Andrew Cotton shred big waves in Nazaré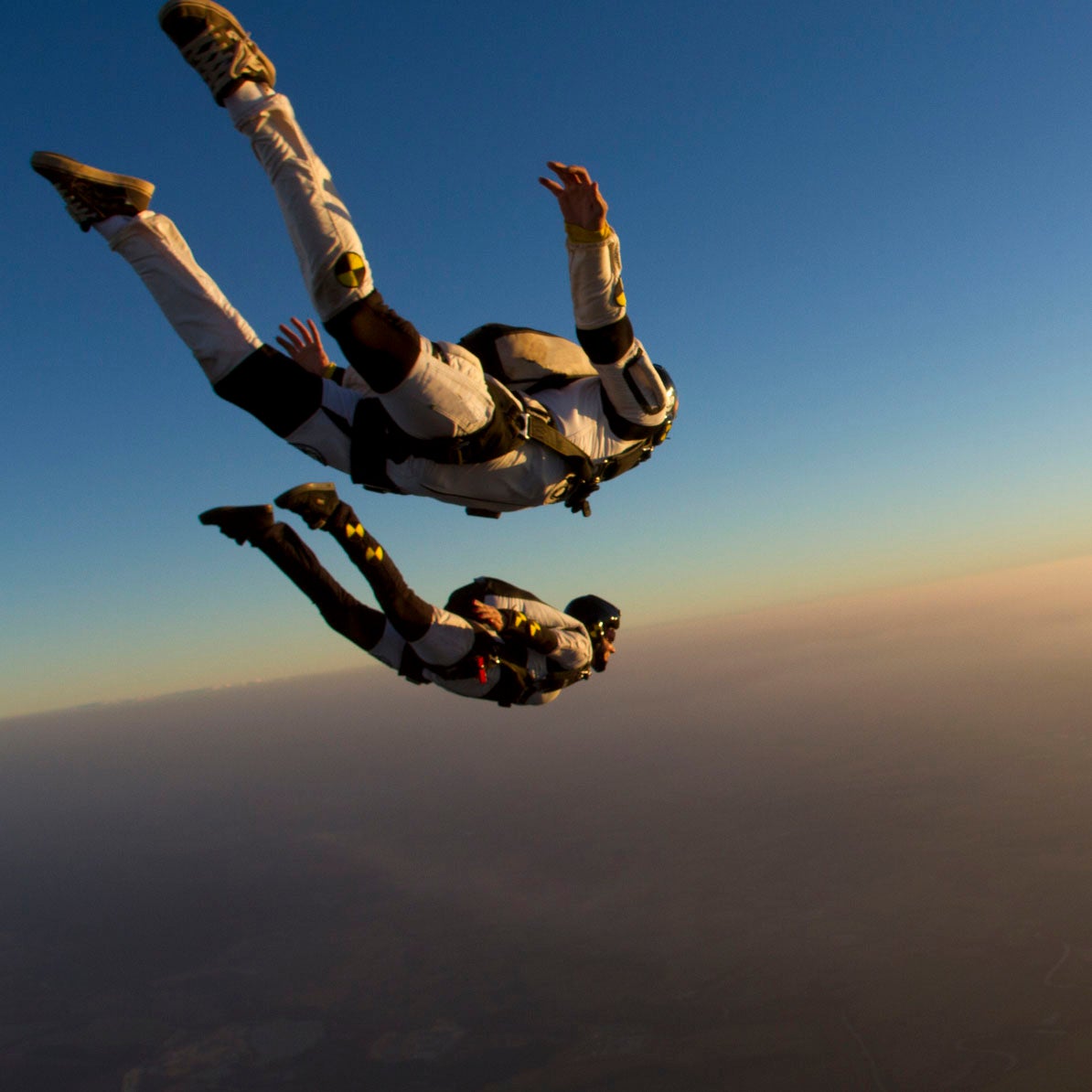 Rick Neves/Getty Images
Heading out the door? Read this article on the new Outside+ app available now on iOS devices for members! Download the app.
Welcome to What You Missed, our daily digest of breaking news and topical perspectives from across the outdoor world. You can also get this news delivered to your email inbox six days a week by signing up for the What You Missed newsletter. 
---
No matter how terrifying or adrenaline-packed an activity may be, someone is bound to push the envelope further.
This human dynamic is at play in The New York Times's story on speed skydiving, a niche sport in which participants try to attain the fastest velocity while plummeting to the earth.
Skydiving has birthed numerous death-defying subgenres over the years, from BASE jumping and wingsuit jumping to formation skydiving. A typical skydiver may hit 120 miles per hour before deploying the parachute. In speed skydiving, participants regularly surpass 300 mph.
For comparison: a Formula 1 race car rarely surpasses 250 mph.

Speed skydivers reach this velocity by wearing wind-cheating clothing and gear and by contorting their bodies into aerodynamic postures. It's a sport that rewards perfection and precision.
"If my shoelace comes untied, or if my angle is just one degree off, or if I'm fatigued, I won't get anywhere close to that top speed," speed skydiver Kyle Lobpries told the Times. 
The sport has a long list of dangers and discomforts. A slightly off-kilter posture can cause a diver's body to violently shake in midair, and a sudden gust of wind or pocket of air can cause a painful and drastic deceleration. Even a flapping zipper can bruise or cut skin. And a speed skydiver has a shorter window in which to deploy her parachute.
To nobody's surprise, speed skydiving was developed in the late 1990s in Florida, where the small city of DeLand claims to be the global capital of skydiving. Speed skydiving's first World Cup competition was held in 2001.
The United States Parachute Association National Championships, held this past October in Arizona, featured a competition for speed. Lobpries won, and he reached 318.74 mph, setting a new world record.
How a Surf Charter Boat Wrecked in Indonesia
Surf-boat chartering is a thriving business in the South Pacific because some of the best breaks are so remote.
On Wednesday, Alexander Haro of The Inertia published an inside look at a charter trip gone awry in Indonesia. On November 26 a surf boat, Praya Mentawi, crashed into a reef and then broke apart near the Hollow Trees break on Sipura Island, just off the southeast coast of Sumatra.
According to an eyewitness, the boat's captain left the wheel to investigate a stuck anchor, and when the anchor was raised, offshore winds and strong current pushed the boat toward a sharp reef, appropriately named "The Surgeon's Table." The captain ran back to try to start the engines, but the current was too strong, and the boat slammed into the rocks.
"He didn't calculate that it would drift that quick," Teiki Ballian, owner of a nearby resort, told The Inertia. "That was pretty much it. Literally two minutes and it was done."
Crews in other boats rushed to try to tow the boat from the reef, but crew members feared the damaged boat would leak gasoline into the water and explode. The boat was broken apart by the waves.
Luckily, obvious water contamination was minimal. The boat's crew worked with locals to bring the wreck to shore, piece by piece.
Mountains of Water Return to Portugal
Building-size waves have returned to Nazaré, Portugal, and big-wave surfer Andrew Cotton is there to shred them.

Member Exclusive
"Integrated Road Bikes Perform Better, but at What Cost?" Contributor Joe Lindsey explains how gains in aerodynamics, weight, and stiffness in road bikes come at the cost of equipment resilience and gear choice. Outside
Around the Outside Network
"Why This Five-Time Appalachian Trail Thru-Hiker Will Never Attempt the PCT" Author and long-distance hiker Andy Niekamp discusses the differences between the two iconic trails. Backpacker 
"MAAP Vector Pro Air and Evo Team Kit Review" Apparel critic Aliya Barnwell reviews the latest modern-cut summer cycling kit from MAAP. VeloNews
"Among Mountain Guides, This Woman Is a Rarity" Skier Margaret Wheeler recently earned her AMGA/IFMGA certification, the PhD of alpine guiding. Ski
"Lessons I Learned Running in a Hurricane" Contributor Francis Sanzaro recalls the wisdom he gained after going for a run during Hurricane Sandy. Trail Runner
Lead Photo: Rick Neves/Getty Images
Trending on Outside Online