Surviving an Alligator Attack
Joseph Welch planned to take his six-year-old son out for some canoeing in the Florida Everglades. Before they even put a boat in the water, he was fighting an eight-foot-long alligator for control of his child.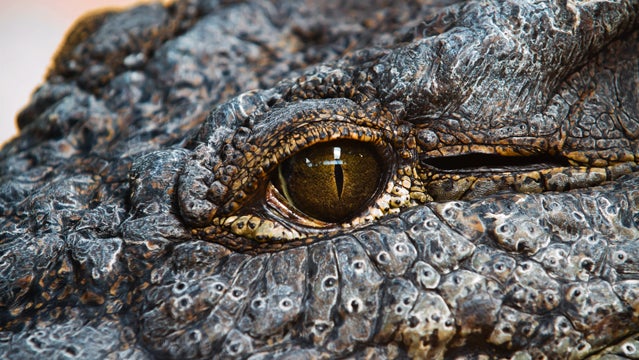 Fernando Cortes(Photo)
Heading out the door? Read this article on the new Outside+ app available now on iOS devices for members! Download the app.
Alligators are the most common crocodilian in the United States. More alligator attacks have been reported in Florida than in any other state. Between 1948 and November 2012, the Florida Fish and Wildlife Commission recorded 348 alligator attacks on people. Of those, 22 led to fatalities, most of them swimmers. Alligators may grow more than 11 feet long, and those gators over eight feet sometimes exhibit chase behavior, pursuing and attempting to take down people for food. Alligators fed by people can become habituated and lose their fear of humans, especially children. Six-year-old Joey Welch found himself in the water with an eight-foot-long alligator next to a fishing dock where people often tossed bait in the water. His father, Joseph Welch, shares their story.  

The alligator that bit Joey Welch, after it was put down.

Joey Welch at Holy Cross Hospital
It was Friday, April 19, and my son had the day off from school because of a teacher workday. I saw an ad in the paper for the Loxahatchee National Wildlife Refuge and said, "Why don't we go canoeing in the Everglades?"
I went to one site about the refuge before we left. It said something like, This is the Everglades and, of course, there's alligators, but they're timid creatures. If you're paddling along in the canoe and you get close to them, just bang your paddle to scare them away. If you really want to observe them, paddle quietly.
Once at the location, Joey and I stood in line at the concession stand counter. It was around noon. We were about 15 to 20 feet away from the water, waiting for our turn to rent a canoe. There was a couple in front of us, so I started applying sun block to my son. Then I saw a waiver on the counter and turned for a split second to look at it.
Now, my son is very high-energy, and he's fast. Because he's so fearless, so high-energy, and so active, every single night my wife puts him to bed, she prays for his safety. And every single night she says a very specific prayer.
There shall no evil befall you,
neither shall any plague come near your dwelling.
For he shall give his angels charge over you,
to keep you in all your ways.
They shall bear you up in their hands,
lest you dash your foot against a stone.
—Psalm 91:10-12
A split second after I turned around, Joey bolted down to the water's edge. It only took a half a second for him to run 15 or 20 feet. Once at the water's edge he must have seen the snake grass floating on the water. It looks like dirt. He probably thought it could support him. He attempted to walk on the snake grass, and fell face first into the water.
I heard the splash. A second later, I heard the scream. And it wasn't a normal scream, like, "Ooh, I fell," so I looked. He must have either landed on top of the alligator or right next to it. The animal locked his jaw on my son's right arm.
I bolted down there as fast as I could. I jumped into the water and moved behind my son. The embankment was steep. I was close to the shore, but  still in water up to my waist. The alligator's jaw covered up to the center of my son's elbow. I wrapped my left arm around my son's chest and positioned him vertically so that I could hold him to me. I was trying to keep the gator from getting away with him. My greatest fear was that the animal would pull him under, where it's dark and murky, and just start swimming away. With my right hand, I started banging on its forehead.
The guy that was in the line in front of me ran over to the edge of the water and started screaming at me. He was saying, "Pull your son out of the water." I didn't want to get into a tug of war with the gator, but hitting it wasn't doing me any good. It was like hitting a brick.
I stopped punching the gator and started moving up the embankment. The gator wasn't letting go, but he wasn't trying to pull or twist either. He was roughly eight feet long. I don't know how heavy he was, because I wasn't really thinking about that.
The other guy got in water up to his knees. The gator was in between us. The animal was exposed from the snout to the midsection. The other guy wanted a clear shot at kicking the animal. He planted his left foot and swung his right foot above the water into the animal's belly. He kicked it about three or four times as hard as he could. After the fourth kick, the gator released my son.
He splashed back in the water and I quickly continued up the embankment with my son in my arms. I didn't even turn around. I just got out of the water and up the hill as quick as possible.
My son was crying and shaking, but otherwise he was OK. He had cuts and scrapes to his shoulder and wrist, but no profuse bleeding. His rash guard was torn, and he had two four-inch claw marks that are parallel with each other on his chest. They are scars now.
I drove him home to my wife, and to the hospital to check for any infection. I also had my hand checked out because I thought it was broken. The doctors gave us both antibiotics, to prevent any infections. A representative from the U.S. Fish and Wildlife Service told me that an alligator can bite down with a force of 24,000 pounds per square inch, so he could have snapped or torn my son's arm off.
The alligator was put down at 5 o'clock that day. I found out from a U.S. Fish and Wildlife Representative that the other guy was vacationing from Spain and was staying with relatives. I wanted to thank him and take him out to dinner. They called the relatives and gave them my phone number. I never heard back, so I'm wondering: Was he an angel or what?
It was definitely a miracle that my son didn't die and didn't even break his arm. He has had no emotional trauma. That very night, he didn't ask to sleep with us. He slept in his room, calmly and peacefully. I think my wife's prayers played a major role in saving him that day.
The week after the attack, Joey's class went on a field trip to a place with an alligator exhibit. The teacher said that she was watching him, and that he just looked like any other curious little boy.
EXPERT OPINION:
This is an example of a situation where no one did anything wrong. We cannot remove all risk from life, and to enjoy the outdoors is to take those risks.
Alligators bite reflexively at splashing items next to their heads. This includes soft drink cans and marshmallows.  Sometimes, the bites are a feeding attempt. Often, they are territorial responses.  The single best thing the father did once the attack ensued was to not get into a tug of war with the alligator. It was fortunate that another brave individual intervened to get the alligator to release the child. Alone, the father may also have attempted to poke the alligator in the eyes as well as pummel it in the head.
If you are spending a day in alligator territory, be vigilant, be careful, do not attempt to feed them, and remember, the single most important thing you can do to make sure you are safe  while visiting the Everglades is wear your seatbelt.
–Frank Mazzotti, Ph. D. , "The Croc Docs," University of Florida
Lead Photo: Fernando Cortes