What are some good edible desert plants?
What are some good edible desert plants? The Editors Santa Fe, NM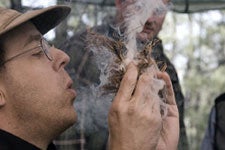 Heading out the door? Read this article on the new Outside+ app available now on iOS devices for members! Download the app.
There is a huge difference between good and edible. I point that out not to be sarcastic but because many books on wild plants make it seem like foraging is akin to pushing a shopping cart through the wilderness and filling up with every green along the way. There are wild plants that are truly "palatable" (these were the good tasting, staples used by native cultures) and then there are "edible" plants (these were survival foods used in lean times that had a considerable gag factor).
Tony Nester

Tony Nester
In my region of the Southwestern US, out of 150 identified plants, the Hopi Indians used roughly 29 for food and 40 for medicine.
I've listed a few desert plants, taken from my book The Modern Hunter-Gatherer, below. Keep in mind, that when it comes to harvesting wild plants, be 110% sure you know what you are picking and putting in your mouth! Any of the desert plant field guides by Michael Moore are a good place to start and I'd recommend looking into a weekend course on wild plant foods many of which are held at arboretums in the Southwest.
Pinon Pine Nuts (Pinus edulis)– During a good fall season, the Pinon pine can yield a significant amount of protein-rich nuts. Roasted or raw, you will want to remove the delicate shell to liberate the sweet meat inside. One study found that a single pound of pine nuts yields 3000 calories, so this is a very worthwhile food source.
Prickly Pear (Opuntia spp.)– The bright green, spineless pads are collected in the spring and sautéed, boiled, or steamed. I like to gather them when they are the size of a silver dollar as the larger ones become too stringy. The red fruits in late summer can be collected—once the tiny stickers or glochids are removed—by peeling the skin off or lightly charring the fruits for a few minutes in the hot coals of a campfire. These fruits are sweet but heavy with seeds. For preserving the fruits, cut them in half and dry in the sun over a few days to make cactus fruit jerky.
Yucca (Yucca baccata)– The large fruits from Banana Yuccas can be collected when ripe in late summer and roasted on coals of the fire for an hour. The modern-day forager can simply wrap them in foil to bake in a conventional oven at 400 degrees until cooked through like a potato. If it tastes like you're eating a bar of Dial Soap, then you collected the fruits too early in the season.
Pine Needle Tea– Super high in Vitamin C this tea was used by the mountain men to treat scurvy. Simmer a handful of diced, green needles in a cup of water for twenty minutes. Do not boil as that will destroy the vitamin content. This tea tastes can taste like Pine-Sap.
Trending on Outside Online