What should I carry in my car to survive during a blizzard?
What should I carry in my car in case I break down in the backcountry or have to survive on the road during a blizzard? The Editors Santa Fe, NM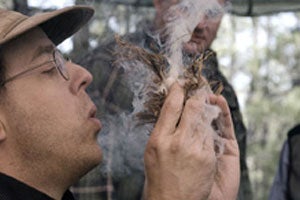 Heading out the door? Read this article on the new Outside+ app available now on iOS devices for members! Download the app.
I remember returning to my truck after a 12-mile dayhike in the desert, just as the sun was setting, and finding I had a flat tire to contend with! Add to this, the truck was parked on an incline and I was mighty tired. A can of Fix-a-Flat and a small air-compressor ($25 at Target) saved the day.
Tony Nester

Tony Nester
Think of your car or SUV as a big survival kit. Pack it with some of the items listed below and you will be able to weather out a night or two if faced with roadside survival.
Here's what I carry in my truck all year:
Full size spare tire (get rid of the pretend tire the manufacturer provided)
A quality hydraulic jack
Gorilla Power lug-wrench
Mini air-compressor
2 cans of Fix-A-Flat Tire Repair
10 gallons of water
Leatherman (or pliers & screwdrivers)
Small folding shovel
Roll of duct tape
Headlamp
Sleeping bag or wool blanket (depending on the time of year)
Wool hat
Emergency blanket
Insulated gloves
Jar of peanut butter (high-fat/high-calorie chow in cold-weather)
4 Met-Rx Meal Replacement Bars
Local and state maps
Umbrella (instant shade in the desert while waiting for the tow-truck)
Sunscreen
Cell phone charger
Irridium satellite phone (if you spend a lot of solo time in the wilds)
Regarding tire changing gear, make sure you have a quality jack and lug wrench like the types listed above. With the $25 air compressor and $5 can of Fix-A-Flat, you will be able to handle minor tire punctures and minimize the dangerous and lengthy time spent on the side of the highway. Keep in mind that Fix-A-Flat and other tire repair canisters will freeze in cold weather.
Trending on Outside Online