What should I do if I get caught in a flash flood?
What should I do if caught in a flash flood in a slot canyon? The Editors Santa Fe, NM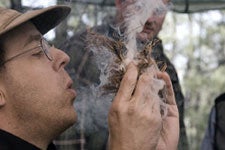 Heading out the door? Read this article on the new Outside+ app available now on iOS devices for members! Download the app.
Plan ahead so you don't get caught in one in the first place. Research from the Grand Canyon indicates that 80 percent of flash floods happen between noon and 8 pm during the monsoon season (July through September). Try to avoid narrow canyons during this time altogether or—if you must hike in them—check the weather first and then hike during the early morning hours before the afternoon thermals reel in the moisture and thunderheads.
Tony Nester

Tony Nester
Flash floods, and the thunderstorms that cause them, are deceiving. You may be hiking in a canyon with blue skies above, but a storm cell 10 miles away could be dumping. It could build up a huge wall (five feet or higher) of water headed your way, bringing with it silt, rocks, logs, and other debris. I have seen van-sized boulders tumbling down canyons like marbles during flash floods.
Ironically, while flash floods are the number one weather-related killer of people in the outdoors the world over, most fatalities happen in urban areas like Las Vegas, Phoenix, or El Paso. Eager drivers, thinking that their spiffy SUV can really do all those things from the commercials, try to plow across a flooded wash and get swept away. A Department of Transportation worker told me once that it only takes two feet of water roaring through a flooded wash to make it unsafe for a vehicle to cross.
Worst-case scenario: you are in the bowels of a slot canyon with your eyes glued to the camera and feel the chill of water rushing past your ankles. Don't stick around to document the scene, as one ill-fated party did once. Just remember your best time in high-school running the hundred yard dash and strive to beat it. Run and look for escape routes leading up and out. A few lucky soles have survived this way, but I would opt for the Weather Channel approach myself.
Trending on Outside Online