Why Eric Larsen Is Skiing to the South Pole Alone
The renowned polar explorer is on a solo, unassisted, and unsupported South Pole speed record attempt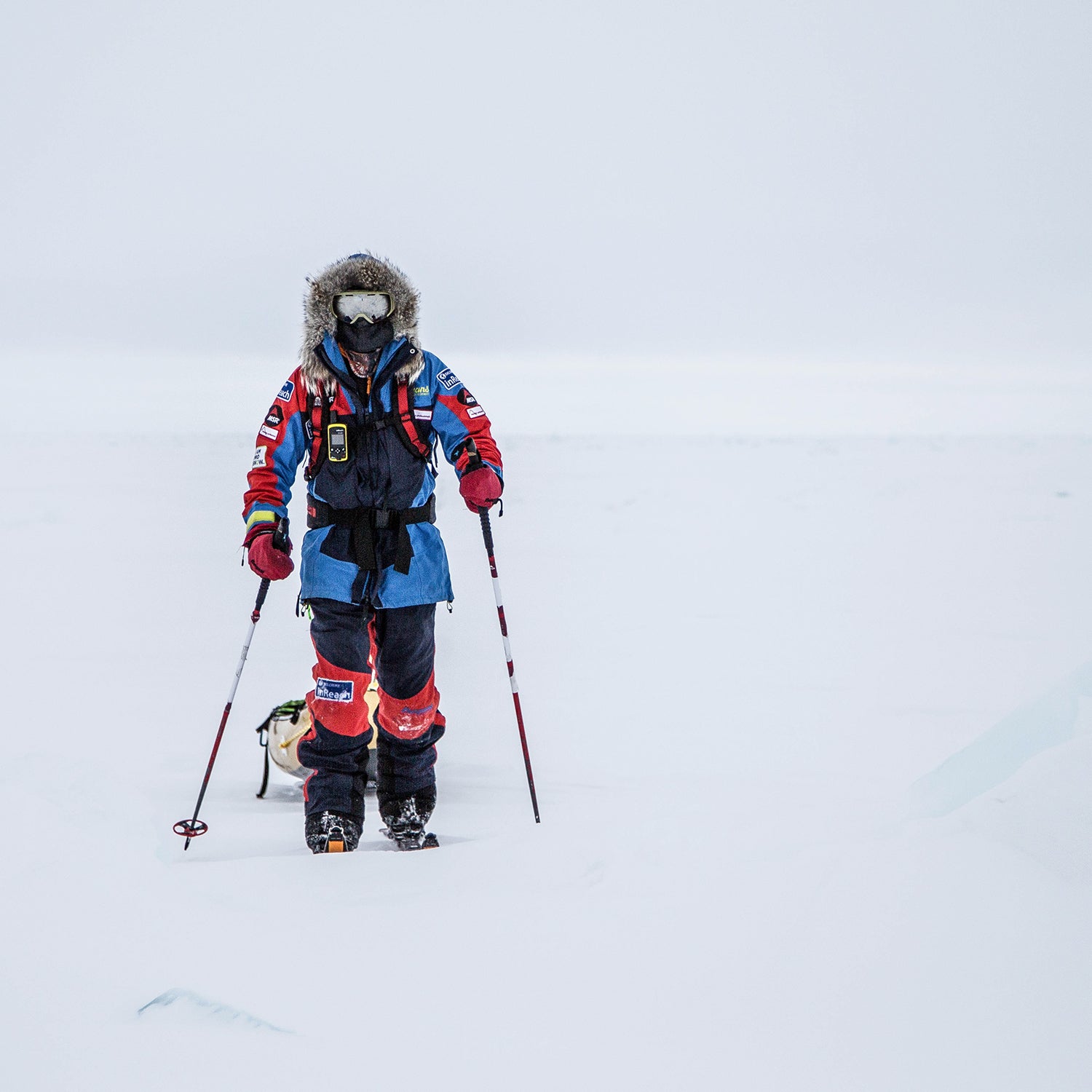 EmmaHill13/Wikimedia Commons(Photo)
Heading out the door? Read this article on the new Outside+ app available now on iOS devices for members! Download the app.
Draw a line across a blank sheet of paper and you'll have a map of Eric Larsen's route to the South Pole. On November 23, the 47-year-old from Crested Butte, Colorado, set out from the Hercules Inlet on the edge of the continent and began to ski more or less in the same direction, solo, unsupported (no outside resupplies), and unassisted (no aid from sled dogs or a kite), for 700 miles. "It's really just a conveyer belt of white," he told Outside before leaving. "It can be a pretty big mind-fuck."
Larsen would know. He has been to the South Pole so many times he couldn't remember if it had been four or five when we spoke on the phone (we checked; he's successfully reached the South Pole four times). To most people, reaching 90 degrees south would seem like a once-in-a-lifetime deal, with the severe cold (down to minus 30 degrees Fahrenheit in the austral summer), sensory deprivation, and suffering it requires. So why is he going back yet again? 
On a personal level, his expeditions are about being creative and unique, he says—a way to push our boundaries of knowledge. That was easy to define in the Age of Exploration, but when few firsts ascents or blanks on the map remain, how can a polar explorer still discover the unknown? "We can try to find the few corners remaining where no one has been," he says, "or we look at traditional adventures and find new ways to make them more compelling and, quite honestly, just more difficult."
In other words, style is everything. Take the example of rock climbing. In 1958 when Warren Harding, George Whitmore, and Wayne Merry made the first ascent of El Capitan in Yosemite after a 12-day push, it was a ground-breaking achievement. No one had done it before. But as climbing progressed, getting to the top by any means necessary—such as using aid for upward progress, fixed ropes, or siege tactics—was no longer a challenge or admired. Enter the free climbing revolution, in-a-day ascents, speed climbing, onsight attempts (sending on the first go with no prior knowledge of the route), and solo climbing, culminating, for now, with Tommy Caldwell and Kevin Jorgeson's first ascent of the Dawn Wall and Alex Honnold's epic free solo of Freerider. Once most logical routes on El Cap had been climbed, the way to push the sport further was to repeat the same in better style.
Polar exploration is no different. In December 1911, a Norwegian team led by Roald Amundsen became the first expedition to reach the geographic South Pole. Since then, only around 300 people have skied from the coast all the way to the South Pole, by various routes. Larsen has done it twice already, once on the Messner Route and once on the Hercules Route (he's also guided two "Last Degree" trips where he skied or fat biked from 89th to 90th parallel), but never alone or for speed. In 2011 the Norwegian Christian Eide took polar exploration to the next level when he set the solo, unsupported, and unassisted speed record on the Hercules Route at 24 days, 1 hour, and 13 minutes. Before Eide, simply getting to the South Pole under human power was the challenge, and typically required 50 to 60 days.
Concurrently this season, Colin O'Brady, a 33-year-old American, and Louis Rudd, a 49-year-old Brit, are separately attempting to complete the first solo, unsupported, and unassisted crossing of Antarctica—a 921-mile journey from the Hercules Inlet of the Ronne Ice Shelf to the South Pole (a similar route to Larsen's) and then on to the Ross Ice Shelf on the other side of the continent.
"Unfortunately for adventure travel, we don't have a rating system like climbing has, so putting on these other parameters is part of that leading edge," Larsen says. He hopes to break Eide's speed record on the Hercules Route, with a goal of 22 days, and will also travel solo, unsupported, and unassisted. But "the margins are pretty slim," he says, "and you can go from status quo to total shitshow in a matter of seconds." Any small problem, like a blister on the foot or a sore knee, can have a huge impact, especially when it comes to speed.
Larsen calls polar travel "death by 1,000 cuts." With modern satellite phones and rescue a call away, his life is never in imminent danger—in fact, he dislikes hyperbolic statements like "death defying"—but every day, he's losing a bit more energy than he can gain back. He compares it to a game of chess and says, "You're trying to make your initial moves carefully so that when the expedition is the hardest near the end you have enough resources both physically and mentally to be able to push through."
The key to success, as he sees it, has less to do with speed and strength than a strict schedule, efficiency, and the ability to slide one foot in front of the other over and over again for 14 to 16 hours per day. Larsen plans to ski in hour-long intervals with quick breaks in between to rest or force down some calories. When the day's over—although the sun never sets during the Antarctic summer—he'll pitch camp, melt snow, eat dinner, and go to sleep as quickly as possible. Then he'll wake up to do it all over again. "It's total Groundhog Day," he says. "I'm doing one thing for three and a half weeks straight, nothing else, with no other stimuli."
On the surface, it might look like he's just determined to break a speed record, but Larsen's motive goes much deeper than that. "For these big solo missions, you're not necessarily pushing the limits of a place, you're pushing the limits of yourself in that place," he says. "To me, that's the leading edge of adventure. That's why I do it."
So far, the South Pole is playing hard to get. Since leaving the Hercules Inlet, daily whiteout conditions, soft snow, and sastrugi (elongated snow drifts) have slowed Larsen's progress and have made navigation a literal pain in the neck, since he must constantly look down to check his compass. "Normally, I don't complain about the weather—especially in Antarctica. You get what you get," he posted to his blog on day five, November 29. "But now, so much of my speed is directly connected to the weather and Antarctica isn't giving me any breaks. Five and a half of the last six days have been whiteouts."
But on December 5, the clouds began to lift somewhat. "For the first time in the last ten days I was able to ski at a normal pace," he wrote. "Good night from Antarctica pleas [sic] sit in a chair for me!" 
Lead Photo: EmmaHill13/Wikimedia Commons