Yellowstone Visitors Keep Doing Dumb Stuff Around Wildlife
Vacation season is only a few weeks old, and visitors to America's oldest national park can't stop approaching animals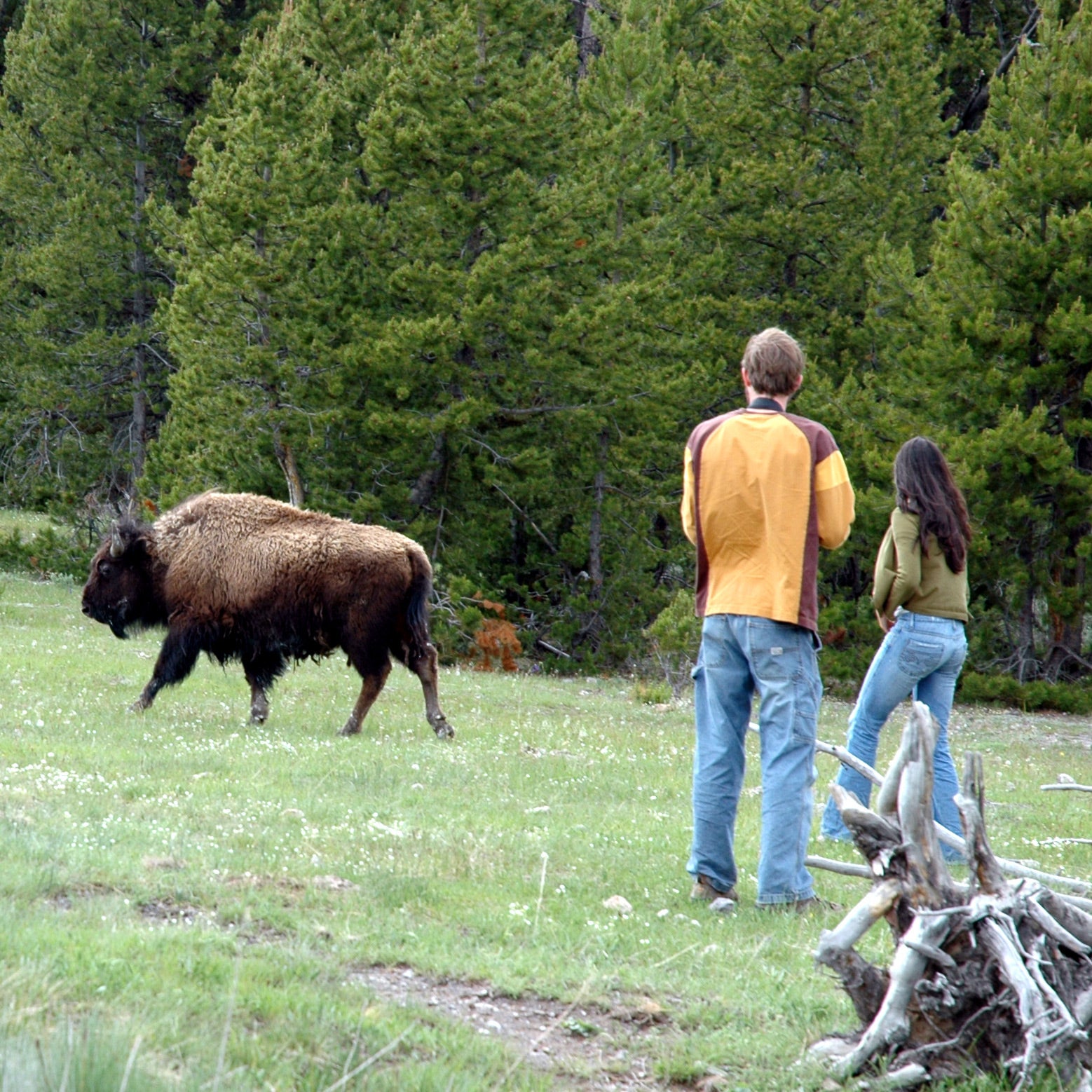 JenD/Getty Images
Heading out the door? Read this article on the new Outside+ app available now on iOS devices for members! Download the app.
Here at Outside, we begin each workday by discussing the news stories making waves in the worlds of outdoor recreation, the environment, and adventure sports. Nary a day goes by that we don't discuss the latest and dumbest story of a tourist behaving badly at Yellowstone National Park. Usually these news hits involve a large and terrifying mammal like a grizzly bear.
You've likely seen these headlines gracing various websites and social media. Angry Elk Chases Tourists Away at Yellowstone National Park. Agitated Bison Rams Car In Yellowstone; Park Issues Warning. And one of my recent favorites: Grizzly Bear Charges Dumb Tourist at Yellowstone National Park, She Receives Four Days in Jail. 
Yokels sauntering up to bison is not a new phenomenon, of course, and tourists have for decades attempted to get a little too close to the wildlife at America's first national park and suffered dire consequences. Like many byproducts of this era of cameraphones and social media, the wider world is simply more aware of this behavior because these moments of poor judgement are captured on camera, circulated on Facebook, and then forever enshrined on the Internet. And the incredible tonnage of this content now supports several online communities and media outlets.
I'm partial to a Facebook group called Yellowstone National Park: Invasion of the Idiots and the Instagram page Tourons of Yellowstone (touron: moron plus tourist) for eyeing the latest and not-so-greatest images of Yellowstone's worst visitors. And the Wyoming news site Cowboy State Daily does an admirable job reporting on these people and their exploits. In 2022 they pursued the story of an extremely Florida Man named Matt Manzari who filmed himself walking barefoot through the scalding thermal pools near Old Faithful. Yeah, that's against the law.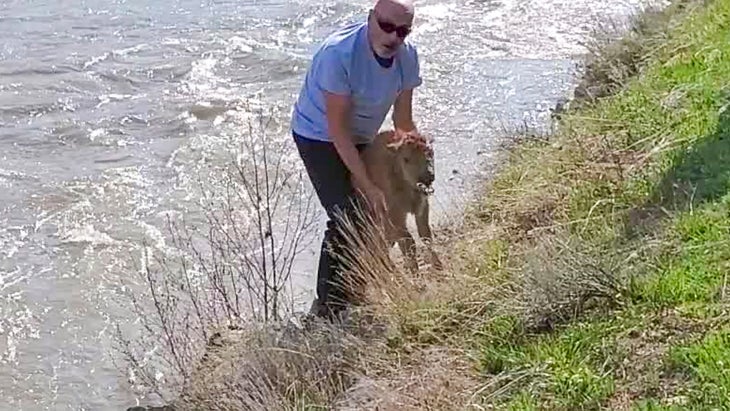 These websites and social media pages have been busy in 2023. The busy vacation season has barely begun and Yellowstone's more careless visitors have already generated multiple troubling stories. On May 20, a tourist named Clifford Walters allegedly approached a struggling newborn bison that had been separated from its mother. Rather than leave the animal alone, Walters grabbed it and pushed it up a hill and onto the roadway—he was photographed in the act. While his actions may have been done in good faith, they had damaging consequences. Rangers attempted to reunited the calf with its herd, but the animals would not take it back, which is common after bison calves come in contact with humans. Yellowstone officials euthanized the calf.
The park later fined Walters $500 after he was charged with one count of feeding, touching, teasing, frightening, or intentionally disturbing wildlife.
Just a few days later, another group of errant tourists acted similarly. They placed a newborn elk in their car after finding it along U.S. highway 191 and then brought the calf to a police station in West Yellowstone."The elk later ran off into the forest, and its condition is unknown," the NPS said in a statement.
Also in May, video circulated of a woman walking up to a resting bison to snap a selfie. And then, just last week, Cowboy State Daily reported that Yellowstone rangers are searching for a man who parked his car next to a black bear and then chased the confused bruin into the woods while growling, grunting, and barking. Rangers knew about the malfeasance because, of course, the guy filmed the ordeal and uploaded the clip to YouTube. Same goes for a video from this past weekend of tourists who got too close to an elk calf and were chased away by its protective mother.
National parks offer a unique experience for watching wildlife. But with that privilege comes responsibility. Visitors are responsible for their own safety and for the safety of the animals, too. Remember to keep your distance. https://t.co/XW3xBhfbG9#RecreateResponsibly pic.twitter.com/j518XWkLqO

— National Park Service (@NatlParkService) April 28, 2022
The spate of incidents prompted the park's media relations service to post an advisory to stay the hell away from the animals: "In recent days, some actions by visitors have led to the endangerment of people and wildlife and resulted in the death of wildlife. The park calls on visitors to protect wildlife by understanding how their actions can negatively impact wildlife." The NPS also republished its infographic that reminds people to stay at least 25 feet away from animals.
I applaud the NPS for publishing these public-service announcements and for hiring designers to produce catchy infographics that we can all circulate on Twitter. Let's hope that the blast of information prevents future absentminded do-gooders from attempting to help a beleaguered baby bison or elk.
However, having read dozens of bad tourist stories over the last several years, I suspect the problem of humans approaching Yellowstone's enormous animals isn't entirely rooted in naïveté. My guess is the guy who jumped out of his Honda to chase a bear knew it was a bad idea, and the same goes for many of the tourists who sneak up on bison to snap selfies.
Whenever I see these stories, I fault our culture's obsession with the selfie and the viral TikTok video for providing the inspiration to act like a dolt on camera. I've written about this phenomenon before—the girl who smacked a golf ball into the Grand Canyon, and the high school football players who booted a ball off of a Colorado fourteener come to mind. My mindset is to avoid shaming these people for their careless actions, and to instead attempt to educate them and cultivate in them a greater appreciation for the tenets of responsible outdoor tourism—you know, the basic Leave No Trace stuff. But man, the daily parade of Yellowstone content feels dire, and I wonder what could stop this behavior other than serious cultural change. Perhaps it's on responsible outdoor enthusiasts to collectively agree to approach and stop these people when they are acting poorly. Can the outdoor community sway public sentiment to make these images feel lame, and not something to be coveted? The next time a friend or loved one is headed to Yellowstone, perhaps we carefully remind them that snapping a close-up image of a wild animal is not something to brag about. It's something to be ashamed of.
Lead Photo: JenD/Getty Images
Trending on Outside Online