The 50-Year Legacy of Glacier's Night of the Grizzlies
How one tragic evening revolutionized bear management in our national parks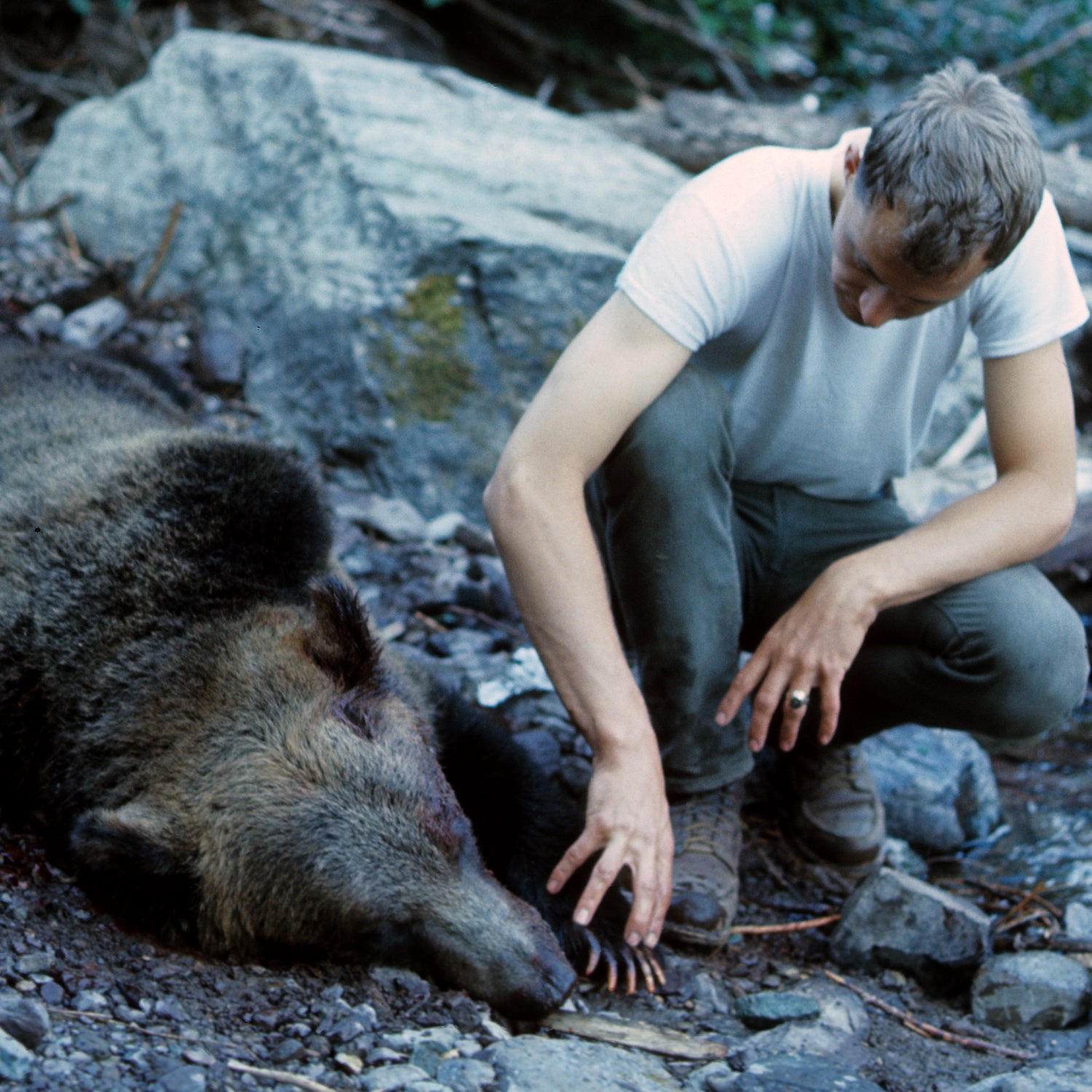 Bert Gildart(Photo)
Heading out the door? Read this article on the new Outside+ app available now on iOS devices for members! Download the app.
Shortly after midnight one evening in August 1967, Dave Shea, a 27-year-old biologist stationed in Glacier National Park, leveled his .300 H&H Magnum rifle at a female grizzly as she devoured garbage behind a backcountry guesthouse called the Granite Park Chalet. Six men, including the tall, redheaded Shea, stood poised on the balcony—two to illuminate the sow with flashlights, four to end her life. At the count of three, the executioners fired. Eleven bullets split the cool night, and the bear slumped into a ravine.
In the 57 years between Glacier National Park's founding and 1967, its resident grizzlies had rarely bothered human visitors. A century of persecution had relegated the lower 48's last silvertips to mountain redoubts. Never had a Glacier grizzly killed a human. "If you set up a danger index ranging from zero to ten," a ranger told the author Jack Olsen at the time, "where the butterfly is zero and the rattlesnake is ten, the grizzlies of Glacier Park would have to rate somewhere between zero and one."
That illusion was shattered 50 years ago this week, when two grizzly attacks stunned the Park Service and forever transformed America's relationship with its most iconic carnivore.
In the early hours of August 13, 1967, a bear dragged 19-year-old Julie Helgeson from a campground below the chalet after gnawing the arm and legs of her male companion. By the time rescuers found her torn body hours later, Helgeson, a bright, charming Minnesotan, had suffered massive blood loss; though her bitten friend survived, she died on a makeshift operating table at the chalet at 4:12 am. At nearly the same moment, a different grizzly attacked another 19-year-old woman, Michele Koons, in her sleeping bag at nearby Trout Lake. Although Koons' friends managed to flee, the young Californian wasn't able to disengage her zipper, and the grizzly carried her into the night.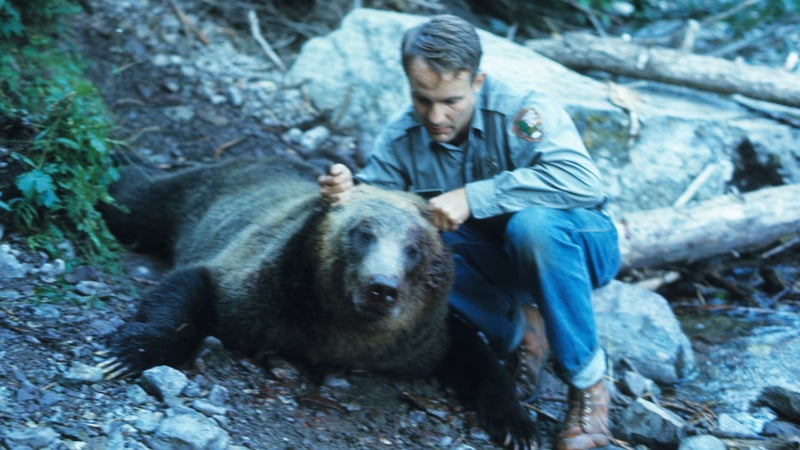 The next morning, mortified officials dispatched a cadre of rangers to terminate any bear lingering near the attack sites—a job Shea considered necessary but stomach-turning. "It was very disagreeable to me," he says. "To live in the same country as grizzly bears is a privilege. And it really wasn't the bears' fault."
For much of the 20th century, many grizzly bears who lived in or around national parks subsisted largely on human garbage. In Yellowstone, early officials erected bleachers around dumps so tourists could watch bruins nosh chicken bones and rotten vegetables. Glacier's approach was scarcely better. Just four days earlier, Shea and a 27-year-old ranger named Bert Gildart had visited the chalet and discovered that the hotel was feeding its scraps to regular ursine visitors. Meanwhile, the campground at Trout Lake "looked like a battlefield strewn with K rations," wrote Olsen in Night of the Grizzlies, his bestselling 1969 account of the tragedy.
The inevitable result: Bears lost their fear of humans and came instead to associate us with free dinner. "These were tragedies waiting to happen," says Gildart, who shot the Trout Lake bear, an emaciated female whose stomach was found to contain a tangled mass of undigested human hair.
In the immediate aftermath of the attacks, a broader reprisal against Glacier's grizzlies seemed inevitable. Yes, the offending individuals had been killed, but some dissatisfied officials demanded the species' total extermination from the lower 48. Who were parks for, anyway—people or predators? "The grizzly will almost certainly be banished into Canada," Olsen warned in his book, "and thence perhaps into Alaska to live out his last years as a species, and all the goodwill and understanding in the world…will not alter his eventual fate."
Rather than leading to the eradication of bruins, however, the night of the grizzlies forever reshaped the country's approach to bear management. Over the months that followed, chastened Glacier administrators set about developing nearly all the practices that modern campers associate with bear-smart outdoorsmanship: installing bruin-proof garbage cans, separating cooking and sleeping areas at campgrounds, and setting up a backcountry permitting process to track hikers. Shea suspended steel cables between trees so backpackers could hang their food; Gildart escorted them out of the woods when they failed to comply. Altogether, says Shea, Glacier's bear management plan expanded, virtually overnight, from three pages long to around 50.
An aggressive education program also bolstered awareness. Before the attacks, Gildart remembers, drivers would regularly pose their kids alongside black bears on Going-to-the-Sun Road. One motorist even tried to coax a bear behind the steering wheel for a photo op. "By the next year, people would get around 15 pieces of bear safety literature going through the park," he says.
Yellowstone's managers took heed as well, raising food poles, establishing dedicated backcountry sites, and closing the famous open-pit dumps. The latter decision, though well-intentioned, troubled twin brothers Frank and John Craighead, the founding fathers of grizzly biology, who advised the park to phase out the trash heaps gradually and to supplement the garbage with elk carcasses to wean the bears onto natural foods. Forcing rubbish-addicted bears to go cold turkey, the brothers warned, could lead to "tragic personal injury, costly damages, and a drastic reduction in the number of grizzlies."
But park managers ignored their recommendations, and the process unfolded as the Craigheads foretold. Dozens of starving, garbage-dependent bears blundered into campgrounds and trash piles just outside the park, and, in 1972, a grizzly killed a camper near Old Faithful, a slaying that many attributed to the dump shutdown. The closures were far more fatal for wildlife: Between 1968 and 1973, a staggering 189 Yellowstone grizzlies met their ends at human hands. "There's no question that park rangers were killing bears willy-nilly," says bear biologist David Mattson.
The dump closure and the spike in grizzly deaths also had profound political consequences. By 1975, only 136 Yellowstone bears remained, prompting the government to list them as threatened under the Endangered Species Act. Decades of recovery efforts ensued, largely centered around improved garbage management. Once, Yellowstone's black and grizzly bears injured an appalling 48 people each year; by the 2000s, though, the park was averaging only one attack annually and killing just a single incorrigible silvertip every five years. (Although officials are not required to euthanize grizzlies that attack people—if, for instance, the aggressor is a mother defending her cubs—managers tend to err on the side of human safety.)
"It's hard to go into a cleaner place than Yellowstone or Glacier today," says longtime grizzly advocate Louisa Willcox. "To have people as well-behaved as they are is astonishing."
Thanks largely to improved human behavior, Olsen's prediction about the certain demise of Ursus arctos horribilis proved wrong. In recent years, grizzlies have expanded their range, venturing down from alpine refuges to recolonize prairies in Wyoming, Montana, and Alberta. Farther west, the government has proposed relocating the creatures into Washington's North Cascades National Park. And earlier this year, Yellowstone's grizzlies, which number around 700, were finally deemed recovered—despite advocates' objections—and stripped of their endangered status. But Mattson and Willcox—a husband-wife duo who describe themselves as Montana's "rebel bear force"—aren't celebrating. To their minds, the Yellowstone bear's situation in 2017 contains disquieting echoes of its plight a half-century ago. Once again, grizzlies face an uncertain nutritional future, as whitebark pine trees, whose nuts provide critical calories, are being ravaged by a climate change–driven beetle epidemic. Once again, alarming numbers of bears are perishing beyond the park's boundaries—this time in clashes with ranchers and hunters. And once again, they say, the warnings of independent scientists have fallen upon deaf ears. "These dynamics, in some respects, are eternal," Mattson says.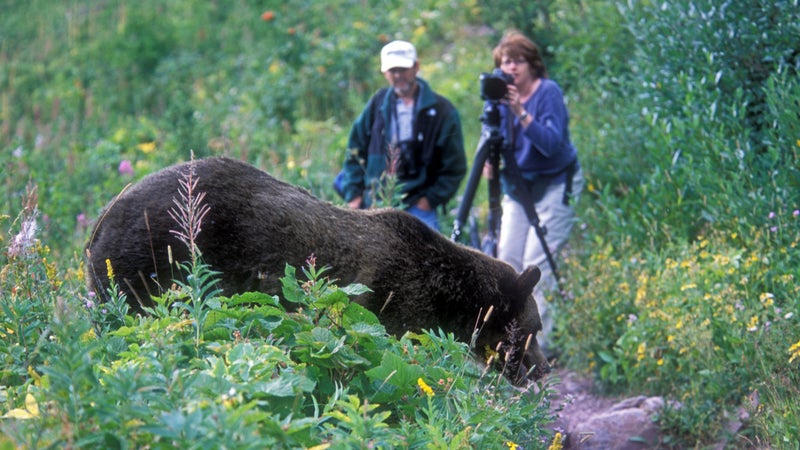 Today, the odds of being mauled in a national park are infinitesimal. Eight people have been killed by bears in Yellowstone's history—fewer than the number of people who have perished in the park's thermal pools. In Glacier, bruins have benefited from new protocols as much as people have: According to supervisory wildlife biologist John Waller, the park hasn't been forced to remove a grizzly since 2009. Bears that linger around campgrounds face a battery of hazing techniques from rangers—yapping dogs, exploding cracker shells, gun-propelled bean bags—designed to make them fear us strange, hairless bipeds. "It doesn't take the bear very long to go, huh, it's not worth going back there," Waller says.
Still, freak accidents happen. In 2016, for instance, Brad Treat, a Forest Service officer, was mountain biking just outside Glacier when he collided with a grizzly, which then killed him. (Bert Gildart, an avid cyclist, alerts animals by singing Bruce Springsteen's "Glory Days" as he rounds blind curves.) The most intractable source of conflict may be simple math. In Glacier's early years, it drew scarcely 4,000 visitors a year; in 2016, it hosted 2.9 million. Yellowstone has cracked 4 million for two years running. "Glacier is where my heart is, but it's not wilderness anymore," says Dave Shea, who worked 36 seasons in the park before retiring. "The overarching problem is too many humans."
Earlier this summer, while hiking a Yellowstone ridgeline with a friend, I spotted a female grizzly trundling across a snowfield a quarter-mile downwind. As we dug for our cameras, the bear caught our scent, lifted her head, and took off at a gallop toward us, slabs of fat and muscle rippling beneath blond fur. Cameras forgotten, we unsheathed cans of bear spray—a technology that didn't exist in 1967—and backed away, hollering and clapping. The scene unfurled surreally; I felt less participant than observer, as though the anachronistic experience of being charged by a gigantic predator was more appropriately the stuff of nature documentaries than real life.
Moments later, the grizzly popped over the plateau's lip, foam flecking the corners of her toothy mouth, panting like a winded dog. She hesitated 25 feet out, more quizzical than aggressive. For a long moment, we shared the plateau, three mammals alone on a windswept ridge in the heart of nowhere. And then the grizzly, decisively and mercifully, turned and disappeared over the next rise, leaving us alone with our hammering hearts. She was everything a bear should be—wary and wild, an animal that saw us two humans not as providers or prey, but, rightly, as untrustworthy interlopers to be avoided.
Lead Photo: Bert Gildart
Trending on Outside Online