The 25 Best Hikes in the World Right Now
Ancient European pilgrimages. Coastal treks along jungle isles. Surprising Rocky Mountain summits. Checking off any of these bucket-list hikes is sure to be the experience of a lifetime.
Heading out the door? Read this article on the new Outside+ app available now on iOS devices for members! Download the app.
Amazing hikes must all check off a few boxes to earn that label. A sweeping vista or two is essential, some unique flora and fauna is almost par for the course, and mesmerizing geological features like waterfalls or ice fields certainly don't hurt. Add in a bit of isolation and you have a recipe for success. But whether it's ancient temples, one-of-a-kind mountain peaks, a strong sense of history, or just truly epic landscapes, each bucket-list hike in this roundup has that extra something special it takes to stand above the rest. I've been a professional travel writer for most of my adulthood, and these are the all-time best places that have impressed me over the years.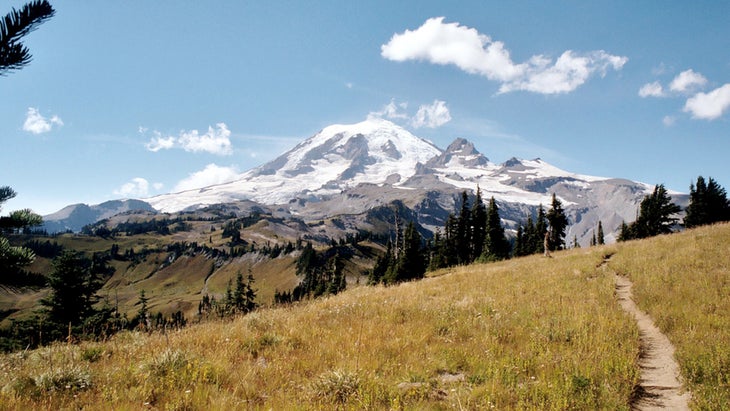 Wonderland Trail
Mount Rainier National Park, Washington
Length: 93-mile loop
Just because this trail circumnavigates, rather than summits, 14,411-foot Mount Rainier, don't assume it's an easy walk in Mount Rainier National Park. Think of it this way: with a total elevation gain of 22,000 feet, it's sort of like summitting the active volcano twice, minus the scary crevasses. Spread the hike over 10 to 14 days to fully appreciate this epic meander through the most beautiful terrain in the Pacific Northwest, from lowland forests and subalpine meadows to wide-open valleys with views of Rainier's icy glaciers. With 18 designated wilderness camps and four resupply mailboxes, the trail is well maintained and designed with thru-hikers in mind. Apply for a permit well before the April 1 deadline to get a coveted July-to-September slot and avoid the snow that lingers in the higher elevations into June.
---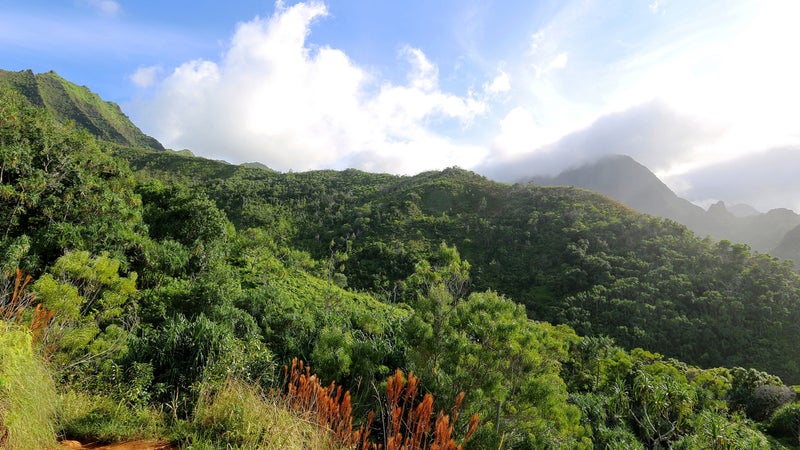 Kalalau Trail
Kauai, Hawaii
Length: 22 miles round-trip
Patience is a virtue when planning to hike this lush, steep trail along Kauai's famously fluted Na Pali Coast. With its 300-foot-high waterfalls, views to the crashing Pacific, and access to two stunning sand beaches, Hanakapiai and the completely isolated Kalalau, this out-and-back trek is worth every rigorous step. But because of heavy flooding in 2018, it will be closed until at least mid-2019. Even when the trail is open, access can be hard to come by. Hiking farther than two miles requires a permit, and to mitigate growing congestion and overtourism on Kauai's north shore, the state is also building a new parking area near the trailhead that will limit daily visitors to 900. Monitor access and updates on the Hawaii Division of State Parks Kalalau Trail web page.
---
Camino Primitivo, Camino de Santiago
Oviedo to Santiago de Compostela, Spain
Length: 230 miles one way
There are many paths to the Shrine of Saint James in Santiago de Compostela, but in true pilgrim spirit, sign on for the ninth-century route that the original pilgrim, Alfonso II of Asturias, took from Oviedo in northern Spain. The 15-day route receives only 4 percent of annual Camino trekkers, because it crosses the craggy, 8,000-plus-foot Cantabrian Mountains. The payoff, however, is killer views of the peaks of Picos de Europa and a halfway point marked by the third-century World Heritage site of Lugo, the only city in the world still surrounded by a fully intact Roman wall. In the lively market town of Melide, the Camino Primitivo joins forces with the more crowded Camino Frances for the last 36 miles. Stay in private or municipal albergues, hostels specifically for pilgrims, which vary in price, charm, size, and cleanliness. One of the most highly rated on the trail is the private, 14-room Cantábrico Fonsagrada. If time is an issue, REI offers a condensed nine-day version of the route.
---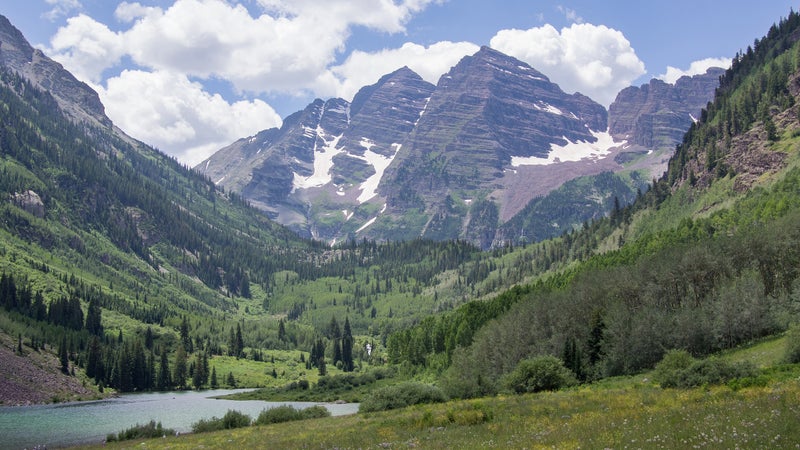 South Maroon Peak
Maroon Bells, Colorado
Length: 12 miles round-trip
Choosing the best of Colorado's 59 fourteeners is a little like being forced to pick your favorite child. We love the Bells because few peaks on the planet are more impressive than the behemoth 14,163-foot South Maroon (and its 14,019-foot twin, North Maroon, a third of a mile away). The alpine views of Maroon Creek Valley and the surrounding Elk Range from the summit of South Maroon, the true fourteener of the two, are astounding. And the awe is earned: these peaks are largely composed of sedimentary mudstone and are notorious for their loose, rotten rock up high, so bring your helmet. Even the standard, Class III South Ridge Route to the summit of South Maroon requires extensive time above the tree line, scrambling up often vertical rock. It's a worthy 4,500-foot challenge, but it would be more relaxing to stay low and stick to the 1.5-mile-long Maroon Lake Scenic Trail.
---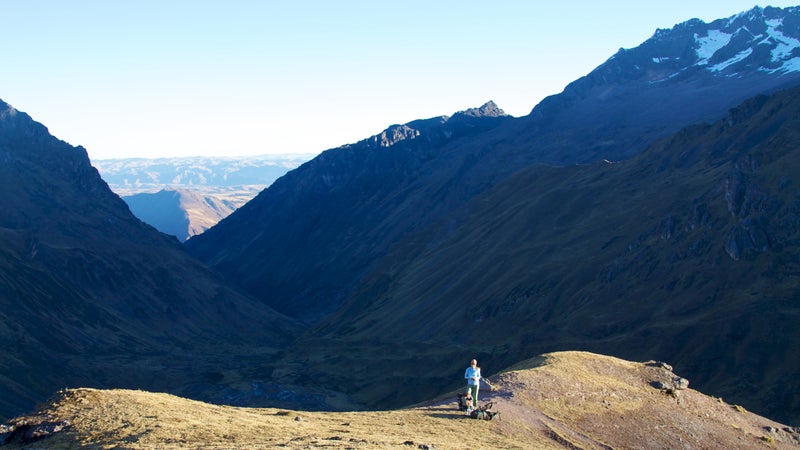 Lares Trek
Lares, Peru
Length: 22 miles one way
Slightly shorter in length and higher in altitude that its famous sibling, the Inca Trail, this two-to-three-day trek starts in the village of Lares and traverses the Urubamba mountain range. It's the best way to experience true Andean culture. You'll see farmers hand-tilling potato fields at 10,000 feet, Quechua women wearing beautifully colored woven shawls while herding llama-like vicuñas, and cross 14,435-foot Ipsaycocha Pass, the highest point on the trek, before descending to the town of Ollantaytambo, where you can catch a train to Aguas Calientes, the jumping-off point for Machu Picchu. No permit is required for the trek, but going with a local guide is recommended. Hire the best through Explorandes Peru. For a more luxurious option, Mountain Lodges of Peru offers multi-day adventures combining day hikes, visits to villages and archeological sites, and farm-to-table meals at its tasteful, plush lodges throughout the Sacred and Lares Valleys.
---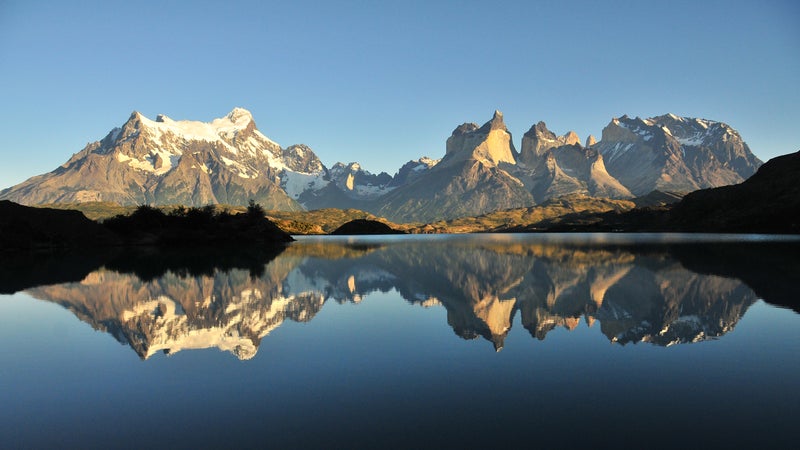 Paine Circuit Trek
Torres del Paine National Park, Chile
Length: 80-mile loop
There are other, lesser known wilderness treks in Patagonia, like the Dientes Circuit on Navarino Island and the Las Horquetas Circuit in newly minted Cerro Castillo National Park. But if your heart's set on seeing Torres del Paine National Park, the best way to avoid the crowds is to circumnavigate the entire Cordillera Paine. The beauty of this trek is that it includes the three iconic stops on the famous W circuit—the 12-mile, 2,500-foot hike to the base of the towers, the 360-degree view of the Paine Massif from the French Valley, and the retreating hulk of the Grey Glacier. But the full circuit continues to the back side of the cordillera, where the grandeur of the southern ice field and exquisite views to the massif can be enjoyed in solitude. Treat yourself to a few well-deserved rest days at Tierra Patagonia, a luxurious hotel so well disguised that it nearly disappears into the surrounding steppe. Park-visitation numbers are skyrocketing, and Patagonian weather is always unpredictable, so secure permits well in advance, preferably for September and October or April and May, the outer limits of the high season.
---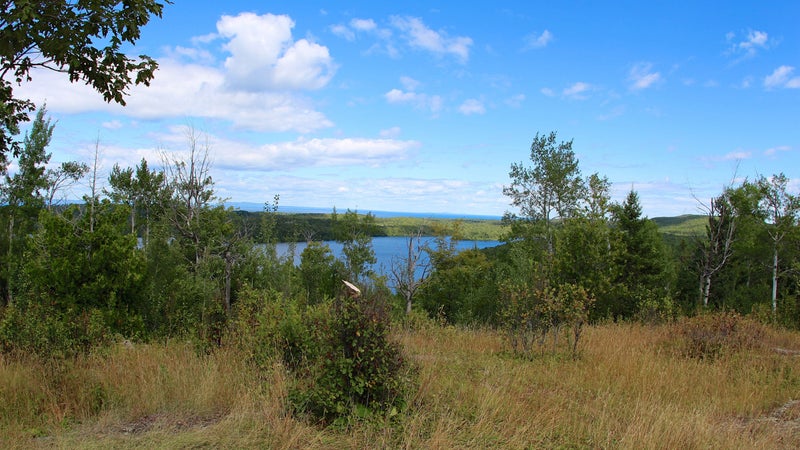 Greenstone Ridge Trail
Isle Royale National Park, Michigan
Length: 42 miles one way
This is one of the few hikes in the U.S. where it's entirely possible to see more moose than people, partially because it requires a ferry to even reach the trailhead on the western edge of the least visited national park in the lower 48. Once you've arrived at Windigo Harbor, you'll climb 1,200 feet through lush green boreal forest, topping out at bald ridges before descending to pebble beaches scattered with the semiprecious chlorastrolite for which the trail is named. There are rustic shelters at designated campsites along the trail, and you can splurge on an eight-ounce filet of fresh lake trout at the end at the Lighthouse Restaurant before catching the ferry or float plane back to the Minnesota or Michigan mainland. If you can, plan your trip for late September or early October when the colors are popping and the mosquitoes have died off.
---
Buckskin Gulch to Paria Canyon via Wire Pass Trailhead
Utah-Arizona Border
Length: 13.5 miles one way
There are better-known and more easily accessed slot canyons in Utah, but Buckskin Gulch in the northern section of Paria Canyon–Vermilion Cliffs Wilderness has the distinction of being one of the longest in the world, with uninterrupted narrows for 15 miles that rise up to 500 feet high in places. Start at Wire Pass Trailhead. This shortcut surpasses two miles of canyon walls but quickly puts you in the most spectacular sections of sandstone whorls, precipitous cliffs, and ancient petroglyphs. The hike requires rope for lowering gear through the canyons and may even necessitate waist-deep wading through water pools. Don't rely on your weather app before attempting it; instead call the Paria Contact Station or the the Grand Staircase–Escalante National Monument Visitor Center in Kanab for essential updates on trail conditions.
---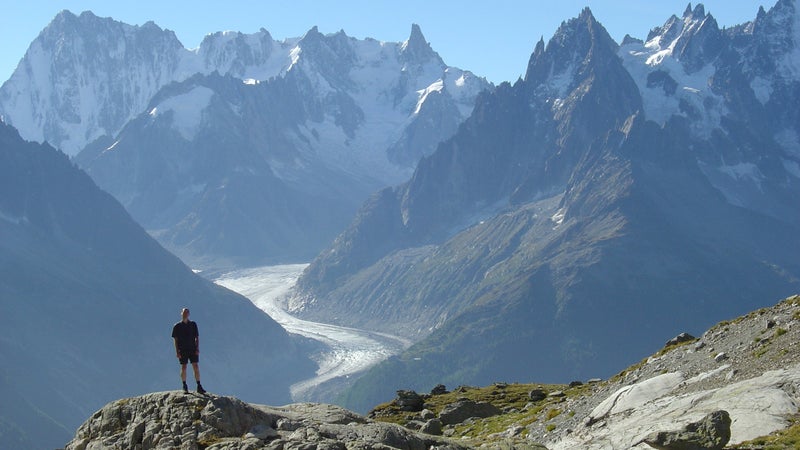 Tour du Mont Blanc
Switzerland, Italy, France
Length: 112-mile loop
Compare French, Italian, and Swiss cuisine while trekking through all three countries on this circuit around 15,781-foot Mont Blanc, the highest peak in Western Europe. This is a full-on immersion course in real mountain living: you'll gain some 32,000 feet, spy the most stunning peaks in the Alps, and stop in serious mountain towns like Chamonix and Courmayeur. Unlike other circuits, there are multiple starting points, plenty of route options, public transportation to shorten the trip if something goes awry, and a variety of accommodations, from mountain huts to five-star hotels. For a true vacation, let someone else handle all the logistics, like Ryder-Walker Alpine Adventures or MT Sobek. Or if your legs and lungs can handle it, the route also makes for the most luxurious trail run over 100 miles.
---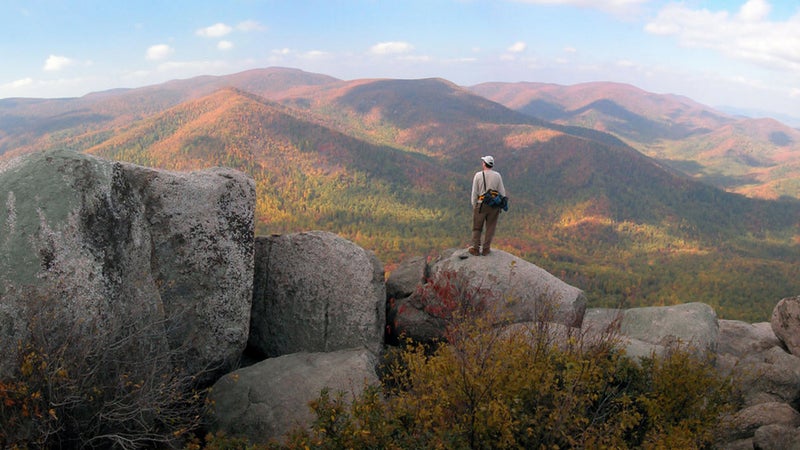 Old Rag
Shenandoah National Park, Virginia
Length: 9.2-mile loop
So named for its underlying, billion-year-old "old rag" granite, this iconic East Coast peak became a magnet for rock climbers back in the 1930s, and located a mere 100 miles southwest of Washington, D.C., the 3,284-foot Blue Ridge Mountain is still well traveled. Avoid the crowds by climbing it midweek in winter. Or if you don't mind other hikers and want to see some of its 850 species of flowering plants, including trillium, wild ginger, showy orchids, and saxifrage, plan your trip to coincide with the park's annual Wildflower Weekend, which falls on May 11–12 this year. After a two-mile switchback ascent through thick deciduous forest, the trail scrambles around granite boulders, up a natural staircase of quartz and feldspar, and tops out at numerous false summits before reaching the true summit and the best view of the sprawling, 200,000-acre Shenandoah National Park.
---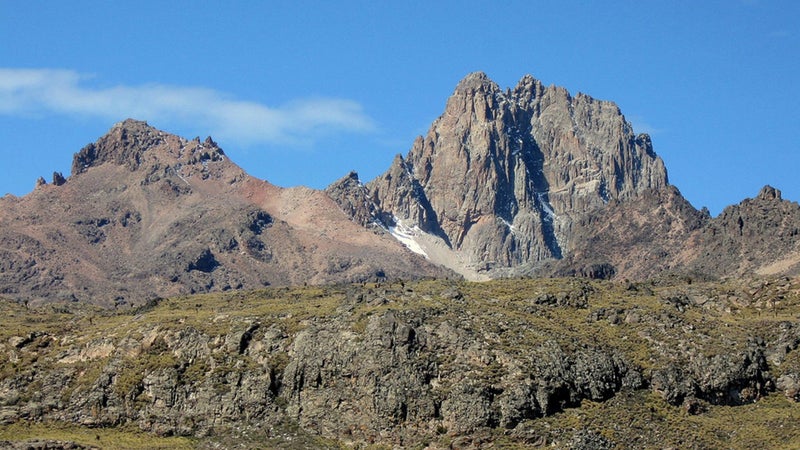 Chogoria Route to Point Lenana Peak
Mount Kenya, Kenya
Length: 32 miles one way
At 17,057 feet, Mount Kenya is Africa's second-highest peak, but the dormant volcano receives far fewer trekkers than 19,341-foot Kilmanjaro. It also offers more wildlife, like elephants and Cape buffalo, and impressively varied and beautiful terrain, from bamboo rainforests to moors akin to the Scottish Highlands. The most scenic and interesting nontechnical route is Chogoria, which takes hikers through the gorgeous Gorges Valley, home to misty views and waterfalls that cascade over precipitous cliffs, to 16,354-foot Point Lenana, the closest you can get to the summit without technical climbing skills. It's also the best place in Kenya to watch the sunrise and get a view of the mountain's twin summits: 17,057-foot Batian and 17,021-foot Nelion. The driest months, January, February, and September, are the best time to hike. Outfitter Mountain Madness offers a combo trek that's followed by safaris in Samburu National Reserve and Sweetwater Reserve.
---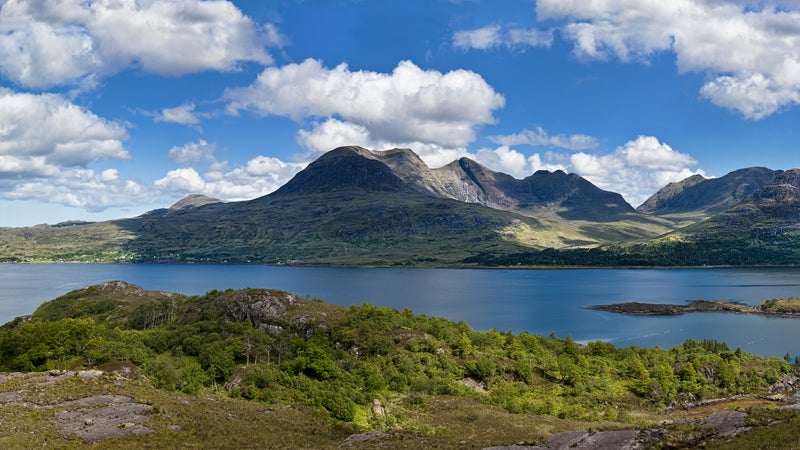 Fisherfields Round
Fisherfield Forest, Scotland
Length: 19.4-mile loop
Known as the Great Wilderness, this hike in northwest Scotland tackles the country's five most remote Munros, peaks of over 3,000 feet with names like Bein a Chlaidheimh and Sgurr Ban. Traversing bogs, heather, grassy slopes, knife-edge ridges, boulders, and scree, you're in for a quintessential Highlands hike. But don't be fooled by the relatively low altitude. The highest point on the naked summit of Mullach Coire Mhic Fhearchair may only be 3,343 feet, but these peaks also contain the most remote square mile in all of Great Britain, and weather can change on a dime. Most trekkers take at least two days and start at the Shenavall bothy, a hostel used by climbers summitting nearby An Teallach, but wilderness camping almost anywhere along the route is also an option, no permit required. Wilderness Scotland has expert guides and can customize this trip or a more luxurious (and Scotch-filled) itinerary.
---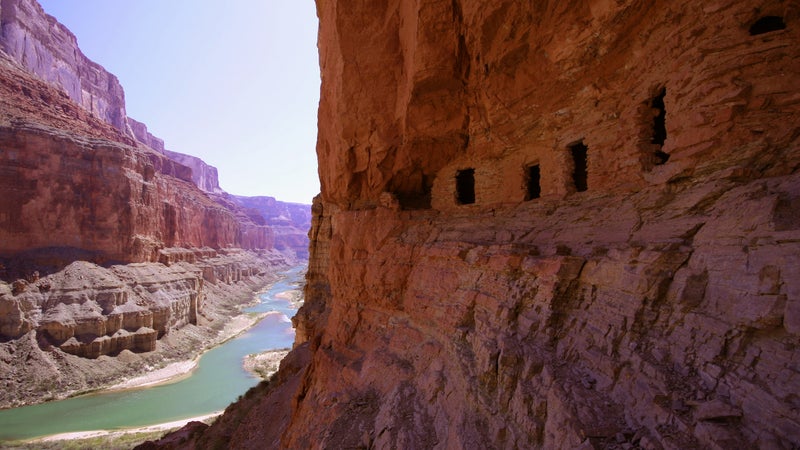 Grand Canyon Rim-to-Rim
Grand Canyon National Park, Arizona
Length: 24 miles one way
Of the five million people who visit Grand Canyon National Park every year, less than 1 percent descend the grueling 14.6-mile, 5,850-foot North Kaibab Trail to the bottom of the canyon, then hike 9.6 miles and 4,460 feet back up the other side on the Bright Angel Trail. The reward is trekking through 11 layers of rock and two billion years of geologic history. The dizzying views of the big chasm aren't bad either. Enter the lottery as early as 15 months prior to your planned trip and you may even be able to spend a night at Phantom Ranch, the 1920s-era rustic cabins on the bank of Bright Angel Creek and the most coveted reservation in the national-park system. While most hike the route, some mad souls run rim-to-rim-to-rim in one go.
---
Mount Washington via Tuckerman Ravine
Presidential Range, New Hampshire
Length: 8.4 miles round-trip
First climbed in 1692 by Darby Field and his Abenaki guides, the summit of 6,288-foot Mount Washington is far from an unknown entity. It is, however, a rite of passage for aspiring East Coast mountaineers and deceivingly dangerous, with colder temperatures than Washington's Mount Rainier and the highest wind speed ever recorded in the United States at 231 miles per hour. Starting at Pinkham Notch Visitor Center, the trail meanders through mixed hardwood forest and over Cutler River bridges before opening up to the glacial cirque of Tuckerman Ravine and a 1.8-mile, above-tree-line scramble over scree to the summit. The payoff is the view of the White Mountains and surrounding Presidential Range, the highest in the northeast. For the latest trail updates, visit Friends of Tuckerman Ravine.
---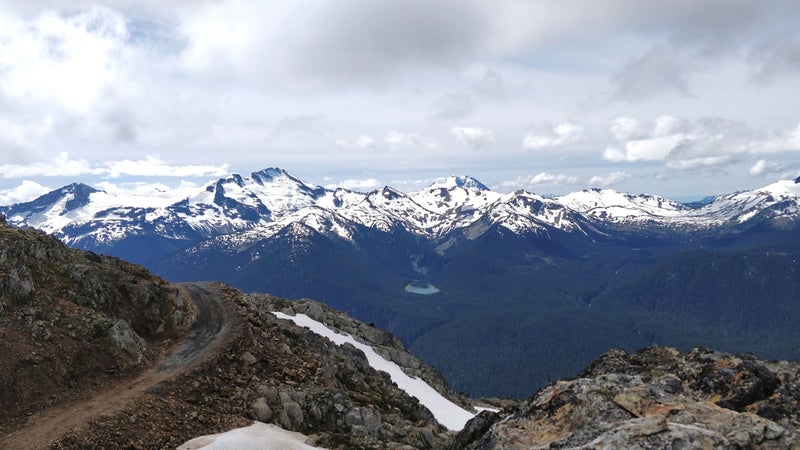 Panorama Ridge
Garibaldi Provincial Park, Canada
Length: 18.6 miles round-trip
You could throw a dart at a map of Western Canada and land on a world-class hike, but we finally picked Panorama Ridge as the best route in the region because the nearly 20-mile out-and-back offers such classic, consistent alpine scenery. Starting at the Rubble Creek Trailhead, 20 miles south of Whistler Village via the Sea-to-Sky Highway, the trail rises 4,987 feet, first into a spray of wildflowers at Taylor Meadows, then along the south flank of Black Tusk, a massive 7,608-foot pinnacle of black volcanic rock, and finally on to the top of the 6,998-foot ridge, where there are 360-degree views of snow-dappled Mounts Price and Garibaldi and the flat-topped, disintegrating volcano known as the Table, all rising from the turquoise water of Garibaldi Lake. It's possible to make the summit push and return in one day, but with vistas like this, why rush it? Stop for a cooling dip on the way down at glacial-fed Garibaldi Lake, then pitch a tent at Garibaldi Lake Campground. Advance reservations are required.
---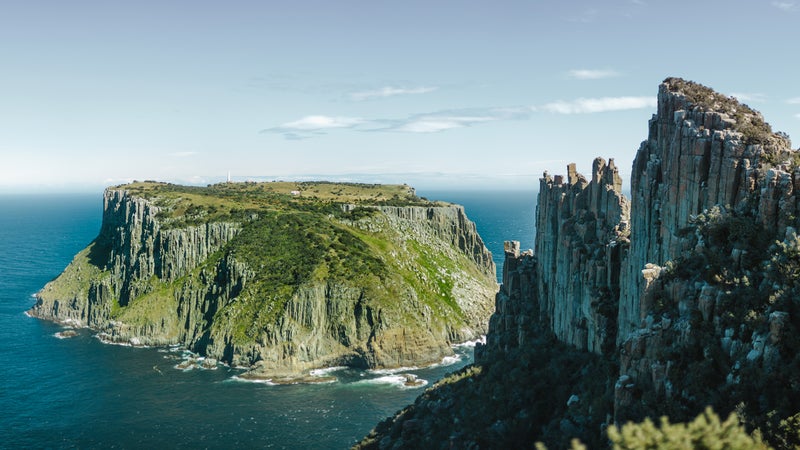 Three Capes Track
Tasmania, Australia
Length: 32 miles one way
Of all the amazing walks in Australia, the Three Capes Track on the Tasman Peninsula is the most otherworldly. A 90-minute drive from the state capital of Hobart, it starts with an hourlong boat ride from Port Arthur Historic Site, the eerie 1830s penal colony that once housed the worst criminals in the British Empire. A custom-made speedboat designed to handle the crashing waves of the Southern Ocean takes trekkers across Maingon Bay, home to fur seals, dolphins, and migratory whales, to Denman's Cove. The Y-shaped trek winds through coastal heath, up cut-stone paths to eventually traverse the tops of the 1,000-foot-high dolerite columns of Capes Pillar and Hauy, both of which drop straight into the sea. There are three plush national park huts, all of which contain board games, deck chairs, yoga mats, memory-foam beds, and a shared kitchen. If you'd prefer a fully-guided option, or want to carry a lighter pack, the new Three Capes Lodge Walk includes roundtrip transfers from Hobart, exclusive lodge accommodation, and meals. Don't bother trying to figure out where the third cape is. The last 23-mile link to Cape Raoul has yet to be completed.
---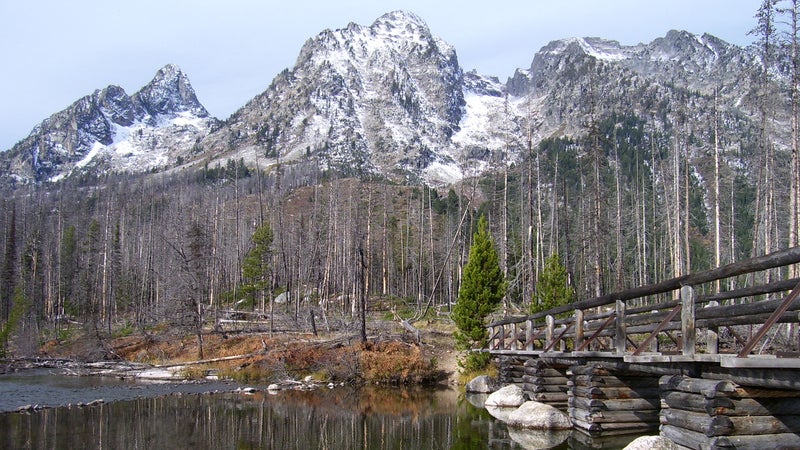 Teton Crest Trail
Grand Teton National Park, Wyoming
Length: 40 miles one way
July through September, you'll be hard-pressed to find a trailhead in Grand Teton National Park that isn't packed with coach buses. Get, quite literally, above the selfie snappers on this three-to-five-day hike, which traverses not only the park but two national forests (Bridger-Teton and Caribou-Targhee) and the Jedediah Smith Wilderness. This high-alpine route, which rarely drops below 8,000 feet, ascends for a total of 8,061 feet and has views of the iconic Tetons throughout. Hit your timing right in July and you'll pass wildflower meadows blooming with lupine, western coneflower, paintbrush, and more. If you must post your epic on social media, respect Jackson Hole's social-media guidelines and turn off the geotagging function. The route is also listed on of the best trail runs in the world.
---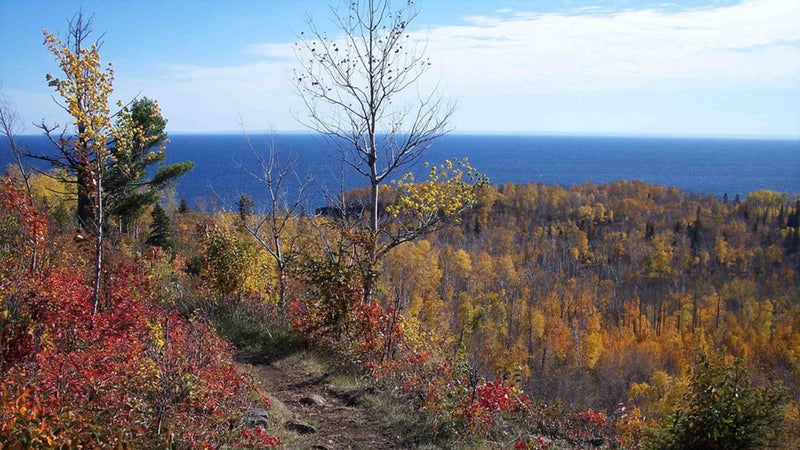 Superior Hiking Trail
Duluth, Minnesota, to the Canadian Border
Length: 310 miles one way
This steep, rocky, narrow trail runs from the Minnesota/Wisconsin border outside of Jay Cooke State Park, southwest of Duluth, clear to the Canadian border and is filled with constant and challenging elevation changes (total gain is 37,800 feet going north), shady pine and deciduous forests, and near constant water sources filtered from quiet lakes or rushing streams, many of which have multitiered waterfalls that crash toward Lake Superior. The trail intersects numerous roads along the way, making it easy to a reserve shuttle and mix up backcountry camping with a walleye dinner and a night in a high-thread-count bed at classic Lake Superior shoreline lodges like Lutsen Resort. Because the route is managed by a small non-profit which doesn't have the bandwidth to field questions from every potential hiker, your best bet for beta is to pick up the organization's comprehensive Guide to the Superior Hiking Trail.
---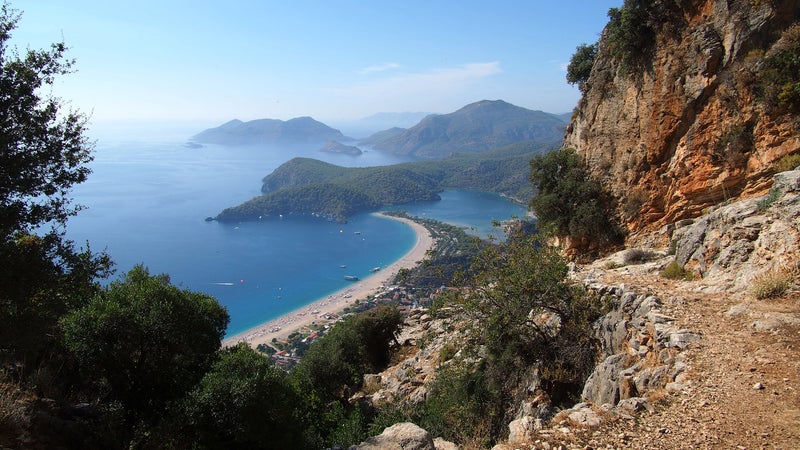 Lycian Way
Fethiye to Antalya, Turkey
Length: 356 miles one way
Travel through Greek, Roman, and Christian history on a 29-day route that stretches along Turkey's southern Tekke Peninsula. Comprised of a stone road, mule paths, and footpaths, the well-marked way meanders along the mountainous coastline, dipping into centuries-old ruins and ancient cities along the way. Historic sites are everywhere, but some of the more interesting are the rock tombs of Myra, the eternally burning flames of Chimera, and the seaside amphitheater of Antiphellos. Spring and fall are the best time to trek the route, when the Mediterranean is still warm enough for swimming, paddling, and playing. With the exception of three remote mountainous sections where camping is necessary, accommodations are available in the cities and villages along the route. For a more decadent way to see the stunning Turquoise Coast, check out Wilderness Travel's expedition, which plies the same coastline from the comfort of a gulet, a two-masted sailboat.
---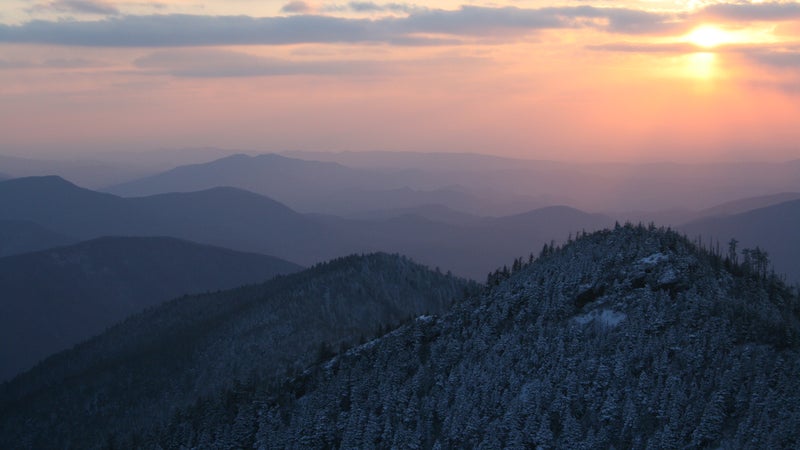 Appalachian Trail
Great Smoky Mountains National Park, Tennessee
Length: 71.6 miles one way
Of the Appalachian Trail's 2,200 miles, there's something extra magical about the 72-mile section through Great Smoky Mountains National Park. It may be the way the mist clings to the ancient ridges and rocky outcrops; the abundance of flaming azaleas, lupines, and rhododendrons; or the knowledge that 6,625-foot Clingman's Dome is the highest summit along the entire AT. Whatever the reason, this strenuous seven-day section is the best way to dodge the park's 11.3 million annual visitors. There's only one road crossing, at Newfound Gap, on the entire stretch. There are, however, 12 comfortable backcountry shelters, all of which sleep at least a dozen. Beware that AT thru-hikers need a different permit than hikers covering only the Great Smoky Mountains National Park section.
---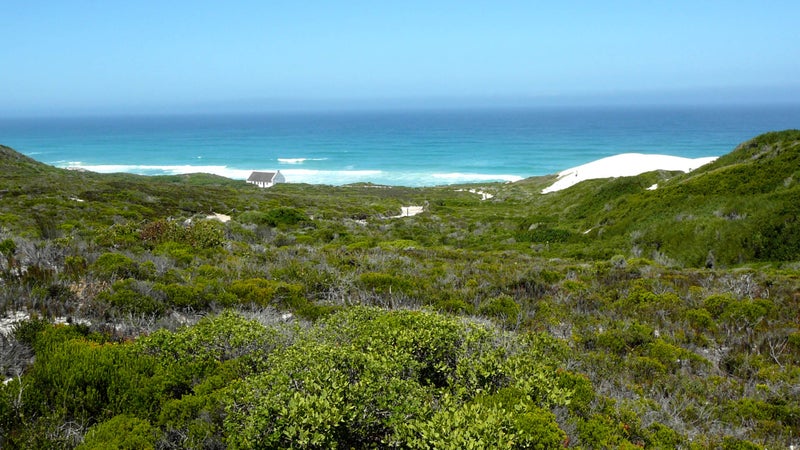 Whale Trail
De Hoop Nature Reserve, South Africa
Length: 33 miles one way
Between June and November, the De Hoop Nature Reserve, 145 miles east of Cape Town, becomes the best place in the world to witness migrating right whales without stepping foot on a boat. Maximize viewing time with this leisurely five-day stroll that starts inland in the shadow of 1,935-foot Potberg Mountain before descending through fields of fynbos and other wildflowers to the searing white-sand beaches and tide pools that line this stretch of the Indian Ocean. The second night's stay in Noetsie Hut is a highlight, with its sleek design, two outdoor fire pits, and a deck for watching right whales or gazing at the Milky Way. The next few days include snorkeling and swimming in Stilgat Bay. The absolute best time for viewing southern right whales is August, so book at least a year in advance to ensure space in the accommodations.
---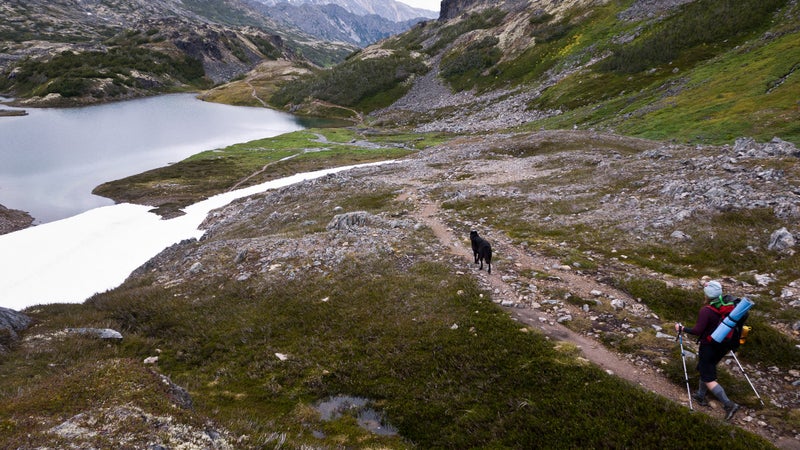 Chilkoot Trail
Dyea, Alaska, to Bennett Lake, Canada
Length: 33 miles one way
Though it's just a fraction of the original 600-mile trek to the Klondike, the first 33-mile section of the Chilkoot—which starts in the Alaskan ghost town of Dyea, summits 3,759-foot Chilkoot Pass, and ends at Bennett Lake, British Columbia—gives hikers a taste of the wild vistas and extreme hardships prospectors experienced during the gold fever of the late 1800s. Today the trail has a few comforts, like nine developed campsites, but there's still rain, avalanche danger, and the looming presence of the resident black and brown bears. It starts gently in the coastal rainforest along the Taiya River before climbing up a valley wall through subalpine forest to a rocky summit scramble. More of a route than a path here, it's easy to get disoriented in the frequent fog, so pay attention. This area is also an active avalanche zone, so travel with a partner and come prepared with a beacon, probe, and shovel. It's no wonder prospectors named the first safe oasis below the pass Happy Camp. Book the required permit in November, seven months prior to the June-to-September season, by calling (not e-mailing) Parks Canada.
---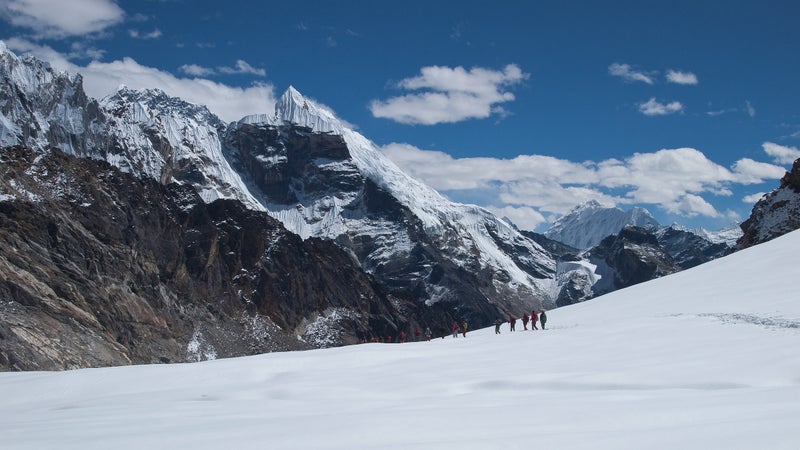 Everest Base Camp via Cho La Pass
Mount Everest, Nepal
Length: 75-mile loop
Every year the restrictions on visiting the world's highest mountain get tighter—and that's a good thing. The Chinese government recently announced that it has indefinitely closed its 17,056-foot Everest base camp on the Tibetan side, accessible by car, to everyone except climbers with permits, in order to clean up the mounds of trash. Nepal has similar problems, but there is so much history, beauty, and culture emanating from the Khumbu region that, as long as trekkers respect the local people and environment and give back via organizations like the American Himalayan Foundation or Himalayan Stove Project, hiking here can be beneficial to the community. On this circular route, you'll start with the iconic yet well-traveled path up to 17,600-foot Base Camp, which includes views of 22,349-foot Ama Dablam, a visit to the ancient Tengboche monastery, and stops at local tea houses in the numerous villages along the ascent, before returning to the buzzing Sherpa capital of Namche Bazaar via a challenging route over 17,700-foot Cho La Pass and along the turquoise Gokyo Lakes, the six-highest freshwater lakes in the world at 15,400 feet. If your legs can still handle it, hike to the nontechnical summit of 17,575-foot Gokyo Ri to take in the rare and overwhelming view of 29,029-foot Everest, 27,940-foot Lhotse, and 26,906-foot Cho Oyu.
---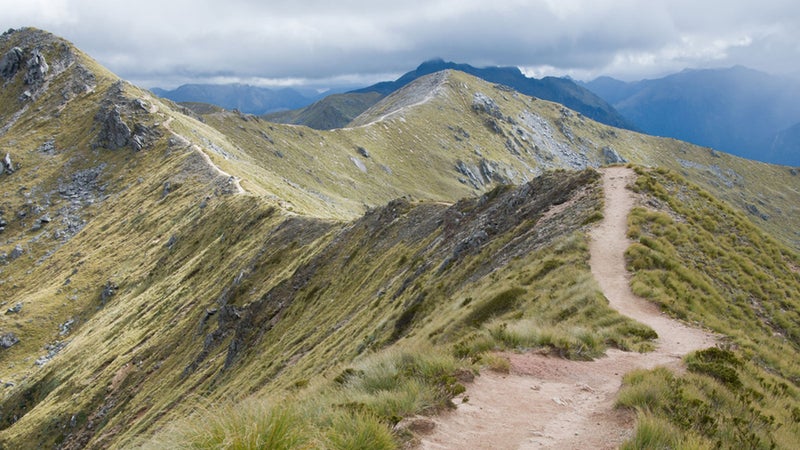 Kepler Track
Fiordland National Park, New Zealand
Length: 37-mile loop
Most of New Zealand's nine Great Walks are offshoots of ancient Maori trade routes or more recent paths built by pioneers. The Kepler, however, was custom-built (complete with boardwalks over boggy areas) through the South Island's Fiordland National Park to showcase its jaw-dropping beauty. Tackle the 37-mile, four-day circuit counterclockwise from Kepler Track Car Park and you'll knock off the most challenging climb through tussock grasslands to 4,600-foot Luxmore Saddle in the first two days. Near the top, the spacious, clean, 54-bunk Luxmore Hut has flush toilets, running water, and a deck with drop-dead gorgeous views of the Murchison Mountains and Lake Te Anau. Book your permit far in advance for the October-to-April trekking season. The route also makes for a one-of-a-kind trail run.
---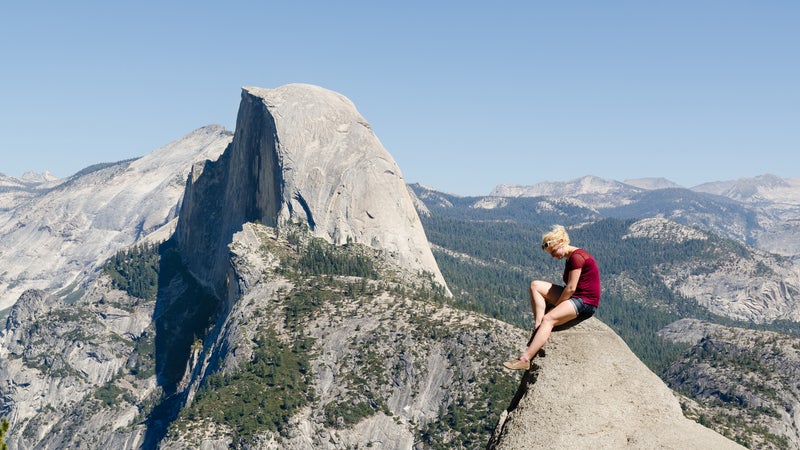 Half Dome
Yosemite National Park, California
Length: 14 miles round-trip
As beloved an American icon as apple pie, this 8,839-foot granite behemoth is one of the steepest, most dangerous hikes in the national park system, gaining 5,000 feet of altitude in seven miles. It also suffers from overcrowding. But as long as you secure one of 225 allotted day-hike permits and come fit and prepared, it's worth it for the sprawling view of Yosemite Valley. Start the route at dawn on the Merced River. After summiting the stone steps along 318-foot Vernal Falls and the subsequent 541-foot Nevada Falls, there's still halfway to go. At 8,000 feet, the trees disappear and the stone steps to the base of the cables, a vertical walking path to the summit lined by steel handrails, begin. Lightning can move in any time of day, so know when to abort the summit if weather goes sour. Pro tip: for the best chances of winning the permit lottery, apply for a Tuesday or Wednesday slot.
Lead Photo: Austin Cronnelly/Tandem