The Best Pacific Northwest Excursions
Climbing, hiking, and kayaking in the Pacific Northwest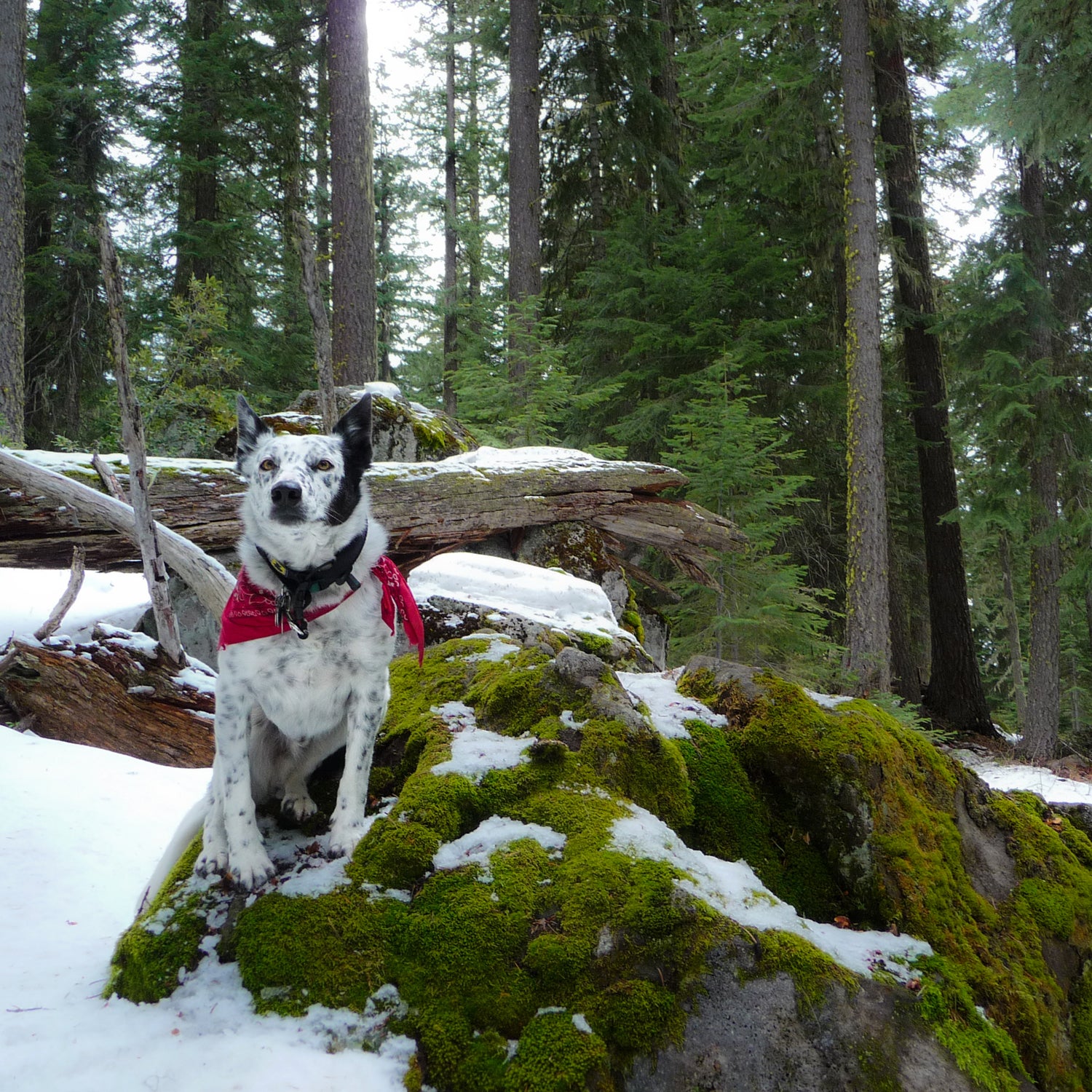 Heading out the door? Read this article on the new Outside+ app available now on iOS devices for members! Download the app.
Big mountains, fast rivers, rugged coastline, and the occasional Sasquatch sighting: for pure adventure in the lower 48, you can't beat the Pacific Northwest. We asked eight local authors to reveal the freshest ways to play in Idaho, Oregon, and Washington. All you need to do is pack a raincoat.
---
Cascades Slumber Party in Washington
Northwest climbers play favorites. Some swear by desert crags; some prefer the volcanoes, Mount Rainier and Mount Hood. When I moved west in 1995, I fell for Washington's North Cascades. They're steeper, wilder, and, with 600 glaciers, icier than almost any range in the lower 48. To climb here is to feel like a pioneer.
So I was bouncing with excitement that August morning when my buddy Craig and I parked on the North Cascades Highway and started up Cutthroat Peak, an 8,050-foot thumb of gold granite that straddles the Washington and Rainy passes. A dozen little mishaps later—among them, following the notoriously sketchy directions in local legend Fred Beckey's Cascade Alpine Guide—we summited around 5 p.m.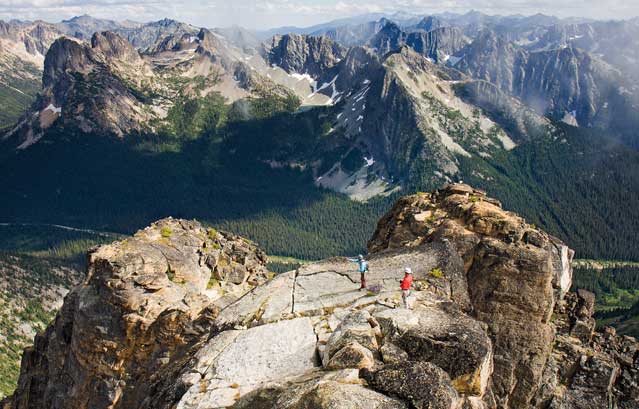 After a half-dozen more errors on the descent, night had fallen. Then the rope snagged. We anchored into a slanty shelf, stuffed our shorts-clad legs into backpacks for warmth, and settled in for our unplanned bivouac, too angry to speak. I now remember that night as the most beautiful I've ever spent outdoors—the air still, the distant glaciers set aglow by the stars, the satellites spinning. And when you're bivying on a ledge all night, sunrise is nothing short of a miracle.
One day I'll climb Cutthroat again, but I'm in no hurry. I like that the mountain rebuffed us. You have to come to the Cascades humble, flexible, prepared. And next time, with pants.
—Christopher Solomon
---
Alpine Play in Oregon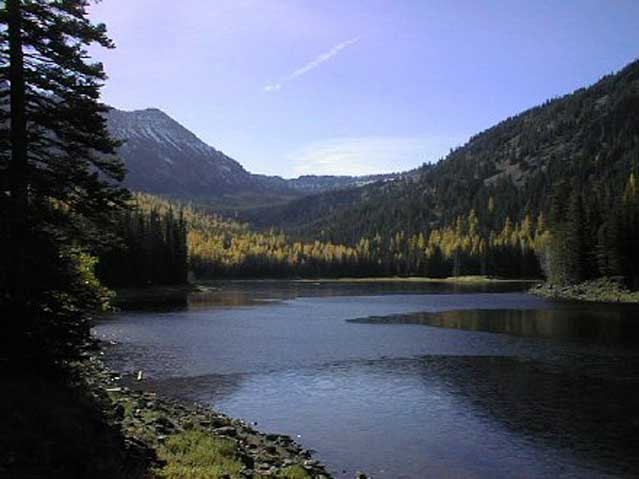 "It came from Outside," wrote my friend Jason. "I remember that specifically." I had e-mailed him to see what he recalled about a certain article that prompted our spontaneous backpacking trip to Strawberry Mountain Wilderness Area in 1993. We both grew up in Portland and had been amazed to discover a nearby mountain range we'd never heard of. So with a week to kill before summer jobs took away our freedom, we threw the issue in question on the dashboard and used the cartoon map that accompanied the article to navigate six hours to a 69,000-acre pocket of craggy peaks and trout-stocked alpine lakes outside Prairie City.
The place was stunning, which is probably why, 18 years later, Jason's e-mailed memory of that three-day trip was as vivid as mine: "There were two lakes, and we camped at the upper one." (Little Strawberry Lake, three miles up the trailhead from Strawberry Camp.) "We definitely saw some elk." (And at least a dozen bighorn sheep.) "We hiked to the top of Strawberry Peak." (It's a mellow climb up talus slopes to 9,038 feet.) "I think you caught a fish, and we ate it for dinner." (A bunch of fish, actually.) "I remember the sun creeping into and out of that lake basin—it was spectacular." (Nothing to add here.)
—Christopher Keyes
---
Aquathlon in Idaho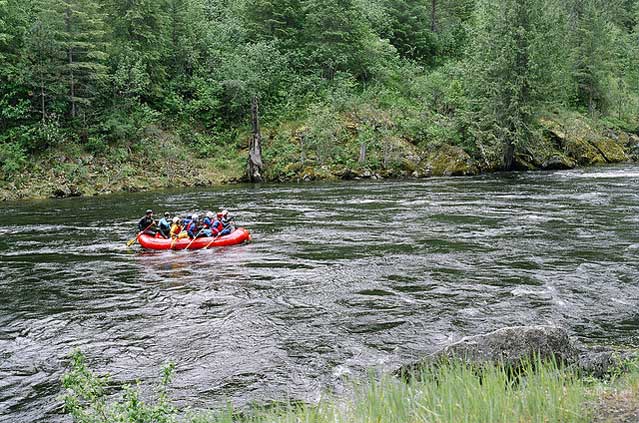 For paddlers, Idaho offers options. Impassable Canyon, on the Middle Fork of the Salmon, delivers awe-inspiring views of granite grottoes. Paddling the hydrological mousetrap that is the Selway's Class IV+ Ladle rapid will give you sweaty palms. But my favorite river here is bordered by a ribbon of asphalt: the 70-mile Lochsa, which flows through the Bitterroots alongside Highway 12.
I discovered it one drizzly June morning while living in Missoula, Montana. After a three-hour drive west, I put in to kayak-surf a well-known wave called Pipeline near the confluence with the Selway. The water was so clear that the boulders on the river bottom stood out in HD relief. As the foam pile atop the wave spat me out, I looked down and saw a torpedo-shaped rock that appeared to be working its way upstream. Two other wriggling rocks joined it: they were three chinook. "Holy shit," I yelled to no one in particular. "Look at that!" I've returned more times than I can count, packing a fly rod along with my boat. (The river also teems with westslope cutthroat trout.)
These days, after surfing and fishing, I like to complete my triathlon by heading upstream to soak in the Weir Creek Hot Springs, the stars above ringed by ancient cedars. It's not as popular as the Ironman, but it's a hell of a lot more fun.
—Steven Hawley
---
Falling Hard: Climbing and Kayaking in Oregon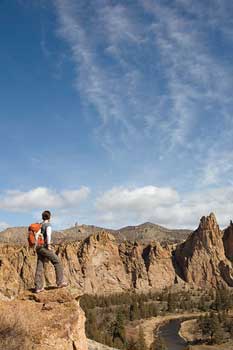 Climbing terrifies me. So do women. Which is why it's astonishing that I met my wife, Turin, while climbing at Smith Rock, a high-desert crag that juts out of central Oregon's farmlands and is home to 1,800 of the best 5.4–5.14 climbing routes in the country.
Turin had come from Portland, four hours to the west. We met beneath Ginger Snap, an easy 60-foot, 5.8 route. I flailed around; she flitted up the rock like a butterfly (sigh). I hoped she didn't notice the acrid smell wafting off my shirt—a mix of sweat and fear—as I told her why I loved Smith: the breathtaking views of 10,497-foot Mount Jefferson (translation: I'm a sucker for a vista), the three-mile Misery Ridge trail, which I'd hike with my dog (meaning: I'm responsible enough to provide food and shelter for another sentient being), the Class IV Crooked River, which bends beneath Smith's most dramatic buttresses and which I planned to kayak (i.e., I'm not a total wuss).
Later, I dallied at the parking lot, separating myself from the crowd of bandanna-clad men opening beers with carabiners. Turin arrived, I asked for her number, and we made a plan to go kayaking. We were married a year and a half later.
—Kyle Dickman
---
Pyromania: Firewatching in Washington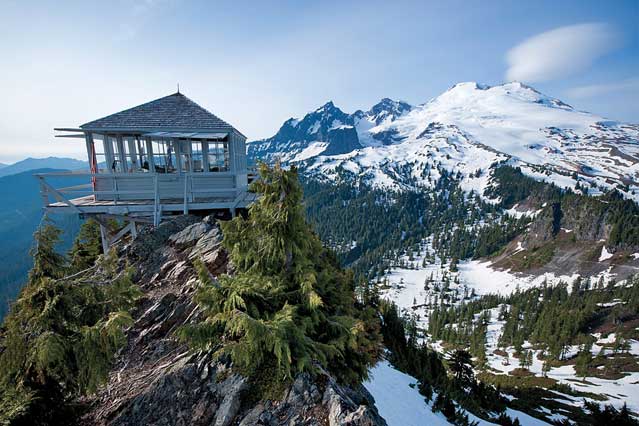 The Northwest is home to some 300 fire lookouts, built between the 1920s and the 1940s, which offer views of thundering river bottoms, razorback ridges, and horizons of old growth and glaciers. They make the lookouts of the East feel like nice little observation decks. They also make people do loopy things—Jack Kerouac famously lost his mind while manning Desolation Peak Lookout.
The one that got me was Three Fingers. Located 60 miles northeast of Seattle, the one-room cabin stands atop a rock spire, its windows flush to 1,000-foot cliffs on three sides. My father and I first set off for Three Fingers in September 1993. After a roughly eight-mile approach, including an ascent through a drippy forest and a glacier traverse, the weather turned. We ended up bivouacked in a boulder field in a snowstorm.
A year later we returned, this time with my mother. We ascended the last 100 feet of the obelisk via three wooden ladders and a fraying rope hanging from the front door. We hoisted ourselves hand over hand, the ladder creaking with Dad's weight. When we reached the doorstep, we could see everything from Mount Rainier in the south to Mount Baker in the north. Dad whooped. Mom nearly cried, partly with joy and partly on account of the two pistol-toting strangers already in the structure. Me? I was hooked, and two years later I hired on to be a lookout at nearby Granite Mountain.
—Eric Hansen
---
Family Float the Owyhee River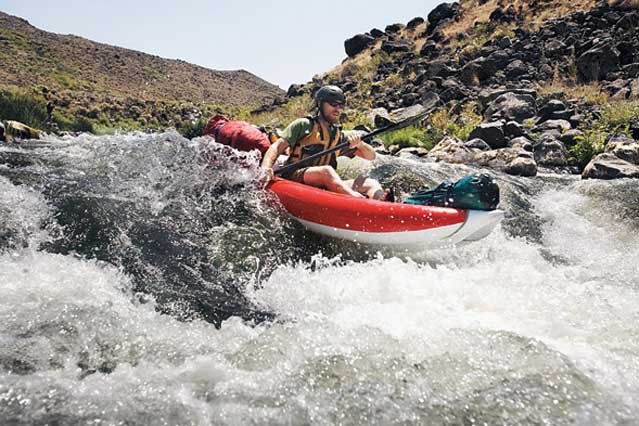 At the put-in on a gloomy April morning a few years ago, the landscape was sagebrush bleak, the air was livestock smelly, and the spouses were skeptical. The Owyhee is one of those rivers you think you've heard of but really haven't. Whitewater guidebooks refer to it as "Oregon's Grand Canyon." To other folks, it's the loneliest river in the U.S.—as it sneakily slices its way below the Oregon-Idaho state line's foam-green cattle country, the lower Owyhee never once crosses a road. But if my three old paddling buddies and I were ever going to convince our wives that float trips were more fun than the beach, this river needed to start smelling rosier real soon.
Then, ever so slowly, we started descending. The sun came out at the end of day one. The canyon walls began to close in, darkened to a deep red, and, as advertised, were soon towering 2,000 feet above us. By day two, our flotilla was leapfrogging down the Class I–III rapids in good style: first nimble kayaks and sturdy rafts, then a flurry of paddle signals, finally the persnickety canoe. Eventually, the once-towering cliffs turned pale yellow and the rapids began to wane.
But our wives were so punch-drunk on Restorative River Trip Love that there was talk of floating the actual Grand Canyon. Nicole, my wife, suggested we buy our own raft. At the take-out, I lingered at the river's edge. "Dude, can you help me deflate this raft?" someone asked. Yes, I thought. But I won't change out of my wet shorts. Or turn my phone back on.
—Sam Moulton
---
Sip and Spin in Oregon's Wine Country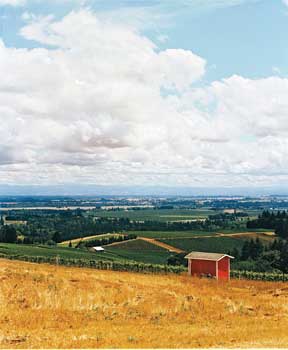 I grew up in Bend, Oregon, but these days when I visit my home state, I head west of the mountains to pedal the narrow blacktop of the Willamette Valley or suck my way to the bottom of a bottle at one of its many wineries. It's Napa without the Botox, the prices, or the boat shoes. It's blackberry brambles and alfalfa fields and mist-shrouded hills. It's 120 miles long and 60 miles wide, with low traffic, moderate to technical climbs and descents, and 15,000 acres of grapes. It's best accessed from the porch of Tommy's Bicycle Shop in McMinnville, which offers rentals, maps, and repairs.
About the wine: the region is best known for its pinot noir, but you'd be a fool to pass up the pinot gris and Dijon clone chardonnay. Willamette Valley Vineyards pours heavy in the tasting room. Domaine Serene Vineyards and Winery has the sprawl and splendor of an Italian villa and offers the best (and priciest) selection of pinots in the valley. Sokol Blosser is chill and inexpensive (try its Evolution and Meditrina blends).
I've biked from winery to winery and clomped through the tours in my road shoes and spandex, but that gets to be a long, wobbly day. I much prefer hammering hard—pedaling out of McMinnville on the East Salmon River Highway for a 25-mile loop of Walnut Hill, or out of Newberg on Bald Peak Road and back on NE Hendricks Road for a 35-miler—and then closing out the day spent and ragged, collapsed in an Adirondack chair at Sokol Blosser, goblet in hand, rows and rows of grapevines marching into the distance.
—Benjamin Percy
---
Do the Hop: Brewpubs
No matter where you are in the Northwest, you're always near a world-class brewpub. Here, Christian DeBenedetti, Oregon native and author of the forthcoming The Great American Ale Trail (Running Press) reveals his favorite stops.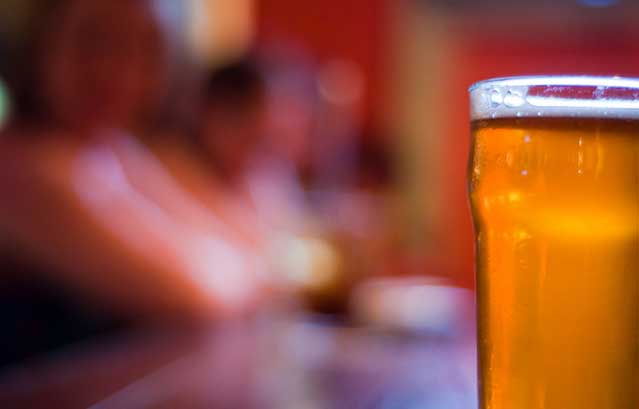 Terminal Gravity Brewing and Public House, Enterprise, Oregon. The Vibe: A cottage on three acres with an aspen grove and picnic tables, located just a few miles from kokanee-rich Wallowa Lake. The Beer: Terminal Gravity IPA. Tangy, bitter, and perfect for a post-dip drink. 
Diamond Knot Brewing and Alehouse, Mukilteo, Washington. The Vibe: A converted bus garage just steps from the Puget Sound. Peanut shells decorate the floor; you can cook your own salmon dinner on piping-hot tabletop stones. The Beer: The Shipwreck XXX IPA—it's brawny and boozy.
Fort George Brewery and Public House, Astoria, Oregon. The Vibe: A 22-tap brewpub with an open-air beer garden, an expansive deck, and a room that's rented out to glassblowers and an itinerant blacksmith. The Beer: Vortex IPA—intense and citrusy. 
—Christian DeBenedetti
---
Play the Shellfish Game
There are countless seafood shacks in the Northwest. These are our three favorites.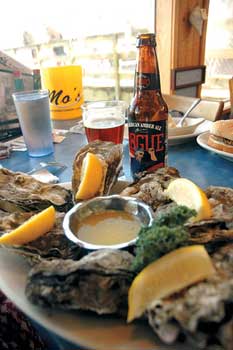 The Hama Hama Seafood Store, in Lilliwaup, Washington, is a family-owned operation on the banks of the Hood Canal, approximately one football field from the flats where they pick the sweetest oysters in the Northwest. $6 per dozen.
Mo's, a cedar-sided joint on Newport, Oregon's bay front, gets its clams straight out of the Pacific, and the cod for the drool-worthy fish and chips comes fresh off the boats harbored directly across the street in Yaquina Bay. Clam chowder, $4.50; fish and chips, $11.
Anacortes, Washington's Shrimp Shack, just two miles from the Puget Sound, is a funky slow-food take-out surrounded by shucked oyster shells. Order the scrumptious Dungeness crab sandwich ($14), the clam strips ($9), or, if you're truly adventurous, the supremely awesome quarter-pound oyster burger ($9). 
—Kyle Dickman
---
Splash Therapy
Paddle the San Juans. You can't go wrong sea-kayaking amid any of Washington's 400 San Juan Islands, but some trips are better than others. Take, for instance, Anacortes Kayak Tours' three-day lap around 5,500-acre Cypress Island. Days are spent paddling open passages and gawking at puffins and the resident orca pod; by night you're camping beneath limestone cliffs. $549; June–September.
Sleep on the Beach. Drive to the northernmost end of Washinton's Makah reservation on Highway 112, through Olympic National Park. Pull off at the parking lot for Shi Shi Beach. Hike 3.3 miles over a rickety wooden footbridge, pitch a tent on the beach, and ogle the otherworldly sea stacks and the crashing Pacific. Camping permits, $5 plus $2 per person per day, from the ranger station at Olympic National Park.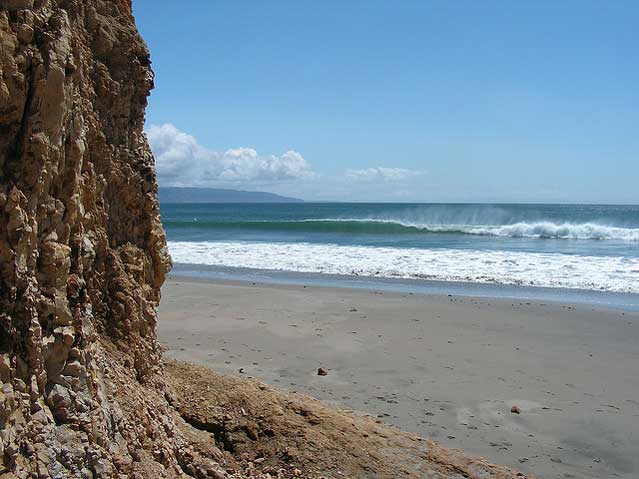 Ride the Wind. Flores Lake, a 255-acre freshwater body separated from the Pacific by a narrow sandspit, may be the easiest place on earth to learn to windsurf, thanks to the warm water temps (70 degrees in summer) and steady wind (20 knots from the northwest). Flores Lake Windsurfing and Kiteboarding School offers half-day lessons. $60.
Steel Your Nerves. Southern Oregon's Rogue and its tributaries—the Illinois and the Chetco—offer some of the best rafting and fishing in the country. Book a day trip with guide Tyson Crumley (September is prime time) and float the ten miles between Lobster Creek and Gold Beach, trolling for salmon or swinging big ugly flies in pursuit of steelhead, the fierce anadromous trout that drive local anglers nuts. $400 for two people.
—Kyle Dickman
---
Buyer Beware: Owning a Cabin
Think owning a cabin near the Olympic Peninsula sounds great? Wait till you meet the neighbors.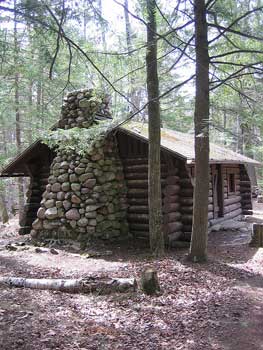 When my friends visit my family's cabin near the Olympic Peninsula, a one-story house on 20 forested acres at the end of a tidal bay, they generally say something to the effect of "Damn, you're lucky." And they're right, for the most part.
Cedarcrest, which my great-grandfather built in 1941, after my great-grandmother bought the lot for five grand off a paper mill, functions as a base camp for hiking, sea kayaking, and skiing around nearby Olympic National Park. It's awesome. But it's also worth noting that caring for a cabin in the Pacific Northwest involves unique challenges.
Take landscaping. Around here it's done on a Jurassic scale: we use chainsaws, not hedge trimmers. We often face the delicate choice of whether to selectively log the rare old-growth or let those towering firs and cedars grow. One November, after we chose the latter option, a hemlock tree sliced the cabin in half, roof to floor.
Maintaining good relations in the community can also be tricky, thanks to the woolly frontier spirit that still pervades. Our most persnickety neighbor is an American Indian tribe that poaches the oysters my great-grandmother planted. One night, our longtime renter, a telephone-pole repairman, decided to take matters into his own hands, trading pistol fire with them on the mudflats.
Still, I'm not complaining. I happily scrub the cabin walls with bleach each spring to kill the winter mold, machete back the encroaching prickers, and fish out the moles that fall into the water well. So come on over. But don't just visit. Bring some bar oil for the chainsaw and make it yours, too.
—Eric Hansen