The Daily Rally
Mercy M'Fon Cooks Up Magic in Nature
The outdoor guide had lost their passion for adventure. The trip that was supposed to be their last brought it back.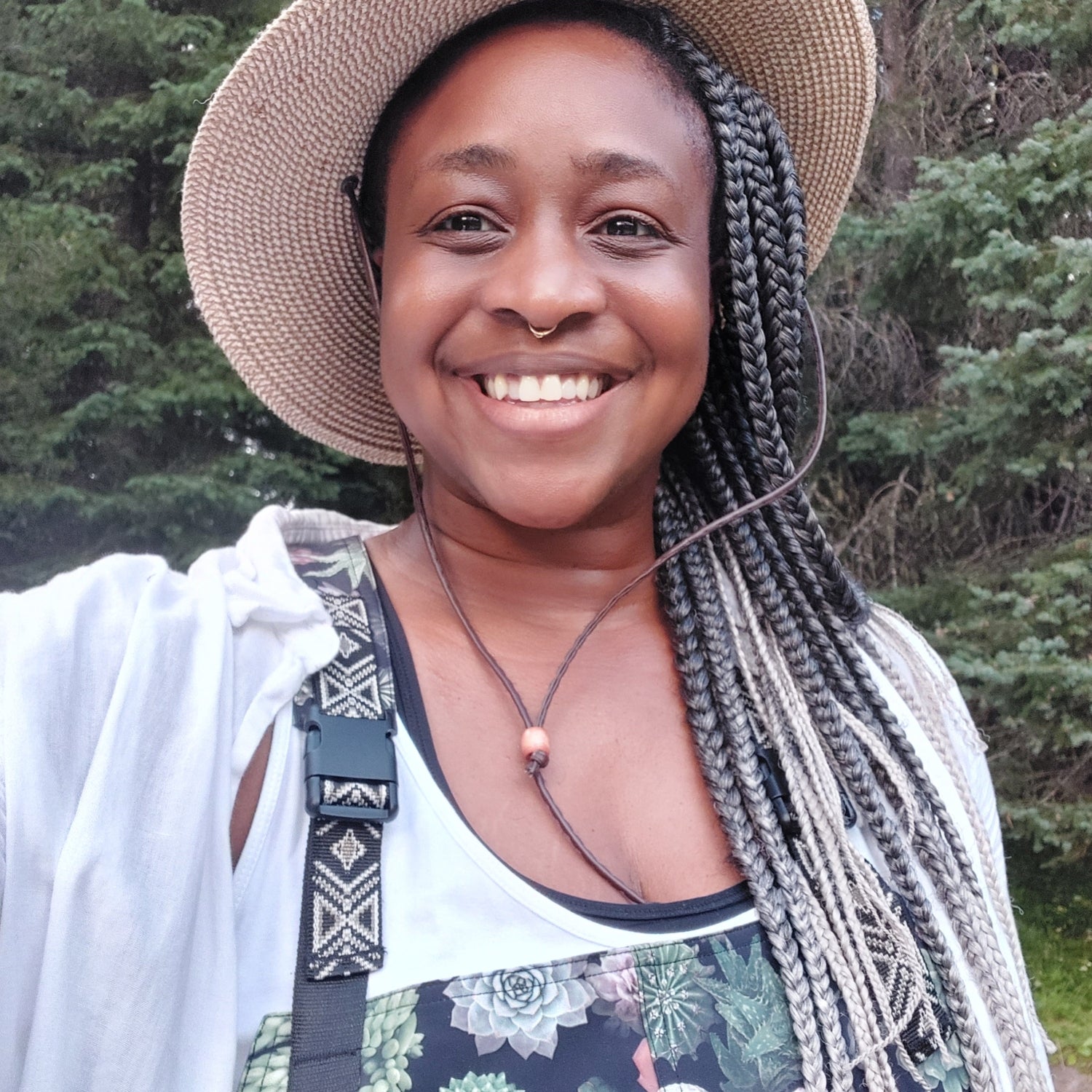 Mercy M'Fon
Heading out the door? Read this article on the new Outside+ app available now on iOS devices for members! Download the app.
Mercy M'Fon told their story to producer Sarah Vitak for an episode of The Daily Rally podcast. It has been edited for length and clarity.
After I got out of the course, I didn't want to be outdoors anymore. My whole dream of being outdoors, I was not feeling it. It wasn't something I wanted to do, and I felt so much shame around it, because the community supported me.
My name is Mercy M'fon. My pronouns are they/them. I am the executive director and the founder at Wild Diversity. We do outdoor adventures and outdoor education for the BIPOC and the LGBTQ+ communities. I am in Ellwood, Oregon, southeast of Portland.
In the beginning when I was starting Wild Diversity, I really wanted to have the actual hands-on experience with people guiding me and telling me, This is the right way to approach this, this is how to take a group out. I'm such a "now" person, so I'm like, "Let's just do this now. We should go do this course."
It was a 90-day instructor education course with one of these big adventure hubs. It was a leadership course. So it was an opportunity for me to really grow. If I want to run this outdoor nonprofit, I need to know what the standards are, how people are approaching it.
The course is very, very expensive. I think at the time it was around $7,000. We did a Go Fund Me to start. I think for me, I just hoped it did well, but I didn't know if it was really gonna do it. So when it did, I was just like, Oh my gosh, I think this is gonna happen. People really want to make this happen. The community pitched in so I could get this education to help launch, and it seemed really, really exciting.
I felt pretty excited just to learn and to try new things and to have new experiences, like mountaineering, paddling on the river for weeks, rock climbing, backpacking. I'm like, This is so dreamy. But it wasn't.
My experience in the outdoors has never been in a professional setting. So I was really looking forward to that. But I think at the end of the day that it wasn't that much of a professional setting, that there wasn't understanding towards other identities and people.
One thing that they did was take our IDs from us for the whole course. So we went 90 days without our wallet, our IDs, nothing. But they're also taking us through rural Oregon. You're hiking in the forest and all the signs are shot up, there's shotgun shells, there's people shooting in the distance. And you know how your mind goes when you're on a backpacking trip or a long hike, all you do is obsess about the same thing over and over again. So I think that feeling was compounded in my mind.
This was five years ago. A lot of people of color were getting pulled over at that time for being brown. That was a huge thing from Arizona all the way up to Oregon at that time. I never felt really safe because if I'm walking through the grocery store and a cop wanted to hassle me, I have nothing. I knew of people personally who had siblings in jail, like immigration prison, just because they didn't have their ID, even though they're citizens. I'm already feeling like this is not a safe group.
And I didn't feel like I was amongst people who would support me through that. They don't understand what it's like to be targeted by somebody who could take your life, it creates an interesting dynamic to be surrounded by people who you feel unsafe around for such a long period of time. And I'm experiencing it in a place where there's no safe place to retreat to.
Every day you're gonna wake up, somebody's gonna say something inappropriate and rude to you. The people who are in the instructors don't know any better, so they're not gonna stop and interrupt it. So you have to be your number one advocate while being exhausted.
You either endure or you quit. But the thing is that the community paid for me to be there. So, I felt like I would be letting them down if I left. It was just like I just needed to endure it, keep my head down, and just get through it.
After I got out of the course, I didn't want to be outdoors anymore. My whole dream of being outdoors, I was not feeling it. It wasn't something I wanted to do and I felt so much shame around it because the community supported me. And afterwards I was radio silent about my experience because I didn't know what to say. I've never raised that amount of money for myself, and they believed in something, and now I'm feeling unsure.
I had already previously signed up to partner with another organization to run a BIPOC backpacking trip after my course. So even though I was feeling like, I don't know if this is for me, I still had this trip to guide. And going into it, I think in my mind I was like, This is gonna be my last one.
This backpacking trip was a beginner's backpacking trip that goes through Serene Lake. And Serene Lake is well-named because it's in this little crater, and it's just like high trees all around it.
There's this steep hike to get to the top of the crater that we had to do, and I'm just taking the time with the group. We had such a fun day, we get to Serene Lake, and it was so cute and there's this one little rock sticking out that looks like a little throne in parts.
So we would all swim out to the little rock, or wade out to the rock, and we ended up calling it Lover's Rock because we were just so in love with the scene and our trip together. It was really beautiful.
For this trip my co-guide had planned, since it was a loop, we had hid a bunch of food in the forest, because we knew we'd be back down there the last night. So our last morning, the day we were heading out, our participants woke up to them making donuts on a cast iron pan. Deep frying and making donuts in the woods. It was so, so confusing for them, the level of confusion on their face of, "How do you have this big bottle of oil, this heavy pan, and where do these donuts come from?" And I think that was just like a special moment, a cool treat that we created for them. It was just magical from start to finish.
The experience was so beautiful, so different, so easy. It was just the ability to truly be myself. I didn't have to code switch. I didn't have to be more of this, less of that. I could just be myself and that was OK. It was so relaxing.
You don't realize how you walked around life with your shoulders constantly tense, and you thought that was a natural way, until your muscles relax and you're like, Oh, I must have been tense for a moment. And that's the feeling I felt. It was a lifetime feeling.
Here I am, four or five years later, with Wild Diversity. We're growing, and we're running these programs, and I think it was because of that experience, I want our community to feel like that all the time. I want them to go outside and make connections and feel free and relax and have a level of safety out there.
So it was really coming from a place of feeling really stagnant and unsure, to just having the biggest fire under my butt, driving me forward and feeling so passionate about supporting the community.
I want people to feel good all the time. I want them to feel connected all the time. I want them to feel like they can do it and feel supported. So it really not only helped me drop back into the organization, but create the foundation in which we want all the work we do to center around.
Mercy M'Fon is the founder and executive director of Wild Diversity, where they connect BIPOC and LGBTQ+ people to the outdoors through adventures and education. Through their work, Mercy cultivates safe and welcoming spaces for underrepresented communities to thrive.
You can follow The Daily Rally on Spotify, Apple Podcasts, Stitcher, or wherever you like to listen. Subscribe to our newsletter and nominate someone to be featured on the show.
Lead Photo: Mercy M'Fon
Trending on Outside Online