576 Peaks in a Year: One Ambitious Hiking Project
Philip Carcia hiked all of New Hampshire's 4,000-foot peaks every month for a year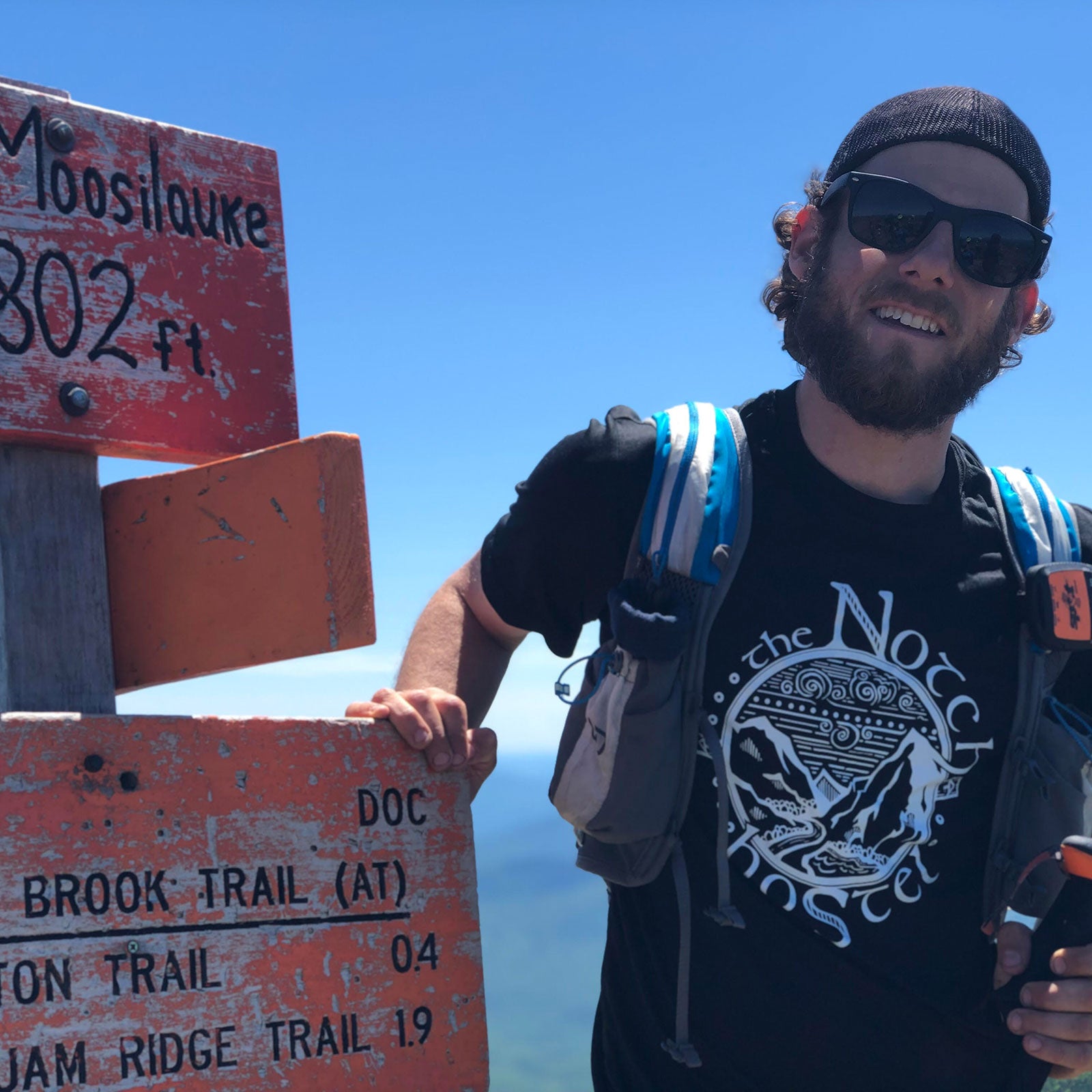 Mac Cerullo(Photo)
Heading out the door? Read this article on the new Outside+ app available now on iOS devices for members! Download the app.
A cold, miserable rain fell across New Hampshire's Carter-Moriah Range. Two feet of snow blanketed the ridge, and with each step, Philip Carcia felt his heart sinking lower than his boot in the unbroken trail. It was October 30, 2018, and he wasn't prepared for this. Carcia trudged on, without snowshoes, for more than 15 hours across the 20-mile length of the Wildcat-Carter-Moriah Traverse.
He could have bailed at any time, but the next day was the last of the month, and he still had to complete an additional 26-mile trek to pick up seven more peaks before November.
Carcia was nearly three months into one of the most ambitious hiking projects in the Northeast: the White Mountains 4,000-footer single-year grid. To complete it, one must summit all 48 peaks higher than 4,000 feet on the Appalachian Mountain Club's White Mountains list 12 times in a year (completing each set of 48 once per calendar month). That adds up to 576 total peak summits in a year, and over 2,700 miles of hiking, with more than one million feet of elevation gain.
The vast majority of those who complete the project take years, often decades. Prior to Carcia's attempt, only 84 people had ever done it, and the only person who had completed the grid in a single year was Sue Johnston, the legendary ultrarunner and hiking pioneer, in 2016.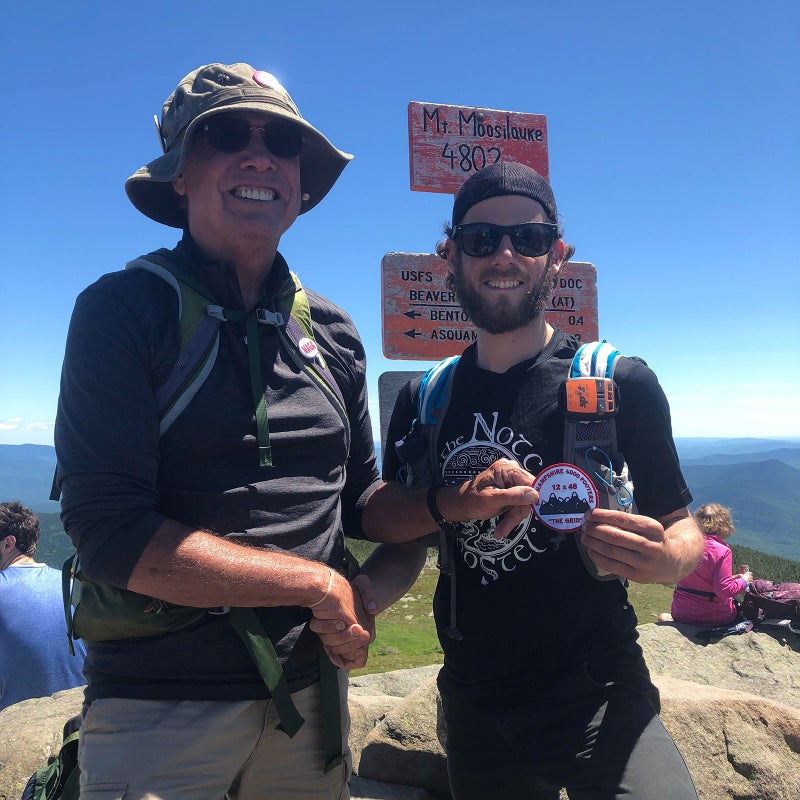 In July, Carcia, 35, became only the second to accomplish the feat but, more significantly, he set the fastest known time for completing the grid: 319 days of elapsed time, beating the previous record by five weeks.
Carcia started in August 2018, hiking all 48 peaks over the last nine days of the month. Then he did a round every month from September to June and finished with another big push over the first week of July 2019. Carcia spent years planning the project. Between January and August of 2018, he hiked Mount Wachusett in Massachusetts 300 times, running up and down the peak anywhere from two to six times per day to prepare himself for the rigors of the Whites. He took a job doing various tasks at the Notch Hostel in Woodstock, New Hampshire, living in a tiny house out back while working most of the hours he wasn't hiking.
---
Carcia wasn't always compelled to walk. Growing up in Worcester, Massachusetts, neither he, his parents, his twin brother, nor his younger sister were particularly into the outdoors.
"He was definitely a thrill seeker," said Debbie Carcia, his mother. "He always kept us on our toes, but I loved him for his individuality. He was very strong-willed at whatever he wanted to do."
His first significant exposure to the outdoors occurred on a field trip to nearby Mount Wachusett, in Massachusetts, at age 16. Reaching the top and seeing the expansive view of the surrounding landscape was an eye-opening experience. He became a full-fledged convert after visiting Franconia Ridge in New Hampshire a few years later.
Those experiences helped Carcia develop a profound connection to the mountains, and with it an insatiable desire to test his own limits. He'd never imagined he could summit a peak. What more was he capable of?
That question drove him to keep pushing the envelope further and further. Between 2006 and 2013, he completed a thru-hike every year, starting with the Midstate Trail in central Massachusetts and eventually tackling the Appalachian Trail and the Pacific Crest Trail. The pursuit became an obsession that he structured his entire life around.
"I'd come home, and I'd deliver pizzas, I'd clean houses, I'd edit videos, I would literally do anything to make a quick buck and put some money in my pocket to get this adventure fund a little bit beefier," Carcia said. "I'd go out and execute these plans, spend all that money, and then wind up back in Massachusetts in the fall and do it over and over."  
Slowly but surely, his journeys took him farther west. Being away from home so often was difficult for his family, but at this stage in his life, thru-hiking was the only thing that mattered.
That all changed in the summer of 2014, when Carcia's father was diagnosed with lung cancer.
The disease progressed quickly. Carcia recalls his father doing pull-ups in his backyard in June. Three months later, he was dead.
"It was totally unexpected. This is like the cornerstone of our family," Carcia said. "To watch him die, even though it was relatively quick, it had a super profound effect on me. It was haunting."
Carcia called the experience a turning point in his life. Entering his thirties, he began considering his own mortality and how he wanted to look back on life when his time came. He knew he couldn't rest until he felt he'd given himself fully to the mountains. He also discovered that he didn't have to travel thousands of miles from home to accomplish that. He could find it in the White Mountains, the peaks he grew up with and that meant the most to him.
Needing an outlet to channel his grief, Carcia traveled to New Hampshire the following summer. Up to that point, he'd usually stuck to the same few trails on Franconia and in the Presidential Range. He hadn't made a point to hike all 48 of the 4,000-footers, but while living out of the back of his truck, he did them all in 26 days.
That's when he had an idea that would come to consume the next four years of his life. 
---
By the time he began the single-year grid attempt, Carcia had already spent three years preparing. He started with two rounds of the 4,000-footers in the winter of 2016 before his repeated climbs of Wachusett in the months leading up to the grid.
But no amount of training could have prepared him for what was to come.
Carcia began on August 23, 2018, with the White Mountain Direttissima, a continuous, 240-mile thru-hike of the 4,000-footers.
In order to whittle the grid down to its minimum time, he needed to hike all 48 peaks as quickly as possible at the end of the first month of his grid attempt. He'd have to knock out another fast completion of the ascents again at the beginning of the last month. The Direttissima offered the most efficient way of doing that.
"It's incredible what he does," said Serena Walsh, Carcia's boss and owner of the Notch Hostel. "We're all going home and going to bed, and he's on his way out to the next mountain."
The Direttissima pushed Carcia to his limit. He endured long days and soul-crushing climbs and was repeatedly drenched by torrential downpours. But he was also rewarded with beautiful views, and after one particularly rainy and challenging day, from his perch atop Mount Jefferson, he looked out and saw the sun set above an ocean of clouds, with the peaks of the northern Presidentials poking out like islands.
"I felt so humbled," he said. "I felt so small. I was gushing with gratitude. Like, Thank god! I'm going to make it!"
Carcia finished the Direttissima in nine days, but he wouldn't have long to rest. He started his new job at the hostel the next day, and it would require a lot of time on his feet attending to the needs of Appalachian Trail thru-hikers. He took a week off from hiking to recover before restarting in September, and from there, he endured increasingly difficult conditions as the months went on.
Almost every day he went out and hiked, usually bagging multiple peaks in succession. Whenever he wasn't on the trail, he was either working, logging his progress on his Strava profile, or checking the latest weather forecasts.
"It's incredible what he does," said Serena Walsh, Carcia's boss and owner of the Notch Hostel. "We're all going home and going to bed, and he's on his way out to the next mountain."
"He can put on blinders and just walk," said Alton Eckel, a regular hiking partner of Carcia's. "When he needs to go out there, he can push everything aside until he's done."
The project was nearly derailed on several occasions. Carcia was stuck with two long traverses at the end of October, and then in late November, his truck got stuck in the snow near Mount Cabot, one of the most remote peaks on the list. That foiled an attempt to beat an oncoming snowstorm, forcing him to return for another last-minute slog on the final day of the month.
The latter experience nearly broke him.
"I kind of felt like I was at that place where it's like, dude, you're going to need to call it now," Carcia said. "Either you've had a great run and you've had some wild experiences but this is where it ends, or like, you're going full in. Because anything beyond that? Four months, five months, eight months? There's no turning back after that."
Carcia pressed on. He knew he wouldn't be able to live with himself if he didn't. He also drew inspiration from the tattoo of his father's name on his right arm. Whenever he got low, it helped remind him of how lucky he was to get to to chase his dreams.
---
For many months, Carcia kept the single-year grid close to the vest. It wasn't until April—when he was nearly through the worst-weather months and could see the end in sight—that he finally spoke publicly for the first time in an appearance on the Trail Tales podcast, which features interviews and conversations with thru-hikers, peak baggers, and others. 
Yet even as his confidence grew, he never got complacent about his odds of success.  
But when the time came for his finale—a second go on the Direttissima over the first week of July—the conditions finally turned, and Mother Nature gifted Carcia with a rare week of almost perfect weather.
Teaming up with accomplished ultramarathoner Jason Lantz, Carcia went for it with everything he had. The pair started at the base of Mount Cabot at midnight on July 1 and proceeded to hike 64 miles over 11 peaks and three major traverses in the first 27 hours. Running on less than three hours of sleep per night, the two marched southbound, helped by a support team of friends and family who carried gear and provided food.
The relentless pace caught up to Carcia, who began to slow around day five after completing the Franconia Range. Every step became a struggle, and eventually the he and Lantz parted ways to hike at their own paces. 
Carcia kept going, battling his way over the final 28 miles to the end. Finally, on the morning of July 7, he made his way up to the summit of Mount Moosilauke. Surrounded by friends, he approached the orange summit sign, pausing for a moment to take it in before resting his right hand on the wooden marker.
"I'm so lucky, I haven't even wrapped my head around how lucky I am," he said on the summit. "This whole year has been such a gift, more gifts bestowed on me than I could ever deserve. It's been a privilege."
Four years after he'd first thought about the single-year grid in the wake of his father's death, Carcia's dream had come true. His year in the White Mountains was the best of his life, and after focusing on the next peak for so long, now he finally had a chance to look ahead.
So what does the future hold for Philip Carcia anyway?
"What's going on after this is a couple weeks of rest, and then I'm going to start up a thirteenth round in August."
Lead Photo: Mac Cerullo