DIY
No One Knows How to DIY Quite Like a Thru-Hiker
Be prepared for every obstacle, and save a ton of money by making your own equipment and learning how to fix your stuff when it breaks in the backcountry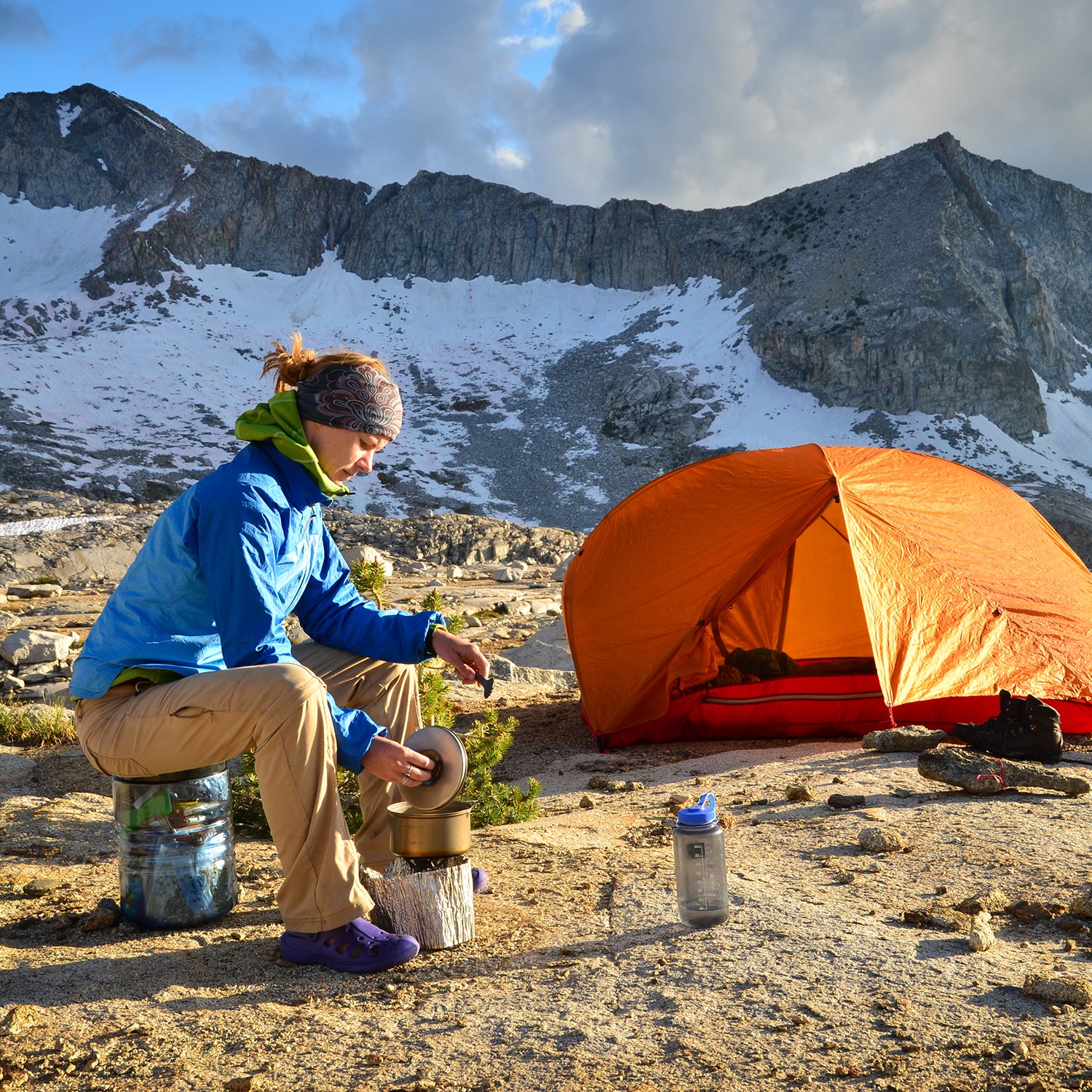 thinair28/iStock(Photo)
Heading out the door? Read this article on the new Outside+ app available now on iOS devices for members! Download the app.
They may be backpacking's most notorious do-it-yourself job: the duct-tape shoes Cheryl Strayed made after watching one hiking boot tumble into oblivion and chucking the other after it (because what good is one boot?).
"I wrapped my socks and sport sandals in duct tape and I had a pretty darn GOOD pair of boots," Strayed told me via email. "It still makes me laugh to remember them."
The hack was born of catastrophe, as are many awkward and unlovely—but useful and necessary—homemade backcountry items. It's one reason hikers make their own gear, but it's not the only one.
Given backpacking's glaring absence of luxury, one might be forgiven for thinking it's a cheap hobby. It's not. Just setting yourself up for a comfortable overnight trip in the woods requires, at minimum, a sleeping bag, sleeping pad, tent, and backpack. If you select for average quality, buying these four foundational items could lighten your wallet by at least a thousand dollars. Throw in trekking poles, a stove and cooking equipment, raingear, a tent footprint, stuffsacks, trail runners, a base layer, a top layer, a puffy coat, a water-filtration system, a headlamp, a paracord, and a first aid kit, and there goes another grand.
But spend any time in the woods or in online backpacking forums, and it won't escape your notice that backpackers hail from more than one socioeconomic stratum. Sure, rich folks backpack. (On long-distance trails, we call them "platinum blazers" for the credit cards we presume they use for their Dyneema tents, custom-made quilts, and ultralight backpacks.) But ordinary people find a way to get out there, too. How?
Strayed was taking a great leap of faith into a healing journey. "I had a mission, so I spent all the money I had on gear," she says. But if long-distance hiking isn't a question of life or death for you, or if you don't want to spend all your cash, you can save some money with a bit of ingenuity and pluck. Backpacking as a hobby self-selects for hearty souls—people willing to endure its rigor and general unpleasantness hardly lack motivation or self-sufficiency. Making your own equipment and knowing how to fix gear that breaks or goes missing while you're on a hike only reinforces this self-reliance and builds confidence.
Triple crowner Joe Brewer (who completed the Appalachian Trail in 2012, the Pacific Crest Trail in 2014, and the Continential Divide Trail in 2015) turned crafty when his first thru-hike was just a twinkle in his eye in 2011. The problem was, he says, "I really just didn't have the money to buy new gear." So he summoned the skills he learned in a middle school home-economics class. "I slowly dabbled with making gear, borrowing my mom's old sewing machine and figuring it out as I went." Brewer stitched himself a hammock, a tarp, and an underquilt using synthetic fabric, 900-fill-power down, and cord and cord locks that he purchased from online DIY suppliers such as Dutchware Gear, Ripstop by the Roll, and Thru-Hiker. All three items lasted him from Springer Mountain, Georgia, to Mount Katahdin, Maine. He had had no idea whether his homemade gear would work, "and then I'm hanging in a tree and I'm not falling out," he recalls. Brewer's YouTube channel, Backcountry Banter, now brims with more how-to videos.
Backpacking as a hobby self-selects for hearty souls—people willing to endure its rigor and general unpleasantness hardly lack motivation or self-sufficiency.
Even hikers who don't have a sewing machine or the desire to build major items themselves can save money and dial in their kit to more precisely match their needs.
While I was hiking part of the AT in 2016, by far the most common handcrafted item I encountered was an alcohol stove. You can basically make this tool for free, and at under two ounces, it weighs less than anything commercial. By cutting the bottom 1.5 inches off two soda cans, punching burner holes in one of them, sliding the one with burner holes into the other one, pouring denatured alcohol into the resulting vessel, and lighting the alcohol, you have a basic stove. Be mindful of the open flame.
Another common DIY item is a protective ground cover. Tent manufacturers sell footprints that match the dimensions of their shelters, but these are often heavy and expensive (for example, the Big Agnes Copper Spur UL1 footprint weighs four ounces and costs $60). Instead, I bought a length of Tyvek, a high-density thermoplastic material used in everything from house insulation to protective suits, which is waterproof and puncture resistant, from Mountain Crossings, the first outfitter that northbound hikers encounter on the AT, at buck-fifty a foot. (A note about Tyvek: it's extremely noisy, especially when new, though it softens over time and use, a process you can speed along by running it through the washer without soap and letting it air-dry.) Amazon and eBay carry various sizes as well. Even lighter—and, accordingly, flimsier—is Duck or Frost King window shrink film.
Some hikers punch grommets into their homemade groundsheets, which snugs them to their tents—especially useful on rainy nights—but I simply laid mine out and pitched my tent on top of it. A good rule of thumb is to cut the sheet a quarter of an inch smaller than the tent's actual floor; if it extends beyond the tent's dimensions, it will sluice rainwater right between itself and your tent floor.
A meal insulator, used for keeping food warm, is a homespun innovation you can make. Stacia Bennett, a nurse in Asheville, North Carolina, who has backpacked more than 1,400 miles of the AT, made hers out of a cut-up car sunshade. She built it to fit around the quart-size zipper bags she used to rehydrate and heat her homemade meals. To create this accessible DIY item, trace around your Ziploc with a Sharpie (leaving a little extra room for the bag's eventual expansion), fold the car shade over to double the tracing, then cut the shape out, making the end of one side slightly longer so you have a flap to fold over. Stuff your Ziploc with some balled-up paper to simulate supper, wrap the cut-out car shade around it, and duct-tape the seams. You can affix some Velcro to hold the flap closed if you want something really fancy. "It worked absolutely wonderful," Bennett says.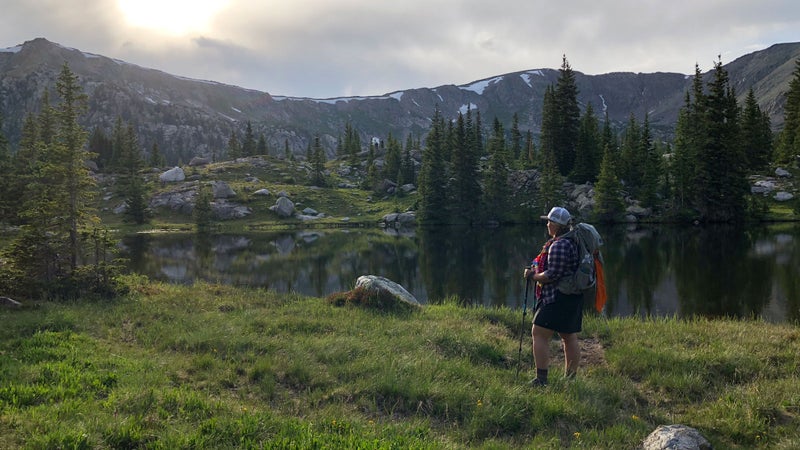 By far my personal favorite hack is the hands-free umbrella rig. Carrying an umbrella on a long-distance hike might seem silly, but everyone I met on my trek who had one counted it among their favorite items. The only drawback is that you have to hold it, which means stowing a trekking pole and hiking with just one, and if you're used to hiking with two, that's a drag. One day, exasperated and wanting to attempt a rock scramble in a drizzle, I lashed the umbrella handle to my backpack's chest strap with a bandana. The strap and handle made a cross, and I wrapped the bandana diagonally in all four directions, tied a crude knot, and tugged it tight. Presto, I was dry and using both trekking poles.
Families face special challenges in the backcountry, according to freelance writer and mom Heather Balogh Rochfort. "Where we end up rigging the most gear is with our daughter, who's two," she says, adding that although outdoor equipment does exist for kids, "it's not as technical." She and her husband have a child carrier, but they customize it by draping it with "one of those superthin swaddles that every mother has," since the carrier does not offer 360-degree sun protection. Non-kid-related hacks that Balogh Rochfort uses include taking a foil emergency blanket into her sleeping bag to add ten degrees of warmth and reimagining first aid applications for tampons, such as plugging bloody noses and bandaging cuts.
Bennett, the nurse, who is also wilderness first aid certified, adds that dozens of items not designed for medical care can nevertheless be put to that use. "A trekking pole can splint a leg, a bandana can stabilize any joint, and you can use a shirt to create a sling," she says.
The world of DIY options is great because it saves money and yields more precisely customized items, such as a sleeping bag that's actually long or short enough for you or a rain skirt that has pockets. More than that, it strengthens the DIYer. Bennett credits her time on the trail—including having to MacGyver her way out of calamities such as a tear in a puffy coat she patched up with Second Skin (usually used for blisters) and a raccoon-chewed hole in her pack sewed up with dental floss—with giving her the confidence to fix her car once she got home. She had a busted radiator but couldn't afford a car repair, "so I J-B Welded it back together," she says, referring to the epoxy.
Strayed echoes the sentiment: "The nature of a long-distance hike requires you to be innovative and to have a DIY spirit. You have to be able to respond to situations as they arise and all you have is what you have on your back, which is rather wonderful."
Lead Photo: thinair28/iStock