Injury Prevention: 10 Tips for Thru-Hikers from a Physical Therapist Living on the PCT
A small injury during Morgan Brosnihan's Pacific Crest Trail thru-hike inspired a big idea: Why not set up a mobile clinic for hikers who need help?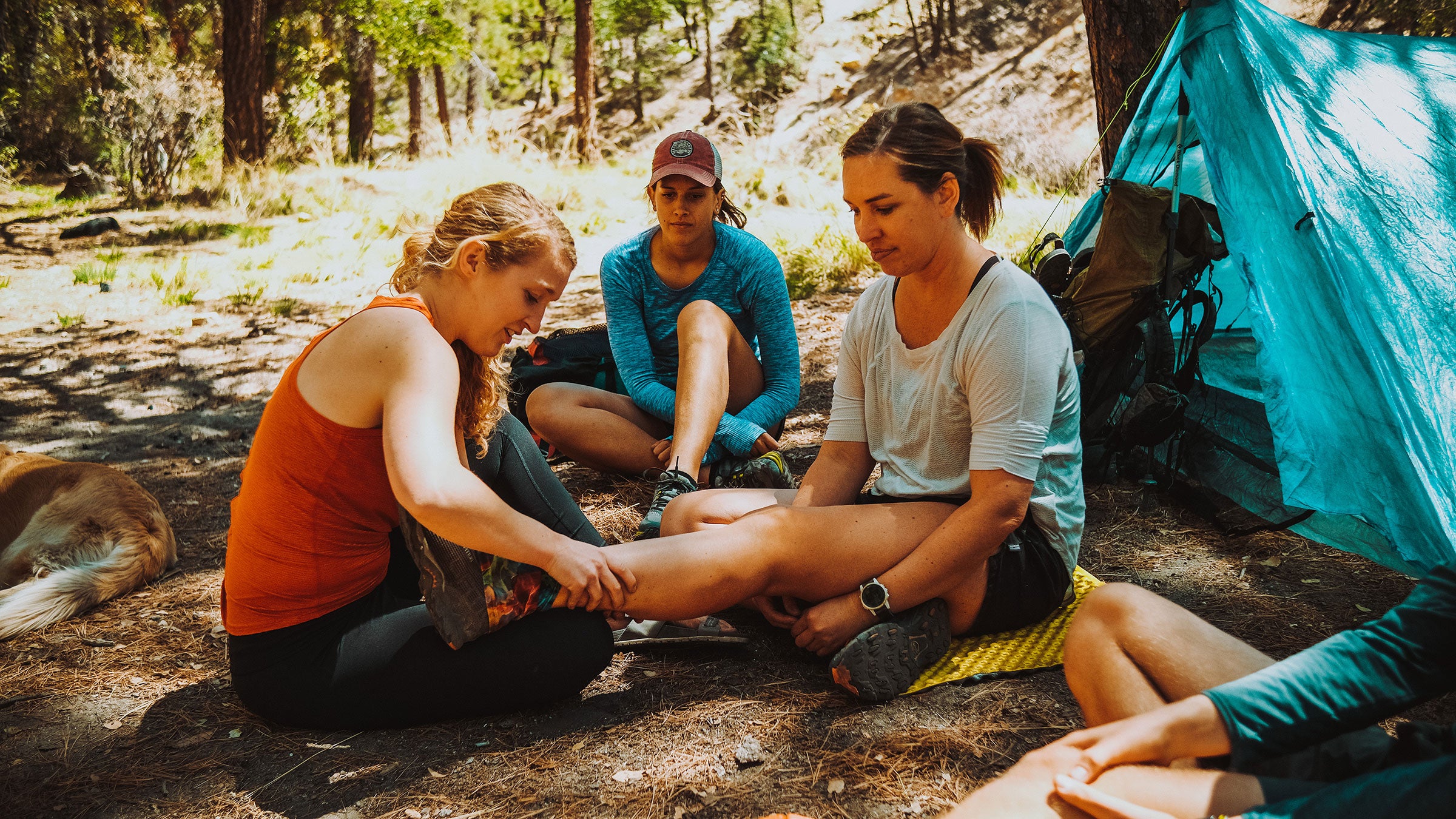 Courtesy of Morgan Brosnihan
Heading out the door? Read this article on the new Outside+ app available now on iOS devices for members! Download the app.
After less than 30 days, Morgan Brosnihan believed her attempt to hike the Pacific Crest Trail was over.
In mid-April of 2019, Brosnihan set out from the Mexican border, heading north across Southern California's low-slung mountains and high desert. But after 454 miles, or less than a fifth of the PCT's full length, she hobbled into Hiker Heaven, a trailside outpost in the town of Agua Dulce, thinking she had broken her left foot and that her dream of reaching Canada was doomed.
With every step, pain radiated from the outside edge of her foot. "I cried the entire day," Brosnihan says, almost exactly four years later. "I thought, Oh great, my hike is done."
But to steady herself amid the sudden disappointment, Brosnihan took a shower, ate a meal, and remembered what she'd gone to school for: physical therapy. Her foot, she realized, wasn't actually broken; instead, the cuboid—a blocky little bone located in the lateral midfoot—had shifted slightly out of place, a condition called cuboid syndrome.
She'd been wearing her Hoka Speedgoat shoes too long, compressing the foam until she was landing on her outside edge with each stride. The damage was minor, despite the excruciating feeling. In minutes, using the cuboid-squeeze and whip techniques she learned in school, she'd fixed her own foot. A day later, Brosnihan walked on, finishing the PCT less than five months later.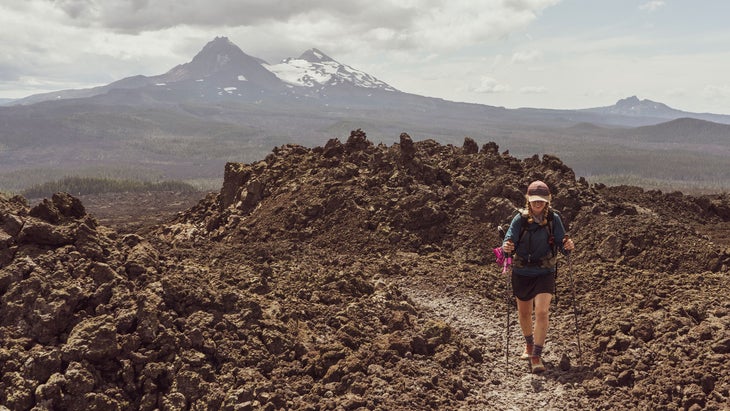 "I think I had this foot injury so I could experience the anxiety of What if your hike is over? How does that play out?" says Brosnihan, now 30, of those fraught moments before her self diagnosis. "And I thought, How do I get care, get my foot looked at? How am I going to get a ride?"
After her injury, she decided to help answer those questions for future hikers, too. In 2022, Brosnihan launched Blaze Physio, a mobile physical-therapy studio in bright red Ford Transit van that doubles as a home for her and her golden retriever, Honey. For two hiking seasons, she has crept north along the PCT treating the inflamed tendons and aggravated joints of more than a dozen long-distance hikers each day, operating on a sliding-scale payment system. Hers appears to be the only business of its kind, and after just over a year, Brosnihan is already considering expanding.
"If I had never thru-hiked, I genuinely don't think I could effectively treat thru-hikers," says Brosnihan. "There are so many things I had to learn by having a PT brain and just taking it through this kind of endeavor."
Brosnihan's path to physical therapy—particularly the on-trail variety—has been circuitous. A multisport athlete in high school, she attended a western Pennsylvania college that was small enough for her to still get game-time minutes on the basketball team. Halfway through with her business degree, her grandfather suffered a head injury after slipping on ice; when she visited him in the hospital and a therapist came to collect him for rehabilitation, Brosnihan had an epiphany: she wanted to help older people recover from injuries. ("He had to hit his head for me to have my a-ha moment," says Brosnihan.) She added enough science classes to qualify for physical-therapy school and finished her doctorate in Pittsburgh in 2017.
Meanwhile, an interest in long-haul hikes crept into Brosnihan's life. Around the time of her grandfather's injury, she and the rest of her family went backpacking through the Grand Canyon. She was hooked, and subsequently hiked throughout New England during physical-therapy school. Six months after graduating, she tackled Vermont's Long Trail as a prologue to the PCT trek she was planning.
"You start to get so aware of your body, because there's not much else going on," she says. "And sometimes a thru-hike is the first time people experience that kind of serious pain."
One possible reason Brosnihan didn't recognize cuboid syndrome the moment she felt it, in spite of her schooling, is that scientific research and literature on thru-hiking injuries remain scant. Running is the closest related endurance sport with comprehensive studies on injuries, but even that overlap has limits. Physical therapists are taught to keep someone hiking or someone running through load reduction, but the way you reduce the load with thru-hikers is different, because the sport is different, she says. Load is shorthand for the total workload on any joint, tendon, or muscle, all by things like speed, body weight, pack weight, form, and even footwear. Reducing that load attempts to minimize the strain.
Brosnihan is working to expand that knowledge on the subject through her time and experiences helping hurt hikers on the trail. After her first season in her van, she self-published an eBook, PCT Injury Trends: The First 800 Miles. It documents common injuries that occur during the PCT's opening section, just before thru-hikers reach the heart of the Sierra Nevada, and addresses how to prevent or manage them. After the initial 70 miles, for instance, hikers often limp into the town of Julian with arch pain in their right foot, due to the trail's upward slope. When hikers reach their first few mountains, their iliotibial bands (a.k.a. IT bands, which run along the outside of the thighs) can begin to tighten, leading to achy knees. And Achilles tendons flare up for many as the number of climbs grow.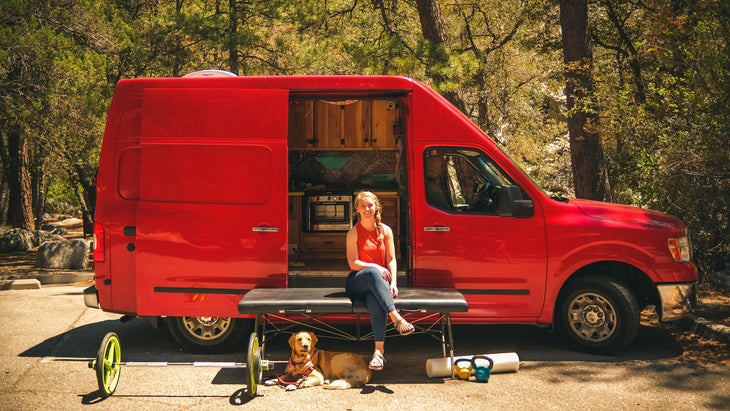 Brosnihan doesn't simply aim to fix these problems for hikers—she also teaches them how to recognize and manage chronic-pain symptoms and root causes by themselves. She knows she may encounter a hiker only a handful of times, even as she follows the glut of them north. So when they arrive at her van with aching backs or stiff ankles, she mobilizes the necessary joints, then provides hikers with exercises—stretches, massages, manipulations—to practice on lunch breaks and at day's end.
"The bulk of my injuries out here, for example, were tendonitis, so I tell patients that exercise is the thing that brought this on, and the only thing that will heal it," she says. "We just have to figure out how to get the loads on those tendons back in balance, to keep them moving. I want them to understand what's going on."
Taking her physical-therapy clinic on the road and to the trail presented a risk for Brosnihan—an unproven way to earn a living. But she's making as much money now as she would in a traditional clinic, and saving more, treating hikers between $50 and $100 per visit.
Next year she plans to spend time on the Florida, Arizona, and Appalachian Trails before heading back west to the PCT. (Brosnihan acquires licenses to practice in each state where she works.) And she may soon hire a second therapist to help treat more patients from another red Blaze Physio van. "But that person would have to be a thru-hiker, too," Brosnihan says. "Mentally and physically, that has been such a part of it for me."
Read on for Brosnihan's therapy-minded tips to prepare for, and sustain, a long-distance haul.
5 Physical-Therapy Tips to Prep for a Long Hike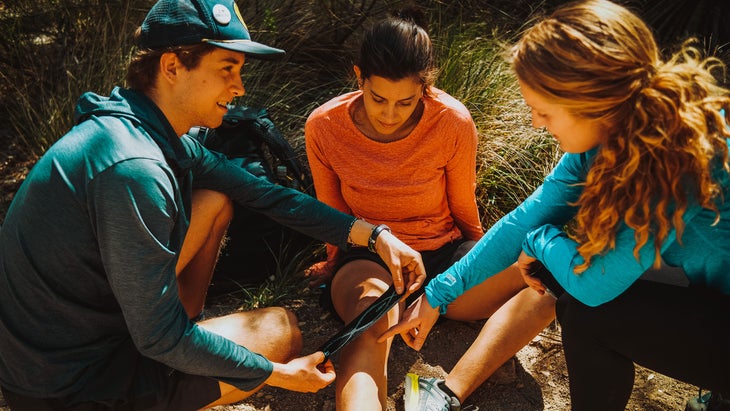 Find and Test Alternate Shoes
It's fine to have a primary shoe that you think you'll wear every day on the trail. But what if you reach a town with tattered kicks and without that shoe in stock? Know what other shoes your body can tolerate, Brosnihan advises, so you always have a backup plan in place.
Strength-Train
For Brosnihan, strength training is the best way to safeguard against insurmountable strains and insufferable tendonitis on the trail. Focus on the unilateral basics; single-leg exercises like lunges, step-ups, and heel raises can help address imbalances. And don't forget that these functional movements are meant to fortify your entire body's performance, she says, noting "That should beat the core of any program."
Improve Your Ankle Mobility
Brosnihan chuckles when she talks about ankles, because she sees so many on-trail injuries related to the stiff joint. Analyze your mobility long before you start, then increase it with stretches and strength training. You can even do these stretches at the end of a hard trail day to maintain mobility.
Do a Shakedown Hike
A shakedown hike is essentially a long practice trek, where you take your full kit and learn what doesn't work and what throws you off-balance, then determine what weight is unnecessary. It may seem obvious to rehearse what's about to become your life, but Brosnihan says it's worth reiterating. Going with an experienced thru-hiker can help, but give yourself permission to make dumb mistakes alone if you need to. "You'll be pretty motivated to not have a 70-pound pack after two days outside," she says.
Test the Tape
Thinking about using Leukotape to stop blisters or KT Tape to bolster an aching body? Wear them long before you get on trail to ensure you're not allergic to their adhesives and that you know how to use them properly. Brosnihan has seen little blisters turn into badly inflamed feet when people react to the materials, and she'd prefer not to see it again.
5 Physical-Therapy Tips to Sustain a Long Hike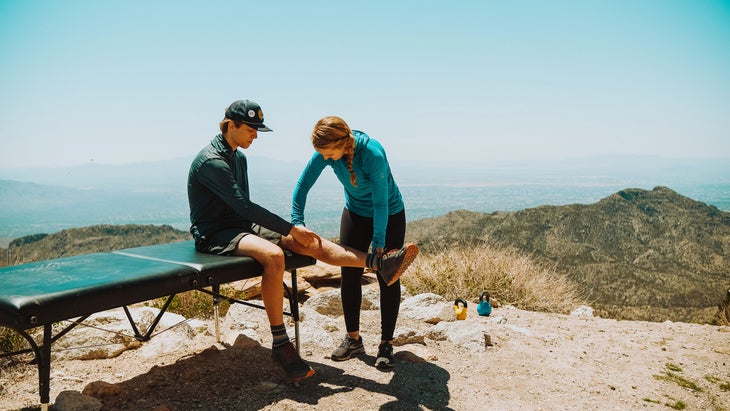 Avoid Limping
If an injury is causing you to limp, favoring it may make it worse, as it alters your normal stride. For example, Brosnihan has seen tendon-induced limps lead to broken feet. Take Ibuprofen, shorter steps, or a day off—do what you must to avoid limping for a prolonged period. "Your body is used to the way you walk, and a limp is a whole new movement pattern," she says. That will only make it worse.
Don't Forsake Sunscreen
Stopping by a stream for lunch and a swim? Wearing shorts that expose the backs of your knees? Lather 'em up with sunscreen, because discomfort from sunburn, and especially sun poisoning, can disrupt your stride and instigate injury.
Shorten Your Stride
Aside from pack weight, there are three primary factors that contribute to the load on your body: mileage, speed, and step length. Mileage is often the least inflexible (you have to get where you're going, after all), so consider slowing down and shortening your steps to put less burden on your body, especially as you ease into the rigors of long-distance hiking at the start. "Most people overstride in hiking and running, so reeling in the step length a couple of inches can go a long way," she says.
Pay Attention to the Way You Fall Asleep
Brosnihan knows many folks are side sleepers, and that's fine. But put something—a shirt, a bit of foam padding, whatever—between your knees to align your knees and hips and relieve pressure on your joints. Without that extra support, gluteal tendonitis and IT band problems can flare up. And if you don't have anything extra (hello, ultralighters), just cross your ankles as you sleep for a similar effect.
Squeeze Your Butt
As you climb on the trail, engage your glutes by squeezing them, which helps alleviate strain on your knees. Make this a habit and the rest of your body will thank you.
Lead Photo: Courtesy of Morgan Brosnihan