8 of the Most Adventurous Trail Runs in Colorado
Get off-trail just a couple hours' drive from Denver and the Front Range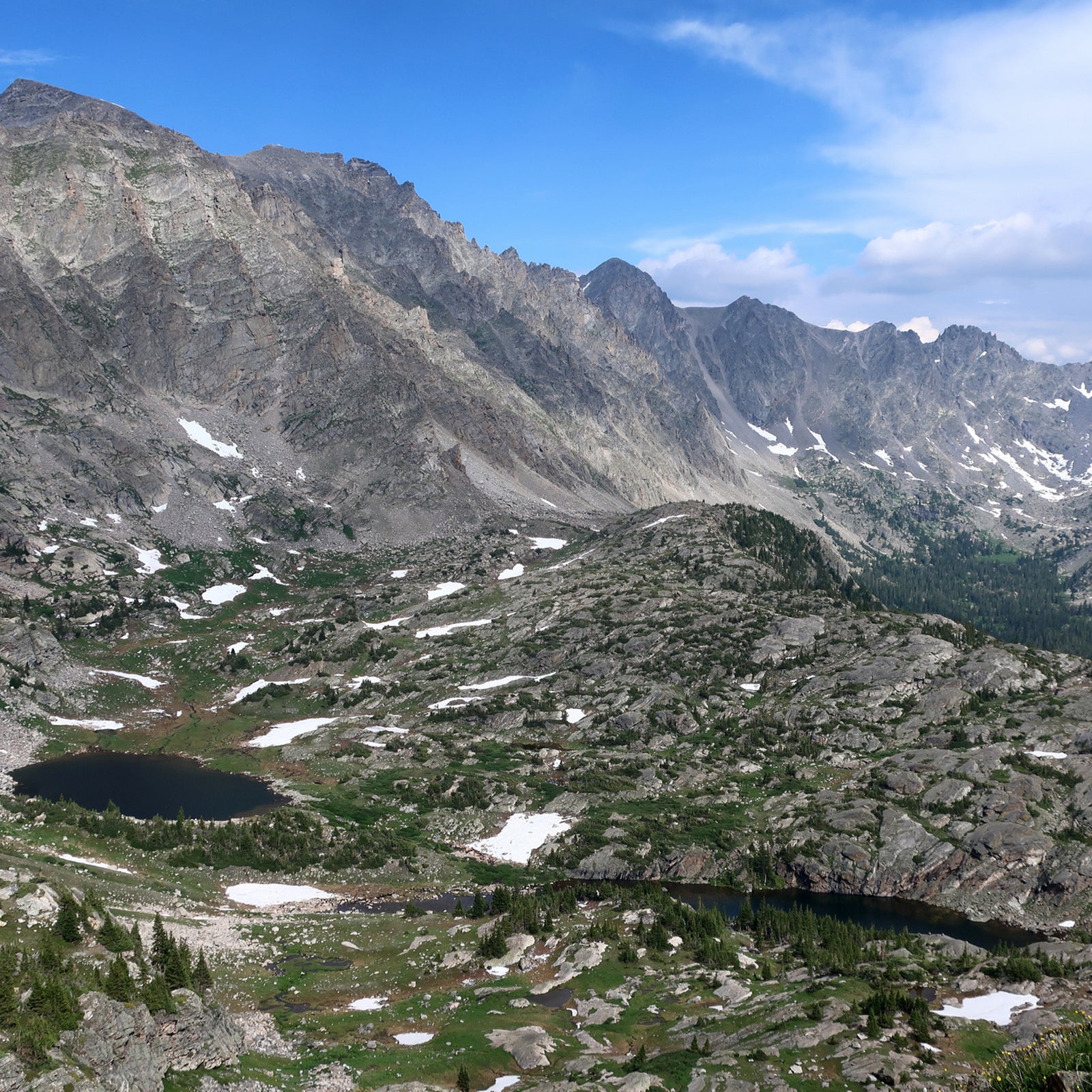 Heading out the door? Read this article on the new Outside+ app available now on iOS devices for members! Download the app.
Last year, for the first time in six years, I didn't race and didn't log my usual 3,000 miles. Nagging injuries, a lack of race-entry luck, and a growing guiding program all played a role, as did an absence of desire—whatever I'd been running toward in my mid-thirties, I felt like I'd reached it.
Somewhat ironically, however, 2019 had a disproportionate share of favorite and memorable trail runs. Since I wasn't on a strict training plan or beat up from the last race, I was free to run where, when, and how far I pleased and to do it at whatever pace felt right. In this article, I'll highlight five of the best from last year, plus three more favorites from previous years.
Due to their proximity and quality, I focused my efforts on Rocky Mountain National Park and the Indian Peaks Wilderness, both in the Front Range of Colorado. From Boulder, the trailheads to the east of the Continental Divide are about an hour away; the west-side trailheads are two and a half hours away, near Grand Lake, but conveniently, my guiding work put me in that area for a few September days.
Intentionally, five of these eight loops include sections of the Pfiffner Traverse, a 76-mile high route that parallels the geographic Continental Divide between Milner Pass (on Trail Ridge Road in the national park) and Berthoud Pass (on U.S. 40 near the boundary of the James Peak Wilderness); it's 40 percent off-trail, gains or loses 750 vertical feet per mile, and approaches Class 3 in difficulty. Four of the eight loops on this page are section hikes I have previously recommended.
By including sections of the Pfiffner, I was able to edit my Pfiffner Traverse Guide, gather data for a potential fastest-known-time attempt, and elevate the difficulty of each outing, making them true adventure runs. But most important, the Pfiffner helped create loops in a range that otherwise has very few.
1. Across Onahu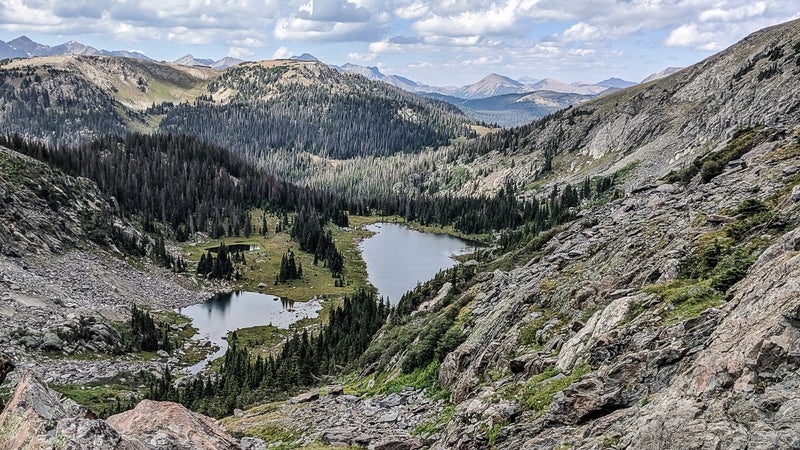 17.2 miles (3.5 miles off-trail), with 5,000 feet of elevation gain
A shuttle is required for a 6.8-mile stretch of Trail Ridge Road 
Strava route (with North Inlet/Tonahutu trailhead finish) 
The heart of this run is between Timber Lake and Haynach Lakes, which are separated by two 11,800-foot passes that provide access to and from upper Onahu Creek. Onahu is a gem: it lies within one of just two trailless valleys on the west side of the park that feature a rarely visited alpine lake and serve as a quiet refuge for elk and moose.
Several options exist for reaching and returning from Timber Lake and Haynach Lakes. A shuttle or hitch is necessary for all of them.
The shortest variation of this run starts at Timber Lake Trailhead and finishes at Green Mountain Trailhead, which are separated by seven miles along Trail Ridge Road. Alternatively, start at Milner Pass (which is about the same distance but has less climbing) and finish at North Inlet/Tonahutu Trailhead (another 2.4 miles). The net vertical uphill-downhill difference between running northbound and southbound is generally negligible, unless you start at Milner Pass.
2. Continental Divide Trail Loop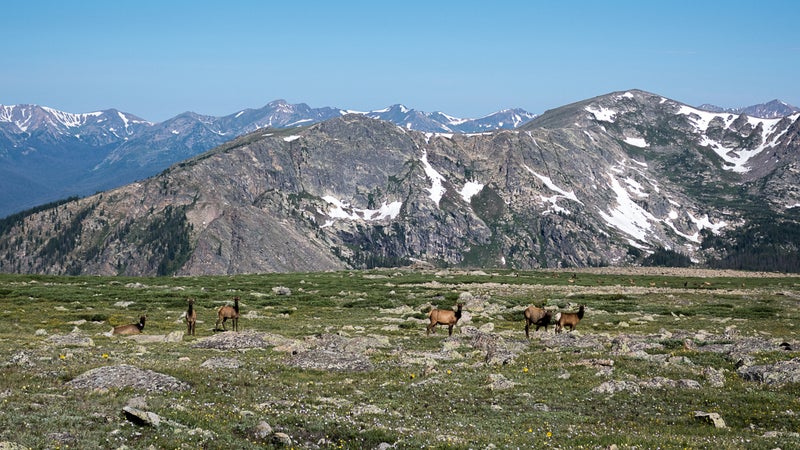 25.8 miles (no off-trail), with 4,400 feet of elevation gain
Complete loop
This is the only all-trail loop on the west side of Rocky Mountain National Park. Because of that, it's already popular with backpackers and trail runners and is actually the only route on this page with an established FKT (four hours and two minutes, set by Ian O'Brien in 2017). The highlight of this loop are the roughly seven miles in the middle between upper Tonahutu Creek and upper Hallet Creek. At around 12,000 feet, this section is entirely above tree line as it crosses the alpine expanses of Bighorn Flats. In spring and early summer, the waterfalls are also exceptional.
Start at the North Inlet/Tonahutu Trailhead and pick a direction. I prefer clockwise so the flat and boring 5.5-mile section along Big Meadows is at the start. Climb steadily to Ptarmigan Point (elevation 12,200-plus feet), and then descend into North Inlet and back to the trailhead. If you have access to a shuttle or are willing to hitch, you can shortcut the route by 2.4 miles by starting or ending at Green Mountain Trailhead.
3. North and East Inlets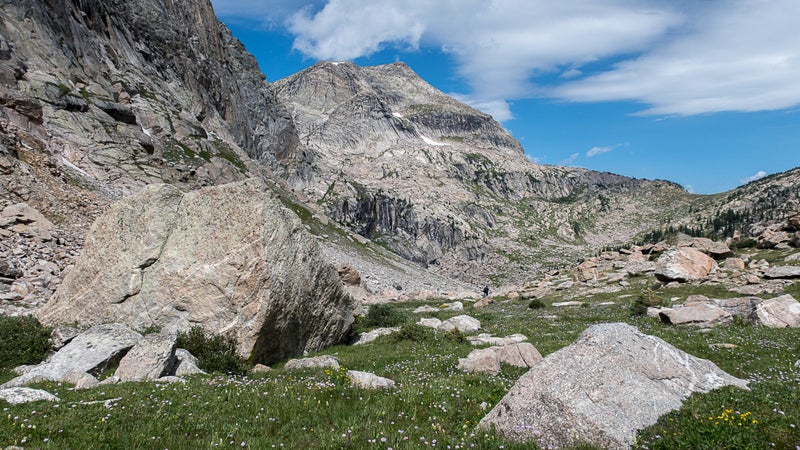 21.3 miles (3.3 miles off-trail), with 6,100 feet of elevation gain
Complete loop
The North Inlet and adjacent East Inlet both flow into Grand Lake, the largest natural lake in Colorado. Hiking trails go far up both drainages but, strangely, do not connect. Fortuitously, however, these glacier-carved valleys can be linked with just 3.3 miles of off-trail travel, most of it along a Sound of Music–esque alpine bench perched between the Ptarmigan-Andrews ridge above and the North Inlet below. If you don't see elk, you will surely smell them. The wildflower show usually peaks in July. 
I strongly recommend running this loop clockwise, entering the park from North Inlet/Tonahutu Trailhead and exiting at East Inlet Trailhead, so that you have gravity on your side for the tough pitch above Spirit Lake. The trailheads are separated by 1.4 road miles, which can be used as a warm-up or skipped with a shuttle or a hitch.
Run up North Inlet, and take a right (south) turn toward Lakes Nokoni and Nanita. When this trail terminates at the latter lake, follow the Pfiffner Traverse to Spirit Lake, where you will hit an unmaintained use trail. Turn right (west), and follow this track to the mapped end of the East Inlet Trail, which will take you back to the trailhead.
4. Triple Bypass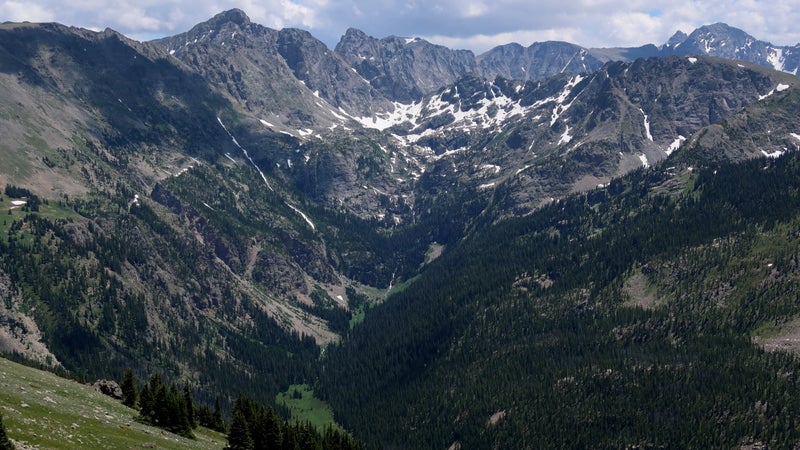 23.3 miles (3.1 miles off-trail), with 7,500 feet of elevation gain
Complete loop
The popularity of the 28-mile Pawnee-Buchanan Loop (a.k.a. the Double Bypass Loop) is nearly on a par with the famed Aspen Four Pass Loop. It gains 8,000 vertical feet and crosses two 12,000-foot passes on the Continental Divide, making it a fantastic long run or weekend backpack trip.
Triple Bypass is an adventurous play on this Colorado classic. Rather than dropping to the 8,800-foot junction of the Buchanan Pass and Cascade Creek Trails above Monarch Lake, it shortcuts the route by heading off-trail for three miles up a deep valley and over a Class 3 pass.
This loop can be run in either direction, starting and ending at Brainard Lake. But by doing it counterclockwise, you can follow the description in my Pfiffner Traverse guidebook for the off-trail section. Most hikers and runners will appreciate the hand-holding—the topography of Thunderbolt Creek is deceptively complex, and the the south side of Paiute Pass is exceptionally steep.
5. Boulder Watershed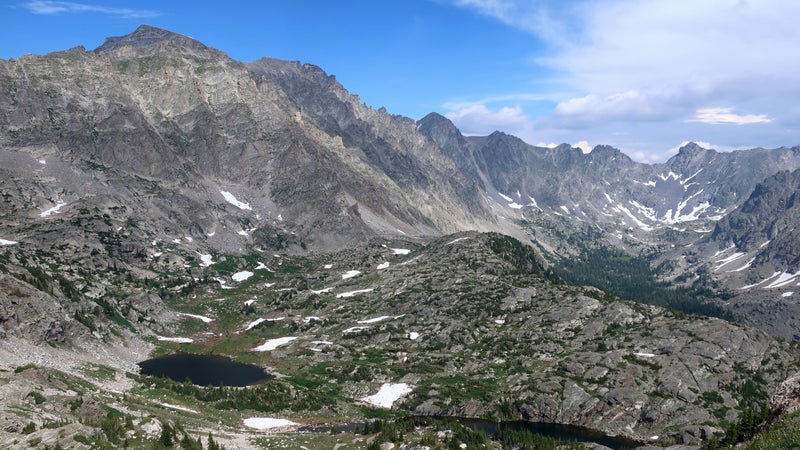 33.6 miles (4.7 miles off-trail), with 11,200 feet of elevation gain
A shuttle is suggested, adding 4.3 miles on a gravel road to make it a loop
Hands down, this is the most demanding loop on this list. It's the longest and has the most vertical change; it has the most passes (five) and some of the highest (four above 12,000 feet); its off-trail sections are not straightforward; and Northeast Gully—filled with snow through midsummer, covered in loose rock and dirt in late summer, and always steep—will excite even those already comfortable on technical terrain. It could be the ultimate test piece on the Front Range. 
Start or finish at Rainbow Lakes Trailhead, and ideally hitch or shuttle the five miles of gravel between it and Sourdough Trailhead, just off the Peak to Peak Highway. The loop can be done in both directions, with a slight advantage for clockwise (so that you can more easily follow my guidebook out of the Lone Eagle Cirque).
From Sourdough Trailhead, run over Niwot Ridge to Brainard Lake, then over Pawnee Pass to Cascade Creek Trail. From there, head through Northeast Gully to upper Arapaho Creek and over Arapaho Pass to the Fourth of July Mine. The final stretch runs over the east ridge of Arapaho Peak, past the Arapaho Glacier, and back to Rainbow Lakes.
6. Monarch Lake Loops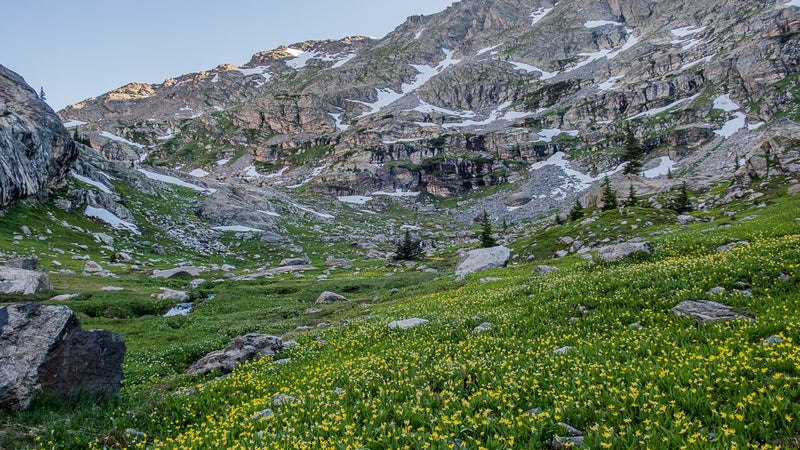 Minimum: 16 miles (3.1 miles off-trail), with 4,800 feet of elevation gain. Maximum: 32.3 miles (10.4 miles off-trail), with 11,600 of elevation gain.
Complete loops
Monarch Lake is the western gateway to the Indian Peaks Wilderness, sitting at the confluence of four major creeks that flow off the Continental Divide: Hell Canyon, Buchanan, Cascade, and Arapaho.
The Pfiffner Traverse connects these drainages, using Cooper Peak Pass (moderate), Paiute Pass (hard), and Northeast Gully (very hard). This area has six loop opportunities, and each includes one pass, two adjacent passes, or all three passes. Select the itinerary that best suits your fitness, interests, and off-trail skills—or stay in the area for a few days and undertake several of them.
Out via Hell Canyon Creek, over Cooper Peak Pass, return via Buchanan Creek
Out via Buchanan Creek, over Paiute Pass, return via Cascade Creek
Out via Cascade Creek, over Northeast Gully, return via Arapaho Creek
Out via Hell Canyon Creek, over Cooper Peak and Paiute Passes, return via Cascade Creek
Out via Buchanan Creek, over Paiute Pass and Northeast Gully, return via Arapaho Creek
Out via Hell Canyon Creek, over Cooper Peak and Paiute Passes and Northeast Gully, return via Arapaho Creek
7. Middle Boulder Creek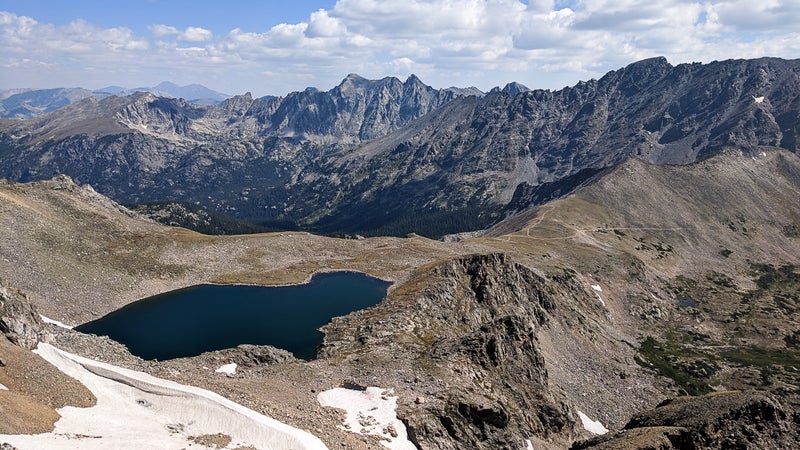 25.1 miles (4.3 miles off-trail), with 7,400 feet of elevation gain
Complete loop
From Boulder, Hessie Trailhead provides the quickest access into Indian Peaks. Its popularity is proportional to its convenience, however, so the county operates a free shuttle bus on weekends to relieve parking pressure. By taking the N bus from downtown Boulder, this loop can be done using only public transit.
Go counterclockwise to pass through the lowest and most heavily trafficked sections first, and reserve the wildest bit for the third quarter. The highlight is between Arapaho Pass and Rollins Pass, when this loop overlaps with the Pfiffner and mostly stays atop the Continental Divide, offering sweeping views east toward the Front Range metropolitan area and the Kansas prairie, west across Fraser Valley, and over Winter Park to the jagged Gore Range. 
8. James Peak Skyline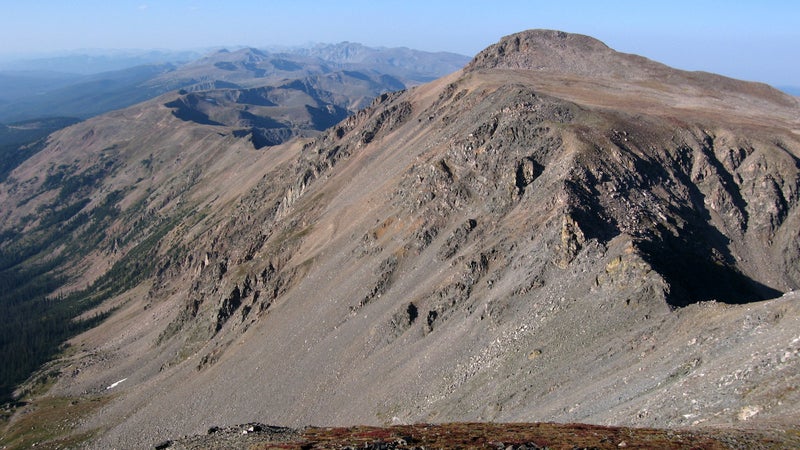 17.6 miles (5.2 miles off-trail), with 6,550 feet of elevation gain
Complete loop
If I'd had one more week of cooperative weather last year, this route would've been my next run. Years ago I completed it as an overnight backpacking trip and was surprised that it's not considered a classic, especially given its accessibility from Denver.
Start at St. Marys Glacier Trailhead, and run clockwise to finish with the best stuff. The exception: if there is a chance of thunderstorms and you're getting a late start, go counterclockwise to get off the Continental Divide earlier in the day.
From the parking area, cut through the ghost town of Alice and join the Continental Divide Trail (CDT), where it crosses a four-wheel-drive road to Loch Lomond. Follow it to Mount Flora, the first of five thirteeners on this route. Downtown Denver is visible 40 miles east-southeast, and two popular Front Range fourteeners—Grays and Torreys—are 12 miles to the south-southwest.
Run or hike north atop the geographic Continental Divide, usually off-trail but sometimes with the help of a use trail, to James Peak, the final high point. The route is generally a mix of tundra and scree and includes one fun Class 2 scramble across the notch between two mountains, Bancroft and James.
From the summit of James Peak, descend south on the CDT until it crosses the James Peak Wilderness Area boundary. There, travel eastward off-trail until funneling into the St. Marys Glacier. Beware: the home stretch is on overused, wickedly eroded tourist trails. 
Lead Photo: Andrew Skurka