Indefinitely Wild
How Ninja Warrior Jessie Graff Became a Real-Life Superhero
We went cliff diving and rock climbing with the stunt-person, athlete, and daredevil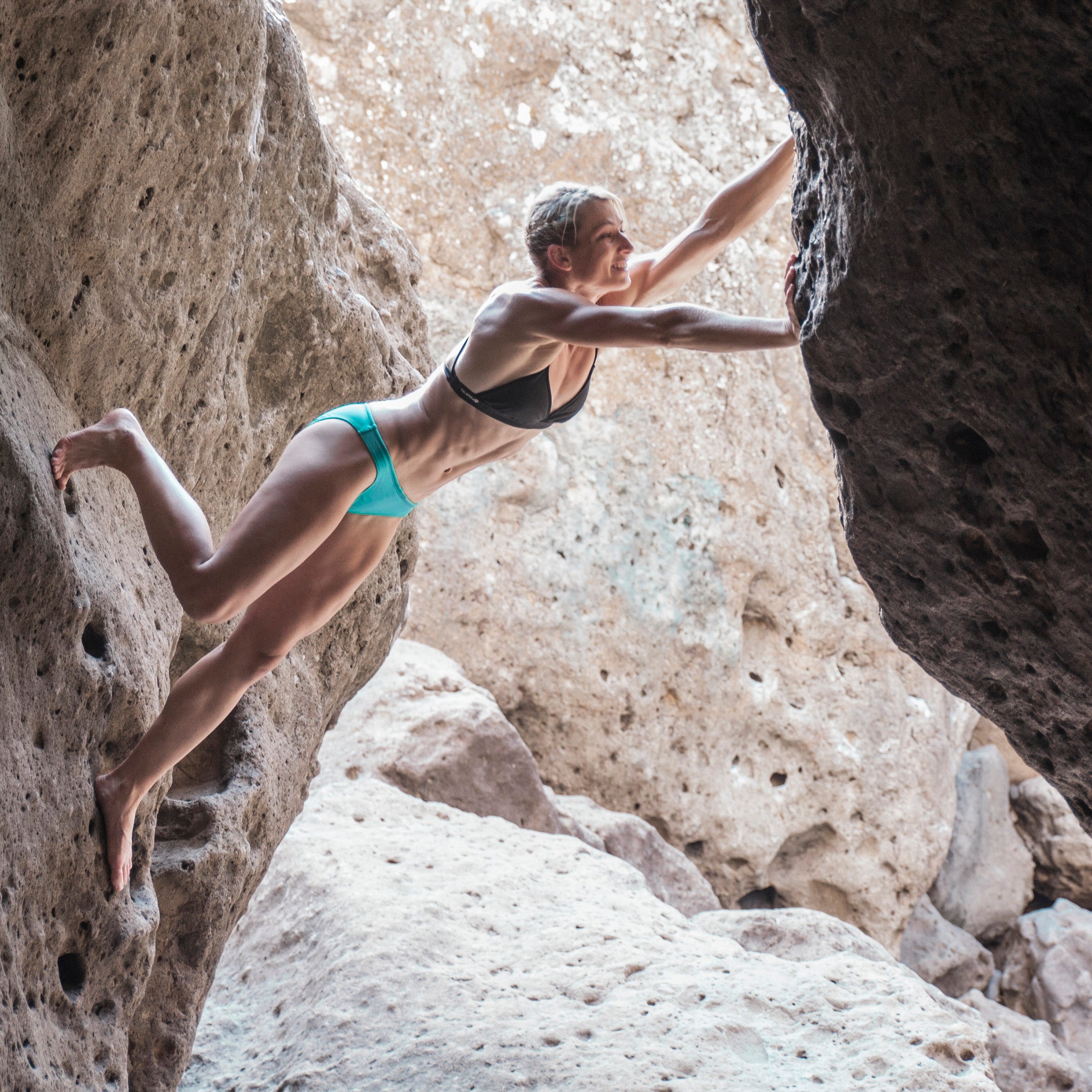 Michael Thompson(Photo)
Heading out the door? Read this article on the new Outside+ app available now on iOS devices for members! Download the app.
Jessie Graff is a badass. In August, she became the first woman to ever complete Stage 1 of the American Ninja Warrior national finals in Las Vegas. But that was just a little extra fun for the stunt-person, who has black belts in both Tae Kwan Do and Kung Fu, and who's worked on shows like Supergirl and The Walking Dead, as well as on the Iron Man, X-Men, and Transformers movie franchises. 
So, when she invited me along for a day of cliff diving and rock climbing in Malibu, the answer was obviously yes. Hopefully, I learned a little about what makes this elite athlete tick. 
Jessie's Early Inspiration Was Xena: Warrior Princess
"Before I knew anything, I knew I wanted to be up high, and jump off things, and swing and climb," she explains. "I didn't know how to interact with people yet, but I knew that if I had to go ask a scary adult for permission to do the trapeze, then I was going to find the confidence to go ask them."
"I knew I wanted to do all that stuff, but the goal didn't really take shape until I started watching Xena when I was about 12. I was convinced that one day Lucy Lawless would retire, and they'd need another Xena to take her place. Because, to my 12-year old brain, there could obviously never not be a Xena."
"I was trying to do everything that she did," Graff continues. "I cut my bangs to look like her, I braided my hair to look like her, and I'd run around the woods with a stick for a sword doing flying side kicks trying to knock down dead trees, and I'd try the flying wall flip she'd do when she was kicking bad guys."
But for a While, She Worked on Becoming an Astronaut
Jessie started college at Georgia Tech, and an aerospace engineering major. "I did an aptitude test where they said I was good at science and math," she says. "I figured it'd be fun to float around in space, so maybe I would be an astronaut."
"I didn't have a scientific goal though," Graff continues. "And no one needs an astronaut to just be really good at floating around, they're going up there to study things, I had to be honest with myself."
"I've always tried to write down my goals," she explains. "How was I going to fit in going to the Olympics for diving and pole vaulting, while becoming a superhero on TV, and joining the circus? There's only one lifetime, you can only fit maybe three of those things in." 
Jessie missed Olympic qualification by an inch-and-a-half, and now uses her engineering background to design complex stunts. 
https://www.youtube.com/embed/Weg-cnecgH4
She Learned Kung Fu on a Pirate Ship
During her early years in Los Angeles, Jessie paid the bills by working at one of those cheesy theme restaurants where actors sing and dance while you eat. "I thought I was going to get to be a pirate, so I showed up to the audition with my sword." But even Jessie Graff faces sexism; they made her the damsel in distress. "I didn't get to be a pirate, but one of my pirate friends taught Northern Eagle Claw Kung Fu," she says. "He would train us a couple days a week, and I progressed through the system."
Jessie Idolizes Jackie Chan
I'd gotten about three syllables into asking her who she looked up to when she blurted out "Jackie Chan!" Citing the way he's able to tell stories through action, she paints a picture of her perfect action scene: "The helicopter comes over the cliff, I run and jump off the cliff, grab one skid, the guards in the helicopter run over the side, I grab one, throw him, then jump in, and the fighting ensues. 
Graff pursues martial arts as a way to become a better stunt-person. "I worked through the belt system and got a black belt in Tae Kwan Do specifically for stunts," she explains. "I don't compete in tournaments, with everything I learned I asked myself how I could apply it to stunts."
The same goes for her ongoing gymnastics training. She no longer worries about landing a back flip with straight legs and pointed toes, now she practices how to make that back flip look realistic as part of a fight scene. "How do you make it look like you're flying back from an upper cut, completely out of control, and then land safely? How do I do that differently if I'm knocked unconscious?"
All This Stuff is Hard on Your Body
Jessie's had her share of injuries, most notably tearing her ACL, MCL, and meniscus in 2014. "My biggest challenge is knowing when to rest," she says. "There's just so much fun stuff to do."
"I had had two solid days of work, where I was doing heavy fights in SWAT gear, falling over fences, getting up, and fighting some more," Graff explains. "The next day, I felt like I had missed my scheduled workouts, so I was excited to go run two miles of hills, and practice all my kicks. That evening, my legs felt like Jello, so I figured I'd ride my bike to Tae Kwan Do class. In hindsight, that was an absurd decision, but I'd already missed two classes, so I didn't want to miss another. We started with jump-spinning plyometrics over mats, and mid-jump my muscles were just so exhausted they stopped responding. When I hit the floor, my knee just popped straight in."
Injury prevention is now one of Jessie's core training focuses. "In stunts, you're going to get hit from every angle," she says. "You have to build your own armor out of muscles."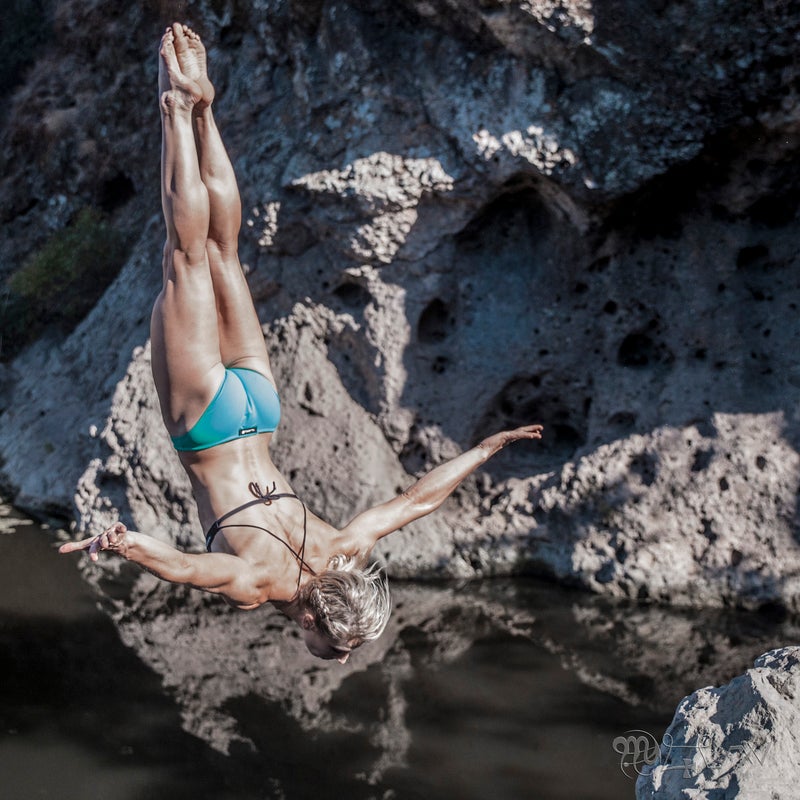 The Injury Helped Her Win Ninja Warrior
Jessie started competing in American Ninja Warrior in 2013. But it wasn't until visiting Colorado with that knee injury to watch a qualifying competition that she figured out what it would take to win. Like other aspiring competitors, she crashed on Dr. Noah Kaufman's floor, and it was there she discovered rock climbing. 
"I asked him to show me one of the routes on his climbing wall," she says. "He showed me one he said I could get on my first try, but once I got up in the first position, I couldn't even move."
Inspired, Graff started an intense routine of pull-ups, dead hangs, and used the Beastmaker app to boost her grip strength on a finger board. Two years later, she dominated the course. 
It's Not Jessie's Strength That Helped Her Win
I asked Graff what unique ability she has that made her the first female champion on the show. "I'm not the strongest, and I'm not the fastest," she explains. So what's the trick? Graff attributes her victory to adaptability. 
"It's that I have a job where every day I show up not knowing what I'm going to do," she elaborates. "Sometimes you've prepared something, but right before you shoot, you're told you've got to do it in skinny jeans that don't stretch, and four-inch heels. Or, they change the fight choreography, or that you've got to do a front flip off a trampoline in an 18th century dress, a two-foot-high wig, and near-sighted glasses."
Each Ninja Warrior obstacle course is unique, and competitors aren't allowed to practice on them before the competition. But Jessie's made a career out of tackling potentially life-threatening physical challenges on the fly. "If you're taking a 50-foot high fall from a building, you've got to figure it all out before your first time, or you're going to die," she says. 
She's Clear About Why Women Haven't Succeeded On the Show Before
"It's not that there haven't been women strong enough to do before me," she says. "It's that there are just that many more men competing, that the odds of a woman succeeding are much lower."
And she's clear about why there are fewer women competing in physical challenges like this one, explaining that society doesn't teach women that they're physically capable. "I always picture gym class," she says. "A guy has to climb a rope, and he can't do it. All the other guys make fun of him, so he goes home and learns how to climb a rope. A girl tries to climb a rope, can't do it, and she's told that it's OK, girls can't build upper body strength. So she goes and does something else."
"It has nothing to do with being female" Graff continues. "It's what you have trained versus what you haven't trained."
So How Do You Become as Physically Capable as Jessie?
Jessie says it's not so much about following one fitness plan or another, it's developing the motivation to put in long hours across many years of training. "Doing the strength and conditioning it takes to become an athlete is extremely boring," she says. "It's hard to stick with it if you haven't had a taste of the fun stuff fitness makes possible. Go to a climbing gym, take a lesson, and if that's what inspires you, you need to get on a pull up program."
Using climbing as an example, Jessie says to train for your sport a few days a week, then reward yourself with a fun rock climbing trip on a regular basis. "If you're just doing the fun stuff, then you're going to get hurt," she says. "But if you're just doing the conditioning, then it's hard to stay motivated."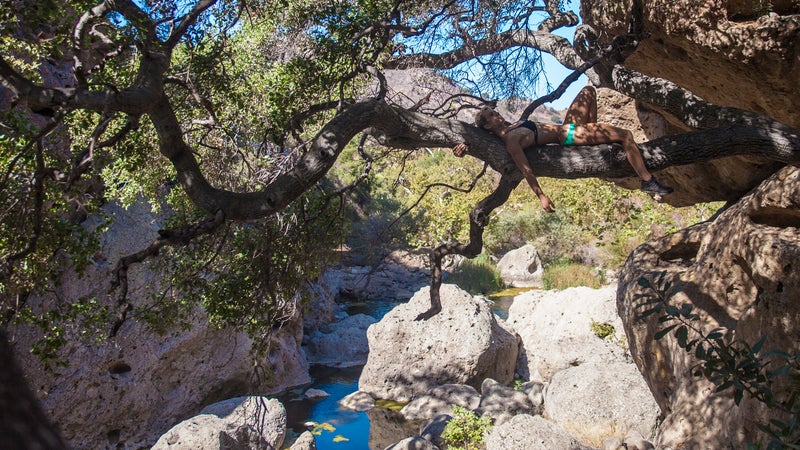 Next, Jessie Wants to Become a Her Own Superhero
"Someone once told me that you have to choose to be an actor or stunt-person, you can't do both," says Graff. "And if I have to chose, I'm absolutely choosing the stunts, because it's all about the action for me. But, my goal since I was a little kid has been to play a superhero on TV. Now that I have this Ninja Warrior thing out there, I have people out there telling me I should play this superhero or that superhero. And that sounds good to me."
Who knows? Maybe someone will even decide it's time to remake Xena. 
Lead Photo: Michael Thompson
Trending on Outside Online