Hunting's Big Comeback
Hunting is making a comeback by tapping a new crowd of athletic locavores, and that means big business for performance-minded gear companies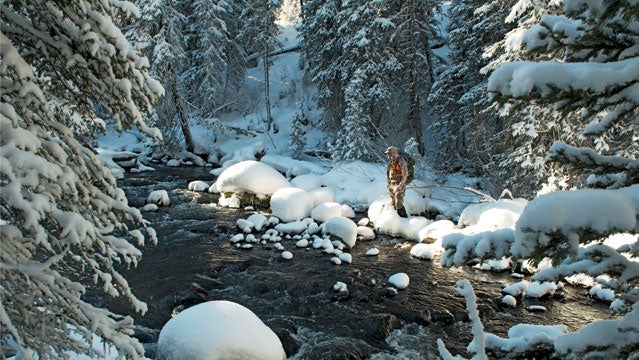 Adam Foss/Seacat Creative
Heading out the door? Read this article on the new Outside+ app available now on iOS devices for members! Download the app.
On the screen, a lone figure fords an icy stream and hopscotches across a high ridgeline. "What is it that inspires someone to fully commit?" asks a voice. It could be a soulful climbing documentary, but it's not. The 25-minute film, Searching for West, stars Bozeman, Montana, bow hunter Mark Seacat, 34, and he's clad from head to toe in the sort of soft-shell Gore-Tex fabric he wore on the two occasions he summited Denali. There's one major difference, however: rather than the brilliant cardinal colors that stock the racks at REI, this stuff is patterned in splotchy digital camouflage.

Seacat and crew in Canada's Mackenzie Mountains.
The clothing and the film are both the work of a Bozeman company called Sitka, named for a famous hunting hamlet on Alaska's Baranof Island. Launched in 2005 by pals Jonathan Hart, 40, and Jason Hairston, 42, a former NFL linebacker, Sitka set out to make performance hunting gear at a time when most sportsmen shopped in big-box stores for "subpar cottons and cheap polyesters," as Hairston puts it. "We were adopting what's already in the mountaineering world and moving it over to hunting. That was our vision."
The move was well timed: since roughly 2005, the pastime mostly associated with paunchy old men has undergone a revival, especially among a younger, more athletic crew looking to play hard in the mountains, fill their freezers, and engage with a little repressed bloodlust. According to the Fish and Wildlife Service, the number of hunters in the U.S. jumped 9 percent between 2006 and 2011, to 13.7 million, and such unlikely gunslingers as four-hour guru Tim Ferriss and Facebook founder Mark Zuckerberg have made headlines by donning camo. Concurrent with the boom, Sitka became a multimillion-dollar business. In 2010, it was acquired by W.L. Gore and Associates, the privately held juggernaut behind Gore-Tex.
"Right now a lot of young outdoor people are going bow hunting. It's a different crowd than the guys shooting deer out of the back of a pickup," says Jack Gilbert, 69, who founded Mountain Hardwear and advised Hart and Hairston. "When you see how hard these guys work and the conditions they hunt in—12,000 feet in Wyoming or Montana—I mean, this is serious activity."
The idea for Sitka was born on a hunt. In 2004, Hart and Hairston, college buddies from the University of California at Davis, planned an elk-hunting trip in Idaho's White Cloud Mountains. Hart needed some new camo and ordered what he calls "a bunch of cotton crap" from Cabela's. The weather on the hunt ranged from rain and snow to 80-degree sun. After a grueling two-hour hike to 11,000 feet, Hart realized that he'd have been better off in his climbing gear. "The outdoor industry has always been 10 years ahead of hunting," says Hart. "I didn't understand why."
Some quick research revealed that a half-dozen major brands—sold mostly through big retailers like Cabela's, Sportsman's Warehouse, and Bass Pro Shops—controlled the market. Hart saw an opportunity, and in 2005, he and Hairston mortgaged their houses for startup capital. Later that year, a friend introduced Hart to Gilbert, a long-time North Face exec before creating Mountain Hardwear in 1993. Gilbert liked that Hart and Hairston were going after the top of the pyramid—"Nobody had tried to build the best stuff possible," he says—so he put them in touch with clothing manufacturers and advised them on financing. The pair made their first samples by combining elements from pants and jackets pulled off the racks at mountain-sports shops. At one point, they finagled a meeting with a North Face executive and asked whether TNF's factory would be willing to run some slightly altered versions of its existing products in camo and brand them Sitka. (Definitely not.)
Hart and Hairston eventually licensed a camo pattern, got their samples made, and produced their first shipment, for mail-order catalog Schnee's. Then a funny thing happened: Sitka erupted. It did $300,000 in its first year, $1.2 million in 2007, and $4.3 million in 2008, by which time its products were in all the big-box hunting stores. The founders remained deeply reliant on the outdoor industry, hiring designers from Mountain Hardwear and Arc'teryx, two high-end technical-outerwear brands, and starting a sponsored 16-member hunting team, including Seacat, a part-time photographer.
The team, whose members Sitka earnestly refers to as "athletes," organizes wilderness hunting expeditions and posts short videos of their exploits. Turning on a camera is nothing new in hunting brands like Mossy Oak market themselves by sponsoring cable TV shows that allow every household in America to, in Seacat's disapproving words, "see the animals just get slaughtered one after another after another." Sitka's shorts, on the other hand, take a cue from Red Bull: they're high-production-value, sharable films that tend toward stunning wilderness photography and rarely show hunters standing over dead animals. "Searching for West" was produced by Helio Collective, one of the companies responsible for the groundbreaking snowboarding film The Art of Flight.
Inevitably, with the success of Sitka, mimicry has followed. First Lite, of Ketchum, Idaho, was founded in 2009 by a former Smith Goggles executive. It began with merino-wool base layers printed in camo and plans to launch an outerwear line this year. Two new brands, Core4Element and Kryptek, produce breathable outerwear using non-Gore fabrics. Established companies were forced to react, too. Cabela's launched its Alaskan Guide Series using Gore fabrics, and Under Armour (huge in hunting) expanded from skivvies into technical outerwear.
Of course, even as Sitka took off there was drama. In 2009, worried about having enough capital to continue expanding, Hart and CFO Justin Faggioli decided to sell the company to Gore, against Hairston's wishes. "We needed more money," says Hart, whose job title is now product specialist. "They had more money."
Hairston got a severance package, but it's clear the sale left him raw. "I didn't start Sitka to go work for somebody else," he says, adding that the buyout was "the worst business deal I've ever seen." In 2010, Hairston launched a competing hunting apparel company, Kuiu, named for the island adjacent to Baranof. The two are separated by an icy strait.
Despite the bad blood and increasing competition, business is still strong. Hart can't reveal recent figures, since Sitka is now privately owned, but he claims that sales are holding "the same trajectory" as in 2008 and 2009. That should continue. These days, photos of small figures packing out antlers along lonely ridgelines have taken over the hook-and-bullet world the way epic backcountry photos populate ski magazines.
Granted, few new hunters will want to work as hard for their prey as Seacat does—you won't see Zuckerberg tromping through the wilderness for days on end. But thanks to Sitka, the popular perception of hunting is starting to look a little more romantic. "This is a different type of hunter," says Seacat. "This is a guy who is running, adventuring on the weekend and doing eco-challenges, and, 'Oh yes, I also hunt.'"
Trending on Outside Online