The 25 Best Ski Resorts of 2012
With La Niña back and the East Coast on a five-year blizzard streak, we devised the ultimate ski calendar to help you and your family take advantage. From a boot-deep New England Thanksgiving through spring-break corn snow in the Southwest, the outlook is decidedly epic.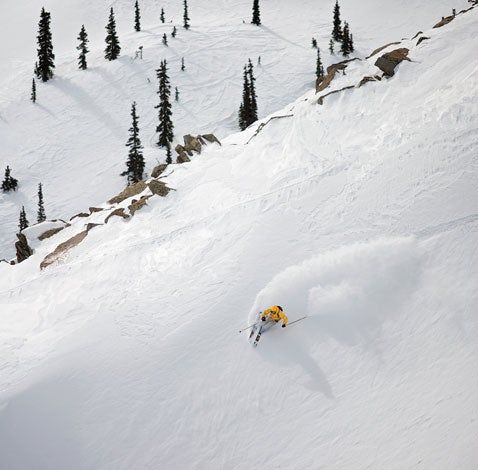 Justin Cash
Heading out the door? Read this article on the new Outside+ app available now on iOS devices for members! Download the app.
Early Season: November-December
Best New Trails: Sugarloaf, Maine
Best Dawn Patrol: Whistler Blackcomb, British Columbia
Best Hike-To Terrain: Crested Butte, Colorado
Midseason: January-February
Biggest Party: Vail, Colorado
Best New Lift: Jackson Hole, Wyoming
Best New Glades: Big Sky, Montana
Late Season: March-April
Best Powder: Squaw Valley, California
Best Spring Skiing: Taos, New Mexico
Best Terrain: Snowbird and Alta, Utah
Plus:
Best Family Resorts
Best Deals on the Mountain
Best Heli-Skiing
Best Rest-Day Activities
Best Ski-Racing Camp
Best Backcountry School
Best Comedy Festival
Best Après-Ski Waterpark
Do It All Season
Best New Trails
Sugarloaf, Maine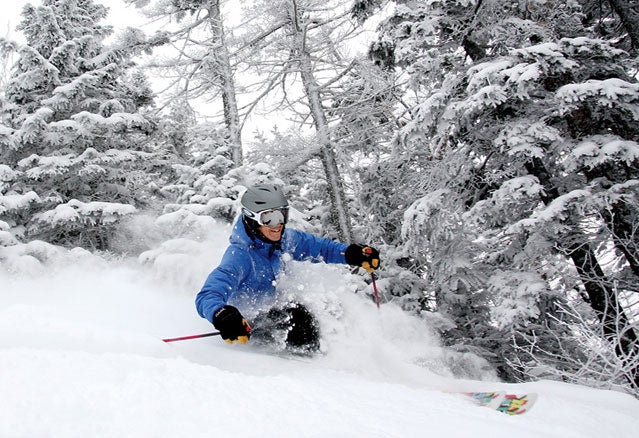 Last season, Sugarloaf, like many New England resorts, received 22 inches during a Christmas blizzard. That's no guarantee, but if it gets anything close to that this year, you'll have an additional 135 acres of open glades off the mountain's King Pine chairlift at your disposal. You'll want to be first on the hill, which is easiest if you're staying at the Sugarloaf Mountain Hotel (doubles from $291; sugarloaf.com), just steps from the Sugarloaf SuperQuad lift. Once on top, ski the Jagger run to Misery Whip, a steep gully that guarantees face shots on any powder day. Then head to the new terrain: nearly 2,300 vertical feet of open glades with 35-degree chutes like Cant Dog, a quick left off the lift. Smart Idea: The new Skyline quad replaces the Spillway East double chair that derailed last year—and reaches the top in about half the time.
Best Dawn Patrol
Whistler Blackcomb, British Columbia
The key to tackling 8,171 acres of powder is a good breakfast at the Roundhouse Lodge beneath Whistler Peak. An $18 trip up the village gondola at 7 A.M. covers your ­bacon and eggs plus an extra hour of skiing with your regular lift ticket. Last year, the deal was an especially good investment, consider­ing that the resort got seven feet—seven feet!—of snow the week of Christmas. Once the lifts open to the masses, break out your cell phone. Whistler's new, free mobile app tracks trail and lift openings throughout the day. Try to catch Blackcomb's 7th Heaven lift early: it serves some of the mountain's best glades, cliff bands, and open bowls. Then crash at the Pan ­Pacific Whistler Mountainside (doubles from $194; panpacific.com), just a short walk from the gondolas. Smart Idea: Sign up for one of Whistler's adult ski-school classes. They're limited to four students, which means plenty of individual instruction.
Best Hike-To Terrain
Crested Butte, Colorado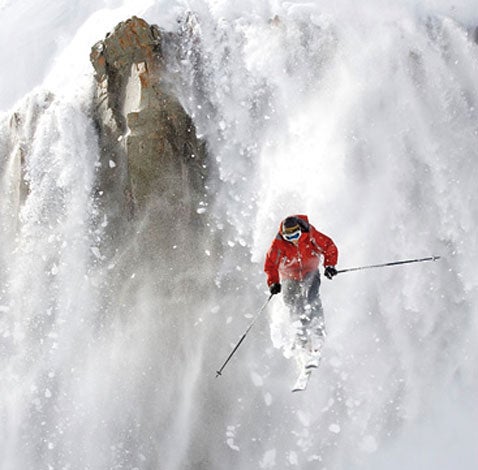 No resort gets a bigger La Niña bang for the dump than Crested Butte, which often has thin cover until February. But last year, 62 inches fell between December 16 and 23, allowing early access to the mountain's best terrain, Third Bowl, which could open early again this year. To make the most of the bowl's 75 acres of hike-to terrain, ride the North Face lift, then make the 20-minute trek to the top before dropping in. There, you'll find 45-degree lines, powder pillows, and cliff bands. Sound intimidating? Hire an instructor from the North Face Guide Program ($120) and learn to rip the steeps with confidence. Afterward, soak and steam at the Elevation Hotel's fully loaded spa (doubles from $249; skicb.com). Smart Idea: The newly opened CS Irwin Lodge outfits backcountry cat-ski trips on 1,000 acres of prime terrain up Kebler Pass ($500 per day; csirwin.com). Trips leave from downtown Crested Butte in cats outfitted as state-of-the-art touring coaches.
Biggest Party
Vail, Colorado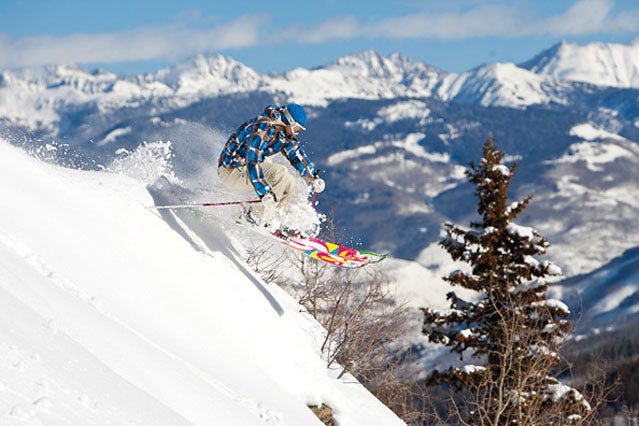 Last season, Vail got 56 inches of snow between January 17 and 23. With anything close to that, the inaugural Winter Teva Mountain Games (February 9–12) should be a powder paradise. An offshoot of the summer Mountain Games, the winter edition will include events like ice climbing and telemark skiing, and the requi­site concerts and parties. Stay near the ­action at the Lodge at Vail (doubles from $469; lodgeatvail.com) or the Tivoli (doubles from $422; tivolilodge.com). Smart Idea: On powder days, head to Beaver Creek. It has a reputation for easy groomers, which is why the Grouse Mountain area, 1,838 vertical feet of steeps, often stays untracked.
Best New Lift
Jackson Hole, Wyoming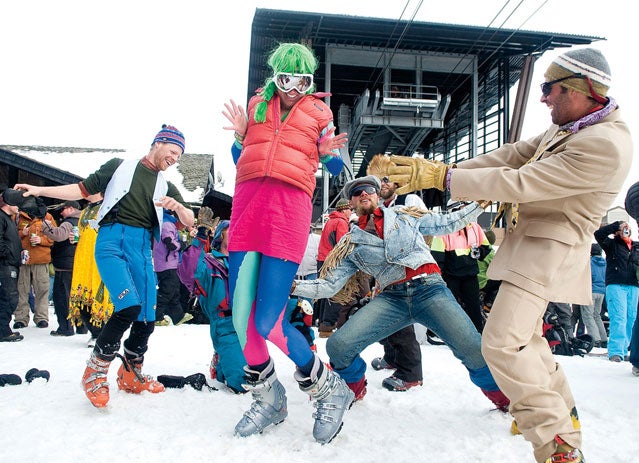 Jackson Hole

Jackson Hole
Skiing Jackson's upper mountain—home to its famous steeps and stashes—has always required descending all 4,139 vertical feet to the village tram dock. Now the new Marmot lift, which starts one-third of the way up, allows skiers quick laps on Casper Bowl, a series of 40-degree open shots and powder pillows that generally ski best in January. Of course, less lift time means less rest, which is why we recommend you treat yourself to a night at the fashionably green Hotel Terra (doubles from $319; hotelterrajacksonhole.com). Refuel with the fiery yellow beef curry at Teton Thai. Smart Idea: Enroll your kids in the TGR Fall Line Camp, where pro freeskiers like Dash Long teach groms how to install a helmet cam and go big. (December 29-31; $645, including lift tickets and lunch).
Best New Glades
Big Sky, Montana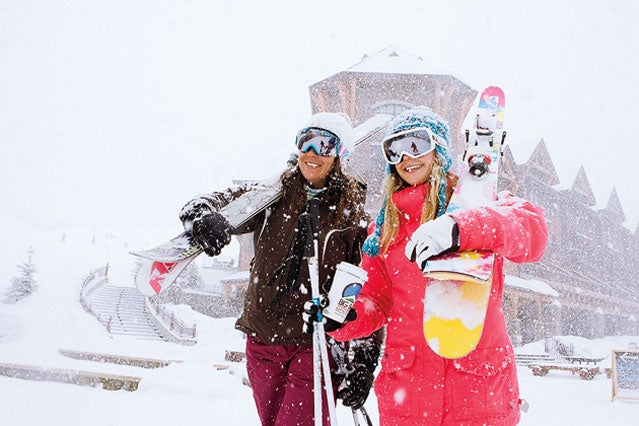 The resort's recent expansion is small but impressive. These five new trails on ­Andesite Mountain include Shady Chute, a 2,000-foot tree shot through 40-degree steeps, and Wolf Den, a slightly mellower 35-­degree pitch. Plan your trip anytime in January, the resort's snowiest month, when 50 to 100 inches of fresh powder typically blanket the Gallatin Range. But be sure to take a few rides up Lone Peak Tram, which tops out at 11,166 feet and provides access to 4,350 vertical feet of steeps, chutes, and thigh-burning bowls. Thankfully, Big Sky also just opened 3,000-square-foot Solace Spa and Salon, conveniently located beneath Huntley Lodge (massages from $95; bigskyresort.com). Smart Idea: A $98 ticket gets you ­access to Big Sky and the adjacent Moonlight Basin (moonlightbasin.com), where you can ski 60 new acres of sparsely gladed terrain. Located off the Iron Horse lift, the nine trails offer up 35-to-45-degree ­pitches and trails as long as a third of a mile.
Best Powder
Squaw Valley, California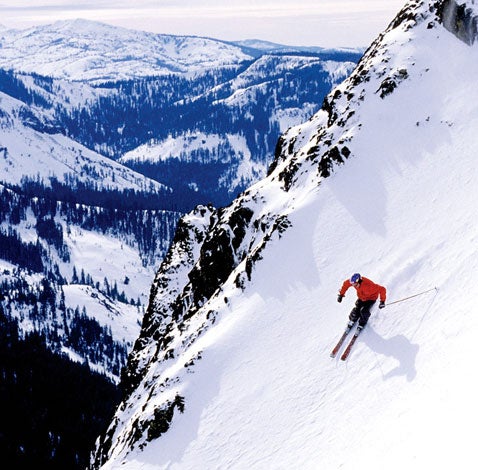 After getting hammered with a record 811 inches of snow last season—241 in March alone—Squaw becomes even more powder-friendly this year: digital information boards will report when runs and lifts open (catch 50-degree Headwall right after the rope drops); on-mountain restaurant Funi's will feature grab-and-go food; and a ski-rental fleet of ultrawide K2 Pon2oons will keep ­everyone floating high. Stay at the Village at Squaw Valley (doubles from $179; thevillage­atsquaw.com), which features cozy rooms with real fireplaces and is just steps from the resort. Smart Idea: In ­September, execs at Squaw and Alpine Meadows, which are separated by a single ridgeline, ­announced the smartest plan in skiing this year—a ­merger. Starting this year, you can ski "Squalpine" on one lift ticket.
Best Spring Skiing
Taos, New Mexico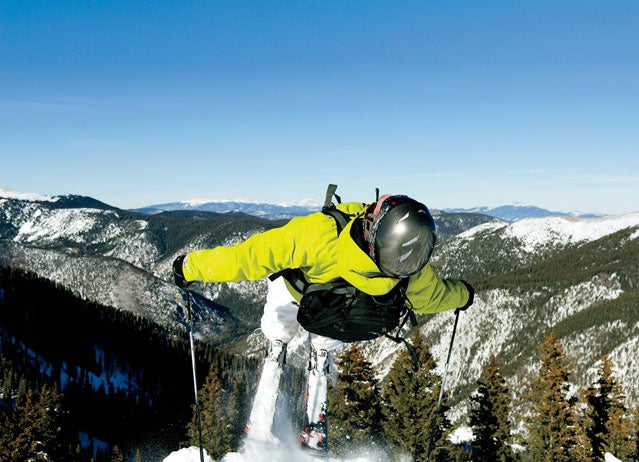 Typically dry during a La Niña year, Taos always skis well in March. This summer, to make the most of whatever winter brings, the family-owned resort thinned trees on the north-facing glades between Longhorn and Al's Run—1,400 vertical feet of sustained steeps. The 45-minute trek to the top of ­Kachina Peak, which often holds cold powder late into the spring, is always worth the ­effort. Stay at the Bavarian Lodge for an old-world vibe (doubles from $335; thebavarian.net) or in town at El Monte Sagrado if high-concept bathrooms and après massages are your thing (doubles from $279; elmontesagrado.com). Smart Idea: ­Schedule your trip to coincide with the March 24 Spring Beer Fest. Local and international brewers offer their libations in the resort center. Chaos ensues.
Best Terrain
Snowbird and Alta, Utah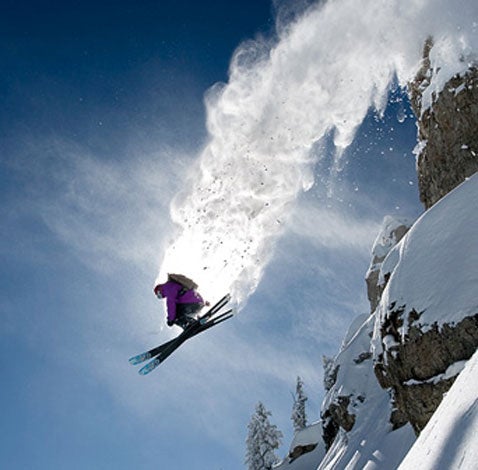 Last year was insane: close to 800 inches of fluff fell, and Snowbird stayed open until the Fourth of July. Here's your game plan to beat the crowds: spring for the $92 AltaBird ticket, which works at both mountains. First, hit Mach Schnell off the Snowbird tram—up to 45-degree steeps through open glades and bowls covering 2,100 vertical feet all the way to the bottom. Then ski Baldy Ridge, which connects Snowbird and Alta. Once you're at Alta, make the half-hour boot-pack up East Castle; it's always the latest to open. At the end of the day, crash at Alta Lodge (doubles from $352; altalodge.com). It's not flashy, but the service and food are amazing and have kept guests coming back for decades. Smart Idea: Rent a Flaik tracker ($20) at Snowbird's activities center to record your ski metrics, like speed and vertical, and share them online.
Best Family Resorts
Five places to take the kids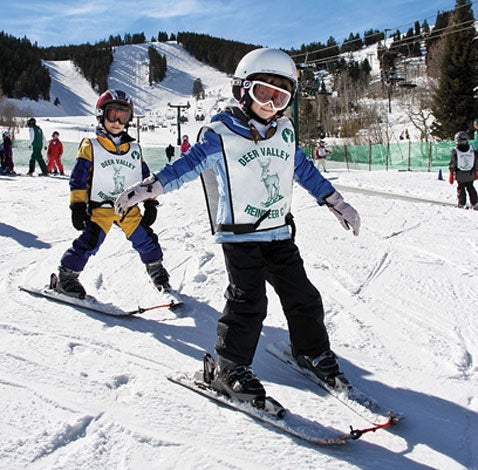 Best Terrain for Young Jibbers: Smugglers' Notch, Vermont
This season, the mountain teamed up with Burton Snowboards to develop Riglet Park. Specifically designed for kids, it features the Treehouse, an elevated platform with ramps, rolling hills, miniature rails, pyramids, and a mini halfpipe. smuggs.com
Best All-Ages Party: Keystone, Colorado
During Kidtopia Family Weeks, Keystone offers movie night, arts and crafts, a chance to meet the avalanche rescue dogs, and a maze-and-slide-equipped snow fort. keystoneresort.com
Best Family Instruction: Fernie, British Columbia
At Fernie, you don't drop your kids in ski school then take off for the day; you join them. (Don't panic—you can also off­-load them and dash.) Family coaches work with the kids on basics while also teaching parents some instruction tricks. One good one: have your child hold a lunch tray with a few items on it and try not to spill while skiing. ­Lessons from $49; skifernie.com
Best Kid-Friendly Terrain: Deer Valley, Utah
This place is so thick with on-­mountain playgrounds, it drew up a separate children's trail map ­charting out the whoop-­de-dos and banked turns of Bucky's Backyard and the Candyland racecourse, where the gates are shaped like candy canes. deervalley.com
Best Place to Ski the Glades Together: Steamboat, Colorado
Open glades like the Shadows, with trees spaced 50 to 60 feet apart, offer a great stepping stone to tighter tree skiing. Feel uncomfortable doing the teaching but want to keep the family together? Book a family lesson (from $390). ­steamboat.com
Best Deals on the Mountain
Tickets, lodging and meals
Alyeska, Alaska
The Ski Alaska package includes four nights of lodging, three days of lift tickets, and breakfast. $399 per person; alyeskaresort.com
Northstar, California
Two weekday lift tickets and a studio condo at Shaun White's new ­training ground: $105 per person. northstartahoe.com
Sunday River, Maine
The Deal of the Century gets skiers two days of skiing, a lesson, one night's lodging, breakfast, and a $25 dining card. $119 per person; sundayriver.com

Park City, Utah
Four nights of lodging, three days of lift tickets: $316. pcski.com
Powder Mountain, Utah
Buy a day ticket at Valley Market, a grocery store on your way up to the mountain, and pay $52 (instead of $60 at the ticket booth). powdermountain.com
Mad River Glen, Vermont
Buy a Family Mad Card for $194 and receive three transferable day tickets plus unrestricted season passes for kids 12 and under. madriverglen.com
Sugarbush, Vermont
The For20s Pass ­(no, we're not making that up) gets 19-to-29-year-olds a season on the hill for $399. sugarbush.com
Crystal Mountain, Washington
Day tickets and lodging at ski-in, ski-out Crystal Mountain: $149 per person. crystalhotels.com
Wherever You Ski
The discount site Zozi.com presents up to five deals per week, with as much as 90 percent off ski packages.
Best Heli-Skiing
Silverton, Colorado
"It's like skiing something in Alaska—big terrain, long and steep, and the guides are really good."
—Ingrid Backstrom, who appears in this year's Attack of La Niña, from Matchstick Productions. $159 per helicopter run; silvertonmountain.com
Best Rest-Day Activities
Haines, Alaska
"I hook up with Southeast Alaska Backcountry Adventures, a small, rowdy outfitter. You're still skiing pow, but it's springtime in the valley. During down days I go fishing and crabbing."
—Lynsey Dyer, who appears in the new movie All.I.Can., from Sherpas Cinema; $5,800 per week; skiseaba.com
Best Ski-Racing Camp
PointZero1
Former U.S. Olympians Erik Schlopy and Jake Zamansky, along with former U.S. Ski Team head coach Phil McNichol, teamed up to start PointZero1, a fantasy ski camp that re-creates the experience of training for the World Cup. Participants receive the same caliber of coaching and ski tuning as the world's top pros. December 5-8 (Vail) and 16-19 (Aspen); from $1,500 (lodging not included); pointzero1.com
Best Backcountry School
Real Aspen Extreme
Ski mountaineer Chris Davenport's Real Aspen Extreme camp teaches advanced skiers backcountry skills in a three-day progression: (1) ski the steeps at Aspen Highlands; (2) hike into the sidecountry, dig pits, and learn how to use beacons; and (3) go into the backcountry and ski untouched powder and faces up to 45 degrees. February 18-20; $1,500; aspenatmosadventures.com
Best Comedy Festival
Telluride, Colorado
Telluride saves its best parties—Mountainfilm, the bluegrass festival, Blues and Brews—for the warmer months. The exception to this rule: the comedy festival, which takes place every Presidents' Day weekend. Rip the hike-to Gold Hill Chutes by day; by night, check out comedians like Ed Helms in the Sheridan Opera House, one of Colorado's classic theaters. From $25 per night; sheridanoperahouse.com
Best Après-Ski Waterpark
The Surf in Jay Peak
When packing for Jay this season, bring your powder skis and a surfboard. The mountain received 96 inches of snow last March, and it's also got a new 50,000-square-foot indoor water park to keep things interesting, no matter the weather. Attractions include a near-vertical 60-foot slide and a FlowRider standing wave for surfing. $35; jaypeakresort.com
Do It All Season
Where to ski for an epic winter
It's official: La Niña, with its cooler Pacific Ocean temperatures causing snowstorms in the Pacific Northwest and the northern Rockies, is back for a repeat of last winter. In early September, forecasters at the National Oceanic and Atmospheric Administration upgraded their La Niña advisory, meaning that this year's snow outlook should be similar to the La Niña winter we had last year. That northerly storm track pounded Snowbird with a record 783 inches, and Tahoe got more than 800. Even Vail beat its old high mark with 524. Based on those stats, this season could mean deep powder for the central and northern Rockies. And while New Mexico and southern Rockies resorts like Telluride and Purgatory generally get shortchanged by La Niña, they make up for it with sunny spring corn. (Telluride got hammered in April.) Meanwhile, the East Coast has seen a dozen major storms and one "Snowmageddon" in recent years, likely due to increased moisture from melting pack ice in the Arctic.