Powder Keg
When an avalanche killed an out-of-bounds snowboarder in Utah, many assumed he was a reckless novice. The scary truth? Experts make most of the lethal mistakes.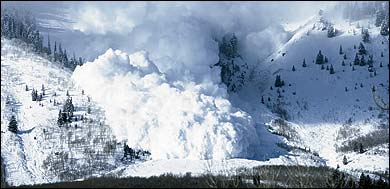 Heading out the door? Read this article on the new Outside+ app available now on iOS devices for members! Download the app.
"THERE WERE PROBABLY 70 or 80 tracks right in here," says 26-year-old Erin Brannigan, diagramming in my notebook the massive avalanche that five days ago killed his best friend, Shane Maixner, 27, just outside the Canyons ski resort, near Park City, Utah. "You could see them from the chairlift. Everyone was skiing it."


I've known Brannigan since we went to the same elementary school in Sandpoint, Idaho, and I met Maixner in 2002. We're back in Sandpoint to attend Maixner's memorial, and I'm getting the unreported story behind the slide.


Between noon and 1 p.m. on Friday, January 14, Brannigan, Maixner, Kalem Lenard, Scott Karli, and Stacie Kunkel got off the Canyons' Ninety-Nine 90 lift, hiked 150 yards up to the backcountry gate, and headed into Dutch Draw for the second time that day. The draw's two winglike bowls—which aren't monitored or avalanche-controlled—arch into a central spine and then taper back inbounds. The group traversed the east bowl, which they'd carved up an hour and a half earlier, and climbed five minutes to the the top of the west bowl, taking in views and examining the cornice at the lip before deciding the spine offered a safer descent. They cut fresh tracks from the ridgeline to a ten-foot-tall cliff. Brannigan skirted around it to scout the landing for the others. Then came Maixner.


"He hit his little cliff air and started making turns," says Brannigan, drawing S-curves from the spine into the west bowl. As Brannigan began to follow, he heard Kunkel yell, "Avalanche!" Turning upslope, he saw the mountainside washing down behind a 60-foot-high debris cloud. He arced over the spine, just dodging the slide. Below was Maixner, fists pumped, head down, racing for his life toward a stand of 60-year-old spruce trees. The wave overtook him, shattering the trees. "It snapped him in half," says Brannigan.


Media reports blasted the group as foolhardy even before a 250-volunteer search effort found Maixner's body on Sunday. The skull-and-crossbones sign at the backcountry gate and the party's lack of safety equipment made them easy targets. The following Wednesday, The New York Times published a front-page story quoting experienced backcountry skiers who look with "barely concealed disdain" at reckless out-of-bounds riders like the deceased.


The only ones who remained silent were the survivors, refusing interviews. "Reporters couldn't get the story," says Brannigan, echoing the sentiments of Lenard, Karli, and Kunkel. "So they made one up."


News reports assumed Maixner was a novice who didn't understand the danger of backcountry slopes. I knew otherwise. Maixner was an avalanche-certified backcountry guide with the Sandpoint-based Selkirk Powder Company. Two of the others in his party, Karli and Kunkel, were also avalanche-certified, and they all owned homing beacons, shovels, and probes. But planning to snowboard only resort runs that day, they'd left the gear behind.


The decision to snowboard Dutch Draw was a big mistake. All of them realize that. But the scary truth is that the error was very easy for the veteran group to make. Maixner didn't die because he was a fool. Like his friends, he was lulled into letting his guard down by proximity to a commercial resort. That doesn't make him reckless; it makes him normal. According to a 2004 study by NOLS instructor and avalanche researcher Ian McCammon, skiers with the most avalanche training are most likely to be seduced into faulty reasoning by factors like tracked slopes and group enthusiasm.


"We'd like to think we couldn't be that stupid, but every one of us is," says Bruce Tremper, director of the Forest Service's Utah Avalanche Center. "I could've done that." He blames distorted perception, which can tell you a slope is safe if it's been skied, even if your training screams the opposite.


This is why Tremper and others are worried about the exploding interest in backcountry runs accessible via chairlifts. An unofficial survey by Vail, Colorado, snow ranger Dave Ozawa found that the number of people heading to the out-of-bounds East Vail Chutes has doubled over the last seven years, with some days seeing more than 200 trips. Specialty-store sales of alpine-touring gear—setups that allow for climbing and downhill skiing—increased 69 percent from 2003 to 2004, according to Snowsports Industries America.


Print media and action-sport filmmakers are partly behind the trend, having branded groomed-trail skiing as pedestrian. Only a month before the Dutch Draw avalanche, The New York Times published a story on lift-accessed backcountry runs that proclaimed, "Out-of-bounds is hot," and called groomers "soporific." Outside celebrated the reemergence of the practice in 2001.


Resorts have played along. In some cases they're bringing extreme terrain inbounds and controlling it for avalanches. Elsewhere, they're simply opening gates. Since 1999, Wyoming's Jackson Hole Mountain Resort has allowed backcountry access regardless of snow stability, providing avalanche forecasts and guided tours. (This option is no guarantee of safety: The day after the Dutch Draw slide, a Jackson client had to dig his injured guide out of an avalanche.) The Canyons leaves its gates open, too, but posts an extreme warning, regardless of the hazard. "They're responding to a demand for more adventure," says National Ski Areas Association president Michael Berry.


Will they respond to Maixner's death? Probably not. Resorts aren't liable once you head out of bounds. The Canyons is on private property but, like most ski areas in the West, is surrounded by Forest Service lands. These resorts are obligated to provide for public safety, which they do by posting boundaries, but they can't stop you from ducking the rope. Most also offer avalanche training now, though the reality is that casualties in the backcountry are as inevitable as they are on the highway. (More than 30 people a year die in U.S. avalanches.) "We'd like to think education matters," says Ozawa. "But the number of fatalities is more tied to the number of skiers out there. The bulk of fatalities are experienced people taking chances."


In the end, the decision to go out of bounds will remain largely in skiers' hands. The locals want it that way. So would Shane.
Trending on Outside Online