Aspen's New Uphilling Fee Sparks Debate on Charging for Public-Land Access
The Colorado resort is just one of the many now charging for uphill access. Is this the new norm?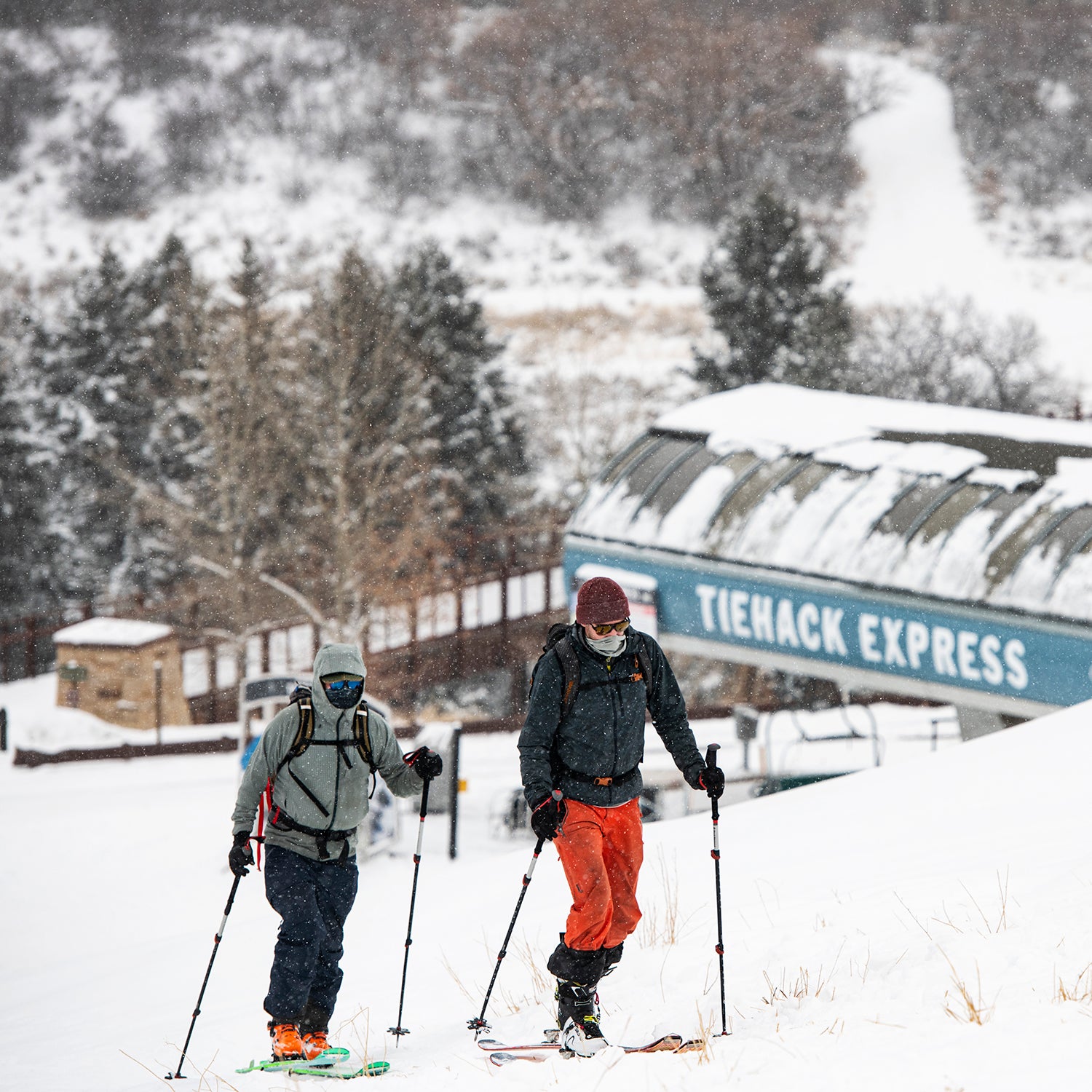 Heading out the door? Read this article on the new Outside+ app available now on iOS devices for members! Download the app.
This article was first published by SkiMag.com. To get more of its premium content along with your Outside subscription, join Outside+.
---
For the first time in its 75 years of operation, Aspen Skiing Company (Skico) will charge for an uphill ski pass. In recent years, Aspen, Colorado, has become a hot spot for uphilling enthusiasts, largely because, until now, Aspen Snowmass gave uphillers free access to skin up all four mountains, season pass or not.
But starting this season, Skico will charge $69 for an uphill pass to all four resorts—Aspen, Highlands, Snowmass, and Buttermilk—with $10 going directly to the local search and rescue team. The uphill pass will be included with Aspen's Premier, Employee, and Dependent passes, and all passholders will be required to wear an armband visibly displaying their pass at all times while touring. Skinning will also only be permitted between 5 A.M. and 10:30 P.M daily.
This comes at a time when resorts around the country are seeing record numbers of uphill skiers as well as a huge uptick in backcountry travel since the onset of COVID in the spring of 2020. The activity became especially popular with those trying to escape the crowds and get some fresh air and exercise, and it's showing no sign of slowing down.
As a result, many resorts have imposed uphilling fees in the last few years, including Arapahoe Basin and Eldora Mountain, in Colorado, as well as Snow King Mountain in Wyoming and Whitefish Mountain in Montana. Some resorts, like Wyoming's Jackson Hole Mountain Resort, prohibit uphill access all together, while Colorado resorts like Copper Mountain and Crested Butte only allow skinning outside of operating hours.
Until this season, Aspen Snowmass had one of the most laissez faire policies, with totally free uphilling access to all four mountains along designated routes, during and after lift hours. Locals have come to appreciate and expect the access, which has contributed to a growing culture of uphill enthusiasts in the Roaring Fork Valley. But there's a downside to that growth, and that seems to be at the heart of Aspen's new uphilling fee.
"As the popularity of earning your turns and uphill travel—including hiking, snowshoeing or skinning—has increased significantly across our mountains, so has the need to manage uphill access," said Aspen Skico in a recent newsletter announcing the new fees. "In order to facilitate skier, hiker, and employee safety, operational management, and better communication with you about designated routes, mountain information, conditions and closures, we will be requiring an Uphill Pass for on-resort uphill access during the 2021–2022 season."
Essentially, with the growth in popularity of skinning up Aspen's four mountains, it's undeniable that users are enjoying the mountain's maintenance and amenities, and the resort believes it's time for skiers to pay for it.
Charging a fee for resort uphilling, while not ubiquitous, is becoming more and more common at ski areas, and backcountry skiers are divided on whether or not we should have to pay to play. Since most resorts operate on national-forest land, there's a misconception that charging for uphill skiing is equivalent to charging for access to public land.
"Resort operators are not allowed to charge an entrance fee simply for access to the National Forest, which are public lands," said Roger Poirier from the White River National Forest. "However, they are allowed to charge a fee for services. People skinning, snowshoeing or hiking uphill during winters have access to parking, bathrooms, groomed slopes, avalanche control and ski patrol aid. The popularity of uphilling in recent years shows the services are in demand."
Elliot Wilkinson-Ray, an Aspen local and founder of Ripton & Co, thinks that charging for resort skinning sends the wrong message. "I am really glad they allow uphilling in so many different parts of the mountain and it's cool that it's become so central to the winter culture here," he says. "But the accessibility and challenges of living in Aspen are already so apparent. Sure the pass isn't the biggest obstacle compared to buying a ski pass or finding housing, but once you start charging you're saying that this activity is for people who can afford it. It's only going to impact those already struggling to make ends meet."
"Even with the fee, it's one of the most generous uphill policies out there," counters Tess Weaver, a writer and skier based in Aspen who supports paying for a pass. "We can skin up three of our four mountains during operating hours and there are a variety of designated routes. I'm happy to pay the modest fee to support the maintenance and management of uphilling at Aspen Snowmass, especially when $10 from every uphill pass goes to Mountain Rescue. I know the majority of Ski Co's executive and management team are avid uphillers, and I think this step is just a way to ensure uphilling is sustainable for the long term."
Fee or no fee, skiers have become hooked on skiing uphill and the trend shows no sign of slowing. It's up to each community to decide how much it's worth to them.
Aspen Times/AP
Lead Photo: Kelsey Brunner/