Behind the Scenes with GoPro at the Winter X Games
A hundred cameras, a big crew, and a brand new live-streaming technology made this year's games more fun than ever.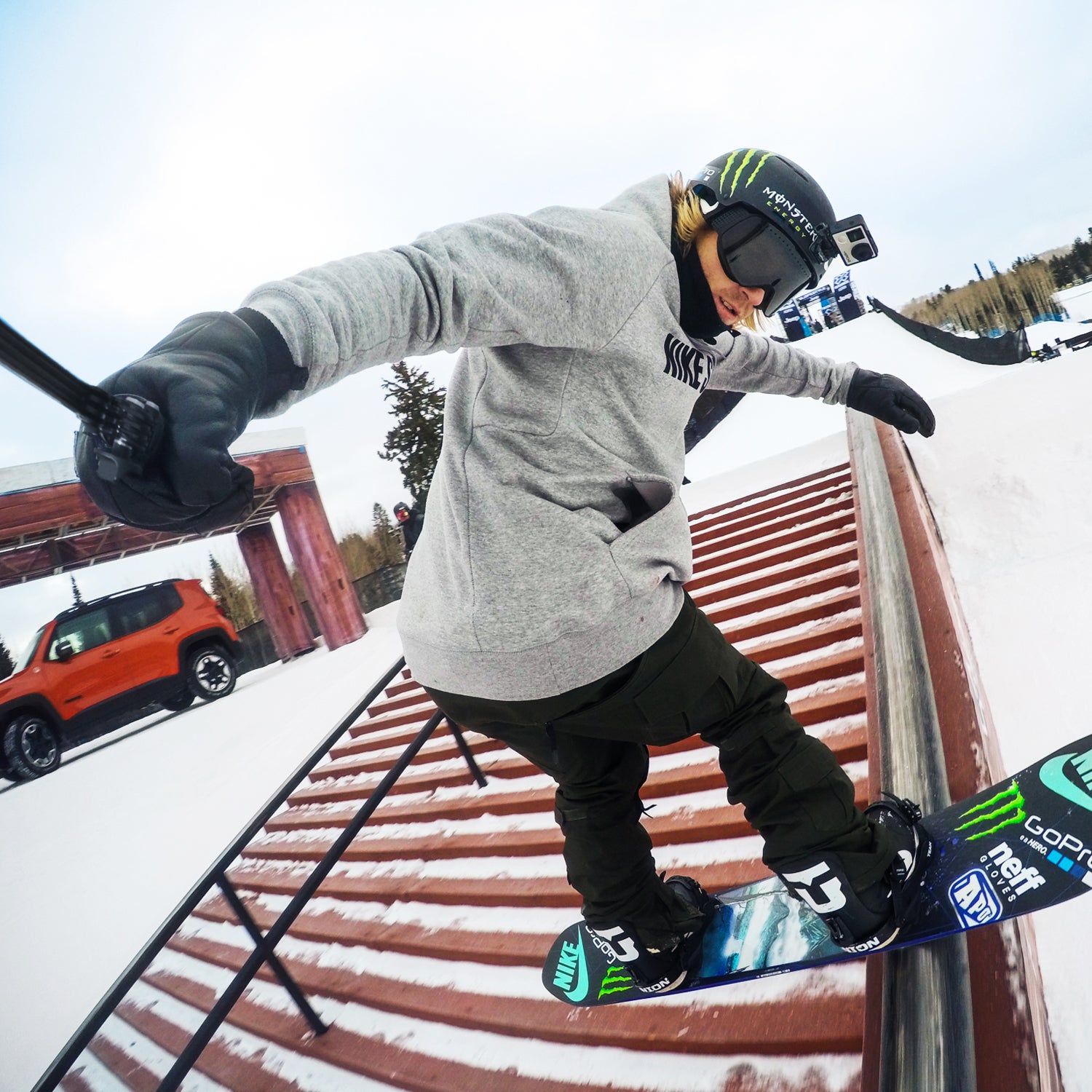 Heading out the door? Read this article on the new Outside+ app available now on iOS devices for members! Download the app.
A team of ten from GoPro, the tiny-camera giant, descended on Aspen, Colorado, early last week. With more than 90 cameras and hundreds of mounts, batteries, SD cards, and accessories, they were tasked with capturing the Winter X Games from the air, the boots, and helmets of the athletes, and just about anywhere else one of their tea cup-sized cameras could fit.
For the first time, GoPro was showcasing a live-streaming technology—think antennas coming out of helmets—to provide real-time footage for broadcast lead by ESPN and ABC. Keeping the batteries charged, the data flowing, and athletes riding is no easy task. We caught with up Meredith McKee, GoPro snow sports producer, for a behind-the-curtain look at how these POV cameras are making their way to primetime. 
OUTSIDE: Tell me about the GoPro crew's strategy at the X Games.
McKee: We have a crew of 10 that specifically comes into Aspen to take course previews. Much of that work happens before the event. Our athletes are also integral to the course previews as they wear the cameras on practice runs, which ultimately turn into the previews that go on air.
Then we work to build stories around our athletes and other more general stories that come up during the event. We spend lots of time sitting in rooms with big spreadsheets and documents, making sure we get everything we need. But it's live TV—we have to be flexible.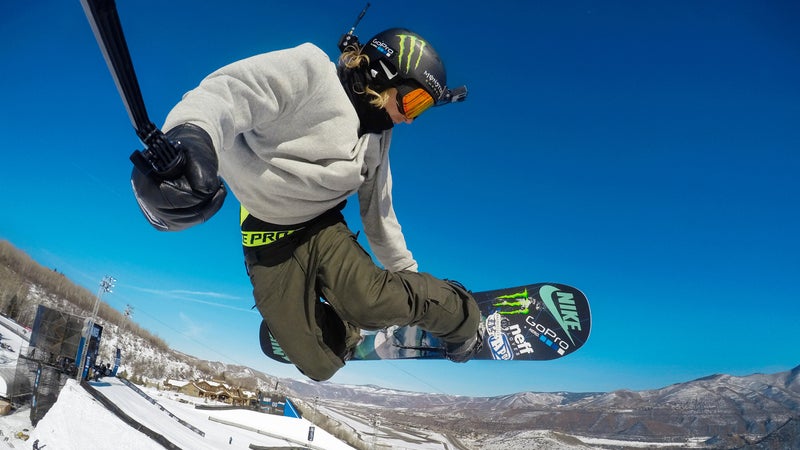 What's the deal with this live-view technology you showed off at the Games?
Yeah, we've been working on this live system and beta testing for a while. Our goal is to get as much content as we can on the broadcast, and having this new technology running for the X Games was a huge goal for us. Instead of having a runner—someone waiting at the bottom of the course to grab the camera and card—we were able to have the content sent directly to the ESPN production truck, which cut out a lot of time. When Colten Moore won his gold medal, he had one of the live cameras on and ran over and gave his dad a huge hug. Those moments we weren't able to deliver instantly in previous years. It was a huge success for us as well as the ESPN production team.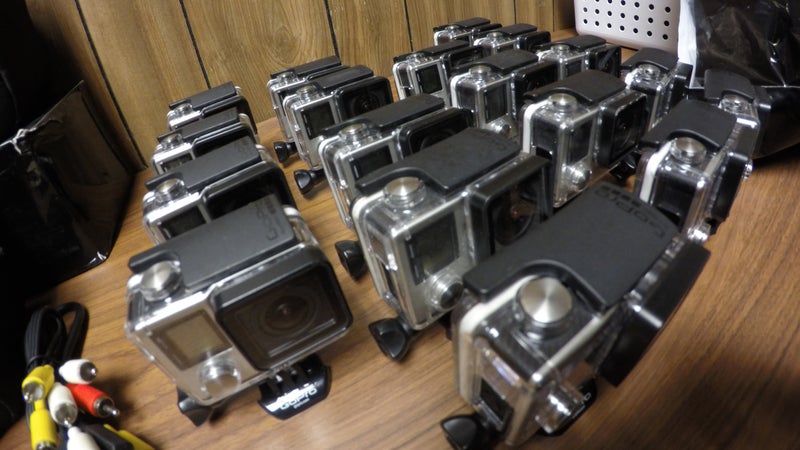 How does that technology actually work?
We installed transceivers onto the athletes' helmets, which sent the data over radio frequencies. It was very much designed to be a part of broadcast. ESPN actually devoted a couple frequencies in their production truck for just the live feeds coming from the GoPro's.
Our cameras were essentially options just like any other camera shooting in the field. It just lets us be more dynamic in how we deliver our content—and it's pretty cool to have an ESPN producer be able to say, "Cut to his helmet cam." 
How do you coordinate it all while the Games are going on?
We have two guys always in the trailer who are always dumping content, organizing it, labeling it, and emailing back and forth with ESPN. Those guys probably get 50 emails a day on things we need to cover, and then it's our job to go out and execute. In addition to our creative director and lead producer, we'll have three to five people out on the course. We stage a couple people towards the top, others follow the athletes during their runs, and the rest are helping out and grabbing what they can. 
GoPro staff are following the athletes as they go off the jumps?
Yeah, our follow-cam guys are awesome. We have two guys, Matt Cook and Caleb Farro, on our snow team. They're former U.S. collegiate (USC) ski team members and have been making videos for a long time. It's such a dynamic angle to feel like you are in the air behind the competitor.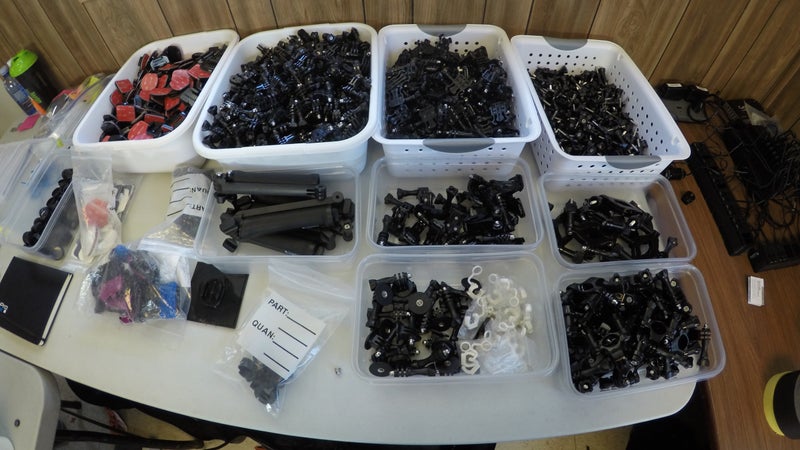 What's next when it comes to covering these big events?
We always learn a lot after looking back at our X Games coverage. I think there are still new and creative camera angles we haven't tried out yet.
Lead Photo: Courtesy of GoPro