Big Glide Country
Whether you're skating perfect corduroy or blazing backcountry powder, skinny-skiing the wide-open West is the path to cold-weather bliss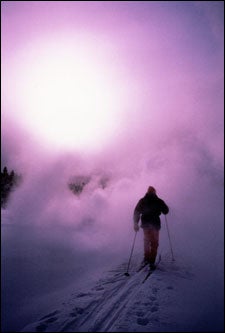 Heading out the door? Read this article on the new Outside+ app available now on iOS devices for members! Download the app.
Lone Mountain Ranch
Access and Resources
Lone Mountain Ranch
's one-week nordic-ski package starts at
,657 per person (based on double occupancy) and includes seven nights' lodging, three meals daily, an eight-day trail pass, airport transfers, and miscellaneous fun (800-514-4644,
www.lmranch.com
). For an anaerobic blast, try Big Sky Resort (800-548-4486,
www.bigskyresort.com
) or Moonlight Basin (877-822-0430,
www.moonlightbasin.com
), two of Montana's finest downhill resorts, which await just a few miles west on Highway 64.
Yellowstone
Ski into the light: Cross-country, Yellowstone-style
[where grooming is everything]
IT'S 6:30 A.M. ON A SUNDAY in mid-February, and I'm on "vacation" at Lone Mountain Ranch, a few miles east of southern Montana's Big Sky Resort. The sun won't be up for an hour. If I were rational, I'd be in my cabin, wallowing between the sheets. But it seems that my enthusiasm for nordic skiing has finally turned the corner to obsession. Which means that, instead of enjoying solid REM sleep on my last morning here, I'm shivering in a spandex unisuit as I ski fresh tracks on trails combed a mere three hours ago by a tanklike German groomer. The first couple of kilometers are painful, but as I kick and glide toward the Gallatin Range, it occurs to me that irrationality has its advantages.
Nordic skiing hasn't exactly taken the nation by storm—just a few million Americans participate in the sport each winter. Many of those fit the nordic-skiing stereotype—endurance junkie, fresh-air-loving Scandinavian types—and most eventually find their way to Lone Mountain Ranch. Then they return, year after year; the resort has a 75 percent rebooking rate in the winter. This could be because Lone Mountain offers the ultimate tripartite skiing experience: impeccably groomed loops, hearty meals, and private log cabins just steps from the trails.
Owners Bob and Vivian Schaap have spent nearly three decades perfecting their snow-laden oasis. They bought the 1920s-era ranch in 1977, over the years building or renovating a total of 23 cabins. My tiny cabin, Chipmunk—with a wood-burning stove, bathroom, and queen bed—once served as the icehouse. The Schaaps also created a 50-mile labyrinth of interconnecting ski trails, which stretch across abutting private and public forested lands, high-alpine meadows, and a golf course.
Since nordic skiing is a feast-or-you'll-bonk endeavor, it's only fitting that breakfast is a heaping mass of scrambled eggs, sausage links, blueberry pancakes, muesli, and other high-carb offerings—all served buffet style in the dining room, a massive log lodge featuring elk-antler chandeliers and a two-story andesite fireplace. There's even a special table for the brown-baggers—crazies who'd rather be on the trails at lunchtime—so they can stock up on apples, bananas, and oranges; turkey, cheese, and salami sandwiches; and, best of all, chocolate-chip, chocolate-chunk, oatmeal-raisin, and macadamia-nut cookies.
It may be decadent, but the Lone Mountain experience can also be deadly. My closest call? One day, my belly weighted down by too much lunch, I ski a short, flat, 5K warm-up loop on the golf course. My confidence fully boosted and my cookie almost digested, I head for the lodgepole pines and the slow 10K slog toward the Siberia and Mongolia loops—an 1,800-foot climb that leaves my spandex soaked and my heart sputtering. After a few mandatory breathers, during which I check my back to make sure I'm not being stalked by a fanged beast in search of a midwinter snack, I finally reach the 8,240-foot summit. As I warm myself in the late-afternoon sun before it sets behind 11,166-foot Lone Peak, Big Sky Resort's marquee pyramid, I reward myself with one more cookie. Just as the sun sinks, my sugar coma sets in, my fingers go numb, my quads start to scream, and I realize there's an icy luge-course of a downhill between me and the hot tub. But instead of succumbing to my fear (and the ugly thought of death by hypothermia), I take a more philosophical approach: What better way to go, for the obsessed among us, anyway, than by bombing corduroy on skinny skis?