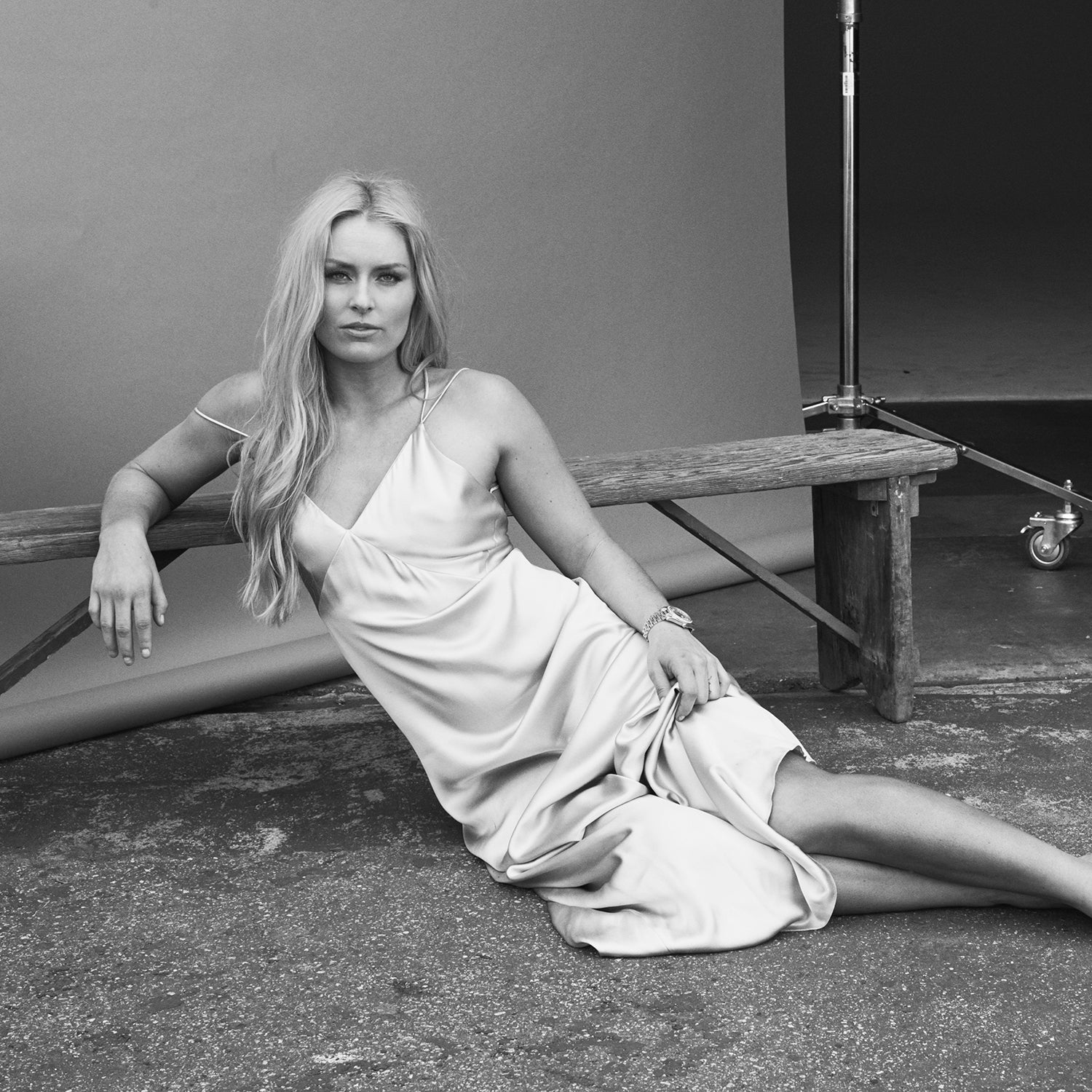 Annabel Mehran
Heading out the door? Read this article on the new Outside+ app available now on iOS devices for members! Download the app.
Lindsey Vonn enters the studio for the Outside cover shoot wearing a gray crop top and exuding an I don't give a shit what you think confidence. Two inches shy of six feet, powerful, and secure in her skin, she caught the photo crew up in her orbit, suddenly making the 5,100-square-foot space feel much smaller. One makeup artist said: "No one told me Lindsey Vonn was 75 feet tall."
The XX Factor Issue

Our special issue highlights the athletes, activists, and icons who have shaped the outside world.
Vonn is the best ski racer who's ever lived. If that sounds hyperbolic, look at the numbers: 77 World Cup wins, nine Olympic and World Championship medals (three of them gold), 138 podium appearances, and four overall World Cup titles. At press time, she was a mere nine victories away from breaking Ingemar Stenmark's World Cup record, a milestone that would quash any lingering doubts about her total dominance—over men and women. Her brand of skiing is Nascar driver meets BASE jumper, a combination of aggression, recklessness, and nuance that makes her a high-speed master of the downhill and super-G.
Vonn's willingness to push limits can get her into trouble: she has endured a litany of injuries, including a torn ACL and MCL and a fractured tibia from a horrendous forward somersault at the 2013 World Championships in Austria. She doesn't view those lows as setbacks. "Sometimes I think my injuries have been more inspiring to the next generation than my successes," says Vonn, who grew up in Minnesota and is now based in Vail, Colorado. "They're something I can overcome."
Rehabbing also bought her time to write a book, Strong Is the New Beautiful. In it, Vonn delves into some of the body-image issues she's faced. "I wasn't confident in myself, especially after winning at the Vancouver Olympics," she says. "I was on red carpets and doing photo shoots, and I realized that I was a lot bigger than everyone else. I felt like I needed to lose weight and fit into this cookie-cutter image of what an American athlete should look like."
Over time, Vonn realized that she was doing herself a disservice, and she decided to zero in on what matters: skiing and giving back. In 2015, she launched the Lindsey Vonn Foundation, which awards scholarships and holds events to get women involved in sports. That will be one of her main focuses after she retires from racing, she says, but first she's got a World Cup win record to break and the 2018 Olympics to train for. Oh yeah, and she might sue the International Ski Federation if they don't let her race against the men. "I may not be what everyone expects me to be, but I'm myself," she says,"and I can be confident in that."
Trending on Outside Online