D Is For Decadence
Two former Olympians roll out Alaska's first high-end heli-hotel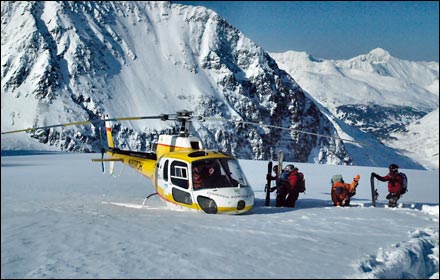 Heading out the door? Read this article on the new Outside+ app available now on iOS devices for members! Download the app.
Since they were first surveyed, in 1898, the roadless Tordrillo Mountains, 80 miles west of Anchorage, haven't seen many visitors beyond a few geologists and intrepid climbers. Then, 99 years later, childhood friends and Olympic-racers-turned-big-mountain-skiers Tommy Moe and Jeremy Nobis, with guide Mike Overcast, uncovered gold in them there hills. A 1997 flyover for their thriving heli-ski business, Chugach Powder Guides, revealed 1,500 square miles of skiable terrain, including dozens of 4,000-vertical-foot powder bowls and hundreds of flossy granite-walled couloirs.
The Bottom Line
Guidelines to make the most of winter:
No shooting "huck" videos unless you're sponsored. Or nude.
»
Best-tasting reward after a day on the slopes: Ska beer in a plastic cup in the quonset-hut "base lodge" at Silverton Mountain, Colorado.
»
Don't call it "last run" until you're already at the bottom.
»
Write this down and post it on your dashboard: "Four-wheel drive does not help me stop faster."
»
Never skimp on ski socks. The best we've found: SmartWool's U.S. Ski Team (;
smartwool.com
).
"We've done more than 80 first descents out here already," says Moe, the 1994 Olympic downhill gold medalist. "It's amazing, the rawness and beauty of the landscape." It's amazing, too, that they haven't kept all the terrain to themselves. This March, CPG is opening a refurbished 5,200-square-foot lodge on the shores of Judd Lake, just five minutes by chopper from the toe of the range, meaning skiers can access the prime March–April Tordrillo season for the first time. Last spring, Outside got a sneak peak.
First, the new accommodations: With a gleaming kitchen that Mario Batali could love, wireless Internet, a custom hammered-copper bar, and a frozen airstrip out the back door, the Tordrillo Mountain Lodge is about as close to the average skier's hut as Reinhold Messner's castle is to a Brooklyn walk-up. But we weren't there for the art. During the weeklong visit, we had the 11,000-foot peaks of the Tordrillos as a private playground and logged up to 24,000 vertical feet per day—with Olympians for guides. And it's not just the powder that was virgin; the lines were, too. There's nothing quite like notching three-mile-long first descents between meals of Alaskan white king salmon, king crab, and prime rib. For lunch, the helicopter set down on a snowy lake among a series of Windex-blue seracs that also provided the Scotch rocks for evening toasts. In short, Moe & Co. have created North America's ultimate cold-weather experience—maybe better than winning gold. "It's great to be the first outfit in a new range," says Nobis. "We're running out of those things nowadays. We're pioneers again." Five ski days, all-inclusive, $7,250 per person; chugachpowderguides.com