The Daily Rally
Orion Owens Can Go Anywhere He Wants
The photographer and filmmaker was told his spinal injury meant no more mountain sports. But learning to play like a kid made anything possible.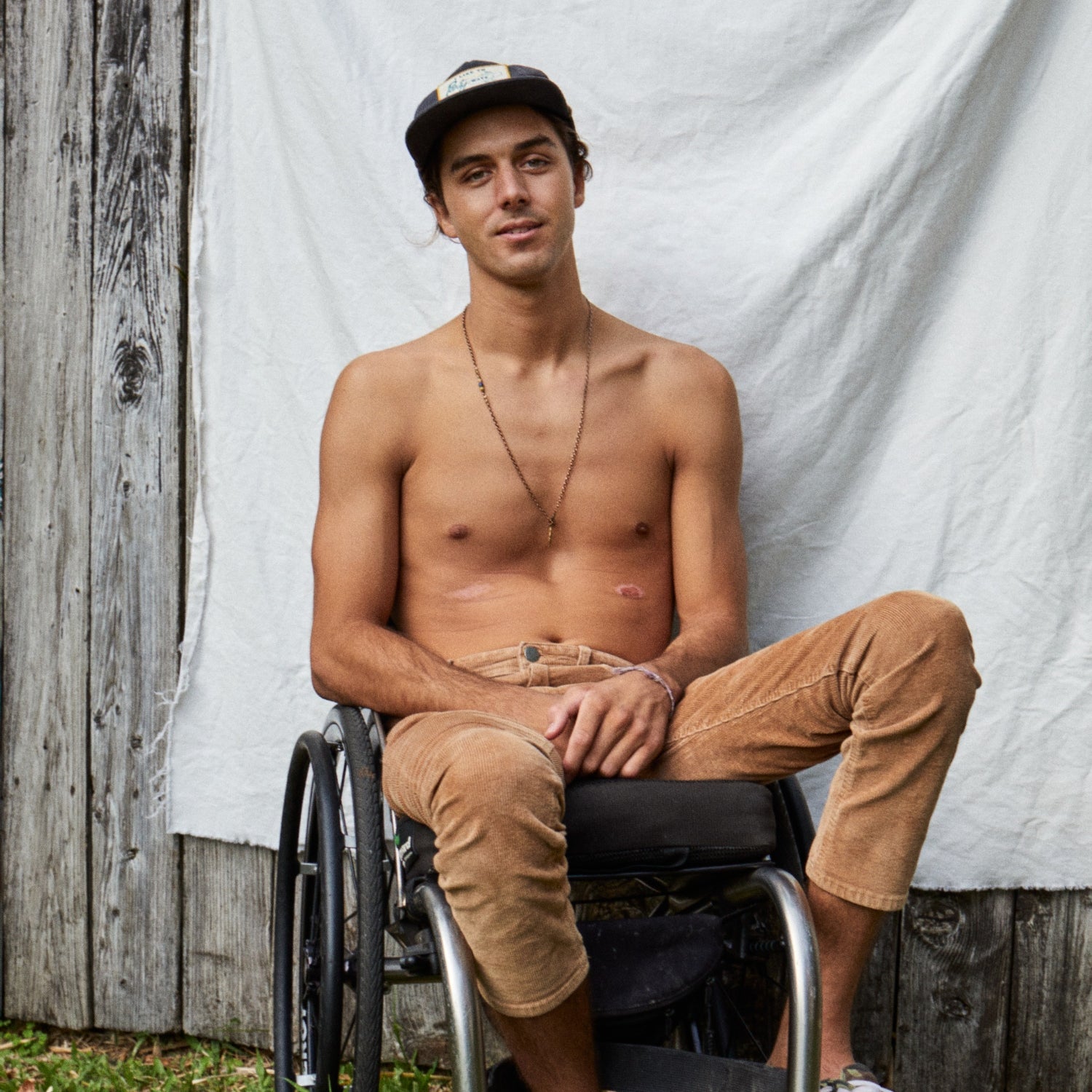 Heading out the door? Read this article on the new Outside+ app available now on iOS devices for members! Download the app.
Orion Owens shared his story with producer Cat Jaffee for an episode of The Daily Rally podcast. It was edited for length and clarity.
I'm on the little magic carpet. I'm seeing eye-to-eye with little four and five-year-olds. I'm sitting down, we're on the same height level. This little kid is with his mom and he's like, "Why is he sitting, and why is he here with us? He's so much bigger. This is our run."
I'm a photographer, filmmaker, wheelchair user, artist, mountain biker, skier, and adventure seeker. I'm passionate about photography, filmmaking, adaptive sports, and exploring the world with a new perspective in a wheelchair now.
My injury is a C-7 spinal cord injury. It happened to me when I was 22. I dove into a lake in Eden, Utah, out by Powder Mountain. And that left me paralyzed from pretty much the nipples down. I have no real core strength, minimal hand function. So everything I do is all upper body.
There was a moment when I was learning to sit-ski my first winter. That winter, a lot of adaptive coaches and programs told me that my level of injury didn't ski independently that often. Or they didn't know anybody that did even. When I told these programs that I wanted to sit-ski, they often told me I couldn't do it or my level of injury was too high because I lack a lot of core strength. And core strength is pretty important when sit-skiing, it's how you balance.
I just knew that it was going to be humbling. It was going to be a lot of falls and a lot of questioning. But there was a vision at the end where I wanted to ski independently with my friends and I wanted to be outside.
There is a moment probably on the third day. I'm starting to question if I should try to win this sport. Or if it is meant for me. Or maybe my adaptive coaches were right. My instructor is holding me on the little magic carpet because the magic carpet is almost more terrifying than going downhill, because I'm just balancing. It's like getting on an escalator.
The kids are dressed in little ski outfits, there's little dinosaurs and rainbows and little things for them to ski through. I even think I crashed into one of their little bridges or cones they were going through. I was a liability in the first couple of days. The four or five-year-old, he is questioning why I'm there. I'm kind of questioning why I'm there, too. And I'm just like, I'm learning too, dude. We're all on the same level, man. He has no idea what I'm going through, he can't comprehend it.
You just kind of lose your ego. It's a very humbling experience.
What I learned in that moment from that day was that you might not feel like you're making progress towards your greater goal, but if you have that greater goal of what you're trying to achieve, then as long as you're putting in the time you're making a little bit of progress. And that little bit of progress will always build.
I remember the first time when I felt that little moment of, Oh, I'm skiing and I'm making a turn, and it feels effortless and it clicks. I remember when it clicked, and I was like, Oh, this is how it's supposed to feel. This is skiing. This is effortless. I'm flowing and I'm linking turns and nothing else matters. Then I'd catch an edge and be like, Alright Orion, you're still learning.
Going sit-skiing, you feel that effortless glide down the snow again. I'm always pushing my wheelchair, and it always feels like the world doesn't fit. There's areas where I can go and there's stairs, or maybe there's gravel and sand. You can't always get around. But when you're sit-skiing at the top of a run, it's all open. You can go where you want to go. You can go as fast as you want to go. You can go as slow as you want to go.
I do have that independence outside when I'm skiing. I look back all the time and just remember that little moment where it wasn't going well, and it just makes it so much sweeter now.
Orion Owens is a director, editor, and photographer from San Diego, California. His work focuses on the expanse of human creativity, physical accessibility, and rehabilitation. He mountain bikes, and skis blue and black runs on a sit-ski. Orion currently lives in Maui, Hawaii. You can learn more about him at orionowens.com.
Lead Photo: Courtesy Tara Roberts