Dude… I Mean Dad
It ain't easy being the sponsor (a.k.a. old man) of a competitive snowboard artiste (a.k.a. my teenage son). Lend an ear, and a shoulder, and I'll tell you all about it.
Heading out the door? Read this article on the new Outside+ app available now on iOS devices for members! Download the app.
I remember the exact moment when I realized I'd finally lost my firstborn son to the clutches of the cult. It was in Whistler, British Columbia, four years ago, on a warm green day in July. I decided to take the lift up to the top of the mountain. My son McCall, then nine years old, was up there in the mists somewhere, on the Horstman Glacier, at a summer snowboarding camp. Like a good Presbyterian inspecting my investment, I decided I should go check out the scene.
McCall is a natural snowboarder. From the beginning, he had one of those gifts that can come only from the icy-bearded Norse gods. (My wife is half Norwegian.) He learned to shred on the brawny slopes of Telluride when he was six, and from that point on snowboarding pretty much wouldn't let go. He began to obsess on the subject or, as the child psychologists call it, to perseverate. He spent whole afternoons bouncing on a trampoline in our backyard while strapped to his board. In class, he doodled designs of fantasy snowboard companies in the margins of his notebook. When he was eight, he wrote a school paper in which he said he loved snowboarding "as much as life itself." He started wearing outrageously hideous beanie hats, and his door became barnacled with shredder stickers. His friends called him Air Mack. He even began composing odes to the mountain, like this bit of inspired doggerel, dated 12/12/02:
I am the tall strong mountain, king of the snow.
When people slide down my face they tickle me so.
I knew he was good, but on this bright morning in Whistler I was about to find out just how good. The humming express chair whisked me upslope, over heathery meadows where fat bears prowled for berries. I reached the station, took another express lift, then boarded a clunky bus that chuffed up to yet another lift, which deposited me in a snowy-white world of endless winter, more than 5,000 feet above town.
From the catwalk, I peered down into the immensity of the Horstman Glacier. The mists parted to reveal an arresting sight: a thousand jittery dots in the snow, all launching and buzzing and looping down salt-crusted slopes.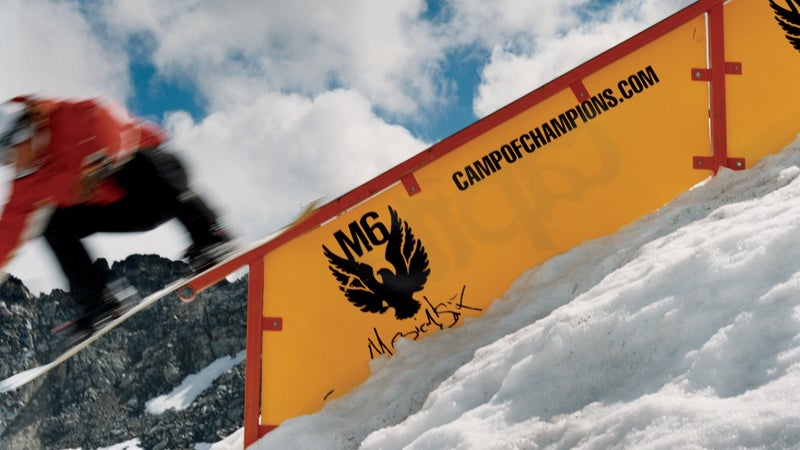 Good God a'mighty! It was a mosh pit of determination down there, an X Games incubator. Every inch of the glacier was roped off to create lane after action-packed lane where hundreds of juiced-up kids from a dozen camps ran gantlets of jumps, hips, boxes, tabletops, and rainbow rails. It was the Institute for Advanced Aerial Studies, the Academy of Amplitude, the Summer Symposium of Goin' Huge.
A gamma-ray burst of adolescent energy assailed me as the mighty riffs of Ted Nugent's "Cat Scratch Fever" came blasting up from concert speakers parked on the bowl's icy floor. As the Nuge bragged that he could make a pussy purr with the stroke of his hand, I realized that my nine-year-old little buddy was down there in all that baggy-panted bustle of delinquents.
It took me another half-hour to work my way over to the rocky couloir where McCall's camp was ensconced. The Camp of Champions, it was called. For a few minutes, I watched him quietly as he mingled with his posse of knuckle draggers.
It was strange. I was standing only 20 yards away, but I hardly recognized him. In one short week of camp indoctrination, he'd undergone a personality transfusion. He had a new slouch, a new squint, a new inflection in his voice. Unfamiliar words came out of his mouth. At one point I actually heard him say, "That's so wack, it's dope!"
But I felt uncomfortable spying on him like this. "Hey, McCall!" I yelled, a bit too cheerfully. "How's it going?"
He tried to ignore me, but I could see that the aura of tribal togetherness had been punctured; the magic was gone. It was as though I'd intruded upon a finger-cymbal dance of twirling Hare Krishnas.
I spoke to his coach, a heavily pierced and studded French-Canadian dude in his mid-twenties who'd supposedly competed all over Europe. "You are McCall's father?" he said and then pursed his lips and adopted that tone of utmost Gallic severity. "You realize that McCall has a gift. I have coached many. But his talent is . . . is . . . electric."
It was like a scene from Searching for Bobby Fischer. I could see that this coach was prone to hyperbole, yet still I couldn't mask my fatherly pride.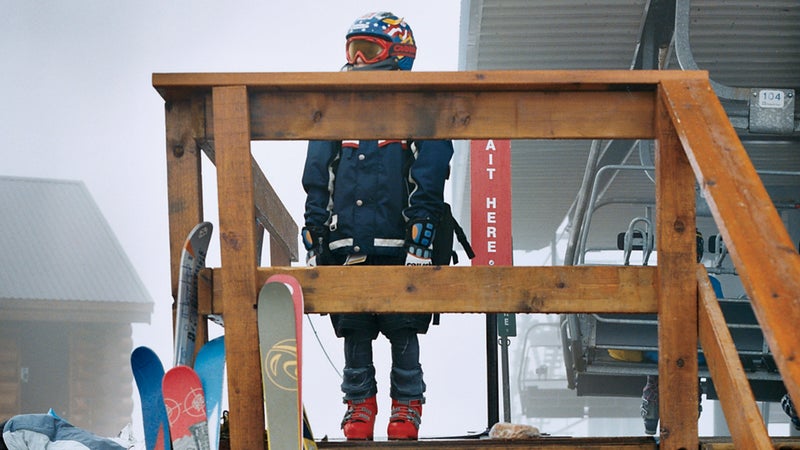 McCall shambled over in his fat Burton boots and guardedly decided he was glad to see me. He breathlessly recited the sweet new tricks he'd landed this week: a switch 180, a perfect Japan air grab, a deliciously corked-out method down in the quarterpipe.
"This place is sick!" he said. He wanted to start training now for the 2010 Winter Olympics, which, it was already being rumored, would be held in part right here on the slopes of Whistler Blackcomb.
What was the point of doing anything else? he wondered. What was the point of going home, even?
"Dude . . . I mean Dad. Can we just move here?"
---
My name is Hampton and I'm a snowboard dad.
Since that fateful day in Whistler, my wife, Anne, and I have sucked untold numbers of gas tanks dry driving untold thousands of miles every year to haul our young Jedi to regional and national snowboarding competitions. We've been everywhere from Maine's Sunday River to California's Mammoth Mountain, from Oregon's Mount Hood to New Mexico's Angel Fire. With McCall having qualified for five consecutive amateur national snowboarding championships, in multiple events, we've more or less built our vacations around snowboarding. Although he's not in the nation's top ten, he's consistently done well. At last year's nationals, at Tahoe Northstar, he placed 18th in slopestyle, and in previous years he's placed as high as 13th overall. Santa Fe, where we live, has a snow-starved mountain without a snowboarding coach or even a halfpipe, but over the years we've sought out some of the best freelance instruction we could find. At a skills clinic in Aspen a few years ago, through dumb luck, McCall wound up spending a whole day in the pipe with a promising (and, might I add, hot) twenty-something phenom named Gretchen Bleiler.
As a native flatlander from Tennessee, I never in a million years imagined I'd grow up to be this kind of father, spending so much time loitering on the mountain. On the morning of an event, as McCall pulls on his competitor's bib, I hear myself urging him to "style out your melons," "watch your speed checks," and by all means never "overrotate." During the competitions, I stand anxiously beside the scoreboard with butterflies in my stomach as I wait for McCall to take his run. I study the judges for clues to their proclivities. I watch the coaches from Steamboat and the Stratton Mountain School in their natty matching team jackets. I savor the different styles of these young riders, who all seem to come with names pitch-perfect for the X Games: Dash Kamp, Zac Fear, Blaze Kotsenburg, Zeppelin Zeerip. (Composer Burt Bacharach has a gifted snowboarding son McCall has ridden with who goes by the name of Sharky. He wears a floppy dorsal-fin getup over his helmet.) I enjoy the patter of the soul-patched announcer as he narrates the action from the Red Bull tent over strains of thrasher music. "Yo, dawg, check him out!" he says. "He keepin' it thug, he keepin' it real!"
And sometimes, à la Tonya Harding, I secretly dream of kneecapping my son's rivals.
We snowboard pops are a pathetic new breed. Though we do not yet have a support group, during my travels I have found solace commiserating with my cohorts through many dark hours. Our affliction is both real and surreal. Though many of us think we're cool, we're actually the epitome of squareness. We push for a greatness we don't quite understand, we root for a style and an energy that's not of our generation. We bankroll the growth of a youth culture that would never accept us as members. Some of us peroxide our hair and tattoo our arms and wear skate-shop clothes in a lame attempt to blend in with their world forgetting, silly rabbit, that tricks are for kids. We want to cheer on our little grommets, but we don't quite know what to say. "Go! Jump! Cork it out!"
Unfamiliar words came out of his mouth. At one point I actually heard him say, "That's so wack, it's dope!"
Although I've tried it a couple of times, let's face it, snowboarding didn't even exist when I was growing up. Only a few years ago, it was a renegade endeavor, an expression of pure freedom, an anti-sport. It strove in its own ruffian way to be the opposite of everything organized sports had become. But now, at its worst, snowboarding has turned to the Dark Side: lucrative sponsorships, asshole coaches, a thoroughly corporate-driven aesthetic, and pressure enough to give kids a bleeding ulcer.
And just like in Little League, there now can be found those familiar yelling, goading, make-you-cringe moms and dads, standing ever so obtrusively on the sidelines, pushing their kids, embarrassing their kids, making their kids cry. Moms and dads who soap up their minivan windows with annoying messages like SHRED 'EM, CODY! Live-through-their-offspring parents who nurse decidedly premature visions of Olympic glory and see snowboarding as their free ride to a college scholarship.
I've witnessed some soul-searing scenes out there on the circuit. In Colorado I once met a dad who, as a matter of policy, refused to attend an awards ceremony unless his son came in first a silver or bronze wouldn't cut it for the Great Santini. At the 2005 nationals, at Copper Mountain, I overheard another father say, "Good God, Ty, we rehearsed this! You were s'posed to end with a big 540, and you come up with a piddly-shit method air?" And this from a despot in California to his son after a poor showing: "There's a little thing called talent look into it."
---
We all know that the great American philosopher Mr. Bacharach, father of Sharky, put it best when he said: Love, sweet love. It's the only thing that there's just too little of. But why, if we truly love our kids, do any of us encourage these competitions?
I remember three years ago, sitting in the bleachers at the nationals in Angel Fire on a blazing-hot day and watching the slopestyle warm-ups. In one hour, I witnessed a series of injuries happen, one after another, with these poor young test pilots crumpled on the sticky snow right in front of me, half conscious and already out of the competition before it had even begun. My better instincts told me I shouldn't watch this carnage, but I couldn't help myself. It was a little bit NASCAR, a little bit roller derby, a little bit Colosseum lions eating slaves.
Multiple injuries in one hour! Most of them resulting in stretchers and medics. Here comes a champ from New Hampshire whoa! Snapped collarbone. Now here comes the little menehune from Alaska eeewww! Broken pelvis? And now the lady shredder from Michigan wham! Cracked vertebrae, broken collarbone? "Do you know what day it is? Who's the president?" Dilated pupils, pools of kiddie vomit on the snow. By week's end, the scene was an orthopedic surgeon's dream: A great clinking clatter of crutches as throngs of Percocet-happy kids milled about the resort in slings, casts, neck braces, and other badges of daredevilish honor.
So, yes, we snowboard dads are crazy as hell and probably should be rounded up by Health and Human Services. All I can say is their little bones mend fast and after they down 12 ibuprofens (Vitamin I, as we like to call it), you'd be amazed by how much pain they can ride through.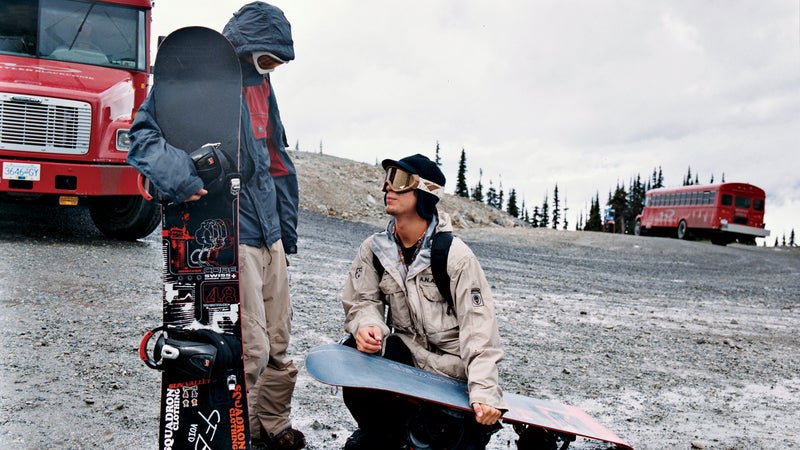 The truth is, Air Mack's never been seriously hurt on a snowboard knock on fiberglass. He never tries anything he's not already sure he can pull off, and that incremental sense of caution has seen me through many hours of what would otherwise be extremely anxious spectating.
In fact, the only real injury in our family related to McCall's snowboarding was mine. In 2002, I went to watch him compete in the nationals, at Mammoth Mountain his first national competition, when he was nine. One early morning before his first slopestyle run, I went up to ski an irresistible-looking double diamond called Drop Out Chutes, a rocky groove that spills from Mammoth's high cornice. It's a run, I was later told, that enjoys a rather gothic reputation for mangling skiers. I slipped on a sheet of ice and pinwheeled several hundred feet down the sheer slope. I broke my arm and wrecked my shoulder, and the EMT, who pulled me down the mountain right past McCall's competition, said I was in shock with a probable concussion.
The next thing I knew, I was in the Mammoth emergency room, and there was McCall standing over me, looking very confused.
"Dad, I was the one who was supposed to get hurt. It was scary Mom said they actually saw you strapped to one of those sleds!"
---
This past June, McCall went with a bunch of his New Mexico snowboarding buddies to the Phillips Exeter of all summer snowboarding camps, Windells. With its own permanent campus set among rainforest ferns and giant pines on the lower shoulders of Oregon's Mount Hood, Windells bills itself as "the Funnest Place on Earth," and few of its shaggy-haired denizens would disagree. It has an immense skateboarding halfpipe, a BMX course, an outdoor skate park, and a cavernous indoor trampoline complex (known affectionately as "Bob"), not to mention a bodacious terrain park higher on Mount Hood, where the snows never melt.
When I pulled into the Windells parking lot early one morning to check in on McCall (his mom and I were staying in a riverside cabin not far away), the camp was stirring for a big day on the mountain. A fleet of buses idled in the parking lot while a camp chaperone roamed from dorm to dorm with an electronic bullhorn in his hand. "Rise and shine, campers! Weather report is sunny up there."
The doors began to creak open and the degenerates groggily emerged into the morning glare, with bed-head 'do's on loan from Ozzy Osbourne. I peeked in at McCall's bunkhouse and found him already up and at 'em. He was eating a breakfast burrito and watching Beavis and Butt-Head with his posse Dillon, Clay, Peter, Kevin, and the rest of the Santa Fe crew. It was great to see them all lounging together in full thrasher regalia, but I dared not go in: The dorm room gave off a heinous stench, composed of the mingled fragrances of boot mildew, pepperoni-pizza grease, and adolescent crotch sweat.
"OK, you shred zeppelins!" the megaphone guy squawked outside. "Hood times, rad times! Move it!"
Soon McCall and his friends joined the other legions streaming into the parking lot. They stashed their boards on the roof grates and piled into the Windells vehicles. One by one, the vans turned out and formed a long badass convoy that moved out smartly. They aimed for the happy white volcano, its sharp point soaring into the red morning sky.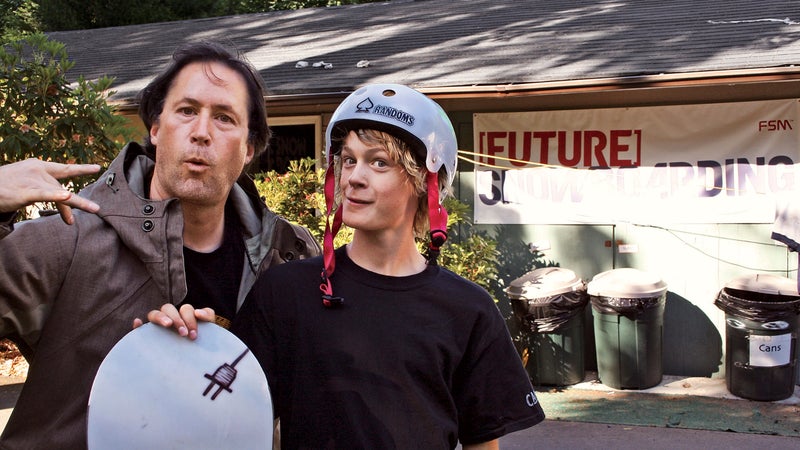 I followed the fleet of vans up to the Timberline Lodge, the great rambling inn built by the WPA in 1937 the same lodge where Stanley Kubrick shot exterior scenes for The Shining. I walked over to the Timberline lift and rode up to the Windells terrain park. It was a crystalline day, and all of Oregon was spread before me the Willamette Valley, Mount Bachelor, the Three Sisters. I felt the vertiginous sensation that I was perched on the roof of the very coolest frat house in America, where the greatest party was raging for the luckiest generation in the long history of fun.
Watching McCall hit the jumps, I realized how much bigger he'd grown since that week he first found rapture on a snowboard a few years ago. He's 14 now and hardly a kid anymore. He's almost as tall as I am, and his voice has dropped a register. His tricks are growing riskier, more dramatic; he goes up higher and comes down harder, and it's all getting more serious. Seven years into this, I can still see he's got the itch to soar.
My wife, an expert skier from Michigan, has a higher threshold for this mountain madness than I. But I'll be honest: I worry that somewhere along the way, all the effort and expense and crazy crashing-through-life logistics will soon make snowboarding just another family vexation. Every half-reflective parent of every half-serious young athlete knows what I'm talking about. Parent and athlete alike reach a place of saturation, where the sacrifices outweigh the joys of what attracted you to the sport in the first place.
If McCall truly wants a shot at the X Games, or those 2010 Olympics he still sometimes dreams about, we'll have to take leave of our family sanity and ratchet everything to a radically higher level. Maybe we'll have to move to Tahoe or some other snowboarding mecca so McCall can train every winter day with a full-fledged team led by a full-time coach (with walkie-talkies!). Or maybe we'll have to start summering on the downy slopes of New Zealand, as a growing number of these kids do. Or send him for a winter term to one of those outlandishly expensive alpine boarding schools.
And that's just McCall. We've got two more young Vikes right behind him Graham, 11, a sleek ski racer, and Griffin, nine, a fearless freeskier who will doubtless want their own shots at mountain glory. Thor save us all.
It's the American predicament, the American disease: Specialization! Structure! Overscheduling! Of course, we'll support McCall and his brothers as far as they want to go, but as The Shining's Jack Torrance might type it out, in a thousand terrifying pages, ALL WORK AND NO PLAY MAKES SHREDDER A DULL BOY.
We want to cheer on our little grommets, but we don't quite know what to say. "Go! Jump! Cork it out!"
The greatest joy for me on that radiant day in Oregon was watching McCall and his buddies ride together down Mount Hood to the Timberline. They weren't trying to perfect their jumps for the coaches anymore; they were soul riding, just for the giddy fun of it. There was Dillon, McCall's erstwhile rival, a cat-nimble boarder who also competes at the national snowboarding championships, but no one gave a thought to any of that. There were Peter and Clay and the others, all having the time of their lives. I saw them razzing each other, fishtailing, catching gratuitous air, improvising their way down.
I could see Air Mack in the midst of them, carving effortless scallops in the volcano, spraying his buddies with horsetails of slush, leaning so far over that his hands skimmed the snow. I could see he loved being there, maybe as much as life itself. He was a kid again, tickling the tall, strong mountain and I swear I could hear the mountain laughing back.
Lead Photo: Mark Gilbert